Disclaimer: I bought these items with my own money and Agent Provocateur did not request a review. This blog post contains affiliate links.
This bra set was my treat-to-self for Christmas, something I've had my eye on since it first launched. Bras with cut-away gores like this have been a slow-growing little trend for the past year or so and I love the way it looks – as well as being curious about what the fit would be like.
The Megan bra is still left on sale in a 34A – and if that's your size, be warned the sale ends this Sunday! Alternatively, at the time of writing there are a bunch more sizes including matching bottoms available here on eBay
.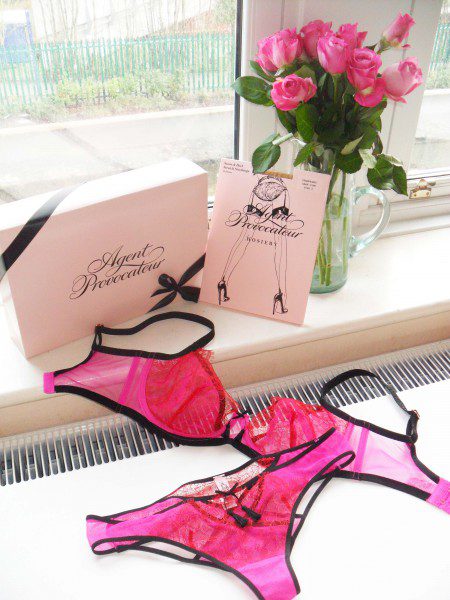 Appearance
The most unusual and striking thing about this bra is that cut-away gore I mentioned – the way the cups end before the underwires do. It makes the plunge shape all that much more dramatic, with less coverage than a half-cup bra but more than a quarter-cup one.
It wasn't just the bra that caught my eye though – the knickers have a very different but equally bold cut-away detail at the back. I also love the little tassels that adorn both pieces, a fun and chic alternative to the typical bow.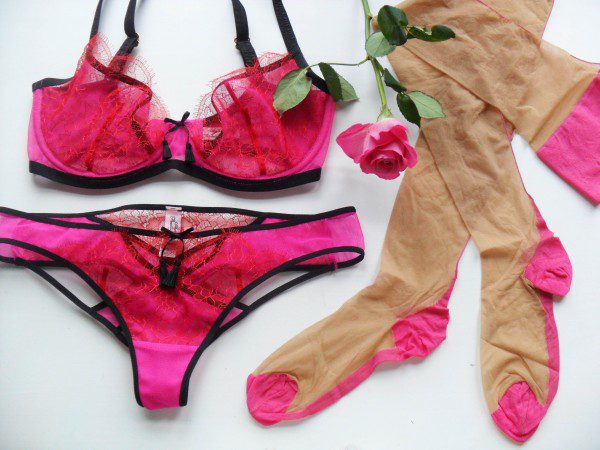 Oh, what to say about the stockings? These are more or less my perfect hosiery, and I am absolutely kicking myself for not buying more than one pair. There's a special place in my heart for hosiery with colourful, contrasting welts (I love to match my hosiery to the rest of my underwear, but I'm not a fan of full-on coloured legs) and this bright pink goes perfectly with a number of my favourite sets.
Sadly, the 'champagne' colour isn't a spot-on match for my skintone and makes my legs look a little sallow, but it's not too bad a match and a small price to pay for those gorgeous pink welts.
Verdict: 8 / 10 for the bra set, 9 / 10 for the stockings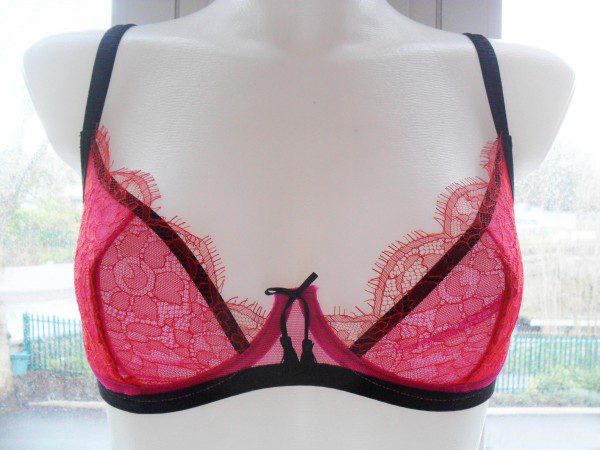 Construction
Let's start with the stockings. I love these! They feel really substantial for being 15 denier, and the welt especially is very thick and very soft.
The bra and knickers are both very well-made as I would expect from Agent Provocateur, and this despite being one of their cheaper designs. The bra straps have the brand's signature, stamped gold metal hardware.
The only thing that doesn't look so great is where the bright pink stitching overlaps the black trim, around the underwire and the boning at either side. I get that it would be a nuisance to keep changing thread colours during production, but pink on black is not exactly subtle.
Verdict: 9 / 10 for the bra set, 10 / 10 for the stockings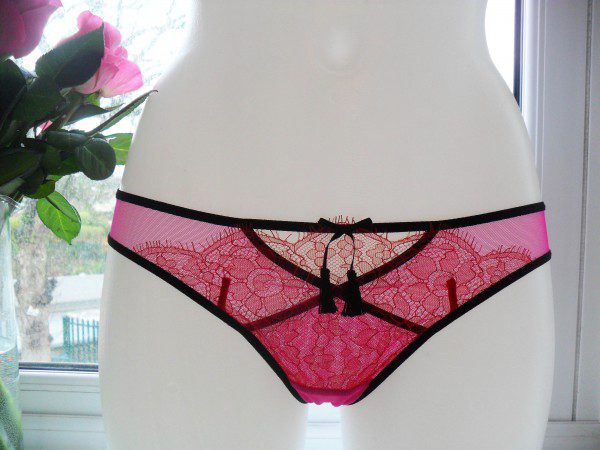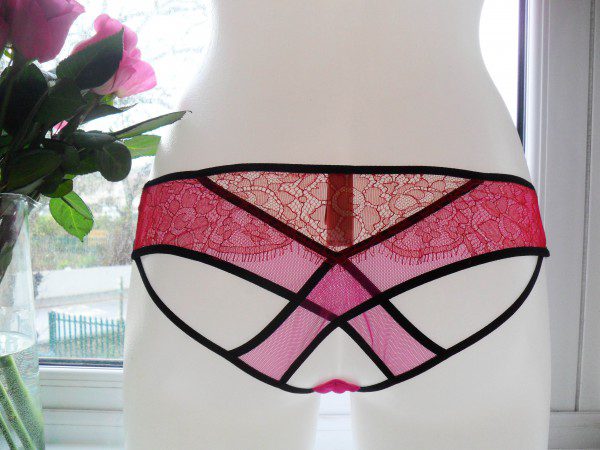 Fit
Although I'm a size 1 according to Agent Provocateur's size chart, I've always found their bottoms to come up small so bought a 2 – even this feels very narrow at the back, so definitely go up one size from what their size chart recommends for you.
I bought the bra in my usual Agent Provocateur size of 32DD, sister sizing up from the 30E I usually wear. Normally I find this to be a good fit with this brand, but the Megan bra comes up quite small. In fact, I've been buying quite a few 32D/30DDs recently so half expected this to be too big for me, and the opposite is true. The cup edges dig in just a touch – as with the knickers, I'd recommend going up one (cup) size here.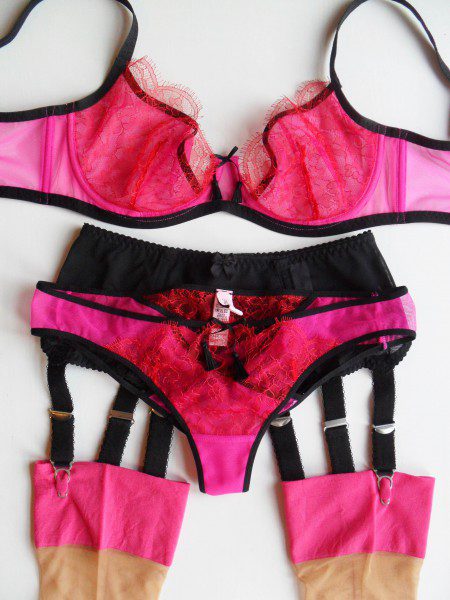 One thing I was most curious about going into this purchase was how supportive a bra like this would be. I do feel a little like I'm spilling out of it but that's mostly down to the cup fabric digging in. The level of uplift it gives is no different to a standard plunge bra – and in case you're wondering, no, that 'spike' of underwire at the centre isn't uncomfortable in the slightest. It just feels like a normal underwire would.
Finally, same with the stockings – I'd recommend one up from what the size chart recommends.
Verdict: 6 / 10 for the bra set, 8 / 10 for the stockings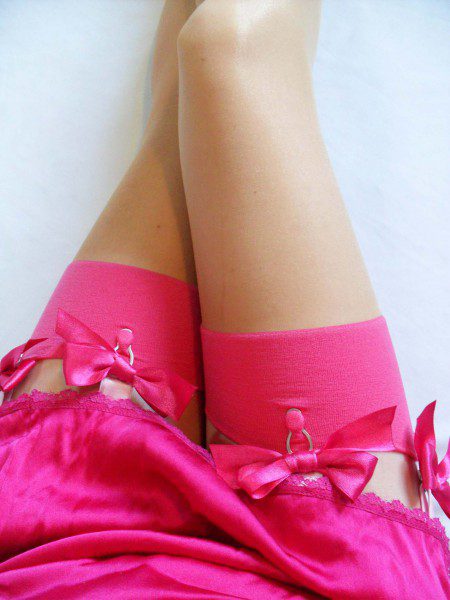 Durability
Sadly (tragically!), I put a hole in the welt of one stocking almost right away – but I think that was likely the suspender belt's fault, and the hole is doing a really great job of not laddering or getting any bigger! The stockings have a reinforced heel and toe, and undersole, which is not only pretty to look at but reduces wear from walking around.
The bra and knickers are obviously quite delicate with all the Leavers lace, but provided you hand wash them as instructed I don't forsee any problems with how long they last. Like I said, both pieces look and feel well-built.
Verdict: 8 / 10 for the bra set, 7 / 10 for the stockings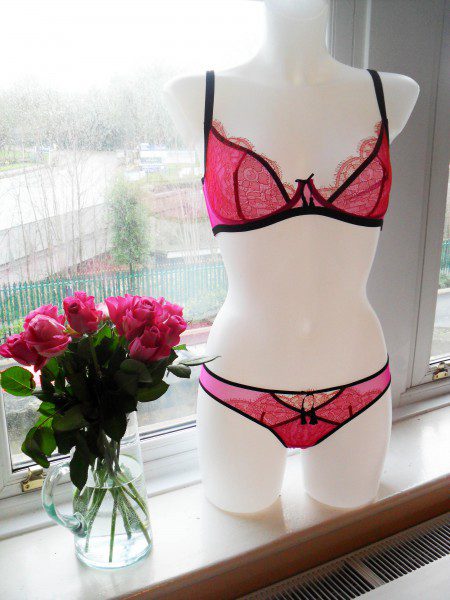 Value for Money
Originally, the Megan bra cost £85, the knickers £75 and the Dark Pink/Champagne stockings £25. I bought all three on sale for £30, £15 and £15 respectively.
I'm really happy with the bra set, and do think it's worth full-price too given the combination of quality and unique design. As for the stockings, I would totally pay full-price to get my hands on more of these, they are simply amazing!
Verdict: 10 / 10 for the bra set, 10 / 10 for the stockings
Final Thoughts
Have I mentioned how much I love these stockings? After realising my mistake at not having bought 10 pairs whilst I could, I've been frantically Googling for an alternative and coming up with nothing – if you can tell me of another brand doing hot pink-topped stockings I will forever be in your debt!
I'm also keen to try more bras with cut-away gores too. It's a fun, sexy-but-supportive look and I hope to see more designers experimenting with this style soon.
What do you think of Agent Provocateur's Megan bra set, and these Dark Pink/Champagne stockings? Do you like the cut-away gore on the bra?