Disclaimer: This blog post contains affiliate links.
It's finally December! My Christmas shopping is almost wrapped up (I start ridiculously early, like in September) but if you're still on the hunt for that perfect gift, how about some appropriately festive lingerie?
A couple of weeks ago I rounded up my favourite handmade lingerie picks in red, and now it's time for that other obvious Christmas colour – green.
Mistletoe, holly, ivy, pine and fir trees… Christmas is full of different shades of this gorgeous colour, and I think it's one of the most under-utilised colours in lingerie. Indie designers are always up for breaking the mold though, so here's a selection of beautiful green lingerie handmade around the world, with prices to suit various budgets…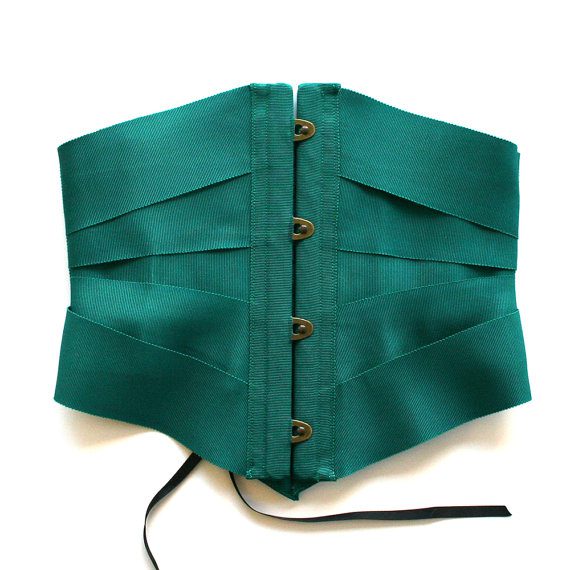 Evgenia Lingerie Ribbon Waspie – $185 (approx. £121)
Previously known as Honey Cooler Handmade, this delightful ribbon waspie is one of the brand's signature designs and so available in various colours, but this forest green shade is one of my favourites. It could easily be worn over clothing as well as under it.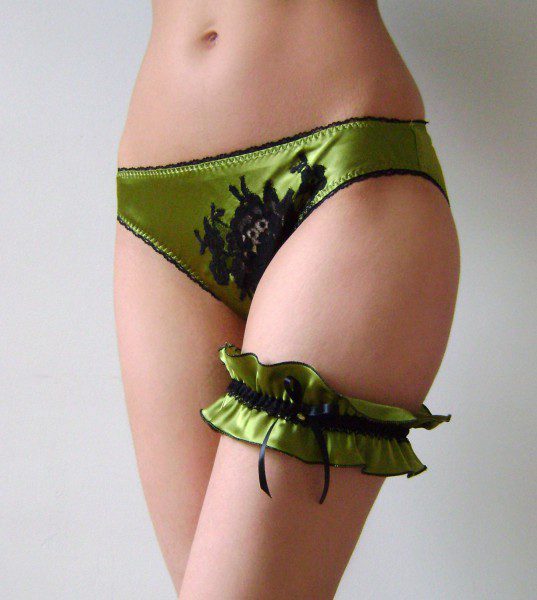 Kim Cleaver Silk Knickers – £84.95
Kim Cleaver Silk Garter – £33.95
Kim Cleaver is a relatively new discovery of mine and I love her designs, which range from romantic to adorable (just check out these bunnie knickers!). I love this olive-green silk appliquéd with French leavers lace, and if you really want to treat someone there are more matching items available including a camisole and storage/travel bag.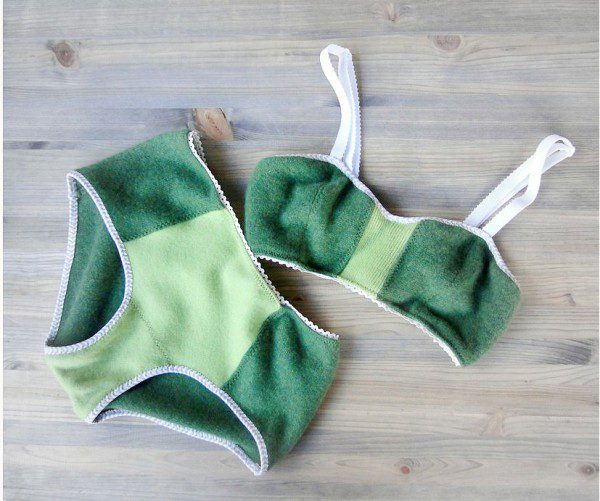 Econica Cashmere Bra & Knickers – $120 (approx. £79)
Is lingerie all about comfort for you or your giftee? Then how about a set made from pure cashmere? With an organic cotton lining in the cups and gusset, it's available in various colours as well as the green shown here. Cup sizes start at AA and band sizes go up to a 40, however note that for D cups and above there's a $40 surcharge.
Inspiration Vintage 69 Goldie Knickers – $18 (approx. £12)
Looking for a low-cost gift or stocking filler? These cute, handmade knickers are covered in dots that appear to be a light gold, which remind me of baubles! The linked knickers are a size M but other sizes are available in the designer's shop.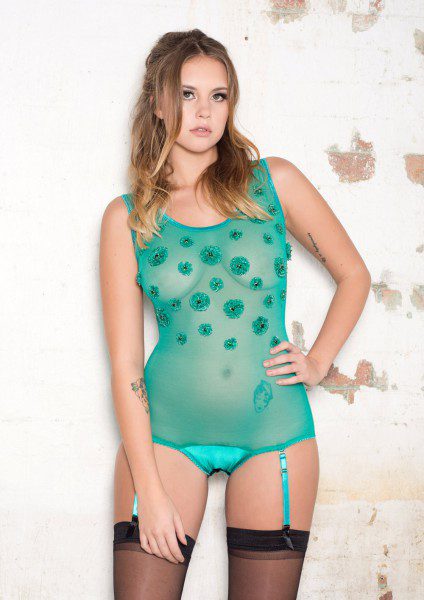 Lalilouche Daisy Bodysuit – reduced to $154 (approx. £101)
I've featured this amazing bodysuit on the blog before, and now it's on sale, yay! I absolutely must buy something from Lalilouche but I simply can't make up my mind what because everything this woman makes has so much attention to detail that it's a little work of art. This bodysuit is adorned with loads of handmade ribbon and crystal flowers and would be sure to make a beautiful Christmas gift.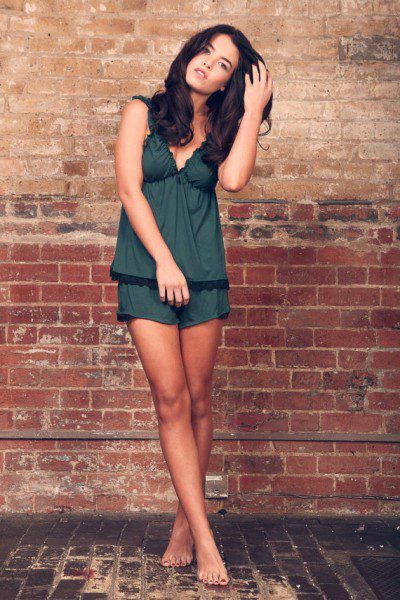 Luvahuva Heather Babydoll & Shorts – $78 (approx. £51)
This simple but lovely nightwear set is made from dark green bamboo jersey which I've heard is wonderfully soft. A nice treat for a partner, sister or friend!
Gaskin Feurich Designs Silk Tap Pants – $75 (approx. £49)
Finally, these decadent silk tap pants are gorgeous, particularly that delicate and intricate lace trim with its picot edging! I love the olive green colour too. I suggest you contact the seller before buying these as there seems to be a mix-up with the description, which doesn't match the image, but they were just too pretty not to include!
What do you think of green as a lingerie colour? Is there anything here that you like?