Disclosure: I received this lingerie set free of charge to review.
Note: Due to PayPal suspending its services in Russia, Marina V Lingerie is unable to accept orders through her Etsy store which is currently closed. Instead, I have linked her newly-opened Pinkoi store; I mention it as that is the reason it currently shows no sales/reviews.
I love that even after almost a decade of blogging about lingerie, I am still discovering new styles to covet. One shape that I've been seeing rather often lately, most frequently from handmade brands in Eastern Europe, is this type of bandeau bra with underwires that are separated from the overlaid fabric, and visible through it so that you get a glimpse of the inner construction in way that feels very intentional and chic. I might have to do a round-up of bras like this in another article, because it's definitely become a mini trend!
This particular bra and thong set is made by Marina V Lingerie, an independent brand from Russia. As a quick side note, I received (and photographed) it back in September, at which time the designer Marina was in the process of launching an online multi-brand boutique called Lacy Somethings. That project has since been put on hold but is the reason the tag in the above photo shows that brand name.
Before we dive into the review, I should also mention that I chose the bra from the Nikta set and the thong from the Maia set. While they both use the same embroidery and elastic, the former is completed with mesh while the latter is finished with silk satin. The mesh and silk are not an exact colour match, but it's close enough that they still work perfectly as a set.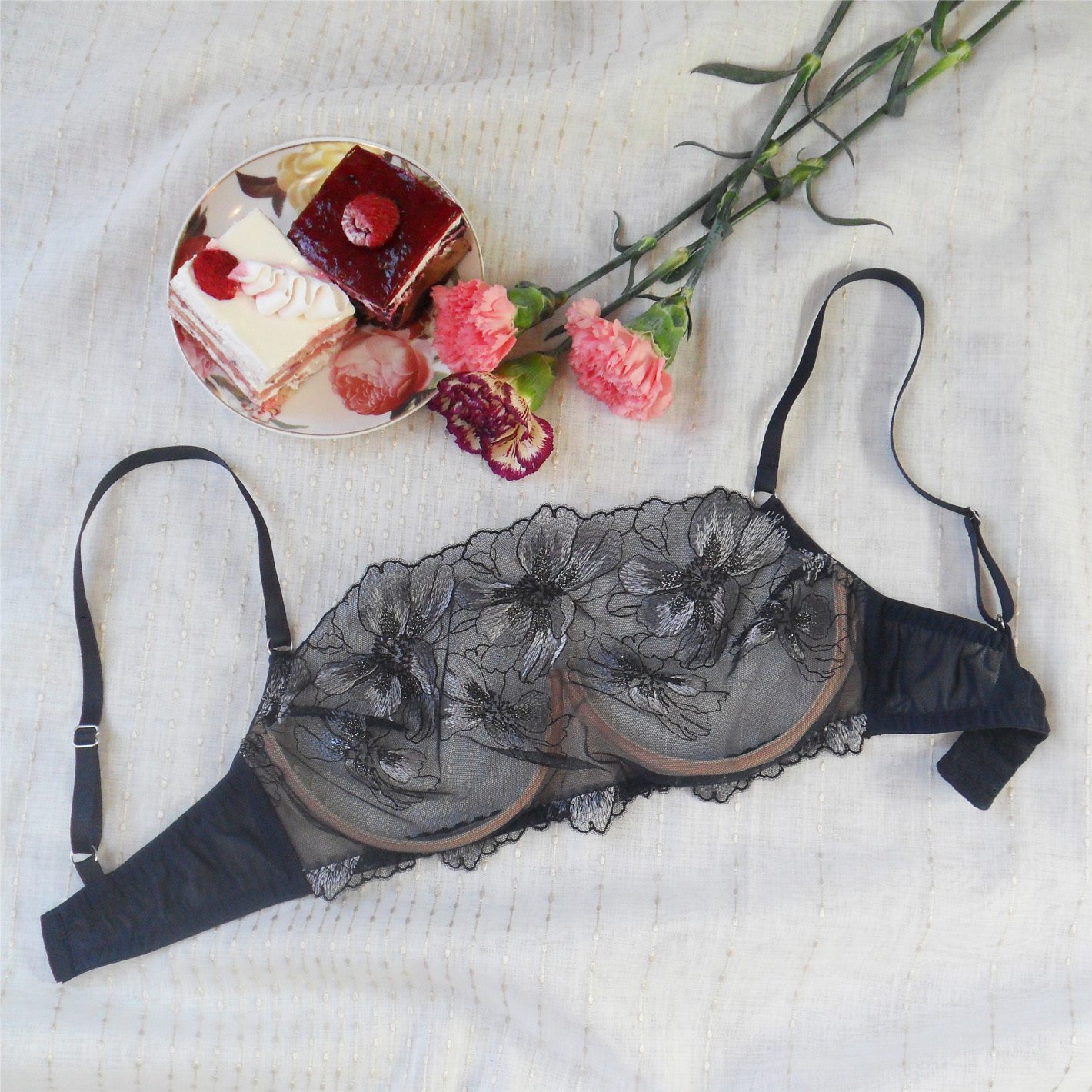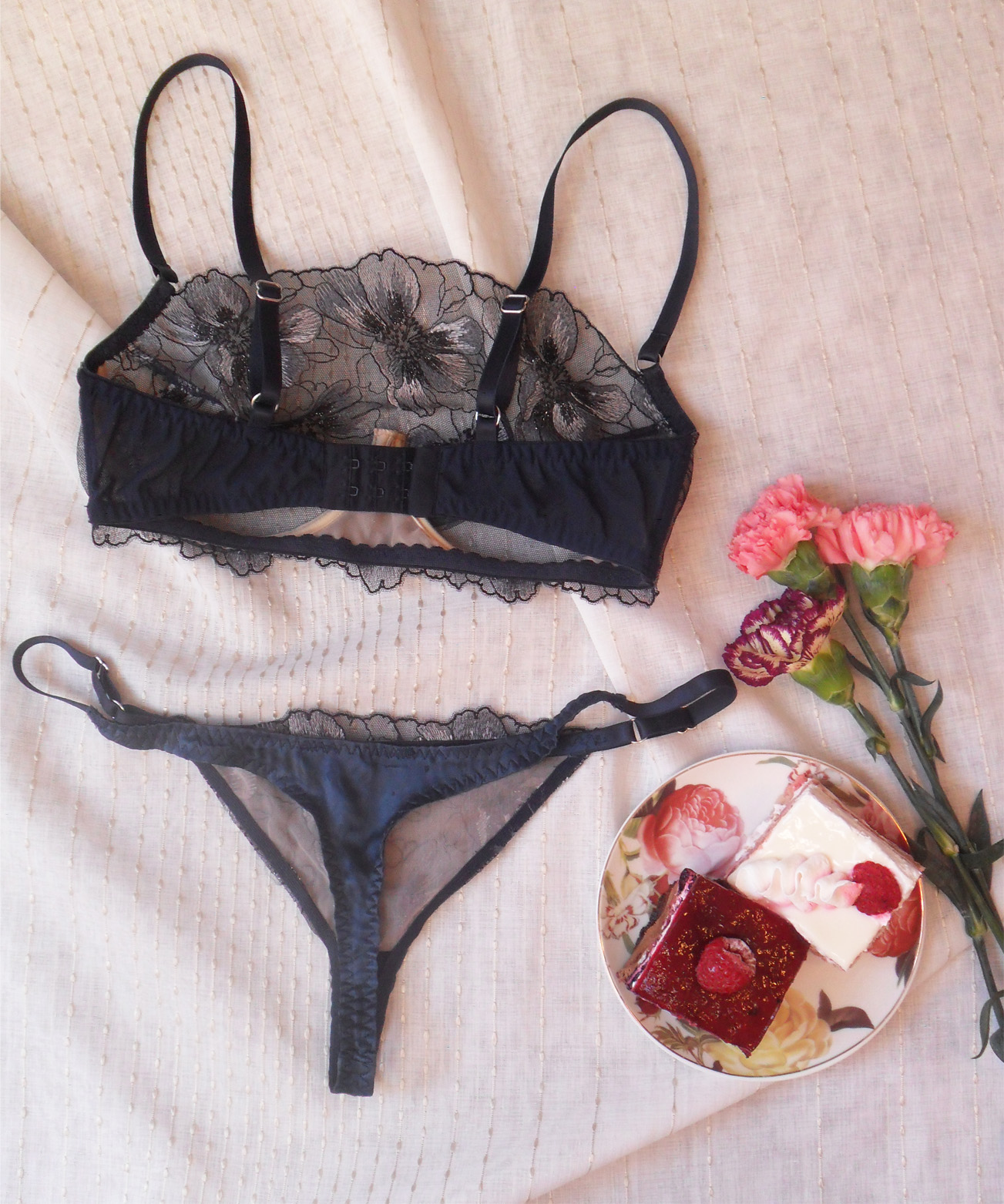 Design & construction
Two things drew me to this bra. One was the underwire design I've just mentioned. I don't own any other bras with this design feature, nor bras with this horizontal neckline, so I was curious to see how it would fit and to explore ways to style it. The other reason I picked it was, of course, the sparkly embroidery!
This set is made from a gorgeous black and silver embroidered tulle, with metallic thread at the centre of each floral motif. The bra wings are made from navy powermesh, the back of the thong from navy silk, and all straps from a very dark navy satin elastic, which overall gives the impression of the tulle being navy too even though it's not. Both pieces are also finished with silver-tone metal hardware, to complement the silver flowers.
Inside the garments, the front panel of the thong is backed by a fine beige mesh whereas the bra tulle is left completely sheer, and the underwires of the bra are covered by beige underwire casing and held in place by a cradle of the same beige mesh. I assume the idea was to make the underwires as unobtrusive as possible. They're there for support, rather than to be instantly seen.
While we're talking aesthetics, I will say that my particular Marina V Lingerie bra has a narrower trim of embroidery along the bottom edge of the front when compared to the product photos. I still love the overall design, but I find this 'petal-y' edge really pretty on the original design and wish mine looked more like that!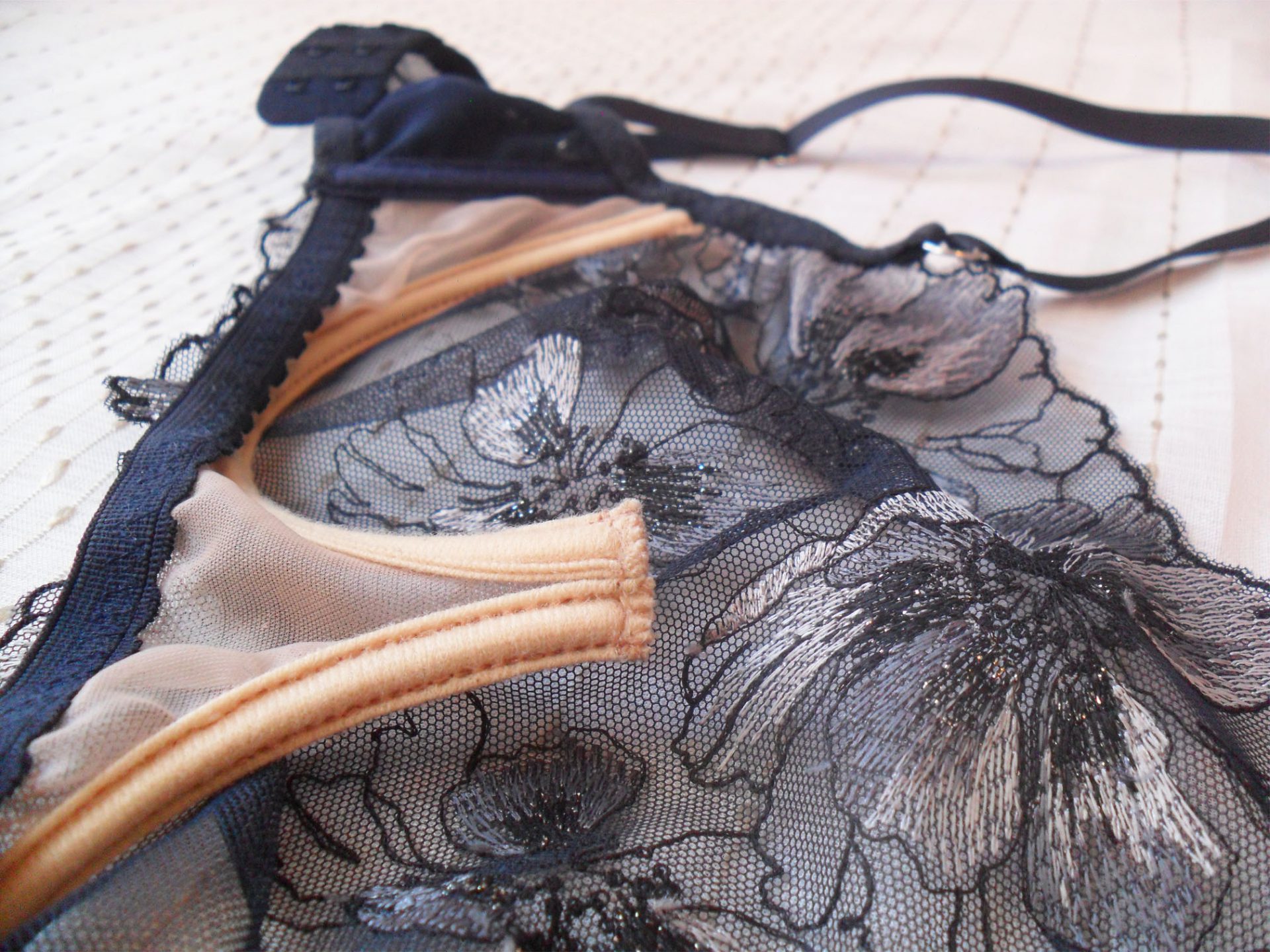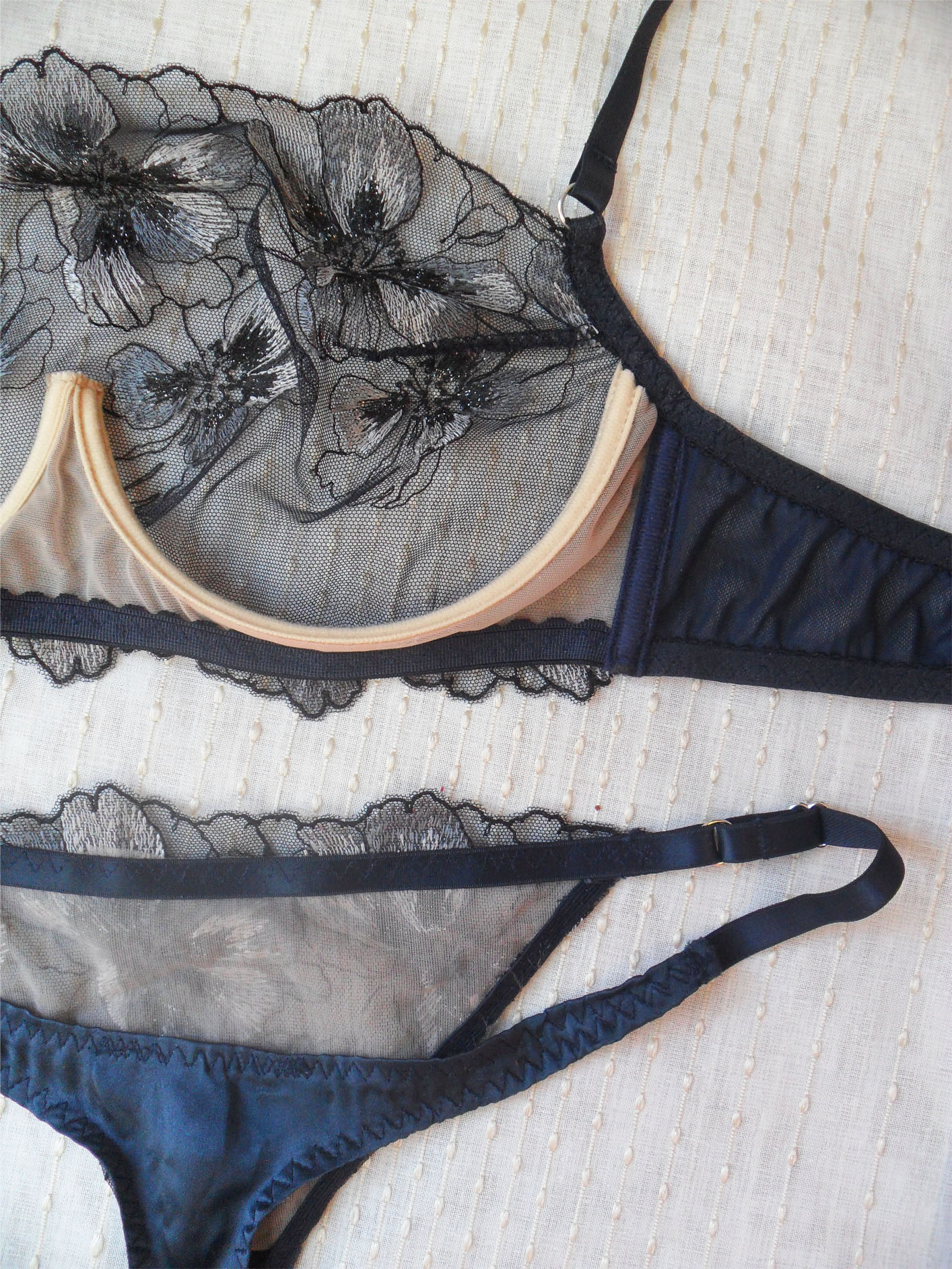 Fit & comfort
Given that there was no option to select sizes and you are instead requested to send a set of measurements, I was under the impression that my Marina V Lingerie set would be made to measure. It arrived, however, with sizes listed on the tags – XS for the thong and 65B (UK 30B) for the bra – so I think it's more a case of the brand having pre-graded sizes and simply selecting the one they think will fit you, for you.
I had mentioned when sending in my overbust and underbust measurements that I typically wear a 30DD so, surprise surprise, the 30B bra was far too small. Marina kindly sent me a second one (and let me rehome the first) which was, at my suggestion, two cup sizes larger. This bra fits much better, however I think another cup size up (i.e. my usual 30DD) would have been better still as these underwires are ever so slightly too narrow. So in summary, the bra fits true to size but the overall process would have been smoother if I'd simply had the choice to pick the size I wanted from the outset.
The XS thong on the other hand is the size I'd usually wear and also fits true to size, so no issues there. While I don't find the unlined embroidery of the bra scratchy, I nonetheless appreciate that a soft lining has been added to the thong. I have no complaints about the comfort of this set whatsoever.
You might be questioning how supportive this bra could be with its only-partially-attached underwires and single front panel, or maybe you're wondering whether the underwires stay in place. Well, the answers are that they stay perfectly positioned and don't bother me at all, and the bra is about as supportive as any underwired, non-seamed bra would be. There may not be complete cups here, but the underwires do serve the purpose of keeping the breasts separated while the firm-fitting and non-stretch embroidered panel stops them from moving around. This relatively firm fit also means the horizontal neckline stays flush against the skin – it doesn't flop over.
The lack of seaming on the front panel does mean that there's no 'forward projection' in this bra; the shape from the side is fairly flat, since the bra just sort of squishes the breasts against the chest. But enough about the nitty gritty of the fit, let's talk about how this bra design looks. It looks fantastic! I think I may well have discovered my new favourite bra shape. I love sheer bras, especially when they come with support and shaping, and this bandeau-style neckline is something I'd normally expect to see from a less structured bra which makes the design all the more unusual.
As for styling options, I tend to avoid high-neck bras because they just don't work with the tops and dresses I typically wear, but this horizontal-yet-low shape is perfect for filling in a V neck with a glimpse of embroidery. I've been wearing it with my Emma Harris black silk camisole and silver or grey skirts.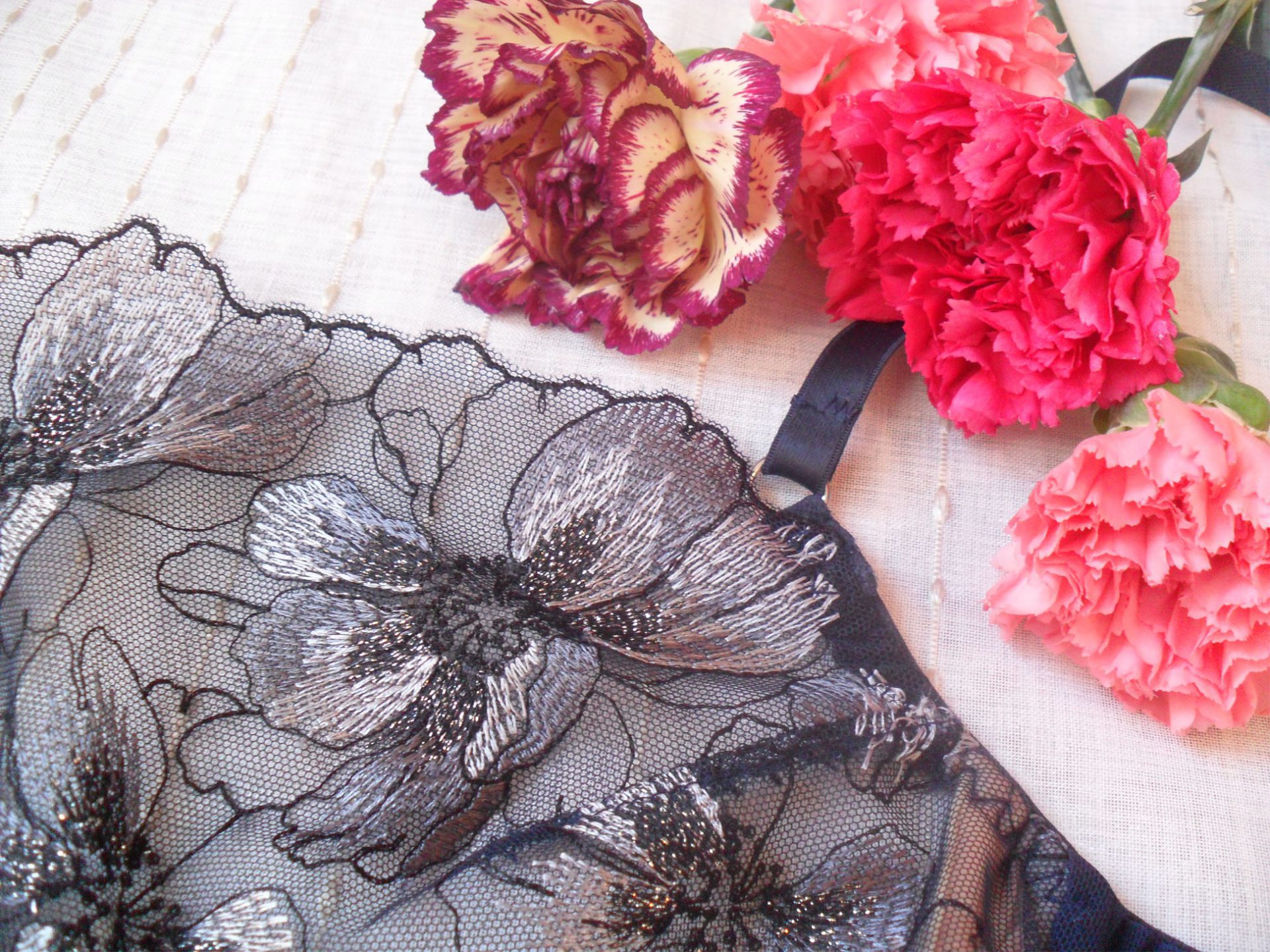 Durability
As mentioned, I've had this set for half a year now and worn it probably a dozen or so times. Both pieces came with instructions to hand wash in warm water only, and allow to air dry, which is how I've been washing it. So far, it has held up beautifully!
On the raw edges of the embroidery – across the neckline, the band, and the top of the thong – the tulle has been carefully cut away around the embroidered pattern, for an organic shape that fits in nicely with the floral design. It hasn't frayed one bit.
The embroidery has frayed a little at the edges of the thong, specifically where sections of petal motifs with the thickest embroidery have been folded over, but it's minor in the grand scheme of things. Everything else on the thong and bra looks as good as new, and the stitching all looks very secure and like it will last a long time.
Final thoughts
I wish I'd reviewed this bra set sooner, when you could easily place an order via Etsy, because I really love it and can happily recommend it to others. If you like the design, it's definitely still worth reaching out to Marina (marinavlingerie@gmail.com) to discuss your options for purchasing it. Unfortunately, her Etsy store was still visible when I began writing this review and I didn't think to note down the price, but it was somewhere in the region of 100-150€.
[Update: This post has been updated now that Marina has opened a Pinkoi store. The Nikta bra and thong set costs 116.15€; the silk-backed Maia bra and thong set costs 141.65€.]
What do you think of this bra shape? Are you intrigued to try it, or perhaps you already have?