Disclaimer: This blog post contains affiliate links.
Did you see my top handmade  red lingerie and green lingerie picks for Christmas? Now it's time to move onto some of the less obvious festive colour schemes.
White and baby blue is typically associated with bridal lingerie, but this icy colour scheme also conjures up images of frosty mornings with snow coating the ground and icicles dripping from the window frames outside.
La Lilouche Livia cropped top – $115 (approx. £76)
La Lilouche Livia knickers – $88 (approx. £58)
La Lilouche Livia suspender belt – $70 (approx. £46)
This gorgeous set has been on my wishlist for ages, and the white and icy-blue colour scheme is made even more wintery thanks to a sprinkling of silver sequins. It's made from silk satin with hints of Chantilly leavers lace, and if the unstructured top or the peephole knickers (check them out to see the detail at the back – they're gorgeous!) aren't really your thing the range also includes a 1/4 cup bra and suspender knickers too.
Angela Friedman Orchid corset – $460 (approx. £302)
This deluxe silk corset features triple-reinforced grommets and a coutil lining to really nip in your waist. It's handmade in the UK by this designer who now makes a whole range of lingerie but who started out as a dedicated corsetière, so you can be assured of quality in her corsetry!
OhhhLulu Sky bra – $65 (approx. £43)
This lovely little bralet is handmade using stretch satin and ivory lace. Unfortunately only the bra is available right now, but if you can wait until the new year when the designer is back from maternity leave and making items to order again, you can probably pick up the matching Sky knickers too.
Angela Friedman Natalie bralette – $110 (approx. £72)
Angela Friedman Natalie knickers – $70 (approx. £46)
More Angela Friedman here! If you like the look of the OhhhLulu Sky bra above but can't wait for the matching knickers, this is a super close match. It's made from mesh rather than satin, with lashings of French lace.
Arabella India Pearl Ice Blue bra – AU$129 (approx. £69)
I'm smitten with every single one of this relatively new designer's creations, and it's a brand I'm absolutely planning to buy from next year when I'm back at work and have a bit more disposable income. This particular bra is made from silk (which looks like raw silk from the photos) and bamboo jersey, with freshwater pearls at the centre.
Kim Cleaver blue lace garter – £29.95
Another brand I'm particularly enamored of, Kim Cleaver's designs are the definition of delicate. This garter is made from vintage lace with a sprinkling of bauble-shaped beads in silver, blue and white.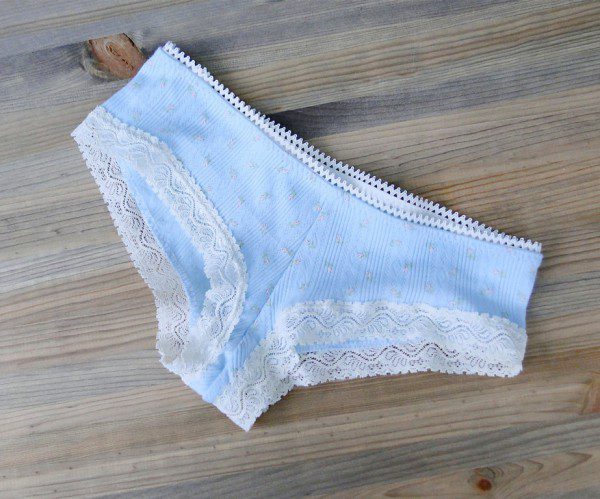 Econica blue boyshort knickers – $29 (approx. £19)
How comfortable so these knickers look?! They're made from a ribbed, organic cotton with tiny roses, and trimmed with a creamy-white lace. A matching bralette is available here.
Which is your favorite piece of lingerie on the list? Mine's the La Lilouche Livia set at the top!