I like to think I take pretty good care of my lingerie. I was shocked when I read this article (which is just one of many such examples) and saw an expert say a well cared-for bra should last just 8 months.
I like to buy decidedly delicate, lacy things, and lots of my lingerie wardrobe staples I've owned for years. Today I happen to be wearing the first lingerie set I ever reviewed on this blog, which is something that I wear regularly, and it still looks pristine. No threads unraveling, no Swarovski crystals missing, no pulls in the fabric and not a hint of twisting in the elastic straps.
So how do I do it? Today I'm sharing with you exactly how I care for my lingerie, so that you can hopefully pick up a tip or two to help your own lingerie purchases last longer and become better value for money…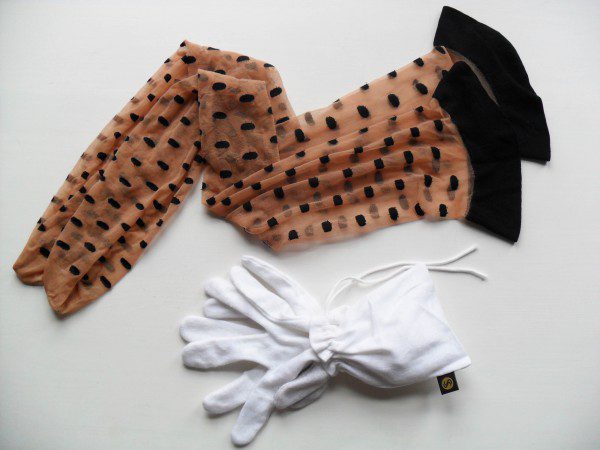 Wearing
If my lingerie has crystals or intricate beading, I'll make sure I wear something loose-fitting over the top so that it doesn't rub against them all day
I always wear deodorant – this is more for personal hygiene than anything else, but sweat stains on the sides of your bra is never a good look. Sweat can also be acidic which will break down the fibres of your lingerie over time
Speaking of which, I put deodorant on before lingerie and leave it a minute to dry, as deodorants can stain things too!
When putting on stockings or delicate tights, I'll use a pair of hosiery gloves to avoid snagging them on a ring or a broken nail
I'll usually go for opaque hosiery with boots rather than sheer because it won't wear down so quickly where the boots rub the back of the leg
Where it won't be visible (so, again, when I'm wearing boots) I'll pop socks on top of my hosiery to minimise wear to the soles and heels
Washing
I always, always, always hand-wash lingerie! It takes me no more than 20 minutes a week, and it's inexpensive – although lots of lingerie-specific washes exist and I'd like to try some, for the past few years I've been using Tesco's Silk and Delicates Handwash (750ml for £1.50) and it does the job perfectly well
I wash lingerie in cool or lukewarm water because excessive heat can damage the elastic fibres in bra straps or stretch fabric
Once everything has had a good soak, I squeeze, not wring, the water out which is gentler and doesn't stretch fabrics or bend bra wires
After washing, I leave everything to hang dry on a clothes horse (not a heated towel rail – I learnt from experience that the heat can warp bra wires and damage elastic!)
I wash lingerie in colour groups, even though that means washing a few brightly coloured sets on their own, to avoid stains or whites/creams gradually turning grey
I have a separate laundry bag just for lingerie, to avoid damage and so that my favourite bras don't accidently go in the machine or dryer bundled up inside a dress
Before I put my lingerie in the laundry bag, I fasten any hooks to avoid them snagging on anything delicate
Storing
I keep the boxes that lingerie arrives in if they're quite sturdy ones
For most of my lingerie, I use clear plastic storage boxes lined with acid-free tissue paper which keeps everything nice and protected and lets me easily find what I'm looking for too
When space is an issue or for items like corsets that I don't have boxes big enough for, I use fabric lingerie bags which prevent snagging but don't take up any more drawer space than the lingerie would on its own
I don't throw hosiery packaging out – not only does it prevent such delicate items getting damaged, it takes up almost no space and keeps designs easily identifiable so you don't have to sort through 10 similar-looking black stockings in the morning to pick out a pair!
Sounds like a lot of rules huh? I think that a lot of this is just common sense, but if you only take away two bits of advice from this article let it be these: hang-dry lingerie at room temperature and use gloves if you wear sheer hosiery. In my experience at least, lingerie has no greater enemies than heat and broken nails!
How do you take care of your lingerie?