Today I thought I'd talk about something a little different – statistics! Whether a retailer choosing what to stock or a designer choosing what to produce, a lot more goes into picking what's going to be available to buy than just deciding what looks nice.
There are many factors at play, from branding to costs, but today I wanted to take a closer look at two of the key ones: what sells and what people are searching for.
Google (and Bing) record everything everyone's searching for online, aggregate all of that data, and make it available to anyone. This may or may not be news to you, but you can bet big lingerie brands already know about it; it's incredibly useful for them because they can instantly see whether people actually want what they're thinking of designing/buying.
Let's take lingerie colours as an example. We all know black lingerie is popular, but what if you want to branch out – do you go for grey? That's pretty close to black so it's not too much of a risk, right? Well according to the data below, you'd be much more likely to sell it if you went for red or white!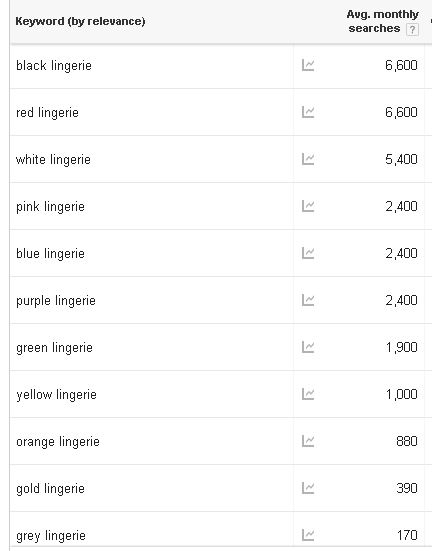 Monthly Google searches in the UK for different lingerie colours
I popped over to ASOS' lingerie section to see how this theory held up in real life. Guess which are the top 6 colours with the largest choice of bras currently in stock? Yep – black, blue, pink, red, white and purple, the top 6 most searched-for lingerie colours in the UK. They're only selling 7 grey bras, compared to 136 in black.
So if I'm a designer and I want ASOS to stock my lingerie, I'm probably going to steer clear of grey, however beautiful I may think it to be.
Let's take a look at a more topical colour issue – the 'nude' bra that is actually beige. Naming your beige-coloured bra nude is an issue and it's one that's had a fair bit of press recently thanks to Nubian Skin and The Apprentice contestant Bianca Miller, so why are the majority of brands still calling their beige bras 'nude'?
Honestly, I think it's because it's working for them. And no business likes to change something that's raking in the cash.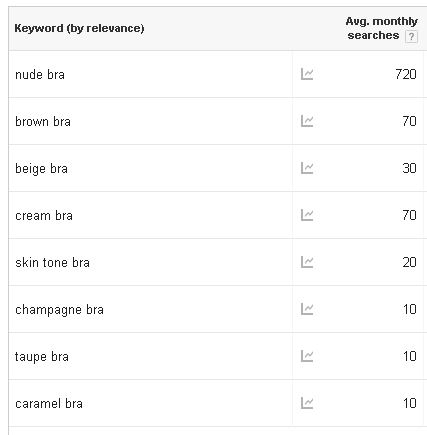 Monthly Google searches in the UK for various skin tone-related bra colours
Blogger Sweets published a list of alternatives such as taupe, tea and crème brûlée. But before you can sell a customer a particular bra, they have to know it exists. The cheapest, easiest way by far to get your product seen is to give customers what they're already looking for.
And they're not Googling tea coloured bras, or even beige bras – customers are, overwhelmingly, Googling 'nude bra'.
Don't get me wrong, I absolutely believe that everyone needs to stop using the term 'nude' interchangeably with 'beige', but when you look at the data it does become easier to see why big brands who are receiving a ton of traffic for the search 'nude bra' and selling 100s of these bras a month are reluctant to change the status quo. Big corporations care more about profit than ethics – it's as simple as that.
This may be why we're starting to see things like Affinitas' 'European Nude' beige bra – an attempt to do the right thing without missing out on all those customers after a 'nude bra'
Google also allows you to view trending data, to see what people are starting to want more (or less) of. Let's take strappy lingerie as an example. It's been around for a while and I know some people are starting to get bored of it, but the general population most certainly is not! Check this out: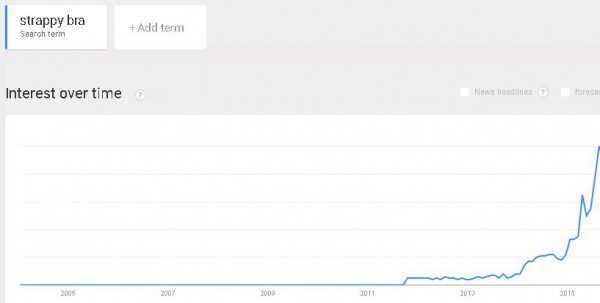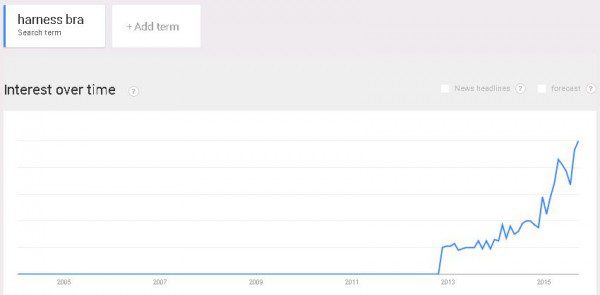 These graphs go up to the end of August – a week or so ago – and interest in strappy bras and harness bras is at an all time high! So yeah, we're going to be seeing more of them.
Let's pause for a moment before you all get data overload and talk about why these statistics are more relevant to what the big brands are doing than the little ones.
Indie lingerie designers are going to have their own unique style that they stick to. Bordelle isn't going to stop putting elastic straps on their lingerie when this trend finally dwindles, because Bordelle = strappy lingerie. Knickerocker isn't going to do away with her array of rainbow coloured knickers and focus solely on black because more people want it – she's carved out a niche and there will always be a market for rainbow coloured (or grey) lingerie. It's just not the mass market.
Big brands that make, and want to keep making, massive number of sales however basically do whatever's on trend right now (because a trend is, by definition, appealing to a very large audience) and they have no defined style of their own. An ASOS or H&M bra today probably looks nothing like an ASOS or H&M bra from a few years back.
Indie designers are also not producing and selling lingerie in serious bulk. Maybe 50 people per month are looking for a 28A bra and 500 are looking for a 34A bra – but if you're only able to sew 10 what does that matter? Relatively low customer interest doesn't cap what you can sell when you have yet to be able to fulfill all interest that is there. When you aim to sell 500 bras per size though then yeah, that's limiting.
However, data does have some influence over smaller brands and retailers, mainly in the form of sales statistics. On a more personal note, here's a snippet of stuff I've sold recently through my Etsy.com store:
Oh look, one of them isn't black! (By the way, this is pretty representative of my sales in general, for my own brand and the other brands I stock – almost every item I sell is black)
Bear in mind that during the time these sold I also had a lot of items available in red, pink, white, yellow and blue. I've since dropped the yellow and white pieces, and I'm considering dropping the blue too – I personally much prefer my colourful harnesses and accessories but if no one buys them, I can't keep making them!
Enough talk about colours. The sizes that a brand produces and a retailer stocks are also affected by data – perhaps even more so than colours, because this is an issue that affects big and small retailers more equally. You can love a popular trend or a more niche aesthetic, or both, but you're only going to buy lingerie that's made in your size (or roughly your size).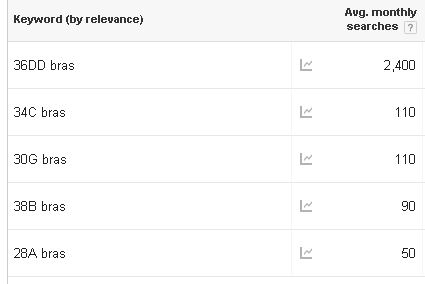 US & UK searches combined – search data is available for bra sizes too.
Search volume aside because I think we've covered that plenty already, brands have two sources of data available to them: the sizes that have sold (or not sold) for them in the past and, if they're thinking of producing a size they've never done before, customer feedback about the sizes they want.
Customer feedback though doesn't always translate into sales – indie designer Karolina Laskowska mentioned in this interview with Bluestockings Boutique that her fans were very vocal about wanting more sizes but when she introduced them, not one single one of them sold. Mimi Holliday recently retired some of their smaller sizes, and you can bet they wouldn't stop producing them if they were selling them for a profit.
I've also brought items in stock that my Facebook fans requested only for them to then not buy, which is frustrating to say the least.

If a size doesn't sell well, brands stop making it, simples. Via Mimi Holliday on Twitter.

Via The Lingerie Addict on Twitter
So really, it's what sells that most influences which sizes a brand will offer. Again, smaller, indie brands are more likely to cater to niches of the industry but big brands are always going to focus on the most common sizes because that's where the bulk of the money lies.
The best and worst selling bra band sizes at A Sophisticated Pair (image used with permission from this post)
A Sophisticated Pair is one of the very few lingerie retailers that's really open about things like how she chooses which bras to stock and in which sizes. Owner Erica publishes an annual breakdown of exactly which sizes have sold and although she still carries over 120 sizes, when you look at the chart above it's clear why she's offering a far wider choice of bras in 32-38 bands than say 28 or 46 band sizes.
I was planning to end this article with a "what can you do to change things when the data is against you?" bit. However, it's already turned into a bit of an essay so I'm going to leave that for a follow-up post where I'll be talking about how to encourage brands to make and stock your unusual bra size, sell things that you truly love, and stop calling beige bras nude!
Does any of this data surprise you? And did you know how much data-mining goes into what a brand chooses to design or sell? I'd love to hear your thoughts!
(P.S. It has been brought to my attention that my spam filter is blocking the word 'nude' in the comments section and I'm not sure how to fix it – so sorry about that!)