Disclaimer: This set was bought with my own money and Agent Provocateur did not request a review. This blog post contains affiliate links.
I know, I know, it's Autumn! I'm afraid I've fallen totally behind with my lingerie reviews which is why you're getting a swimwear one in September. I considered just not writing this but thought that as I'd mostly planned it out in my head already and there are still a few knocking about on eBay
and Amazon, I'd go ahead – I'll just keep things short and sweet!
I know it's Autumn and there's no sun around – so I bring you sunflowers instead! 🙂
Appearance
I'm not a massive fan of the colour purple, but I loved the Agent Provocateur Soirée Tricja bikini which, at £495, is well out of my reach – especially for swimwear which I wear on something like 3 days a year. This Kimmi bikini however was a pretty close match style-wise, and since it was on sale for a mere pittance (in Agent Provocateur terms, I mean) I thought I'd treat myself.
I like that all of the components are gold-toned – it's more luxurious than silver, I feel. This bikini indulges my love of strappiness but the fun colour and carefully-placed straps avoids it looking too 'bondage', which I wouldn't be comfortable wearing on the beach. Though I must say, I did still feel a little out of place in a sea (harhar) of standard triangle bikinis on the typical touristy beach we went to – I feel like this is designed more for lounging on a deck chair whilst a butler brings you Cosmopolitans!
Verdict: 7 / 10
Construction
Since I go to the beach so rarely, I've never bought an expensive bikini before though I did win one once. And I guess my thoughts on the quality are the same here as for that one – it's nicely made, in a soft fabric, but there's nothing particularly special about the finish that sets it apart from high-street bikinis. Even H&M tend to use metal components.
Basically, you're paying for the design, which is fine – you won't find anything that resembles this on the high-street! But compared to Agent Provocateur's lingerie which is combines exquisite fabrics with beautiful finishing touches like branded hardware, this feels less luxurious.
Verdict: 8 / 10
Fit
I bought the bikini top in a 32DD and the bottoms in a size 3, a size up from usual as this was what was left in stock at the time. The bottoms fit true to usual Agent Provocateur sizing – they were a tad too large for me and I'll probably take them in by a couple of inches before next summer.
Also because the bottoms were too big, the straps wouldn't stay in place as they are supposed to on me, so I sewed the front 'H' to the waistband (a 2-minute job as there was handily a hole on either side!) and just let them hang down as pictured above. Though I have a feeling that even if they did stay in place, a big wave would quickly change that – as I mentioned, it's not really designed for being active in!
The bikini top fit me pretty well. The band feels a lot firmer than most Agent Provocateur 32s do. However because the halterneck is very short and has to be pulled so tight, the outer strap had a tendency to dig in and I wish they'd made this one a tad longer.
Verdict: 5 / 10
Durability
This bikini is hand-wash only. Since I only got a chance to wear this once, I've only washed it once too. However, I will say this – the bikini bottoms' lining loves sand! I just picked them up and the stuff was pouring out onto my laptop. Again, best worn on a deck chair far away from the realities of an actual beach.
Verdict: 7 / 10
Value for Money
Originally £290, I bought this on sale for just £40. Not a bad deal! And for £40 it really is lovely.
Verdict: 10 / 10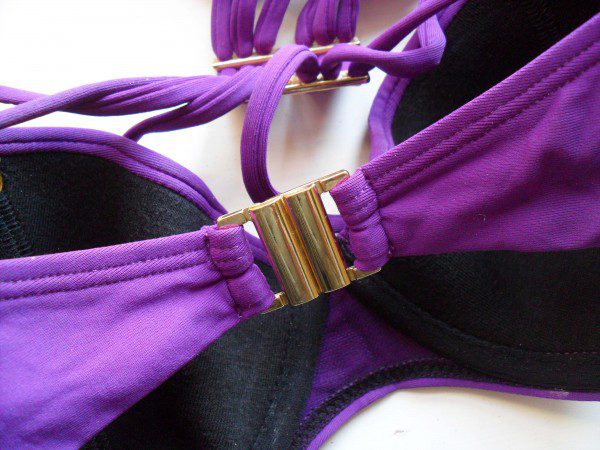 Would I recommend it?
Yes. Despite its flaws, I still love the overall shape and just wish I got invited to more (some!) pool parties so it didn't have to languish in my drawer until its next annual outing. It's not particularly practical for being on the beach, but I don't suppose practicality is the point here.
Click here
 to see the Kimmi bikinis currently on eBay.
Have you ever bought any Agent Provocateur swimwear? Would you spend £290 on a bikini?