Disclosure: I received this item as a personal gift (not from the brand). Links with a * are affiliate links.
Ever since I first moved to Spain, I've regretted leaving my fluffy dressing gown behind in England. I guess I thought I wouldn't need it, but the reality of living here is that it's not all sunshine, all the time. And while Barcelona's winters are relatively mild, we moved to Madrid in November and it's much colder here. Constantly stealing my husband's hoodies to wear at home was no longer cutting it, so when he asked me what I wanted for this Christmas just gone, a cosy robe was top of my wishlist.
I ended up sending him a few links to pieces I liked, but wouldn't know which robe he'd bought until I unwrapped it. I think secretly, I was hoping it would be this one! Made by Lavender Dreams*, I included this floral velvet robe* in a gift guide I wrote for The Breast Life back in 2019, and I'm pretty sure I added it to my Etsy favourites long before that. As anyone who knows me could tell you, it's just so my aesthetic.
Lavender Dreams is a handmade brand founded by Nata Paslavska and based in Ukraine, and I'm relieved to see a note on the Etsy store saying they've been able to move to a safe place since the war there began. They're still accepting and shipping orders, so if you're looking for Ukrainian brands to shop with right now, this is one for your list. (So yes, spoiler alert: I am recommending this robe, but read on for the full review!).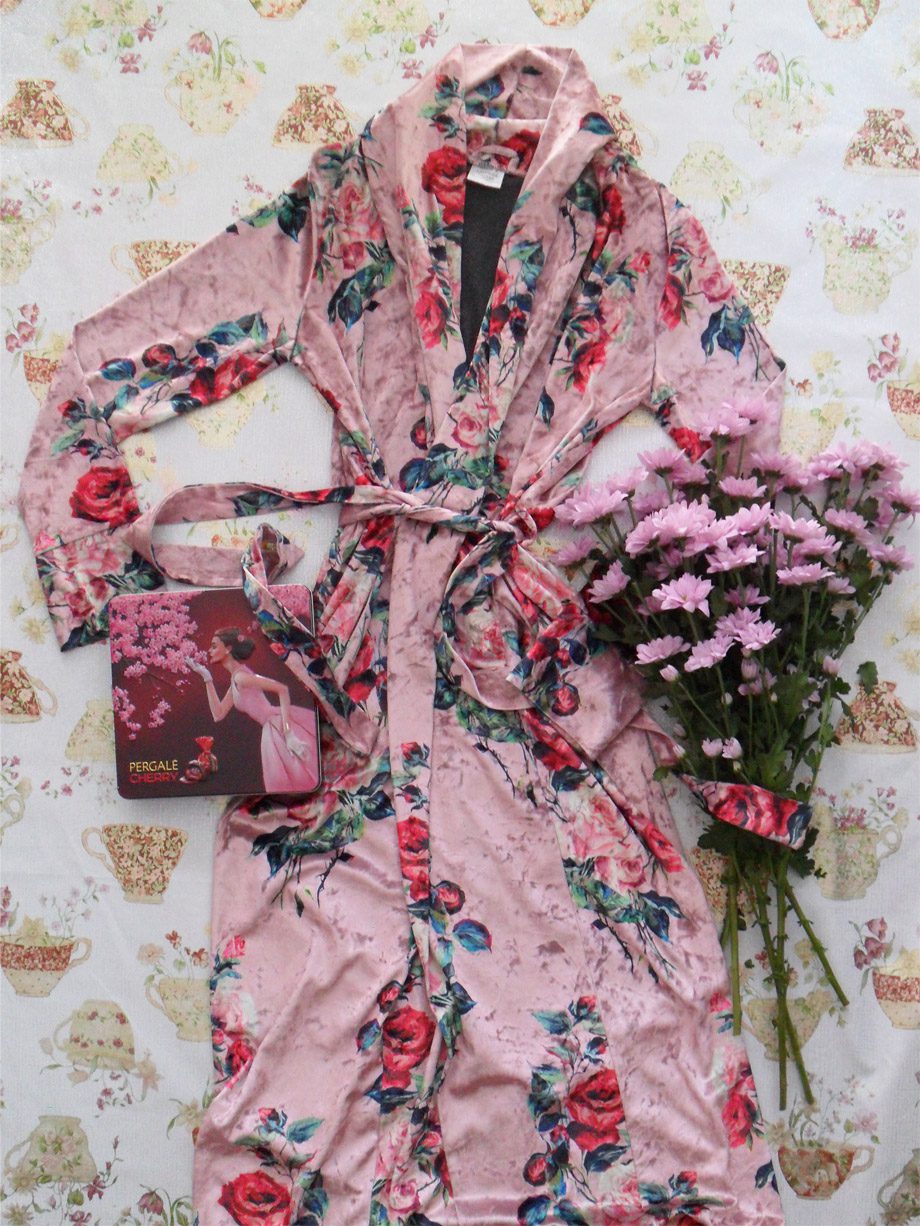 Construction & durability
This Lavender Dreams robe is made from a light pink velvet with print of pink and red roses. It's a crushed velvet, meaning it reflects the light beautifully when you move – it feels like a practical garment, but looks like a glamorous one!
The velvet is unlined, meaning the interior of the robe is just the dark grey reverse of the velvet fabric. It has a slight stretch, and is what I'd called 'medium weight' – not quite as warm and cosy as I'd been hoping for, but heavy enough to have a nice drape to it. It's a perfect robe for spring or autumn.
The entirety of the stitching has been done with an overlocker, which is a quick and easy way to finish a seam. It also avoids unnecessary bulk from doubling over what is already quite a thick fabric. However, it's not the most durable type of seam, and I've managed to snag and break some of the exposed stitches inside the hemline while wearing this robe on holiday (yes, it was a suitcase essential!) with a pair of jewelled sandals. Something to bear in mind if your slippers have metal decorations.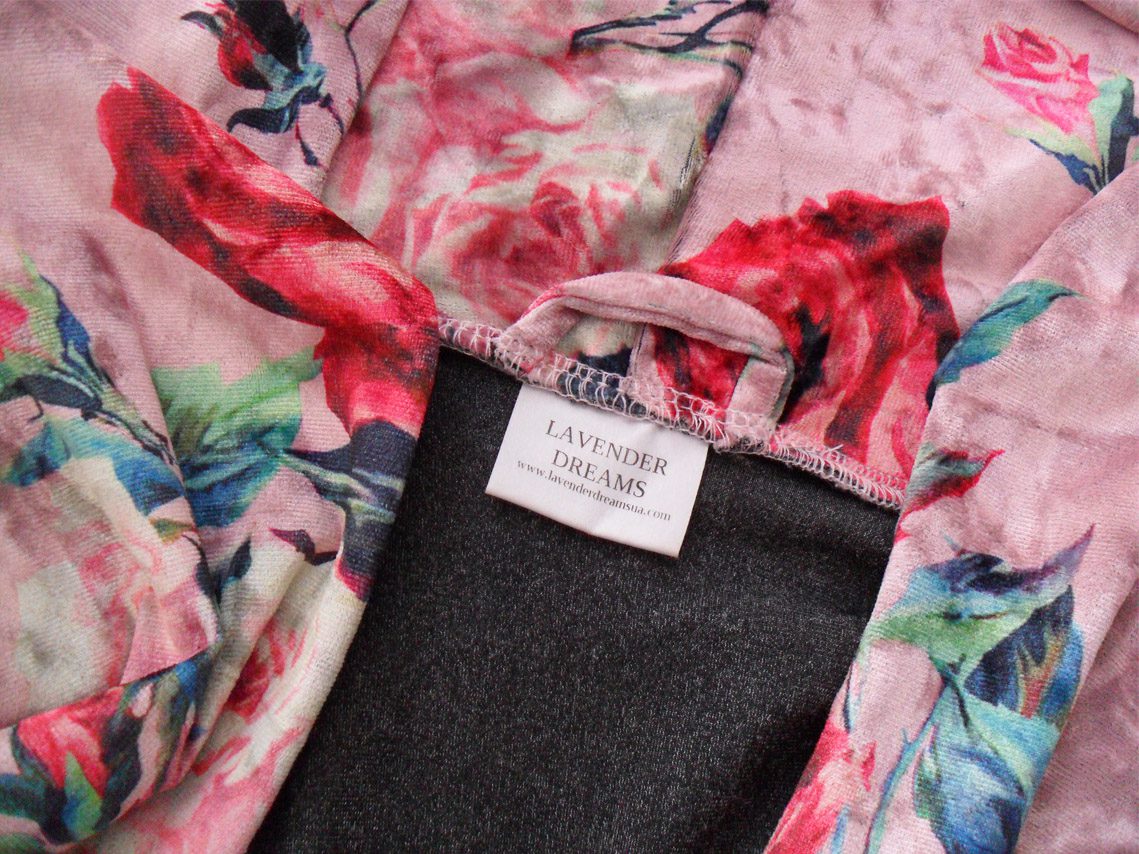 Overall though, I'm happy with the construction. In particular, a very wide section (20cm, 40cm originally) of doubled-over fabric trims the front opening, and the sleeves also have a generous amount of fabric folded over at their hems in case you want to roll them up, ensuring the plain interior of the velvet is never visible. Oh, and the robe has pockets!
It also washes well. It's machine-washable, which I appreciate for an everyday loungewear piece that I've been wearing and washing frequently. I just turn it inside out as per the instructions that came with the robe, throw it in with my light-coloured items, and hang it up to dry. Apparently it can be tumble-dried too. Four months and many washes after I first got it, the print is as vibrant and beautiful as ever.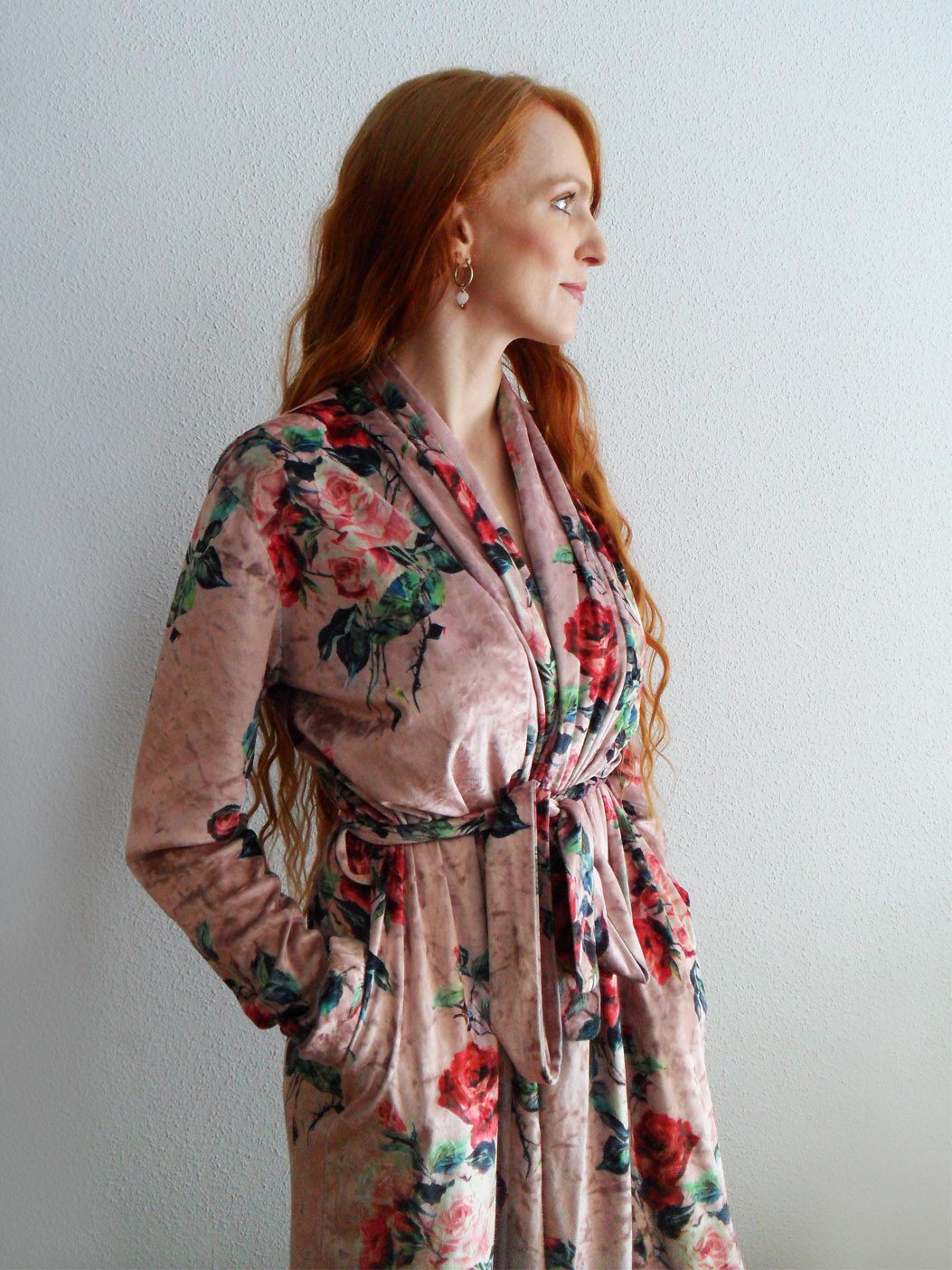 Fit
Lavender Dreams' floral velvet robe comes in two sizes, S-L and XL-XXL. One of the images on the product page is a detailled guide to the measurements of the actual garments, such as sleeve width and total width at waist level, so it should be fairly easy to know ahead of time if this robe is going to fit you.
While I'm usually a size XS, I wouldn't say my size S-L robe is too big. In fact, it's perfect! Even the length is just right for 5'3 me – it just barely brushes against the floor, which I'm fine with for something I'll only wear at home. I can see why it the brand says this size will fit up to a Large though. It overlaps a lot at the front on me and there's plenty of roominess at the waist (which can be cinched in with the detachable belt for a more fitted look). And as I mentioned, it's a stretch velvet fabric which adds fit flexibility too.
While we're on the topic of fit, I especially like that there is lots of extra fabric around the neck as can be seen in the flatlay photo further up. This gives it a nice draped look when worn, plus keeps your neck lovely and warm!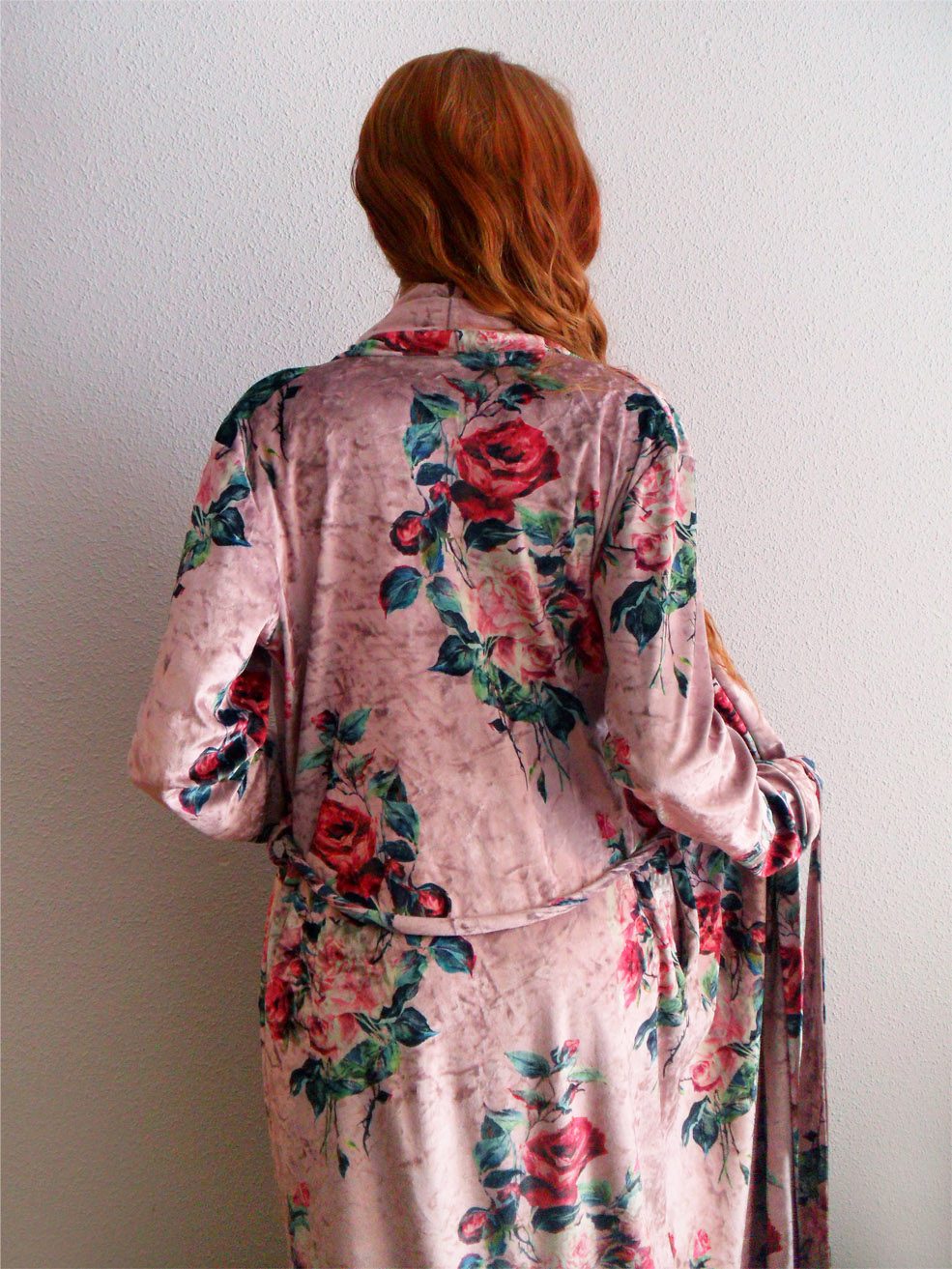 Value for money
At full price, this floral velvet robe costs approximately £115/$145/135€ in size S-L and £130/$160/150€ in size XL-XXL, although at the time of writing it's 20% off! While I don't particularly like that the prices are different for the smaller and larger sizes, they both seem like a reasonable amount to pay for a handmade robe that's so strikingly pretty and wonderfully comfy – especially when you consider that included in that price is free worldwide shipping (Australia excepted).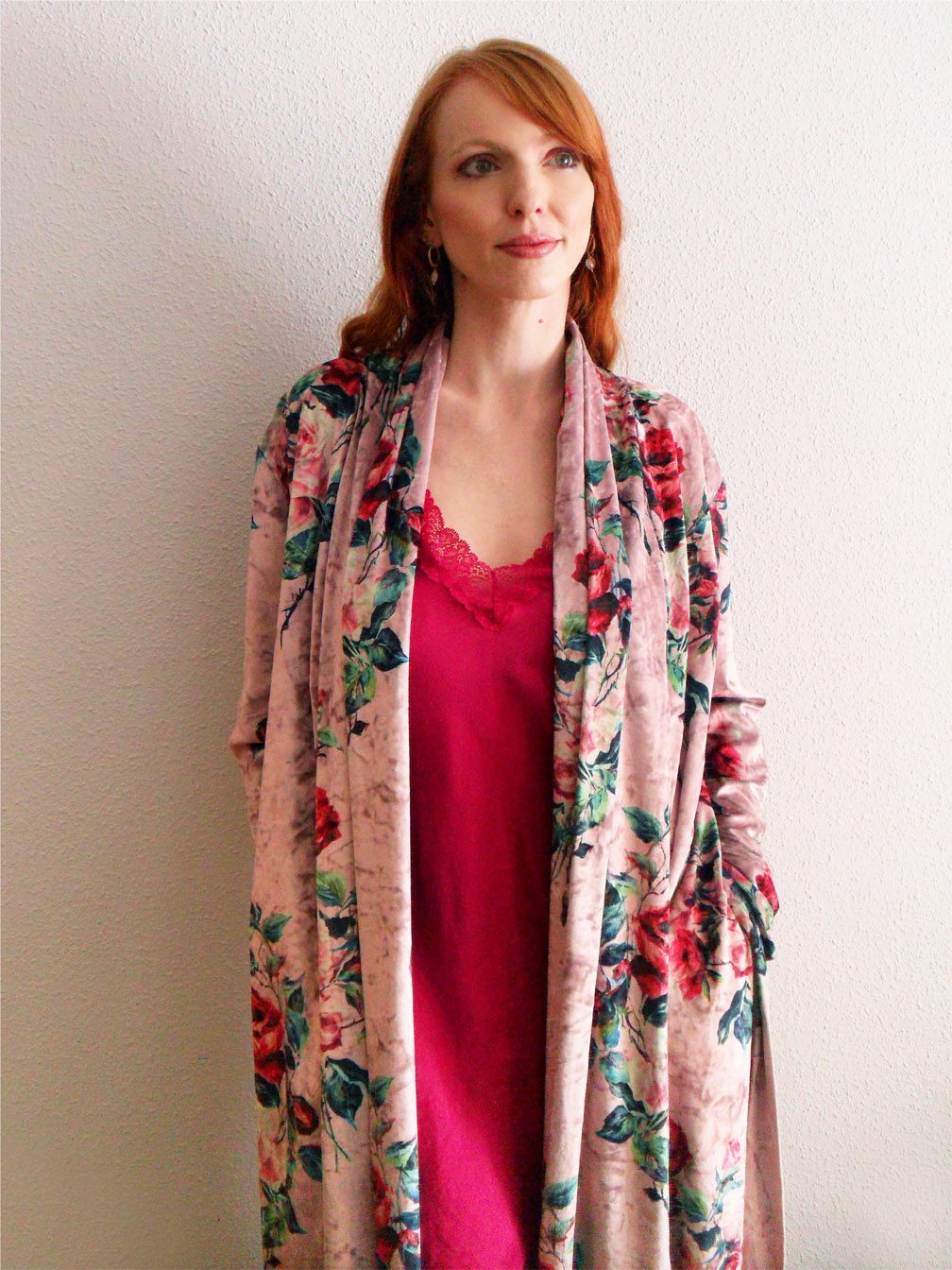 Final thoughts
I adore this robe. It's cosy, it's comfy, and it's fabulously pretty – what more could I ask for really? Although it's absolutely the rose print that drew me the design, it's worth noting that Lavender Dreams also offers it in a wide array of plain velvet colours too. You can see all of the options here*.
There's also a midi-length version* and one with cropped, feather-trimmed sleeves*. I'm also pretty obsessed with their floral print faux suede robe*!
Have you purchased from Lavender Dreams? And which floral print is your favourite – this velvet one, or the faux suede I just linked above?