As promised, I have one more giveaway for you here. I've teamed up with The Strap Saver to give five of my readers a $15 (~£10.50) gift voucher, which is the cost of one set of two 'strap savers'.
The Strap Saver is the invention of Shari Deutsch and Beth Lieberman and is primarily designed to extend the life of your bras (and other clothing with elastic straps) by shortening straps back down which have become stretched out through wear. It can also come in useful for anyone petite who often finds they can't shorten standard bra straps enough.
Shari initially contacted me to ask about a review which I declined because I don't have issues with too-long straps myself – possibly because I hand-wash my bras in cold water so the elastic doesn't deteriorate. Also, my hobby is basically hand-sewing elastic things so I'm fine with a sewn adjustment if necessary! The Strap Saver however is a fast and easy solution for someone who doesn't have the tools or the patience to sew, and it's non-permanent so you can reuse it on multiple bras.
Shari sent me a set of Strap Savers anyway so I could check out the quality first-hand, and I gave them a go on on my new Roza Scarlet suspender belt which has straps miles too long for me: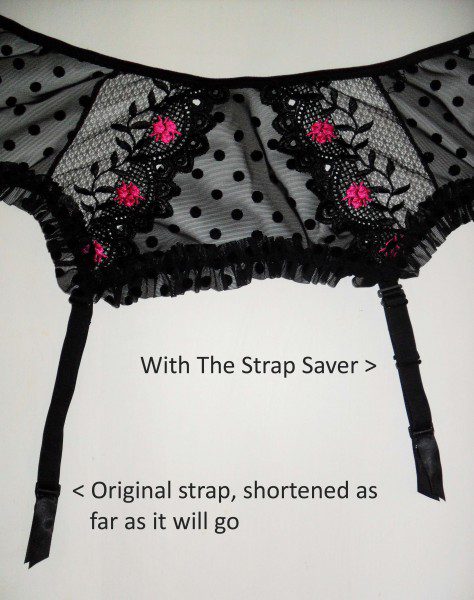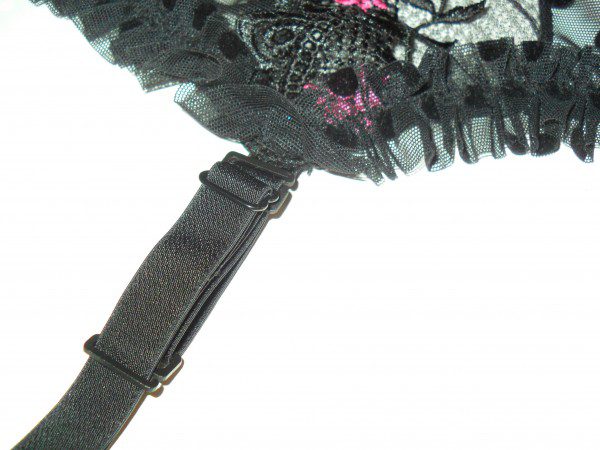 The Strap Savers are a tad fiddly to attach, but there are easy-to-follow, illustrated instructions on the website. (I noticed after taking these photos that I'd done it wrong by the way – straps with existing adjusters only require one Strap Saver each!)
You can choose from black, tan or metallic (silver) Strap Savers to match the existing hardware on your bra, and they come in 4 sizes to also match the width of your straps.
To enter, simply comment below telling me what you'd use your Strap Savers for! Then remember to click the link below to record your entry on Rafflecopter (or else it won't be counted) and you'll see some options to earn bonus entries. This giveaway is open worldwide, but please note that if you live outside of the US you will need to pay for postage when redeeming your gift certificate – it's only $2 or about £1.40.
The giveaway ends on 6th March.
(P.S. Blog comments are moderated so won't show up until I approve them.)