Let me start with an apology for how slow I've been with last year's design competition. 2015 saw me go back to work after maternity leave and I found myself juggling my business, a baby and a 30-hour a week job for the first time ever – life was busy to say the least!
The winning design is being produced – the fabrics are winging their way to Esty Lingerie HQ as I type – and the 2016 competition will be back to the usual schedule, launching this summer. Subscribe to the newsletter if you want to hear when the theme is announced.
Now, back to 2015… this was the 5th annual lingerie design competition I've run, and the theme I picked out this time was 'Modern Classics' – a title open to interpretation by the entrants. After I'd picked out the winner, two runners up were chosen by public vote from a shortlist of designs. In 3rd place, and featured on the blog today, was 22-year old lingerie design student Betsan Evans with her 70s inspired but very of-the-moment lacy bralette and tanga.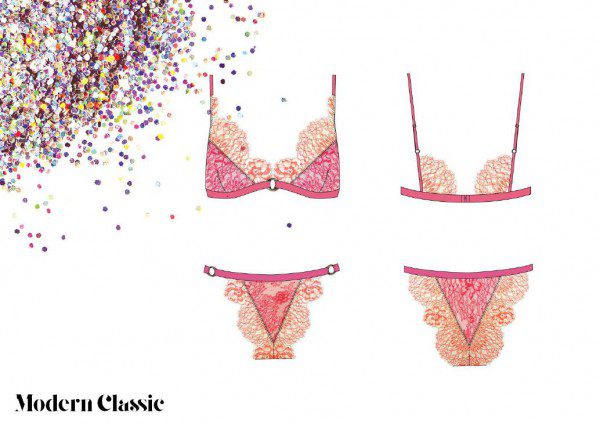 Firstly, congratulations on winning 3rd place in my 2015 design competition! What was your reason behind entering?
I love that Esty supports independent lingerie brands and designers and so I have always followed the company on Facebook. When I saw the competition I thought it was a great opportunity to design something in my spare time, as this is a hobby of mine. I also loved the theme this year!
Your interpretation of the Modern Classic theme was inspired by a 1970s image, tell me more about that…
The image I chose as my inspiration for my lingerie set summed up the Studio 54, glam aspect of the 70s perfectly, and so I wanted to design something that was just as vibrant and sexy. I wanted to combine this with the shapes that are currently on trend, therefore incorporating the modern part of the Modern Classic theme.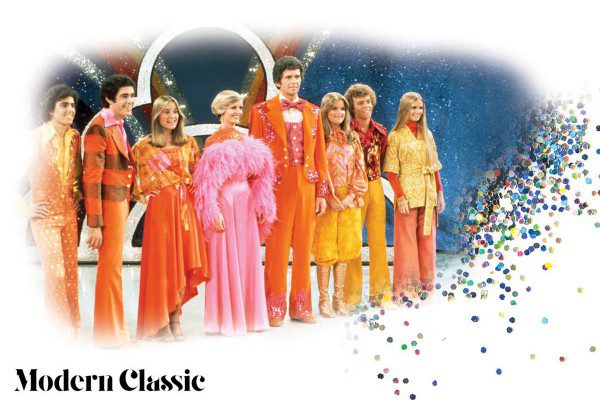 Are the 70s your favourite era, underwear wise? If not, which period has been your favourite so far?
I have always been a fan of 70s fashion as I love the silhouettes and prints from that era. It was also a great era for lingerie as matching sets and colourful lingerie were starting to become fashionable.
As a final-year student at De Montfort, I'm sure this is far from the first lingerie set you've designed. What goes into the design process, from initial inspiration through to the finished image?
I like to draw things I see from day to day in order to inspire designs. I believe that the more original the inspiration, the more unique the final design will be. I often find beauty in mundane objects we see every day and like to try to look at things in a different light.
I studied textiles in college and so I have always enjoyed experimenting with fabric manipulation to get ideas for a final design. I will usually draw around a hundred different design ideas before deciding on my favourite.
What type of career are you hoping to get into when you graduate later this year? Any plans to launch your own line?
I would love to work in lingerie design but wouldn't consider launching my own line for a few years at least. I would be more than happy to design for other brands and would love to work outside of the UK.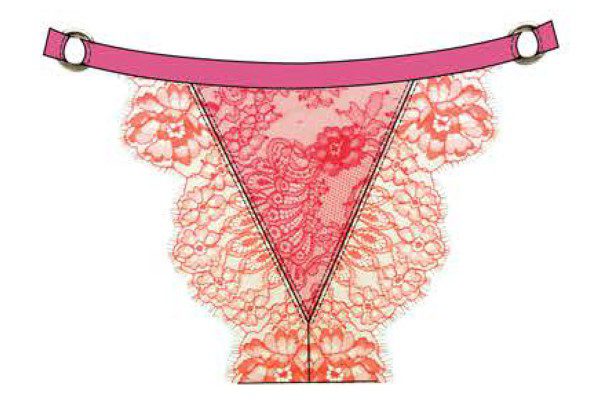 What is it that attracted you to the world of lingerie specifically, rather than general fashion design?
At first I thought fashion design was my passion but for some reason it just didn't feel right. I was always designing garments that seemed to be influenced by lingerie and when I heard about the Contour Fashion course at De Montfort University I just knew it was something I wanted to pursue. I love how great lingerie makes you feel even if no one can see it.
Finally, which are your top 3 favourite lingerie designers or brands and why?
My favourite lingerie brand is Loveday London. They design beautiful leather lingerie with innovative strapping details on the backs of the bras. I also like Almeida as I think they're really unique and fashion-forward. Lastly, I have to mention Hopeless Lingerie as they design really cool lingerie inspired by horror movies.
Thank you to Betsan, and stay tuned for upcoming interviews with the 2nd and 1st place winners! Be sure to let me know what you think of Betsan's 'modern classic' design too – did you vote for her?