Have you heard of newly-launched lingerie brand Dora Larsen? I recently spotted one of her bras in an article that I was instantly drawn to, and then found an email from designer Georgia in my inbox later that day, so clearly this article was just meant to be! I'm delighted to be collaborating with her on a reader giveaway today, but first let me introduce you to her brand.
Georgia Larsen is an ex-lingerie buyer for a major high-street store who has decided to go it alone, creating Dora Larsen when she decided there was a gap in the market for a comfortable, well-fitting and stylish bra that could be reimagined in lots of colourways to suit different moods and occasions. She's inspired by these endless possibilities of colour and aims to create lingerie that stands out in a sea of black and beige – "shell pink, lime green, lilac grey, snorkel blue, saffron, old rose, moss:  colour can be soothing, amusing, rebellious or uplifting. the art lies in how these shades are combined", says Georgia.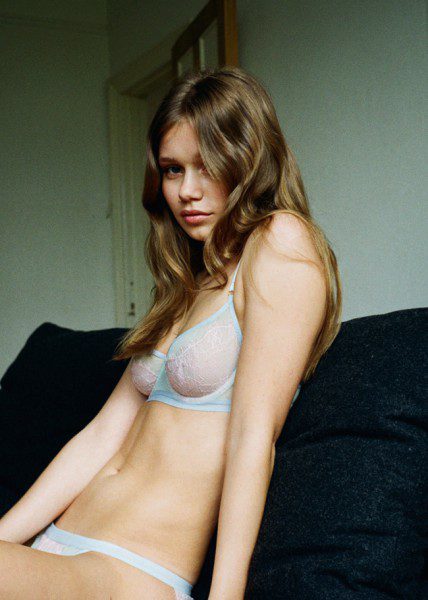 The debut collection is based on a single silhouette which is available in 4 colour ranges. Georgia is a muted combination of pastels – mint, blue and pink – which feels airy and innocent, and makes me think of calm oceans and breezy seaside walks. Chiara is a decidely more seductive combination of grape, grey and what looks like mint green. Edie is a mix of olive green, navy blue and pale pink which reminds me of tweed jackets and old military uniforms.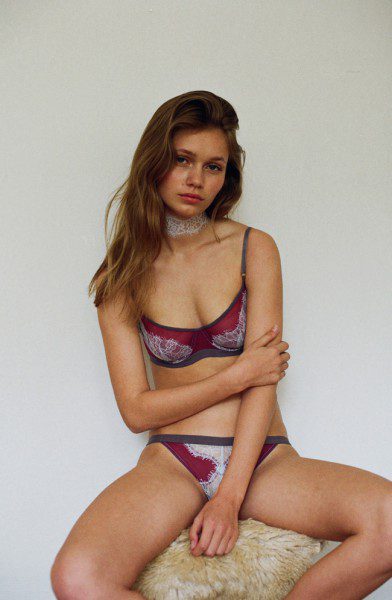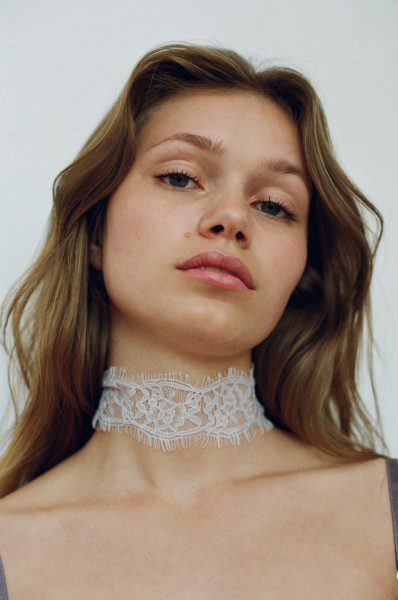 And then there's my personal favourite, and the set that originally caught my eye, Coco. Coco is a fun, in-your-face riot of magenta pink and lime green, with a touch of powder pink mesh in between. I've never been to a rave, but if I did I imagine this is the kind of lingerie I'd pick. As you may know by now, I'm a huge fan of hot pink and the addition of green keeps it fresh and modern, a little sporty even.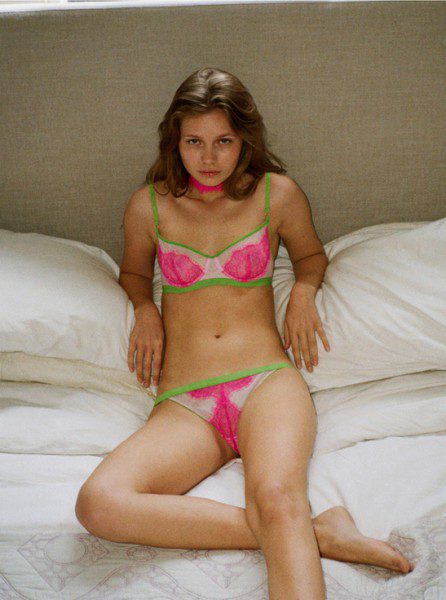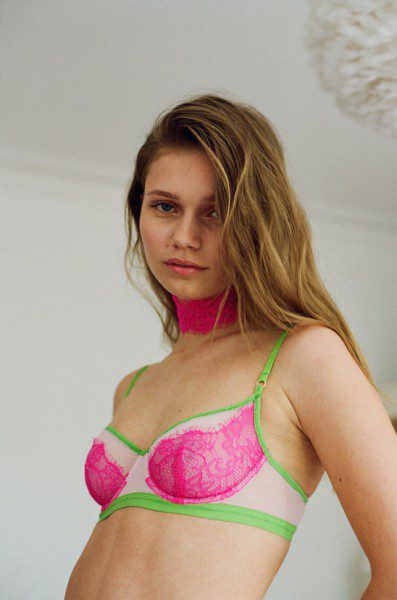 As mentioned, Georgia has stuck to one 'shape' for her debut collection – an unlined bra, lace-backed knickers, and simple lace chokers to complete the look. Whilst it won't appeal to everyone's tastes, this one-part, demi-cup bra is easy to wear and offers lightweight support which is in line with her 32-36 A-D size range. The knickers too are an easy, classic-yet-modern shape, with a soft elastic waistband for comfort and an elastic-free, eyelash-edged lace rear that won't cause any VPL.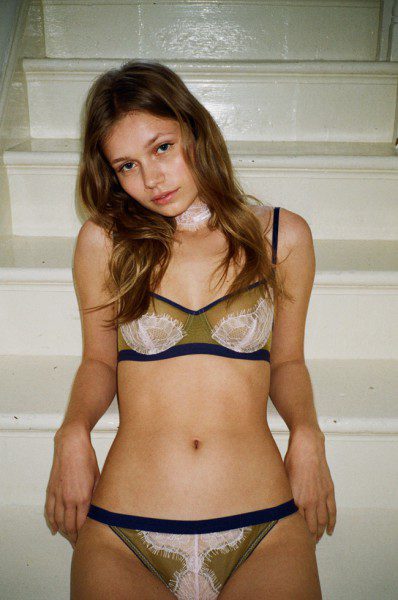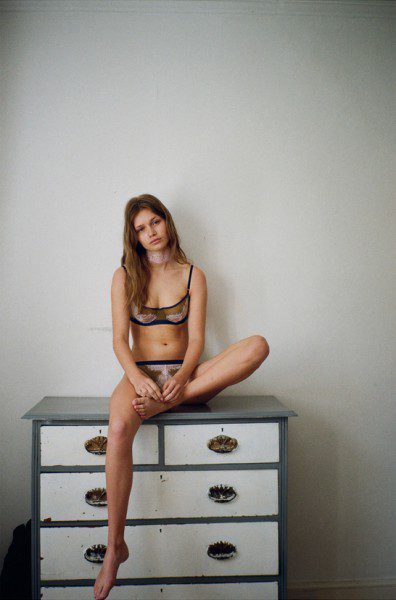 I think it's a great choice of design for Dora Larsen's launch – simple but pretty, and surprisingly different in each of the colourways. You really notice the graphic line of the lime waistband on the Coco brief, more so than on the other knickers, for example. The little lace chokers are a nice touch and very on-trend right now. Chokers cost £14, knickers cost £32 and bras are £48.
I'm interested to see which other colourways she does with her next collection, but also what else the future brings. I feel like this brand is well-suited to a loungewear addition or two, don't you? Also, I really love the photography of the Dora Larsen lookbook! The pictures look very natural and relaxed, which makes me feel like the lingerie is going to be nice and comfy. Are you a fan of this lookbook?
Win a Dora Larsen lingerie set
Georgia is very kindly offering a Dora Larsen bra and knicker set to one lucky person reading this – you'll get to pick whichever range is your favourite! Bras come in 32A-36D and knickers in XS-L to fit UK 6-14.
To enter, leave a comment below with the name of the range you like best and what the colours make you think of. Then click the link below to record your entry with Rafflecopter (please note if you don't do this, your entry won't be counted!). When you've done this step you'll also see some ways you can gain bonus entries, such as subscribing to the Dora Larsen newsletter.
This giveaway is open worldwide and closes on 27th July.