Disclosure: I received a free copy of The Bra Zone, which I have read from cover to cover! Any opinions here are honest, as always.
Do you follow Elisabeth Dale's blog over at The Breast Life? It's a highly unique one – not so much a straightforward lingerie blog, it's a resource all about breasts, covering breast health and surgical options alongside bra fit and fashion. Dale is also the author of two books, bOObs: A Guide to Your Girls and, more recently, The Bra Zone.
The Bra Zone is your ultimate guide to finding bras that make you happy. A large portion of the book is dedicated to sourcing bras that fit how you want them to, including tips to deal with common issues such as shoulder pain or uneven breasts, and advice to get measured or measure yourself.
This is where the 'bra zone' comes in. Did you know that it's completely normal to wear multiple bra sizes, and that different styles of bra work better on different breast shapes? Dale explains everything from how to tell if a bra is fitting you well, to how to get your breasts to sit where you want them to on your chest. There are brief sections dedicated to the needs of people who are nursing, post-nursing, post-surgery, post-menopausal, transgender and more. The book essentially walks you step by step through working out the range of bra sizes and bra styles that will work for you and your body.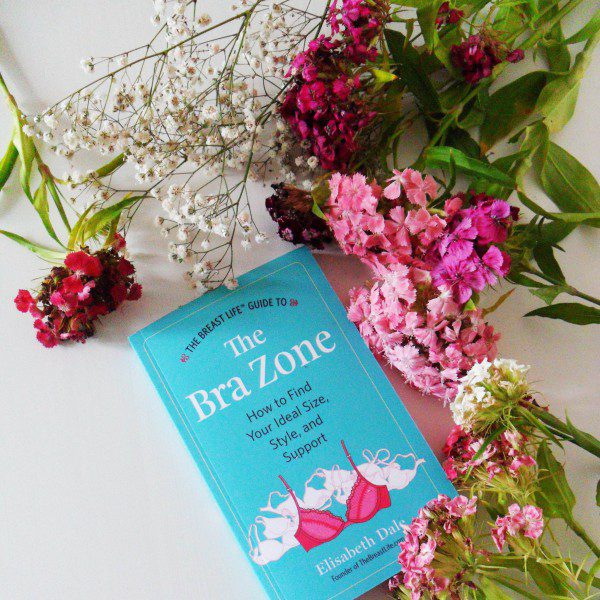 The Bra Zone is not all about bra fit though, with tips on where to shop, how to store and care for your bras and even how to recycle your old ones. It's a small but jam-packed book that you can absorb in 2 or 3 sittings and then keep as a handy resource to refer back to whenever your breasts decide they fancy a change (which for me, seems to be about every 6 months). Although I already knew a lot of what this book was telling me – I don't consider myself a bra-fitting expert, but I'm certainly no beginner either – this is the kind of fun, informative and not-at-all-condescending book that I really wish I'd had in my teens!
The Bra Zone is available on Amazon for £10.95 (or £3.84 for Kindle), though one of you is going to be getting it for free! Elisabeth Dale has kindly offered up a copy for one of my readers which can be shipped to the UK, USA or Canada.
To enter, leave a comment below with either a bra-related question you'd love to have answered or, if you consider yourself something of an expert on bras already, a fun/helpful bra fact that you know!
After commenting, please click the link above to record your entry via Rafflecopter to ensure it gets counted. Once you've done that you'll see some ways to gain bonus entries, such as subscribing to this blog. You have until 30th November – good luck!
P.S. My lingerie blogger database gets a teeny mention on page 105 and I just had to get that in here somewhere because oh my gosh, Esty Lingerie has been immortalised in print! Thank you Elisabeth!