Disclosure: Links with a * are affiliate links.
Previously in the Careers in Lingerie series I've spoken to both an independent lingerie designer and a freelance one. Today, I'm speaking to Heather Mercer, lingerie designer for British brand Lovehoney*, to find out more about what it's like designing underthings in-house for someone else's brand. Heather has been with Lovehoney since they first launched their eponymous lingerie line in 2014, having previous worked on behalf of major high-street and luxury lingerie labels.
Here, she discusses the design process, what a typical day in the office involves, and her advice for other aspiring lingerie designers…
Hi Heather, thanks for taking the time out to join my Careers in Lingerie series and answer a few questions about your role as lingerie designer at Lovehoney! What drew you to the world of intimates?
No problem at all, thank you for your interest! I've always loved making things, starting out on a very old Singer sewing machine. Before I studied Fashion and Textiles BA (Hons), I worked as a lingerie sample machinist and this introduced me to the wonderful world of lingerie.
How well did the Fashion and Textiles course prepare you for a career in lingerie design?
It was a wonderful course that allowed me to be as creative as possible. I was introduced to lingerie pattern cutting and construction while I was working as a machinist and our main customer was Marks and Spencer. So by the time I went to university, I used the knowledge I already had and fused it with new techniques.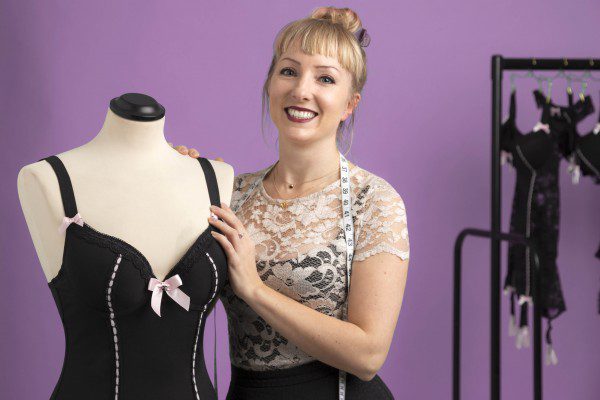 Would you recommend the same educational route to other people hoping to get similar roles?
A lot of design jobs will expect candidates to have a degree level education in a relevant subject, so I would recommend doing a fashion degree. But I would say that getting as much industry experience as possible, such as intern work for small brands and big companies, will allow you to see how the industry really works and will inform which route you decide to take.
Let's talk more about your current role. What does a typical day in the office involve for you?
As you can imagine, a typical day with Lovehoney is always fun! There's always something going on. Recently we've had the Lord and Deputy Lord Lieutenant of Somerset here to present the owners Neal and Richard with the Queen's Enterprise Award for International Trade.
For me, a day would start with answering emails – we work with suppliers all over the world so the time difference means a full inbox by the time I arrive. Then depending on where we are with the season it could mean trend research and design, or sample fitting; we fit everything in-house with our own models so this keeps me busy. At the moment we're pulling together ideas for our Spring/Summer Lookbook for 2017 and we've just had a fun photo shoot for our brand new Seduce Me range – our biggest range yet.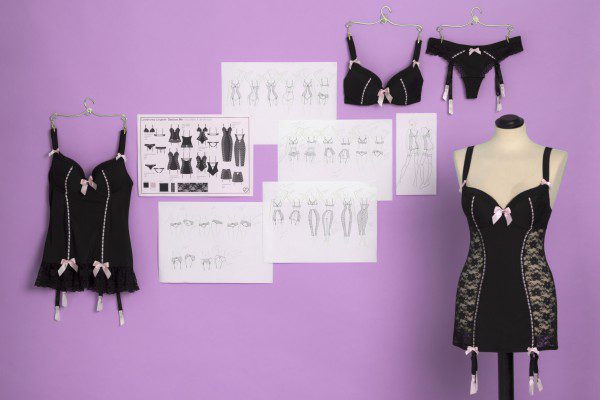 Do you design everything yourself, or work with a team or with others for certain aspects of the design process?
I am the only lingerie designer at Lovehoney, but we work as a team to make sure we deliver what our customer wants. When we first created Lovehoney Lingerie 2 years ago we started with a huge customer survey that had thousands of responses, in order to get an idea of what our customer really wanted. I always read all the reviews and this really helps us to get it right. Lovehoney as a company has over 150,000 reviews from customers live on the site.
And what's the process for designing a whole new collection each season?
It all starts with looking at the trends, researching and sourcing new fabrics and looking at colours. We really listen to our customers so this plays a big part in informing the designs too. I sketch out all my ideas and present this to the team, then we choose the styles we want to go forward with.
I then create the CADs, technical illustrations and technical specification packs to send to our manufacturers. They then create the concept samples and the fitting process begins.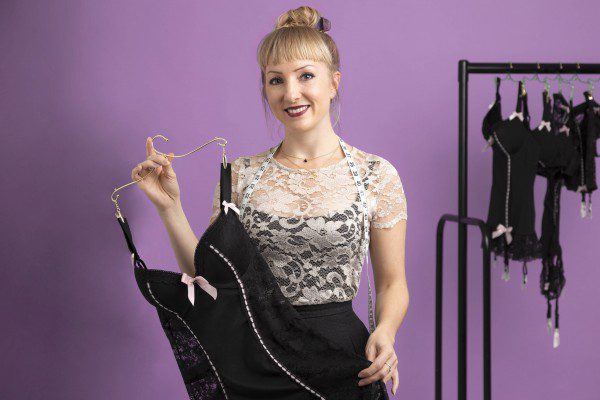 What's your favourite part of designing Lovehoney's range?
Designing for Lovehoney always has an element of fun, it's what we do! We want to make people feel sexy and good about themselves, and reading good reviews makes it all worthwhile. I love it when a new collection launches and it does well; it's amazing to see that it is making someone, somewhere, happy.
And are there any tedious or difficult parts that you're not so keen on?
You can't imagine how many garments I've measured over the past 2 years! All fitting samples need to be measured in detail, the same with the pre-production samples, and at the beginning I measured the bulk quality control samples too. So this is probably the most tedious part, but also extremely important as we take quality and fit very seriously.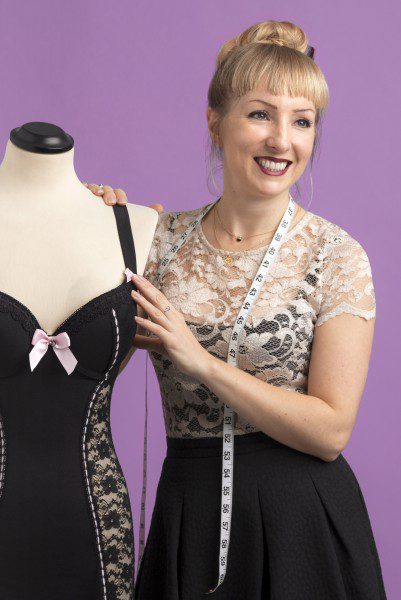 You've previously designed for both high-street and luxury labels, and now you're working for Lovehoney which is one of the most budget-friendly lingerie brands around. How does the price limitation change things, and do you feel more restricted in what you can create?
I think there are always challenges in every level of budget, even at high-end you feel like you have to work to a certain price. Of course with Lovehoney being at the lower end of the pricing there are limitations, but we've worked hard to source the very best fabrics possible, and I'm very proud of the level of quality we provide at such a good price.
The little Lovehoney logo charms are a nice touch and unexpected at this price point. Were they your idea? 
The Lovehoney heart is such an iconic logo now it seemed obvious to have this on our lingerie! I developed this with a supplier I had worked with for years to ensure it was the best quality. And it's been in silver, gold, black and soon to be in rose gold.
Thanks for answering my questions! Where can my readers find the brand online?
www.lovehoney.co.uk* and Instagram at www.instagram.com/lovehoneylingerie
---
Don't forget to subscribe to the blog to catch all of the future instalments of the Careers in Lingerie series, where I'll be taking a look at what it's like to work in many other roles within the lingerie industry!
Is this what you imagined working as a lingerie designer to be like? If you have any other questions about this job role that I didn't think to ask, leave them in the comments below.