Disclosure: This blog post is sponsored by Lovehoney. Links with a * are affiliate links.
Online retailer Lovehoney keeps on upping its lingerie game with its in-house collection, with each season bringing ever-more stylish, eye-catching and trend-focussed designs to lust after. And their latest release, the Captivate range*, may just be my favourite Lovehoney offering of all time.
Part of a 10-year anniversary collection for the brand's official Fifty Shades of Grey line, Captivate is a lusciously sexy affair, featuring everything from wet-look ouvert* and cupless* bodysuits, to derrière-less spanking tights* and bodysuits*. But there's glamour as well as straight-up eroticism, and – no surprises here – it's the metallic lace and embroidery looks that have most captured my heart.
While the black and silver pieces – this basque*, for example – feature some gorgeous details such as V-wires and the shimmering silver lace itself, black and gold has always been my favourite colour combination of them all, and so it's those pieces that I wanted to share with you today. There's something about this colour palette that just always feels so fancy, so opulent, even when the lingerie itself is not that expensive (and the items pictured here are definitely not, all coming in at just below £60/$75 per set).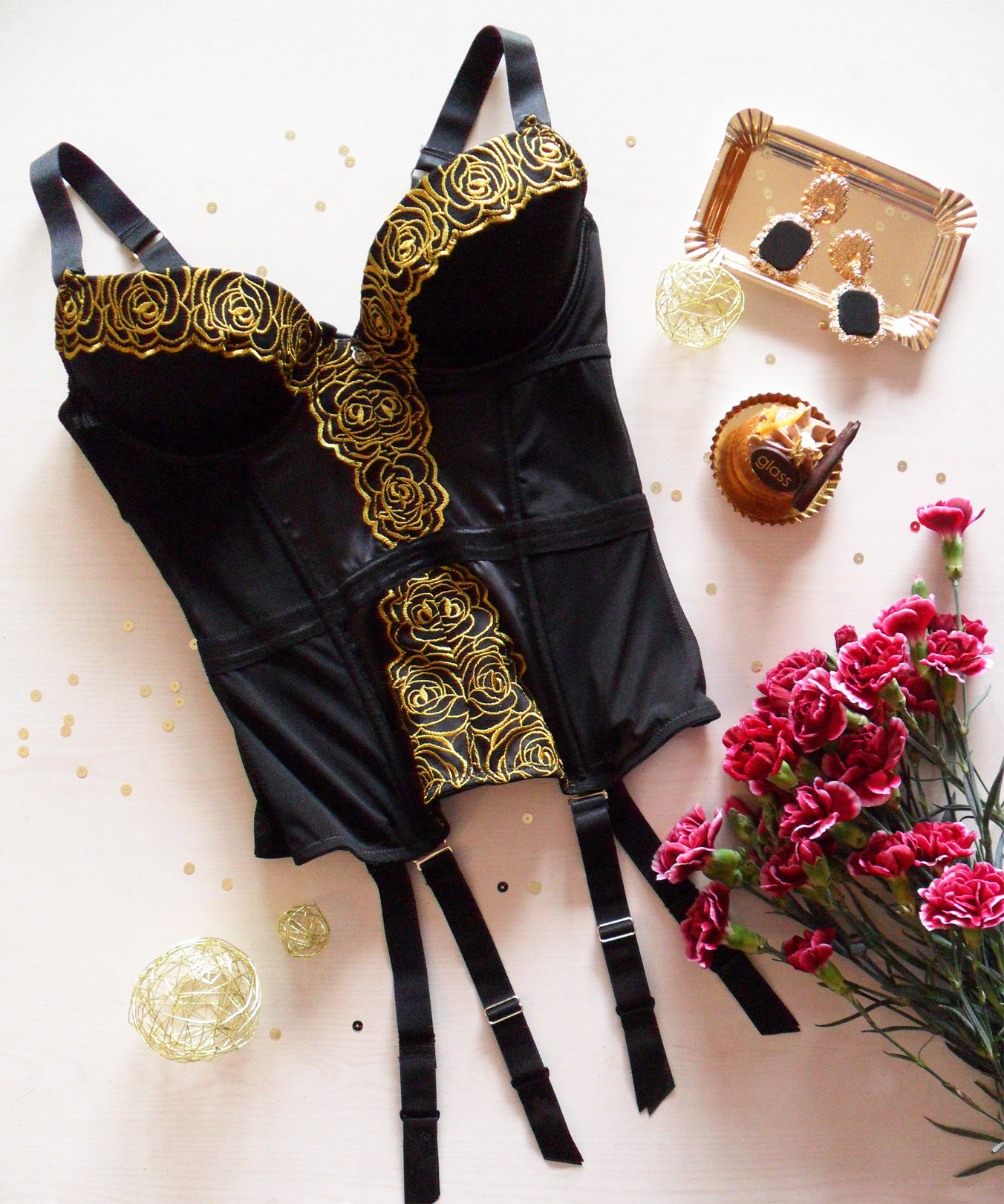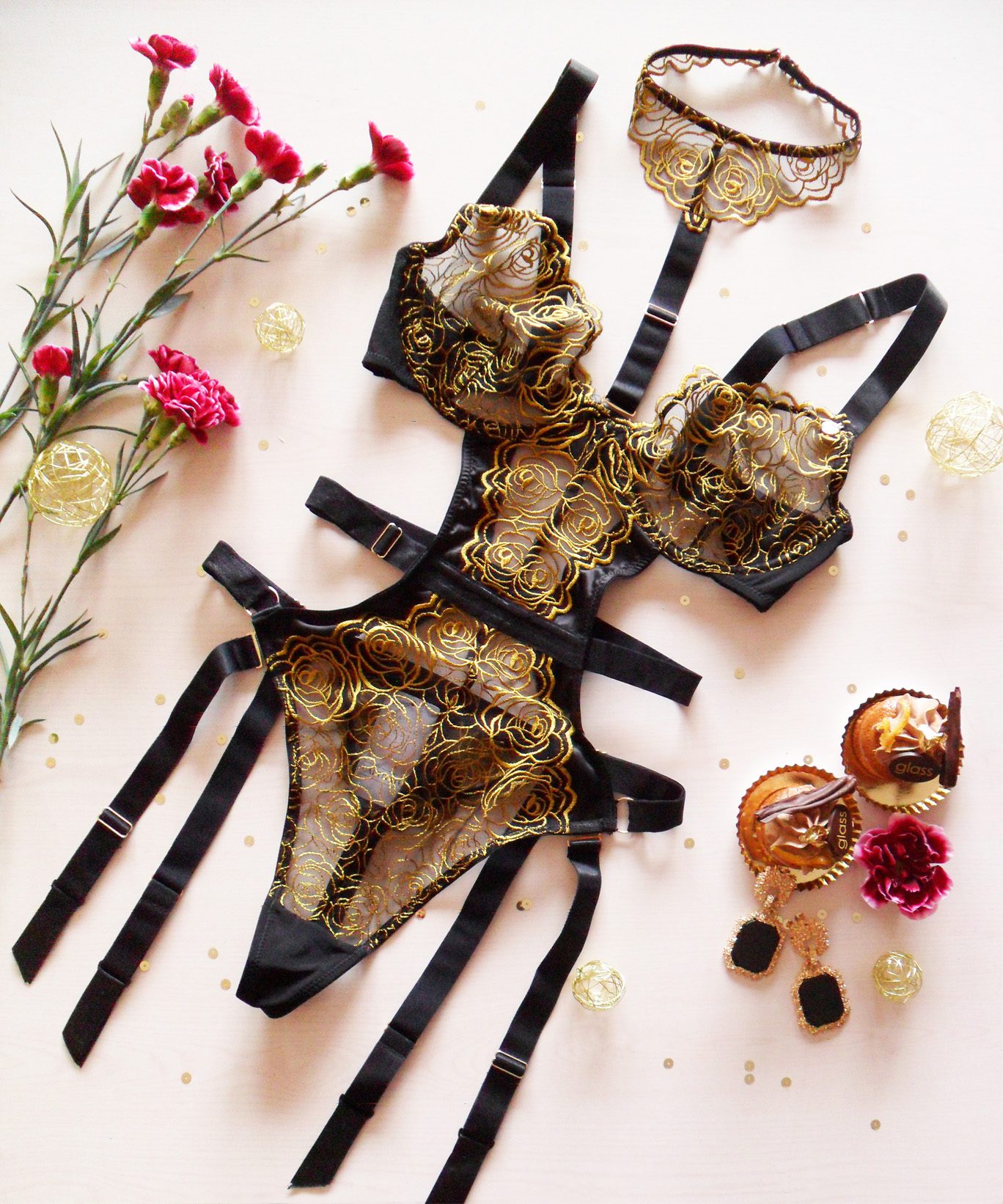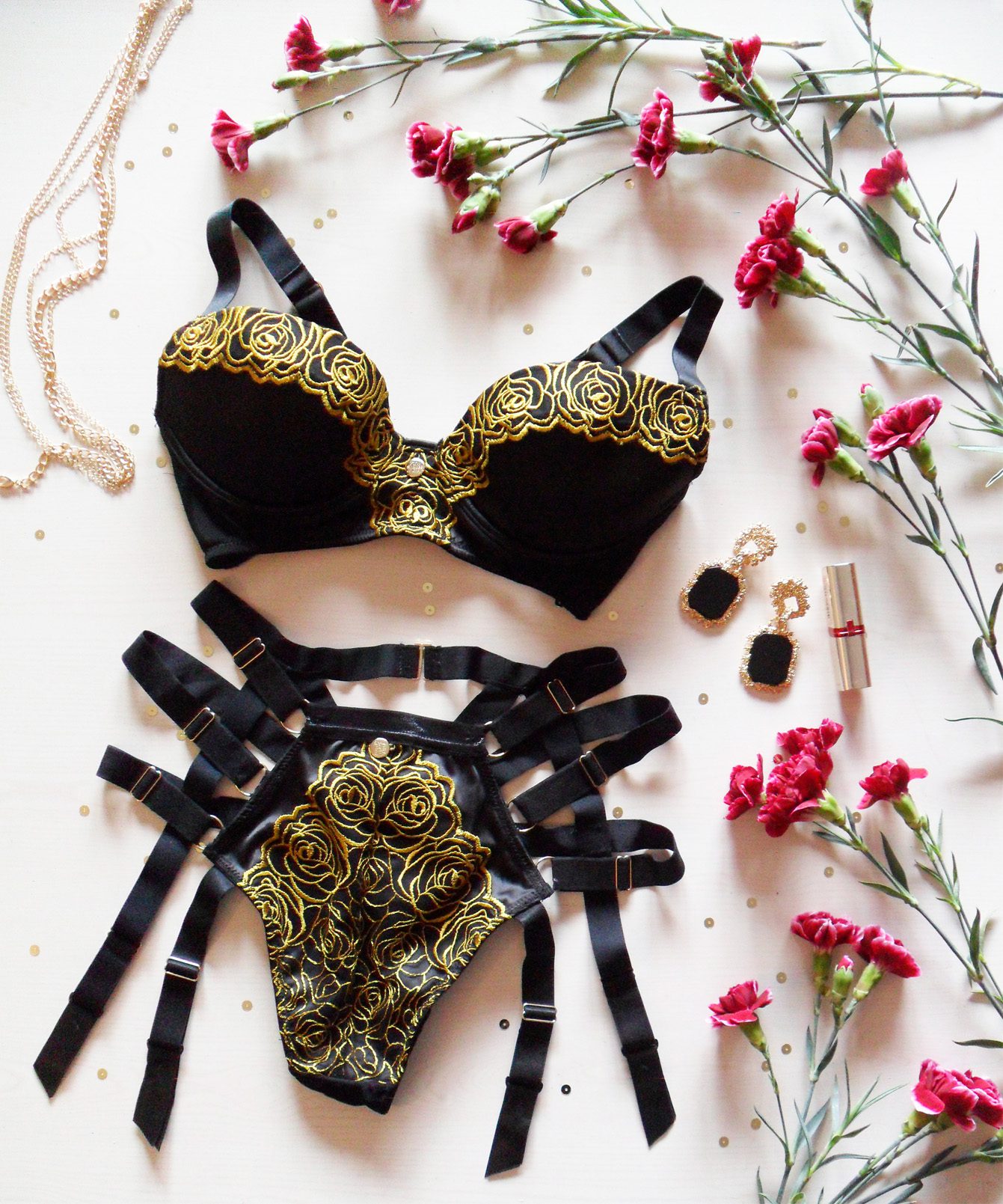 I'm honestly struggling to pick a favourite from these three looks. The sheerness of the teddy certainly shows off the shimmering, rose-motif embroidery to beautiful effect, but I'm also loving the contrast between the delicate embroidery and the thick, strappy sides on the high-waist brief from the padded bra set. And while basques aren't really something I wear much these days, this one definitely has great lingerie-as-outerwear potential. I paired it with some just-seen silk trousers in the photo above, but I think it would also look incredible tucked into a golden pencil skirt.
The teddy and bra set are both crotchless (this is a Fifty Shades of Grey collab after all!) and all three sets feature the same detachable choker detail to give you styling options. The suspenders on the teddy and basque are also removable. In keeping with the black and gold aesthetic, the rings, hooks and sliders are all gold-tone metal, and each piece features one of my favourite details to find on lingerie, and something you'd usually only see on higher-priced brands: a branded hardware adornment.
As well as their affordable pricing, one of things I appreciate most about Lovehoney is their size inclusivity. The basque and bra sets here are available to fit up to size 5X-6X or UK 26-28, and the bodysuit up to a UK 24 – that one is sold in two sizes only, but has a highly flexible fit thanks to adjustable strapping. And plus size versions cost the same as their smaller counterparts (as they should).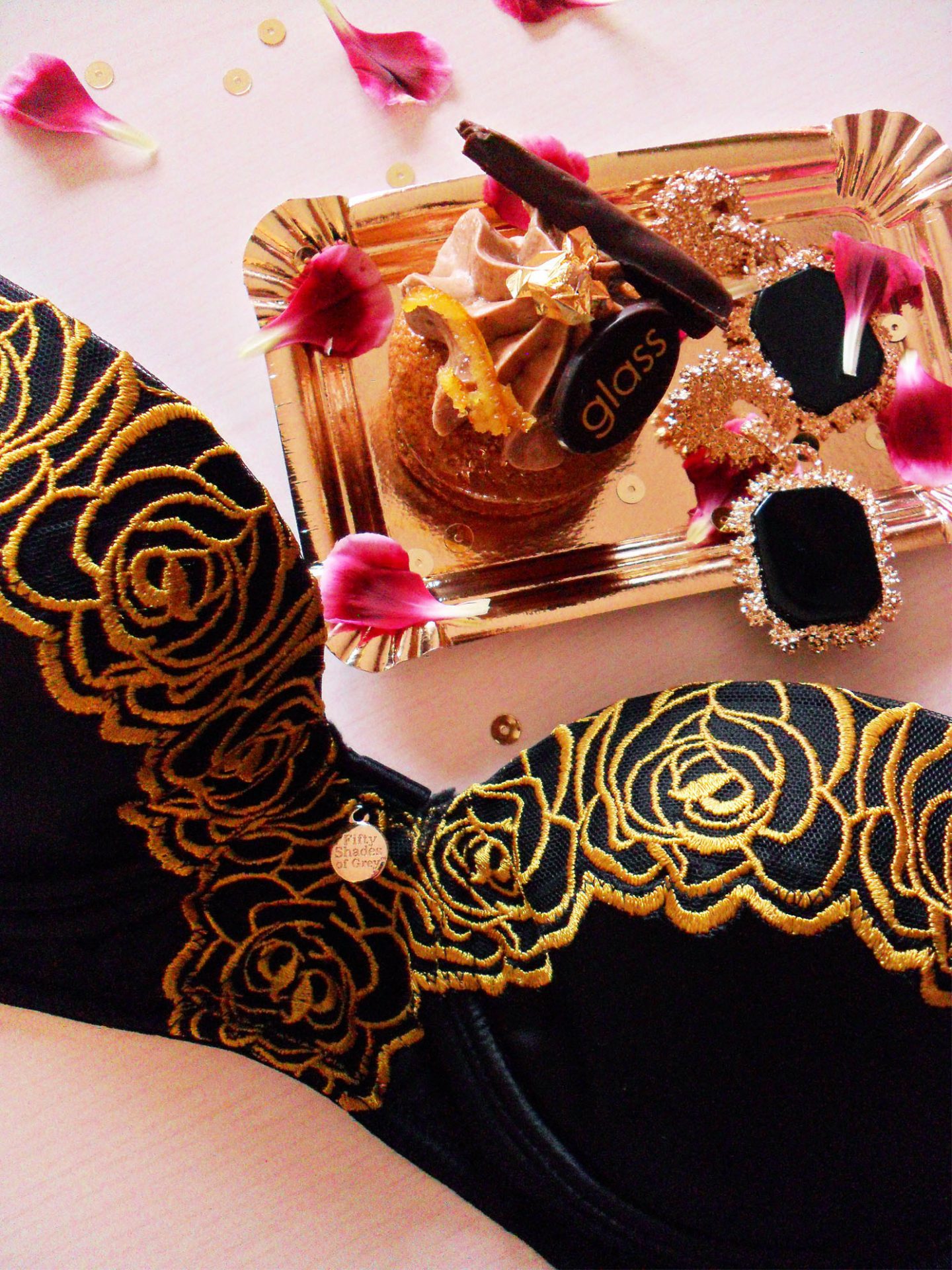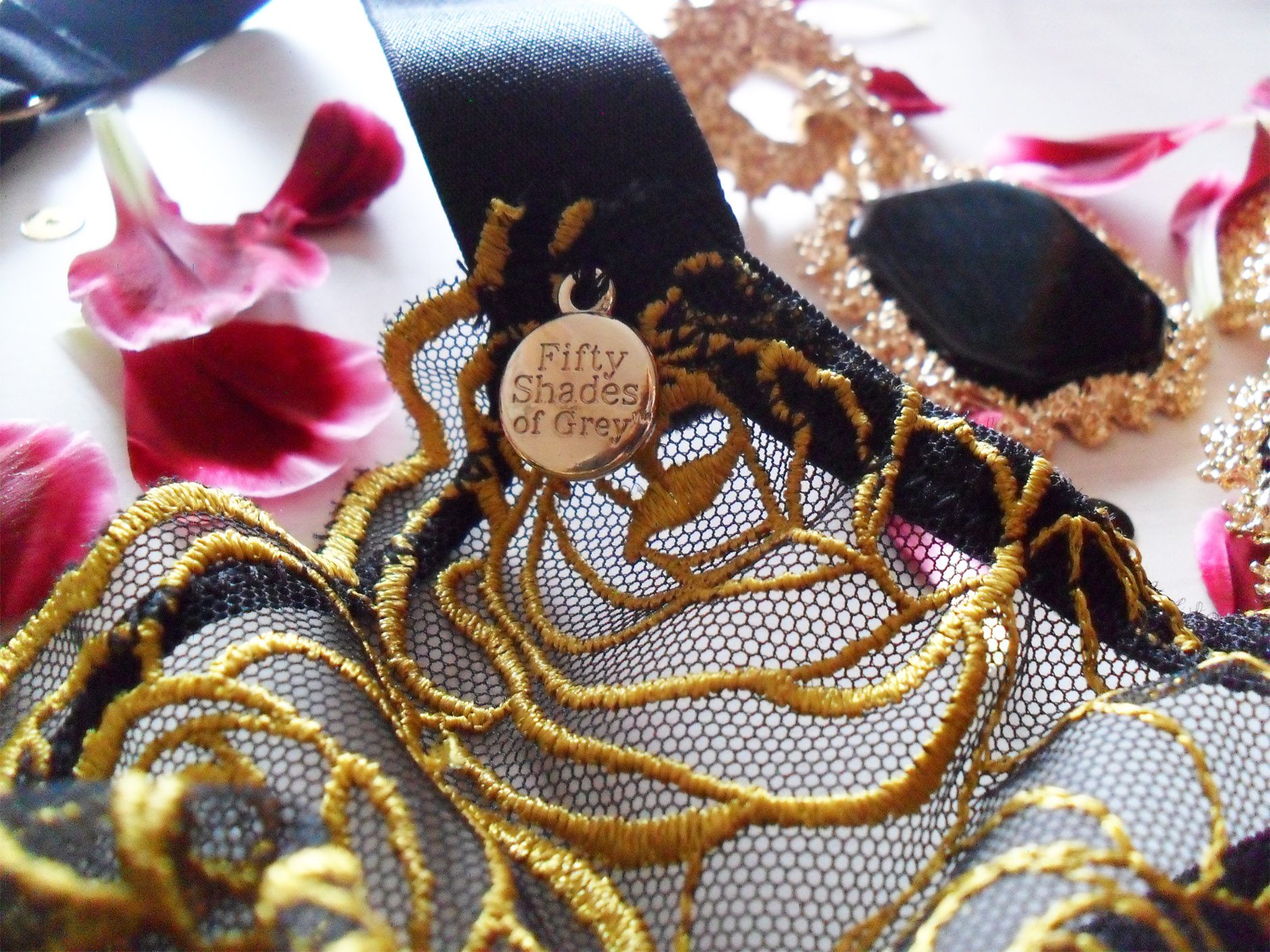 I've love to know what you think of the full Captivate collection by Lovehoney*. Are you smitten with this swirling gold embroidery too, or is the silver lace or the wet-look fabric calling to you more? Let me know in the comments section!