Disclosure: This bodysuit was sent to me free of charge to be reviewed. My opinions are, as always, 100% honest.
I wrote a post introducing new, unabashedly-sexy brand Twisted Lingerie last month, and the brand also sent me something to try out for myself. I debated between the babydoll and playsuit/bodysuit, and in the end decided I rather liked the neckline detail of the playsuit and I'd get more wear out of that than a piece of nightwear.
Twisted Lingerie's debut collection, Xenia, is designed by founder Sophie Thorne and manufactured in Latvia. Obsessed with luxury brands like Bordelle and Nichole de Carle, who are known for their strappy aesthetics, Thorne had the idea for Twisted Lingerie when she struggled to find similar designs at a more accessible price point. Xenia prices range from £17 to £38 – this playsuit being the most expensive piece – and as part of her commitment to affordable pricing, students get 10% off.
Appearance
As far as strappy, black lingerie goes, I don't think this design is particularly innovative, but then I'm not expecting extraordinary design at this price point. As I've mentioned, I do like the neckline which is unusual and would look great worn under a V- or scooped-neck top.
The thong bottom has a very high, 80s-style leg cut which is not really my thing (I'd balance it out with strappy black leg garters, personally), but I do know high leglines are having a bit of a resurgence right now and will appeal to others more than to me. In hindsight I should maybe have asked for the bralette, which features the same neckline, and one of the various matching knicker designs, so there's always that option if you like the top half of this playsuit but not the bottom.
Verdict: 5 / 10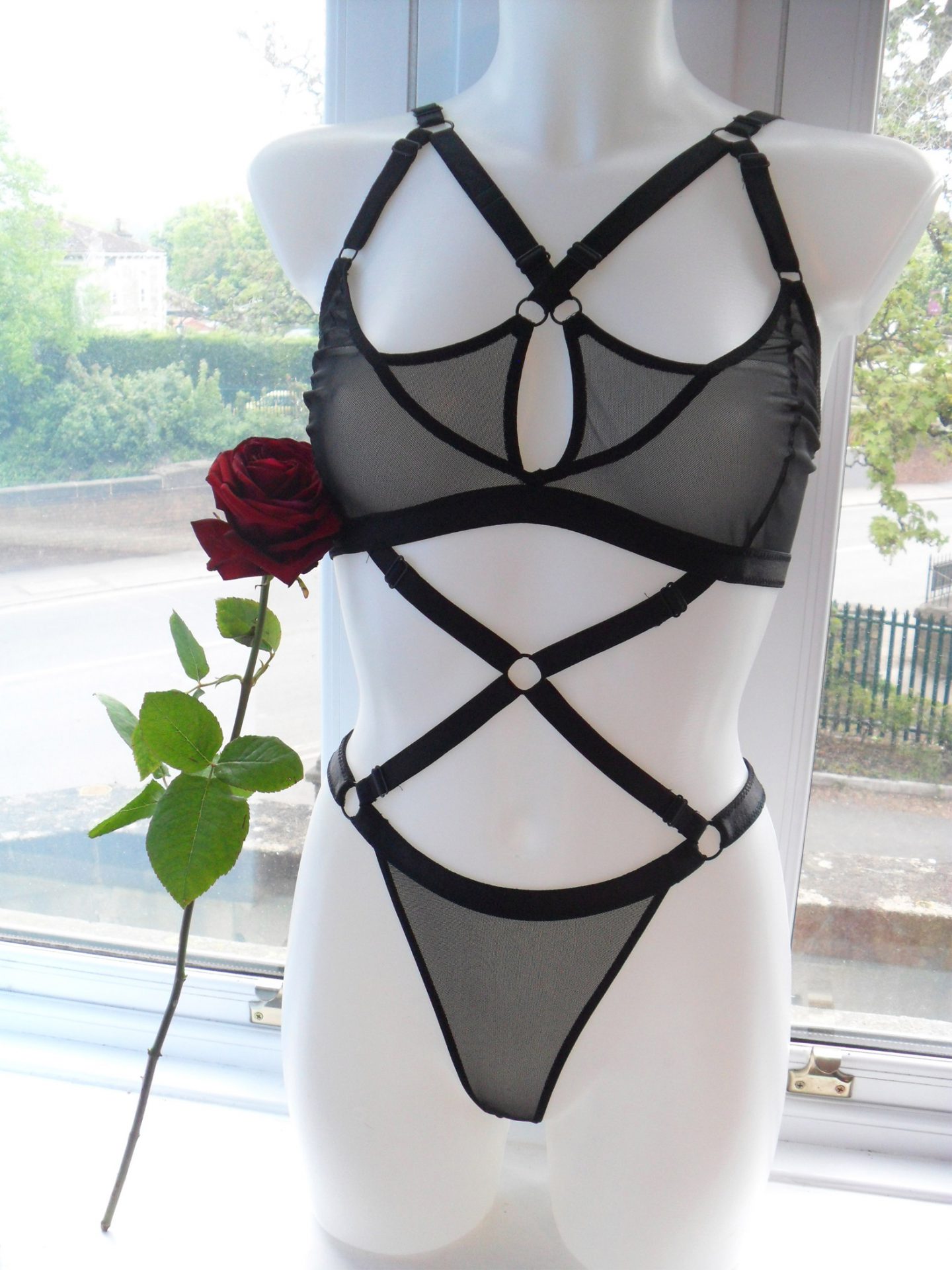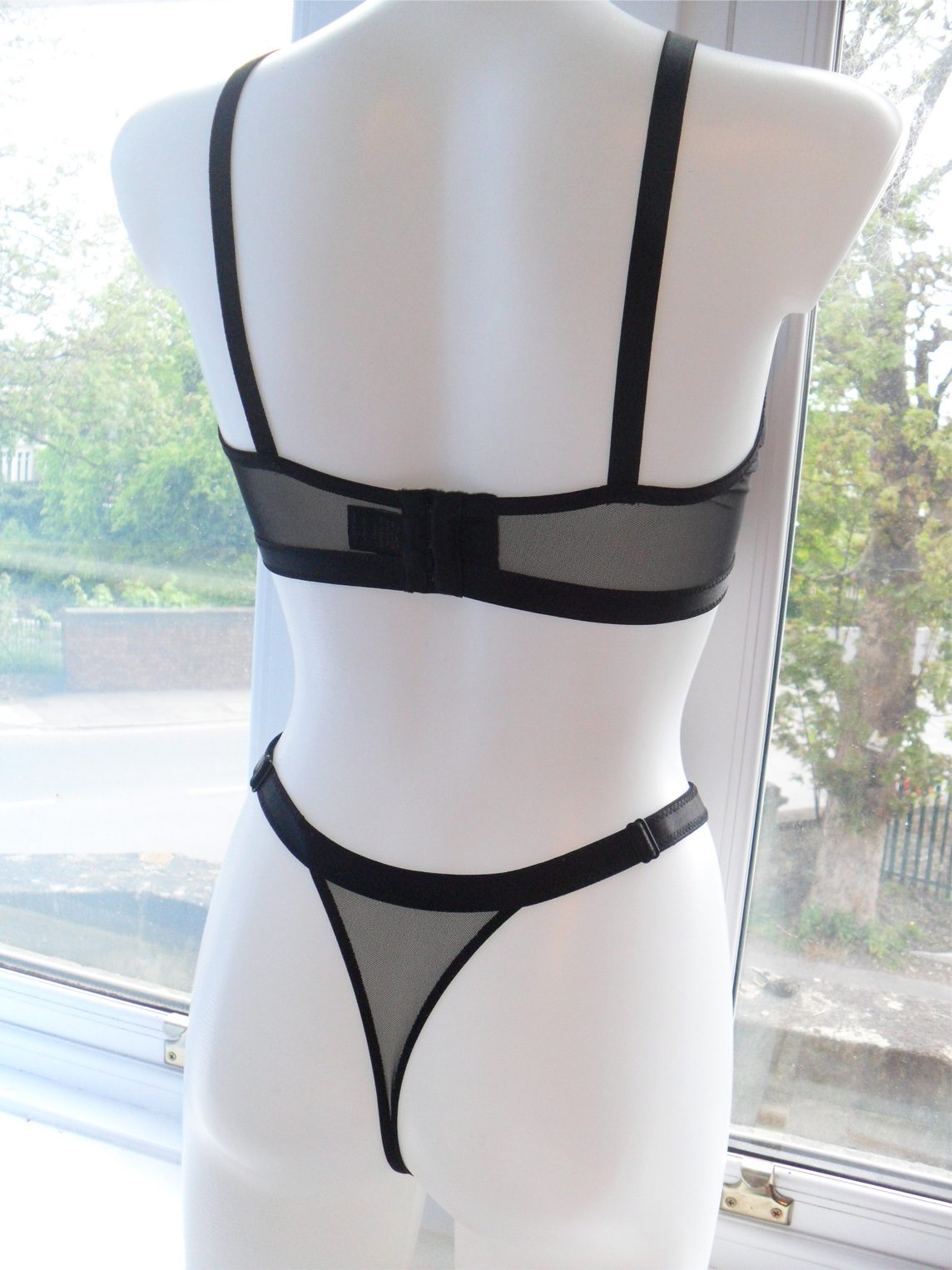 Construction
The entire playsuit is made from mesh and satin elastic. Seams and edges are overlocked which is a quick and cheap method of construction, and what I would expect given the brand's price-based proposition. Where the mesh joints the elastic under-band and waistband though the mesh is folded under, for a finish that's super neat and unlikely to deteriorate with wear and washing. The hardware is (I think) coated metal so that the bodysuit is entirely black all over.
There are some visible raw edges here and there. Overall I'd say the quality is similar to something you could buy in Ann Summers – certainly not a luxury product, but not something that's going to fall apart right away either.
Verdict: 5 / 10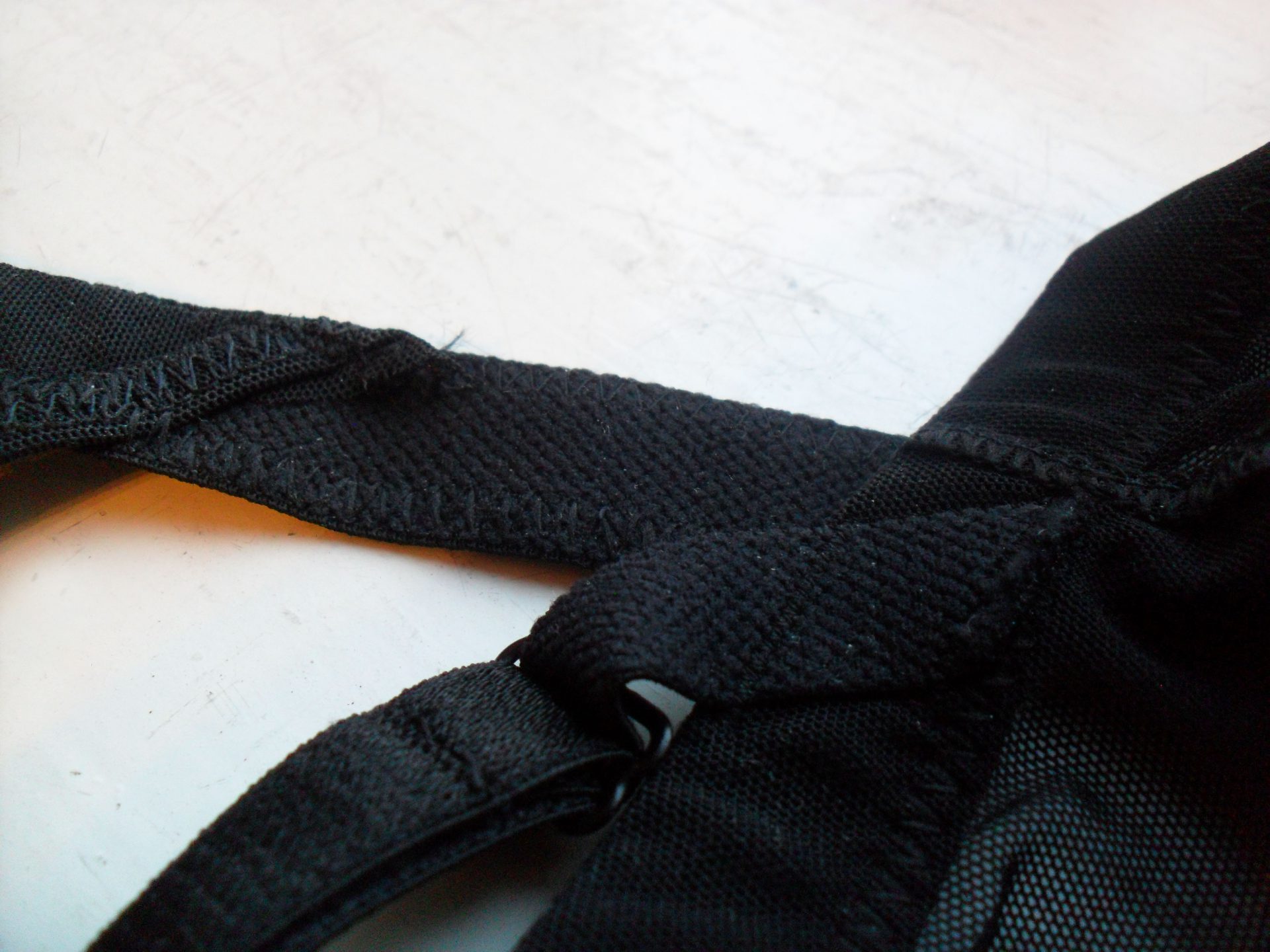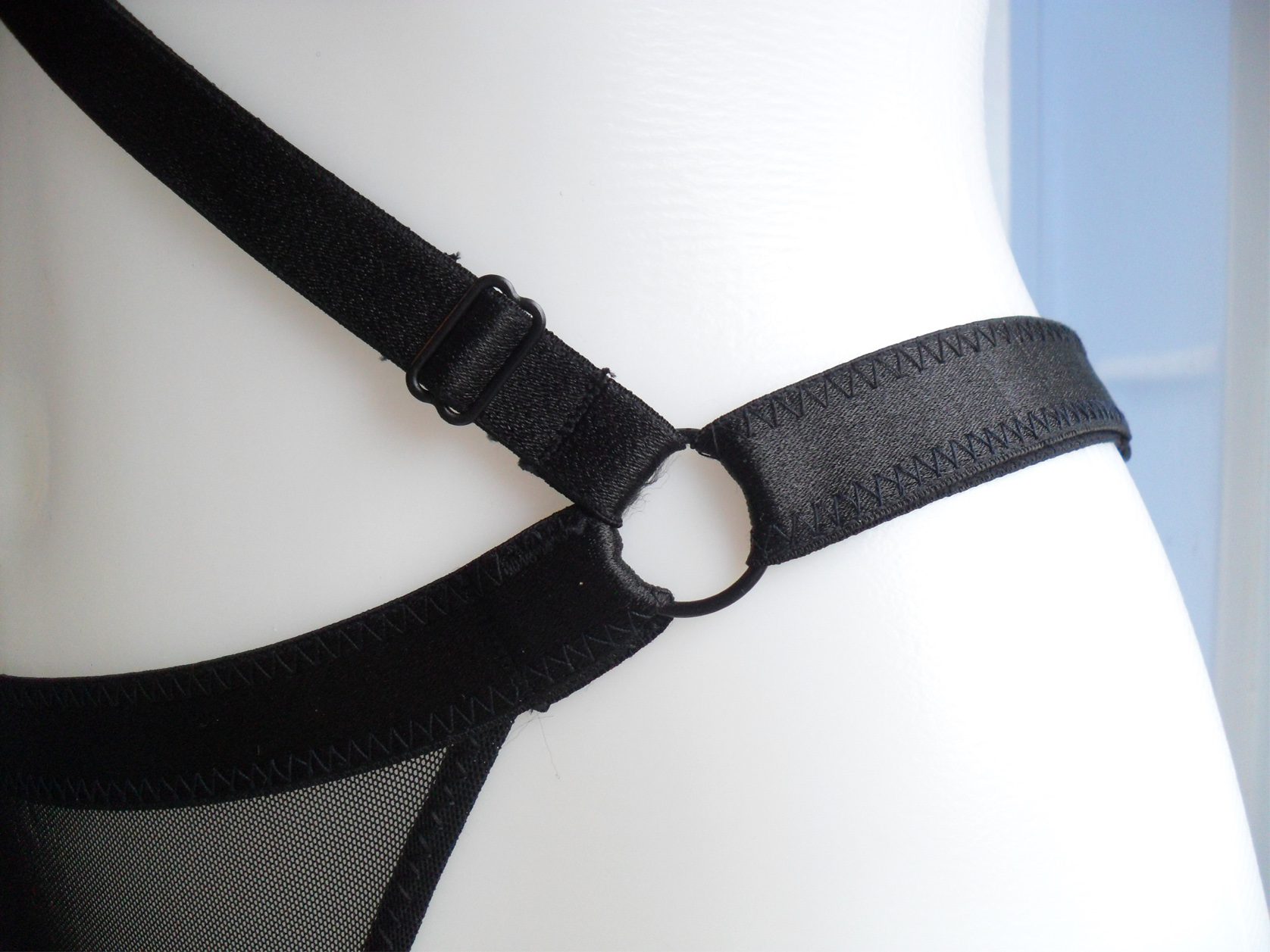 Fit
Twisted Lingerie has launched with S/M/L sizing, covering UK 8-14. I currently wear a UK 6 or XS. Initially I asked for the size M playsuit thinking that the cups may be a better fit for my 30DD self and the rest looked fairly adjustable. However, the band was definitely far too big so no amount of adjusting anywhere else could stop the cups bagging, and I swapped it for the size S.
The band on this one feels like a 32. The cups, whilst not designed for any kind of lift, are made from mesh with minimal stretch so they hold things firmly in place. The rest of the playsuit is indeed very adjustable; every strap has a slider. At 5'3 I have to shorten the graphic X across the tummy as far as it'll go, so if you're petite this may be an issue, but at the other end of the spectrum if you're very tall you'll be just fine as you can make it at least 7″ longer here.
However there is one place where the playsuit isn't adjustable enough and that is the strap at the outer edge of the cup. See how the cups wrinkle there? If only I could shorten this strap by 1.5″ it would pull them taut.
Verdict: 7 / 10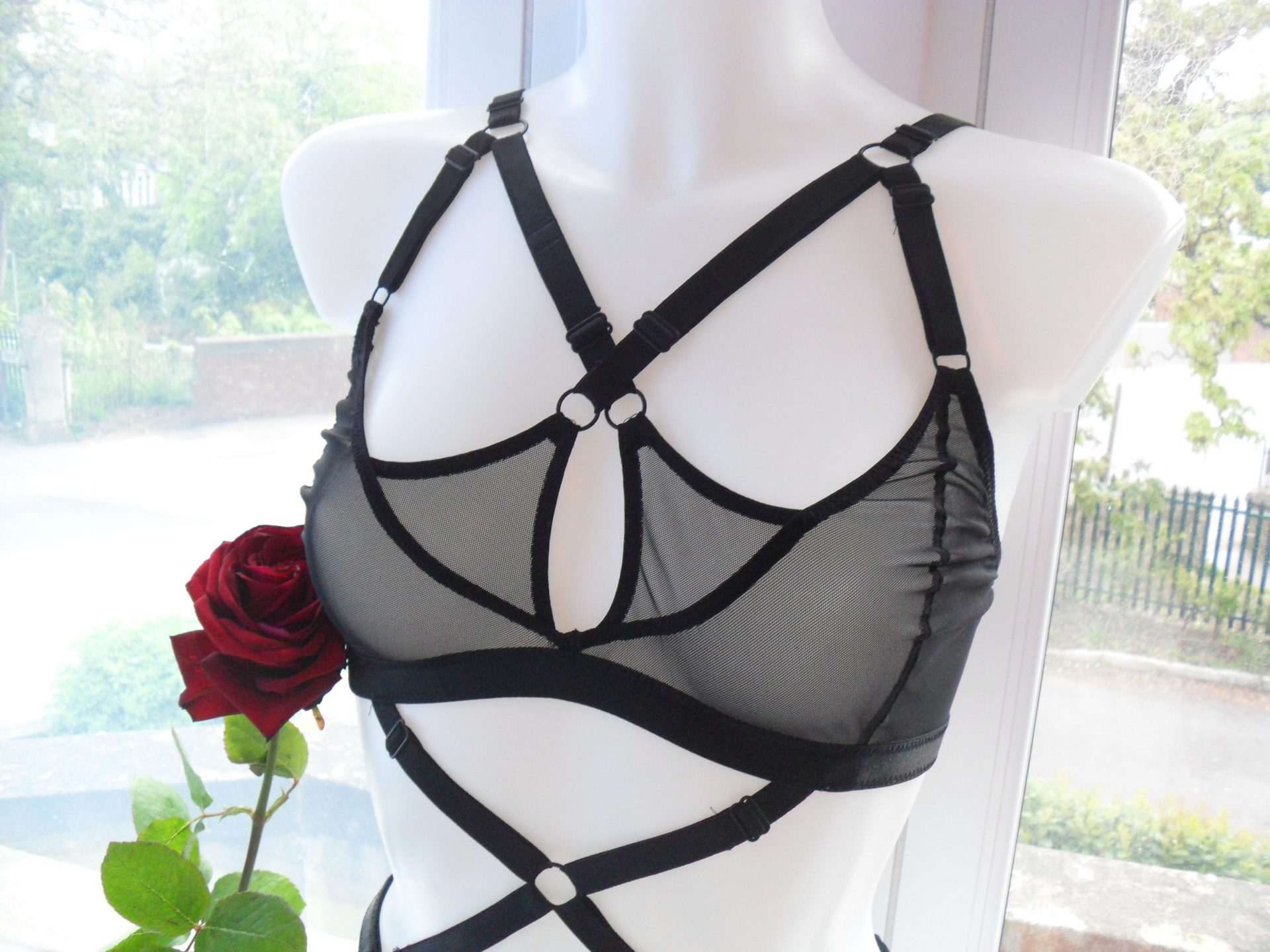 Durability
The playsuit is hand-wash only ("You can get me as dirty as you like but wash me gently", the label reads) and although there are some raw elastic edges that are already fraying, the garment overall feels sturdy. If you take good care of it, I think you can get a lot of wear out of it.
Verdict: 6 / 10
Value for Money
As I've mentioned, this playsuit costs £38 (~$49 / ~44€). The quality is 'okay' but the price is reasonable for what you get, and it's an independent brand which is always going to cost more than something mass-produced.
Verdict: 7 / 10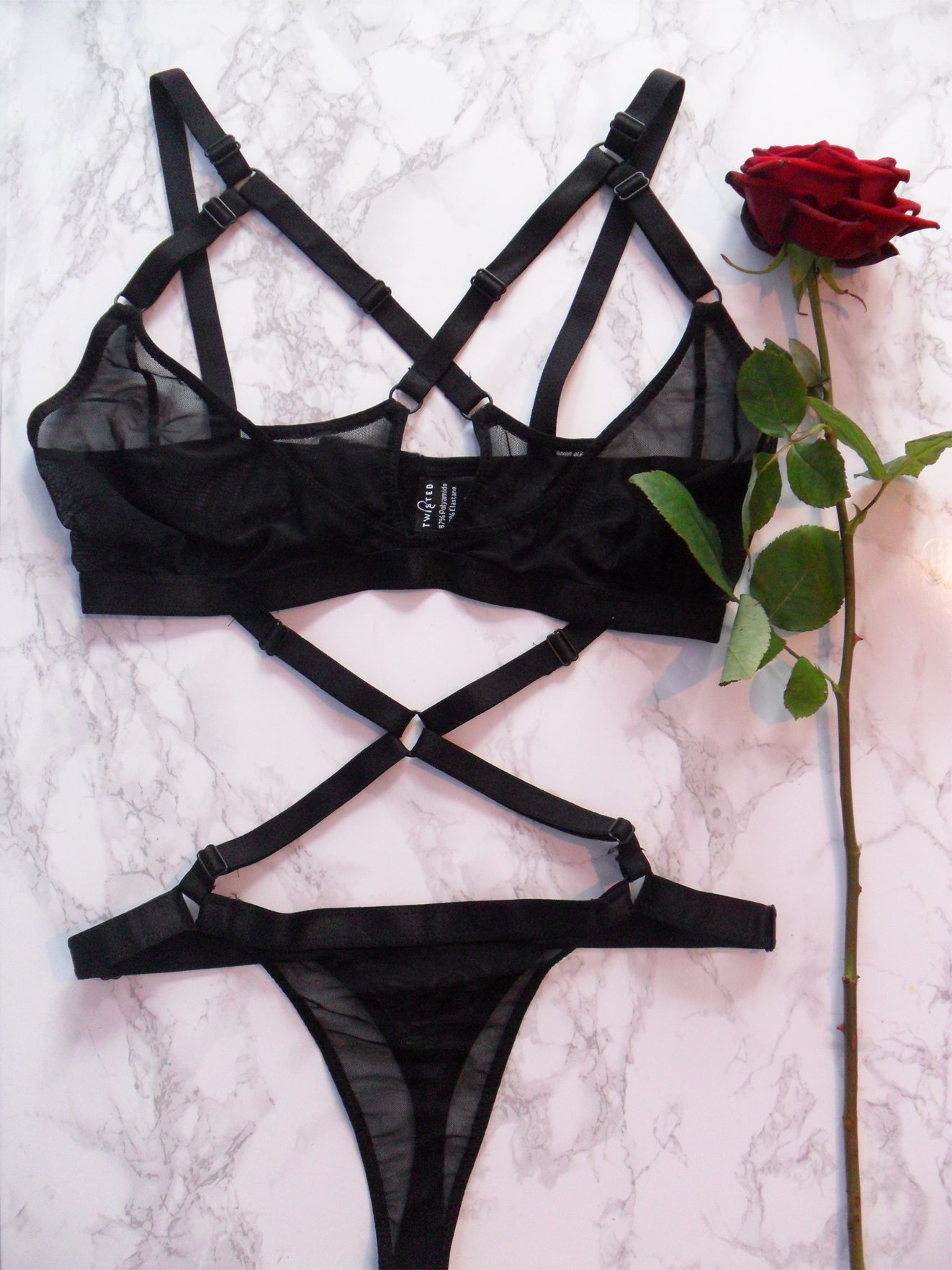 To me, Twisted Lingerie feels a bit like Bluebella, and has a similar price point. It's emulating more expensive brands but cannot offer the same level of construction quality and luxury. Twisted is for you if you just like the look of brands like Coco de Mer, and want a cheaper alternative. And I think that may have been Thorne's intention.
What do you think of Twisted Lingerie, and this Xenia playsuit?