Chances are you've heard that singer and fashion icon Rihanna is launching a lingerie lingerie, and now it's here! Savage X Fenty went live today, currently only available through that website and a Brooklyn-based pop-up ending tomorrow (though a reference to 'official retailers' in the terms and conditions suggests it may be stocked elsewhere in the future).
I waited until Savage X Fenty actually launched to feature it on the blog, because honestly the sneak previews were just confusing me. A basic t-shirt bra here, a sexy lace piece there, then suddenly something that looked like 1920s-inspired bridal… it all seemed very disjointed, but now that the website is live it makes more sense. Savange X Fenty is a huge debut collection for a lingerie brand – 208 separate products if you count the colour variations – so naturally it is split down into a few categories.

On the Reg is where you'll find the everyday basics, most of them either in black or 6 skintone shades. (Side note: the palest one, a creamy ivory, has been called 'Bare', which feels akin to just calling it 'Nude'. Couldn't they have gone with 'Pearl' or 'Oyster' or something instead?).
Then there's U Cute, all lacy pieces in a mostly fairytale colour palette of pastel pink, blue and lilac. Damn comes next, a range of sexier pieces that include basques, corsets and cut-out detailing. And finally Black Widow, the smallest range but my favourite one, which features open cups, strapping details and lots of frou-frou, marabou trims.
Speaking of that gorgeous marabou, the Savage X Fenty set-up does have some downsides. I'd heard (to my disappointment) that it was going to be a lingerie subscription service, but luckily it's just a regular ol' online shop. However, part of the business model is subscription-based. It's called Xtra Savage, a $50-per-year membership that offers you a few benefits including access to exclusive designs – such as those mesh-and-marabou ones.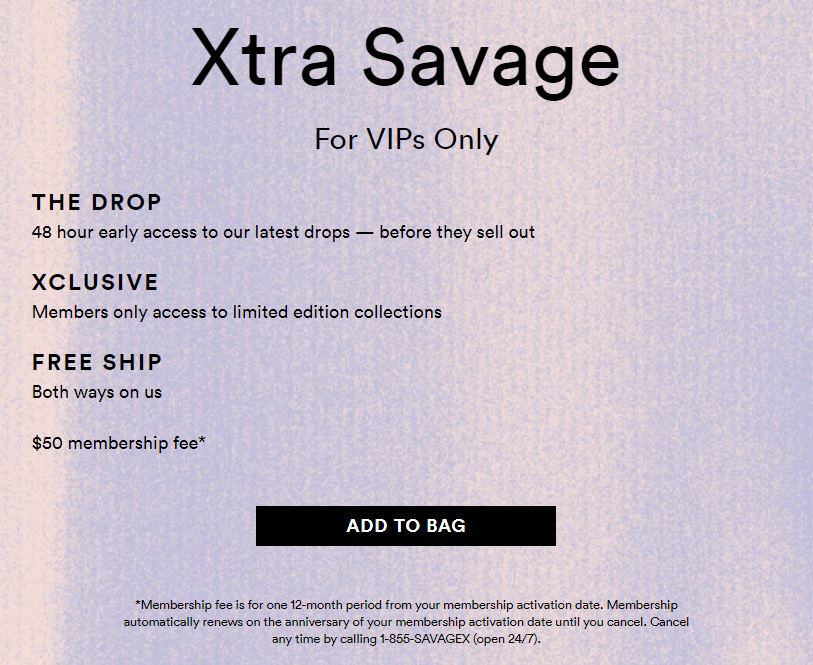 What isn't mentioned particularly clearly on the site is that Xtra Savage is available to US customers only. Not only must you pay this $50 fee if you want to purchase certain pieces, but if you're outside the US like me, even that is not an option.
One thing Savage X Fenty does have going for it though is its size range. I've already mentioned that debuting with this many products is practically unheard of in the lingerie industry, but that's especially true when those products aren't just limited to the typical S-L and 32-38 A-D sizing. Although not every product is available in every size, overall Savage X Fenty offers bra sizes 32A to 44DD and clothing sizes XS to 3XL. It's impressive for an initial launch.
And, I think there's plenty more to come soon. I've read that Savage X Fenty will be selling handcuffs, but there aren't any on the website yet. The pasties in the product images may be another accessory the brand intends to launch too. With so many items already sold out, it will be interesting to see if the plan is to restock them (which I guess will happen for the On the Reg basics at least), or to encourage customers to return frequently via a regular flow of new product launches. I wouldn't be surprised if the sizing gets extended further too.
Overall, Savage X Fenty isn't quite what I was expecting when I heard that Rihanna was entering the lingerie industry. Given her sporty, streetwear-inspired style, I'd definitely anticipated more of an athleisure look – SAVAGE-emblazoned logo elastic, perhaps. Or I thought maybe we'd be seeing lots of eye-catching, statement pieces like the bell-sleeved catsuit and the lime-green maxi slip – Rihanna is no stranger to avant-garde after all.
Instead, for the most part the lingerie is middle-of-the-ground type stuff that I've seen before. Even the marabou pieces aren't that innovative, pretty as they may be. But I guess that trying to appeal to the majority makes for better business sense than niche, directional design. I can see a lot of pieces that would look good to the average customer, who hasn't seen much lingerie beyond what's stocked in Victoria's Secret, but as someone who sees a ton of lingerie every day I must admit I find Savage X Fenty a little bit boring. Some pieces stand out, but most don't.
Savage X Fenty describes its offering as "lingerie for your every mood", and it certainly seems like it is trying to become your one-stop shop for underwear. It's a brand that you can go to both for an everyday bra and for something a bit fancier. Though, retailers, can we please stop lumping all of the non-bra and knicker pieces together under a separate category called 'Lingerie' already? Basics are lingerie too, not just the 'sexy' stuff!
In summary, I won't be shopping at Savage X Fenty myself but I do have a feeling this lingerie line from Rihanna could be very successful. It's relatively inexpensive, it's inclusive, and it covers all of your bases style-wise. And it's got the influence of Rihanna's name behind it of course – that's a ready-made customer base right there. The website is still a bit clunky and the Xtra Savage membership is not my favourite thing, but it does seem like plenty of people are willing to pay for it – those limited-edition garments are selling out just as fast as the rest of it.
What are your thoughts on Savage X Fenty? Have you bought anything? Is it what you would have expected from a lingerie line by Rihanna?