Disclosure: Links with a * are affiliate links.
Happy new year everyone! After taking a bit of an unintentional break from the blog, what better way to dive back in and kick off 2022's content than with my annual lingerie trend predictions?
Once again, I'm going to start by reviewing last year's predictions to see if I got them right or not, and then we'll move onto the trends that I think you're going to be seeing all over your Instagram feeds and in your local lingerie stores moving forwards.
Were my 2021 lingerie trend predictions right?
The first one, without a doubt. I'd anticipated that 2021 would be filled with 'super comfort' fabrics such as ribbed knits, and I saw this everywhere. From soft towelling sets at Lethe Intimates to cashmere bralettes at Kiki de Montparnasse, to a restock of ribbed cotton and lace underwear at Noelle Wolf, to the launch of a silk velvet range by Silk Laundry just days after I published my article, brands of every size and aesthetic focus were experimenting with new, softer fabric choices. A few other examples included Maison Close's La Femme Amazone collection in finely-ribbed modal, Bordelle's SS21 Rey collection in opaque jersey rather than their usual embroidery, and Opaak's explicitely comfort-inspired AW21 Ease collection in ribbed micromodal.
I also expected that we'd see lots of bike shorts-style bottoms in the lingerie world, and while I feel like we did (and I've definitely seen them on the Spanish high street, as well as at LIVY, Toru & Naoko and Understatement), some weren't actual lingerie but rather lingerie brands expanding into sporty-styled loungewear – see the Rayley shorts by Agent Provocateur*, for example.
Speaking of which, I also thought we'd see more brands/collections launch that focused on transitional garments designed to be worn both as lingerie/loungewear and outerwear. I didn't see much of that, besides the small piece of Etam marketing above, but loungewear in general definitely stayed a key part of the lingerie industry through 2021. It felt like brands specialising in underwear were suddenly launching sweatpants and hoodies left, right and centre – including Agent Provocateur* and Myla*!
My next lingerie trend prediction was unusual/creative hardware choices, and here I did see plenty of what I'd been expecting. Some of it from brands already known for their use of hardware such as the crescent moon components on Bordelle's Dala, the snake-wrapped trims on LIVY's Black Dahlia, the body jewellery-like rings on Bluebella's Sacha* and the fox motifs on Honey Birdette's Watson. Plus other things that just caught my eye such as the engraved cowrie shell clasps by launched-in-2021 brand Ebony & Ivory, the floral connectors on Primadonna's AW21 Arau range, the floral-tipped horseshoes at Savage X Fenty, the colourful heart connectors at For Love & Lemons, and the geometric decorations on Boux Avenue's Bouxtique Saffie*.
Next up was a prediction for more fun embroidery designs – illustrated animals, graphic love hearts, that kind of thing. And what lingerie design released in 2021 could epitomise this trend more so that the Fleur du Mal Banana Embroidery set?! They also did ice-creams and butterflies, as did Boux Avenue. Among many other examples, Fleur of England swapped their usual delicate florals for embroidered kisses, Savage X Fenty released a rainbow embroidered set for Pride, Jordan de Ruiter did sequinned fruit, For Love & Lemons recently did adorable cats, and Bordelle took things one step further with glow-in-the-dark jellyfish.
Finally, I wondered if we might see more of the horizontal bust strapping I'd spotted occasionally in 2020, as a way for brands to continue pushing the strappy trend without it feeling stale. But besides a very small number of examples, such as Agent Provocateur's Larissa* released in September and also their Adelea*, I didn't see this (or any other fresh, innovative uses of elastic strapping to be honest).
Five lingerie trend predictions for 2022
1. Vibrant colours
Back in July, I did a round up of bright blue lingerie. While it was the 'new' colour I'd seen (and am still seeing) the most frequently, bold shades of all varities are popping up more and more often. And I love the playful, cheerful vibe it's bringing to the industry and to our wardrobes – something the world needs right now! Bright red lingerie has, of course, been popular for a long time, but in 2022 I predict we'll see significantly more of the other primary and secondary colours in all their ultra-saturated or even neon glory. Sunshine yellows, radiant oranges, lime and chartreuse greens… most likely clashed with each other as well as alone.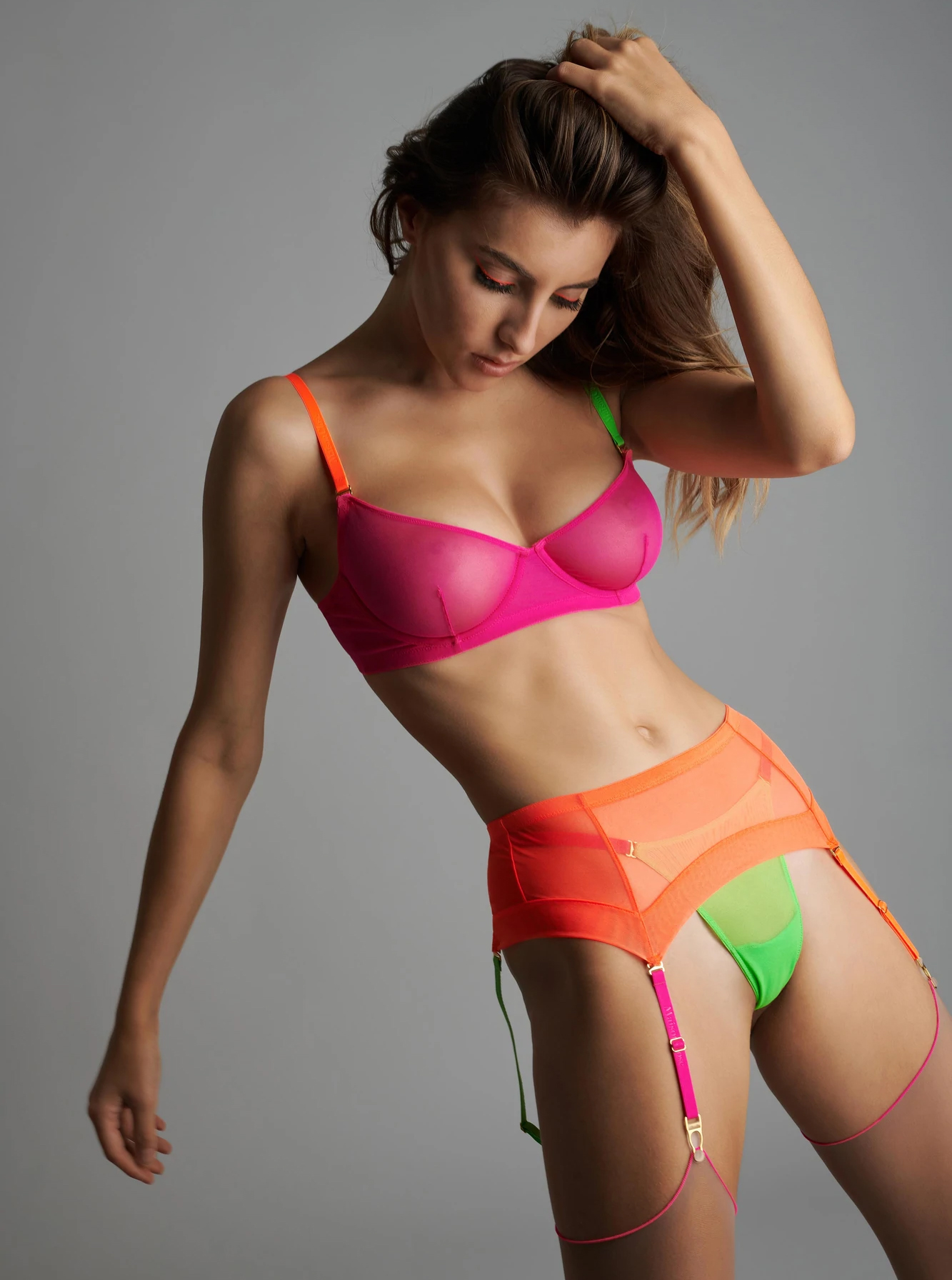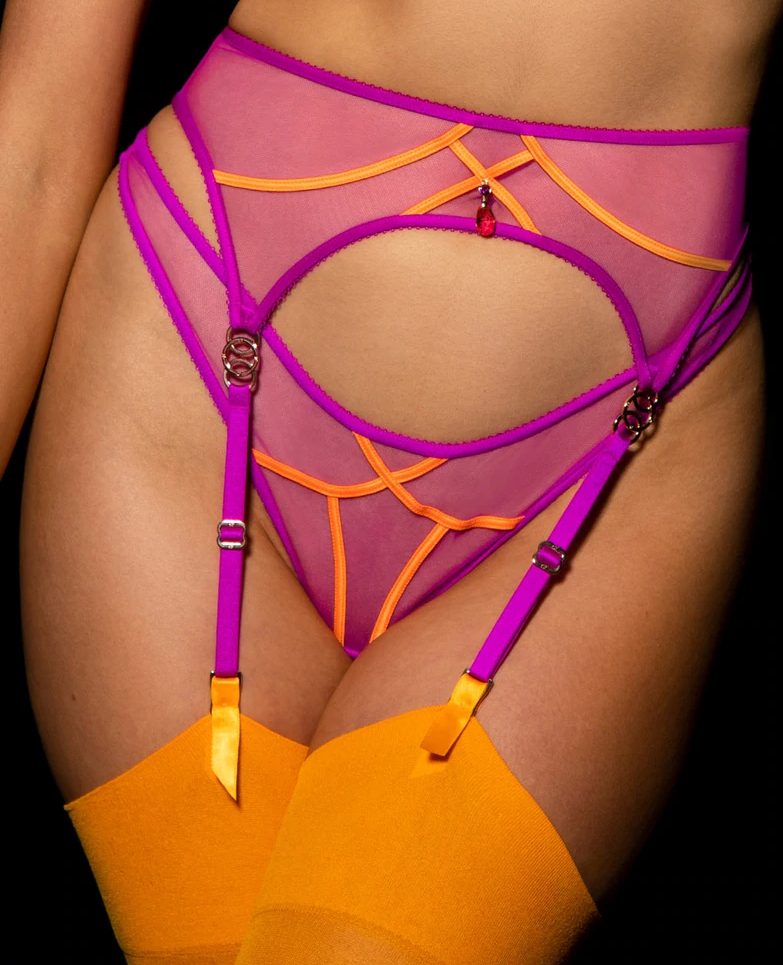 2. Shimmer fabrics
In recent years, we've seen a renewed popularity of the famous Gossard Glossies bra* which has subsequently spawned copies such as Agent Provocateur's new Lucky Full Cup bra*, and this transparent yet shimmering look feels like a fresh new take on the trend for ultra-sheer bras. But I don't think this trend will be limited to sheer fabrics, and definitely not to only bra sets/bodysuits – SKIMS' brand new Glissenette line has already brought the iridescent look to shapewear!
3. Watercolour embroidery
What do I mean by 'watercolour'? I'm talking about multi-hued embroideries where the different colours seamlessly blend into one another, almost as if they've been painted on. From the fun embroidery design choices mentioned above through to the ongoing trend for turning brand names into embroidered patterns, lingerie embroidery is definitely getting more creative. This watercolour-like look is one style I've seen often lately (particular in pastel palettes) and I have a feeling we're going to see plenty more of it in the near future.
4. Eco elastics & trims
Did you hear that Scandale has reinvented itself as an eco-focused lingerie brand? Sustainability, you've no doubt heard, continues to be major news in the fashion industry and beyond. I already included it in my list of 2020 lingerie predictions however, and I'm trying to focus only on new trends even though some will of course last across multiple years (and personally I hope sustainability is a 'trend' that's here to stay, permanently).
But as more and more lingerie brands/collections launch that shout about their use of recycled, natural or repurposed materials, that alone will no longer be enough to stand out from an ever-growing crowd. So I'm predicting a sub trend where some particularly eco-conscious brands go above and beyond by also putting an emphasis on sustainable trimmings, especially elastic.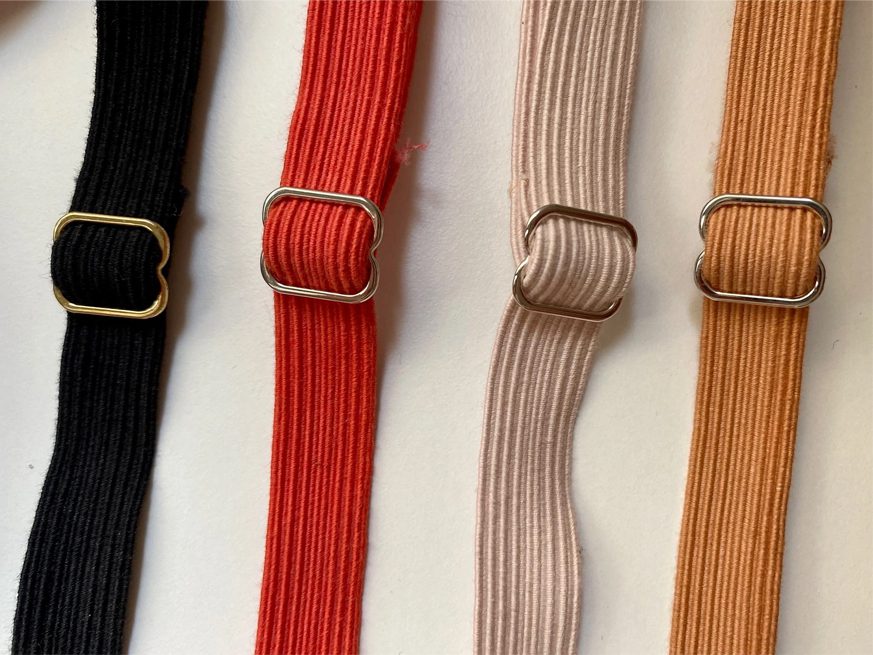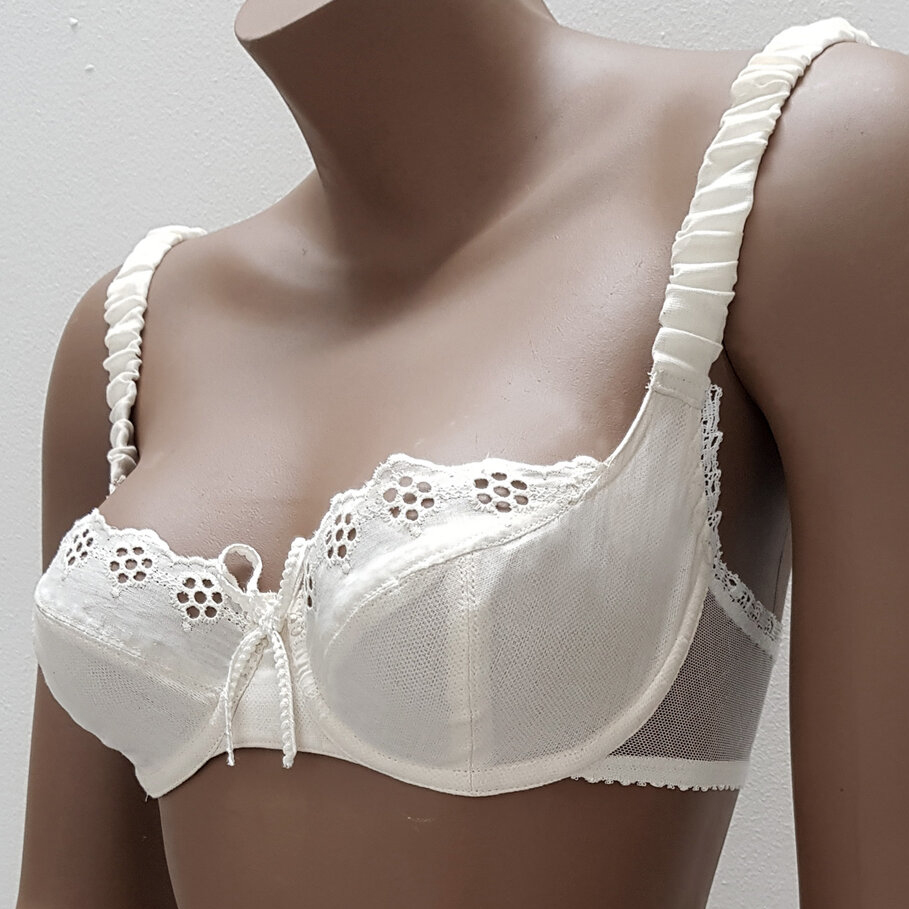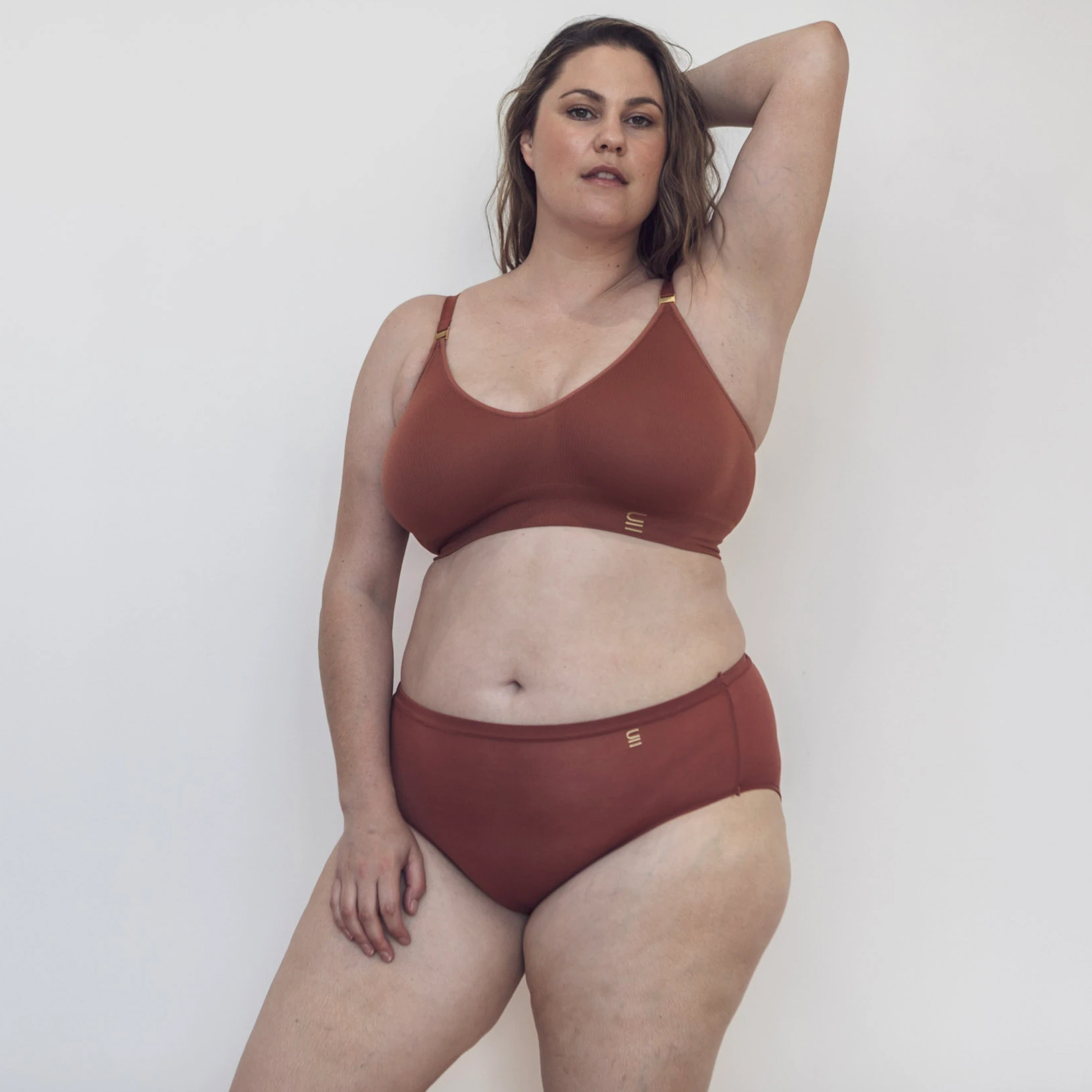 5. Established brands launching lingerie lines
My final 2022 lingerie trend prediction is based on the fact that Amazon, Zara and Karen Millen have all launched lingerie lines within the past 1-5 years, not to mention the launch of two lingerie brands linked to major celebrities: Kim Kardashian's SKIMS and Rihanna's Savage X Fenty. The value of the global lingerie industry continues to rise, so while I don't know if this will happen, I really wouldn't be surprised if 2022 sees another well-known brand (be it a clothing brand, a celebrity, a supermarket, or something else) announce their debut intimates or loungewear collection.
Over to you – what lingerie trends do you think we'll be seeing in 2022? And are there any from the list above that you're excited about?