Disclosure: I received this set free of charge from Vixen & Fox to review. I never accept money for reviews.
Vixen & Fox is a newly-launched, Australian label that aims to fill a specific need in your lingerie drawer – good-quality, timeless-looking basics. Instead of debuting with lots of items, the brand has designed a capsule collection of four simple pieces that you can mix and match. There's a regular bralette, a T-back bralette, a thong and a brief, each available in pinkish-red or light blue.
Owner and founder Katie Lang got in touch to offer me a set, and I immediately thought of a racer-back dress that I own (the one I'm wearing in my previous review), and which none of my current lingerie collection works with. But the T-back bralette, I thought, would be the perfect style match with its narrow, central back and thin-strapped, black sides. And it is! Now when I wear this dress – and I love it, so that's a lot – I always have my Vixen & Fox on underneath.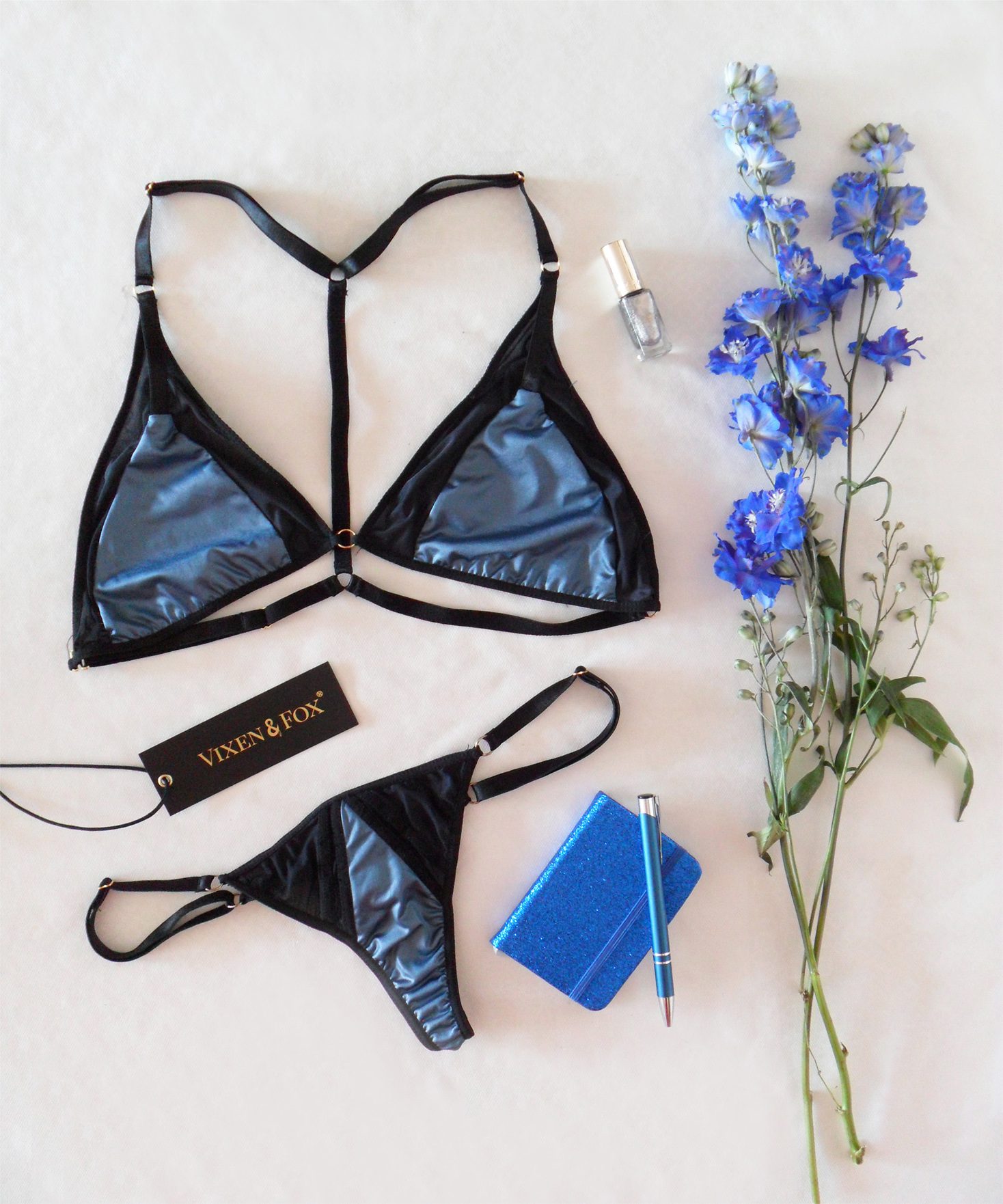 But let's rewind to when I first received the set. Immediately on opening the parcel, I loved how it was packaged – every purchase comes with a branded, zipped cosmetic pouch. It's a small touch and undoubtedly one that pushes the cost up a bit, but it does make the set feel that bit more special and higher-end. And it's so practical for storage and travel too.
The Arctic Fox T-Back Bralette costs AUD$69.95 (~£39 / ~US$51 / ~43€) and the Island Fox V-String costs AUD$39.95 (~£22 / ~US$29 / ~25€). The bralette is available in sizes S, M or L, and the thong in S/M or M/L. There are size guide links on all the product pages but they don't appear to be currently working. However, both pieces have sliders that make them very adjustable.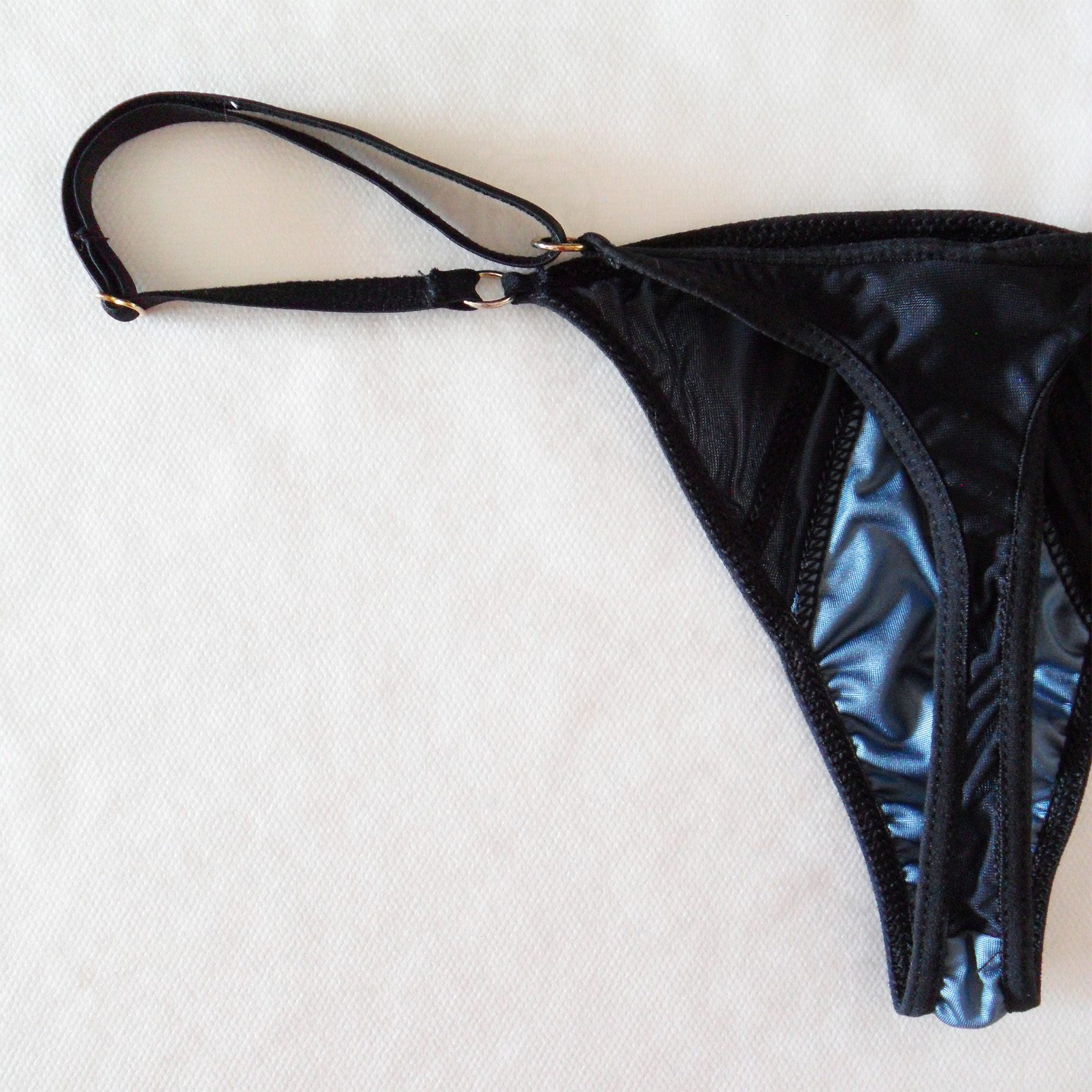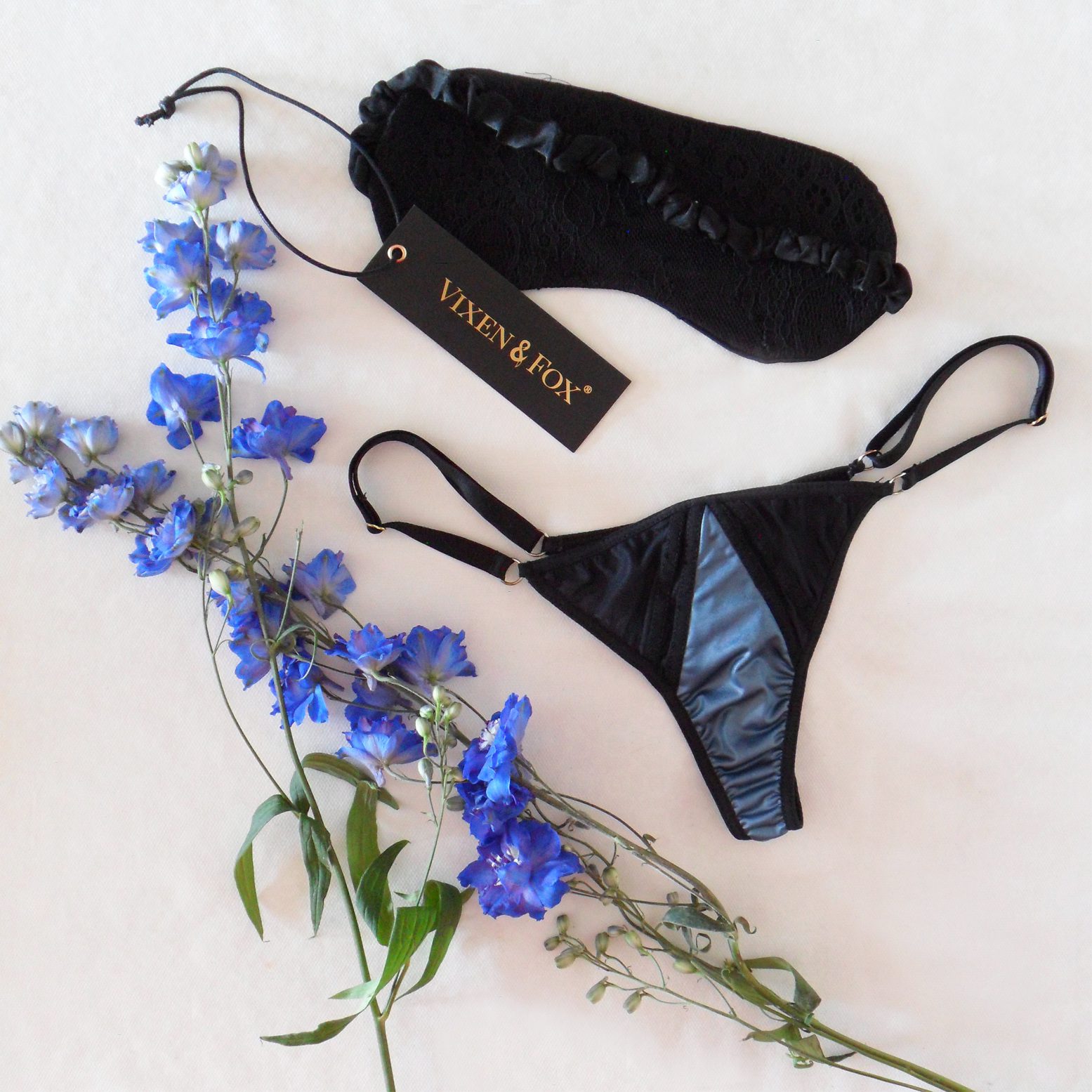 I was sent the thong in a size S/M. I usually wear an XS, but the sizing on this one is so flexible that it fits me just fine. The waistband can go up to 10″ larger than how I wear it, and 5″ smaller, so roughly speaking I'd say this covers all the way from XXS to M.
The bralette fit on the other hand is so-so. Katie advised that a size L bralette would be best for my bra size of 30DD. The cups are a tad wrinkled and could accommodate at least one cup size larger, but without having seen the size M it's hard to say if that would have been better or too small. I don't actually mind the ways the cups fit though, it looks okay.
The biggest issue I have with this bra is the band, because of a specific design feature – it's only adjustable on one side. If the two side straps are the same length, then the bra looks symmetrical. But as you can imagine, when you make one shorter the vertical strap in the centre gets pulled off diagonally to one side.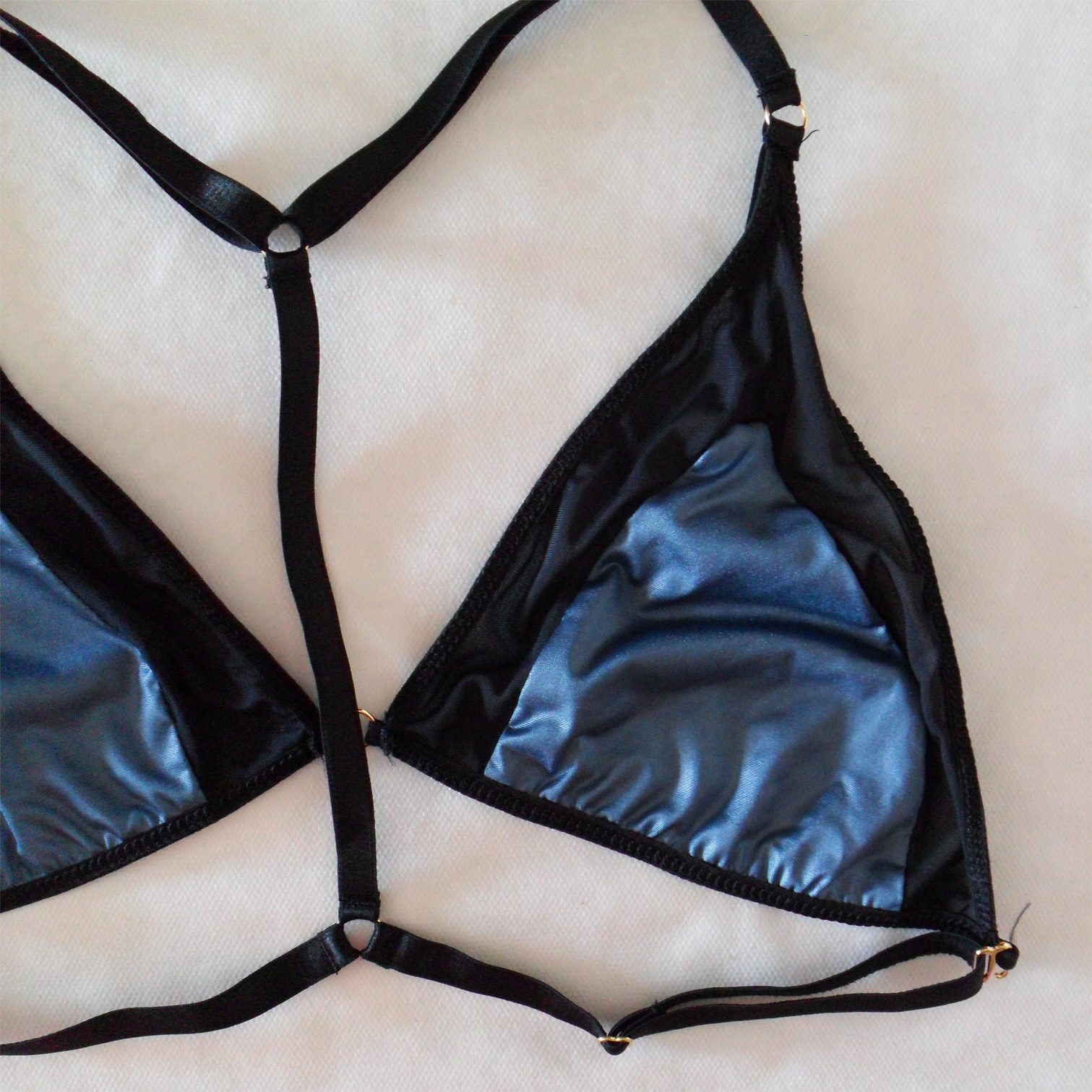 Unfortunately, I need to shorten this bralette's band all the way to get a good fit on my ribcage, so the wonkiness is pretty noticeable. It's not visible under clothing, but still, it could easily have been avoided – I'm planning to add my own slider to the other side. If your ribcage is around 3-4 inches bigger than mine (so if you wear a 34 band size or so) then the size L should fit you more symmetrically.
One thing I do love about this set however is the fabrics. Although made in Australia, Vixen & Fox sources its fabrics from Italy to get the highest quality. The mesh is super smooth, and the satin is just incredibly soft and silky. There are some raised seams inside the thong, but the triangular satin panels on both pieces are lined with the same fabric to feel wonderfully soft against the skin. I do find it very comfy to wear.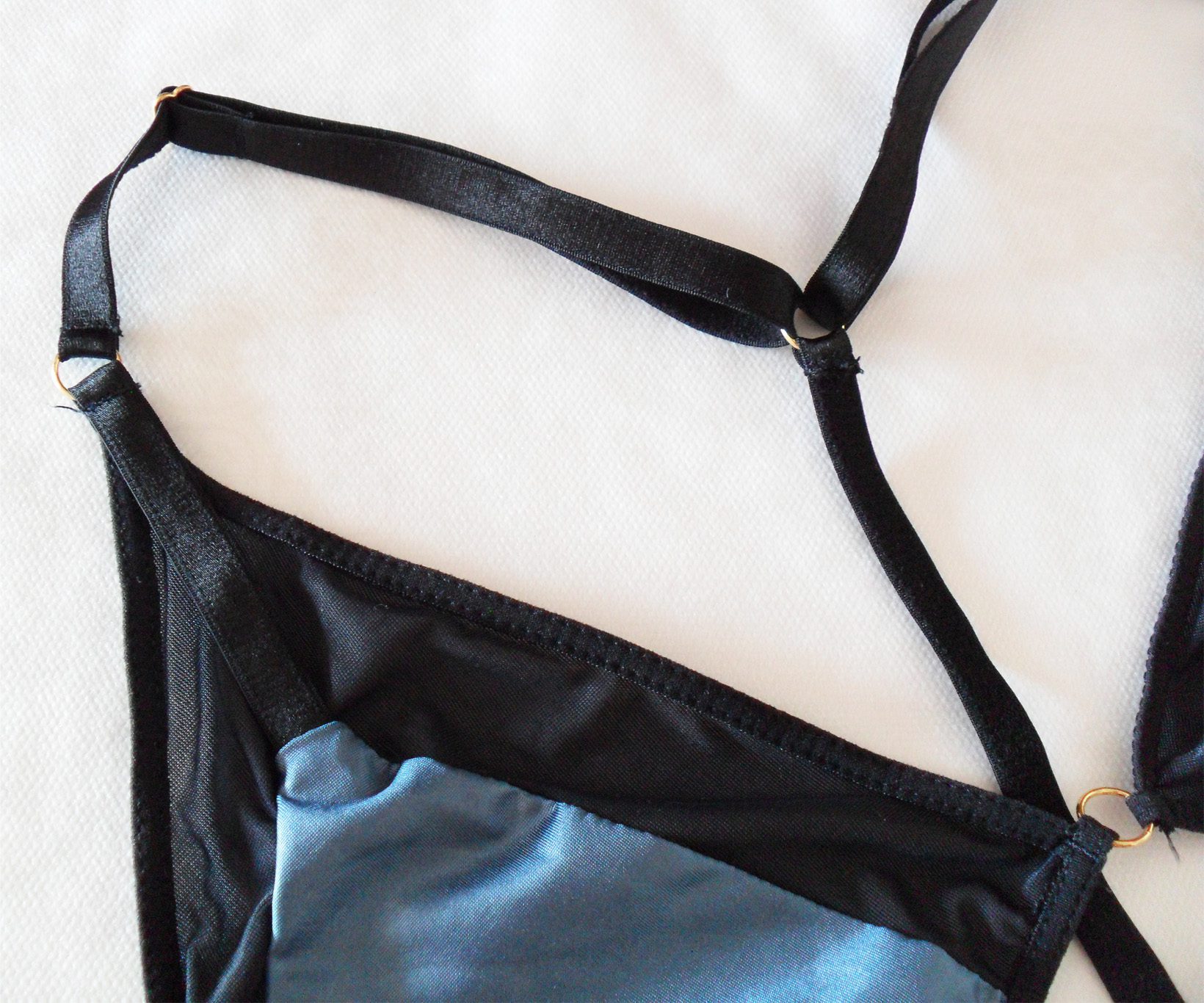 I like the design too. It's a simple, minimalist set, but there are some nice touches that keep it from looking overly basic. The satin strap detail between the top of the satin panel and the apex of the cup for example is very nice. And I like that the hardware is all gold-tone – although the two rings at the front of the thong have tarnished and gone silver. Are they different to the ones used elsewhere on the set? I'm not sure.
Oh, and I really like the labels – the brand one is a high-end-looking woven one, but the fabric one really caught my eye. It's made from some kind of flexible, clear plastic – so unusual! I guess it's that way to be longer-lasting than a fabric label (the text on it hasn't faded one bit so far), and it's not at all scratchy or uncomfortable.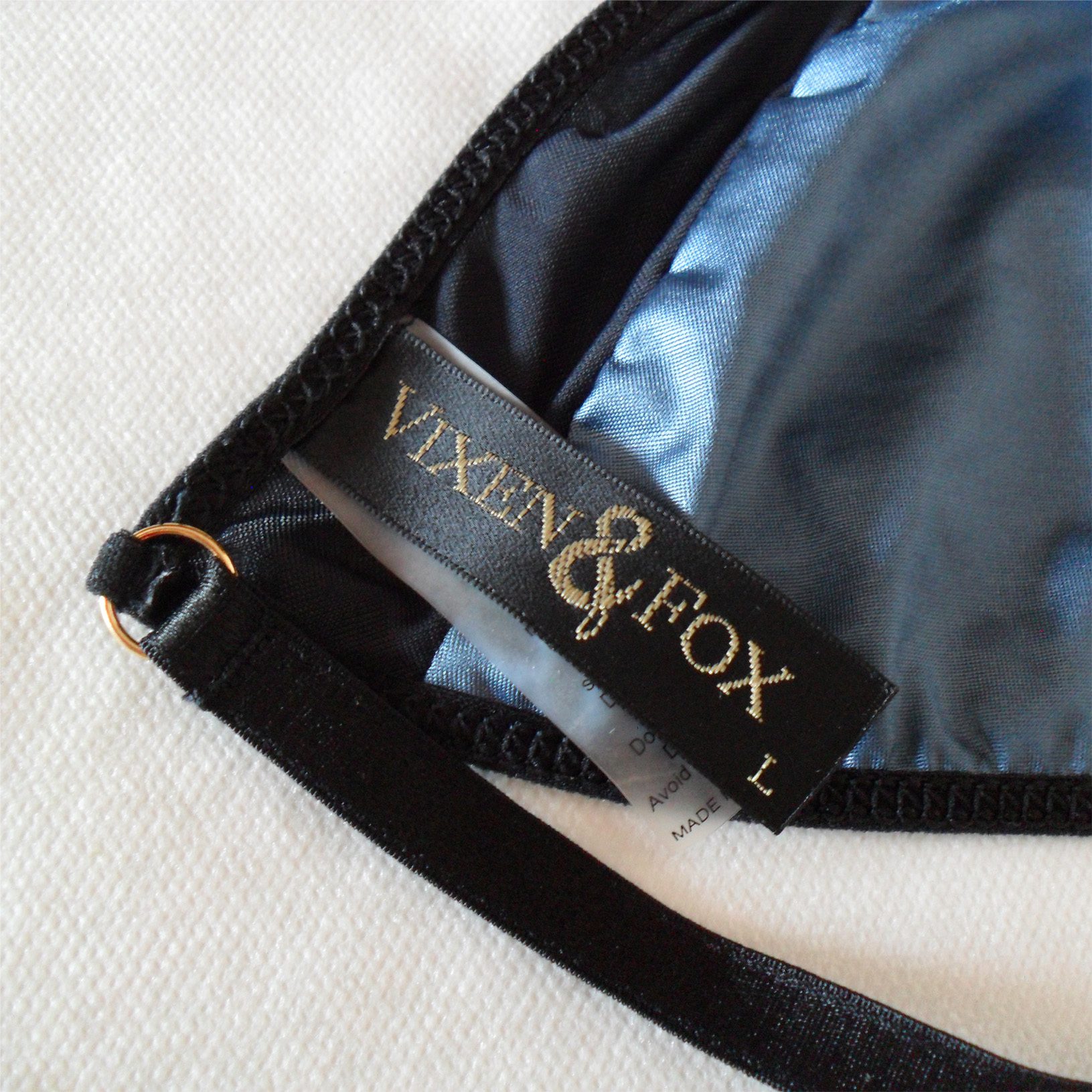 One final thing to note about Vixen & Fox is that you can shop from the brand with a clear conscience – it works to ensure its entire supply chain treats and pays its staff fairly, and has been accredited by Ethical Clothing Australia. Simple-looking bralette sets are everywhere, and at around £60 this one's certainly not the cheapest. But how many others can say they're ethically-made all the way down the supply chain – and come with a cute storage case too?
Would I have bought this set if I'd seen it in a shop? Honestly, probably not – because that thing about the wonky T-strap really bugs me. I hope it's something Vixen & Fox is able to address in future releases. I think the brand has few small fit and quality issues it needs to iron out, but that's not uncommon for a debut launch. I still like the set, and wear it pretty regularly.
Hesitant to give them a go? You can subscribe to the brand's newsletter on their website for 20% off your first order.
What do you think of this Vixen & Fox set, and the rest of the brand's debut collection? And what are your thoughts on fancy packaging – does it influence how you feel about a purchase?