Disclosure: I received this swimwear free of charge to review. Links with a * are affiliate links.
Way back at the beginning of this year, while coronavirus was still an "oh, there's a small problem happening the other side of the globe" thing in my mind, I was offered some swimwear to review by German brand Dorina from their new ECO line. And then shortly after it shipped, the world turned upside down and heading to the beach or even the local pool became a no-go. But finally, now that we're staying somewhere with a terrace for summer, I've had a chance to test out these pieces – in a paddling pool, but at least it's something!
That delay does unfortunately mean that the black Jaguar bikini is close to sold out, but it is available in green in all sizes UK 8-18 at ASOS*, where the red Savanna bikini is also still in stock*. You can't currently shop online from Dorina directly.
Sustainability
These two bikinis are made from 88% recycled polyester, created from plastic bottles and textile waste. It's a process that both finds a use for discarded plastic, and saves water and energy compared to creating a similar fabric from virgin materials.
This eco-friendly focus is, as I mentioned, a new direction for Dorina, a brand that has been around since 1968. However, they are now striving to become 100% 'eco'. For example, they have increased their usage of eco-friendly fibres from 8% in Autumn/Winter 2019 to 30% in Spring/Summer 2020, and are aiming for over 40% in their next collection.
Even better, they are considering more than just the product itself – as of this year, their packaging is fully recyclable or biodegradable, and their website even mentions that they source eco-friendly kitchen supplies for their offices! So I get the impression that this brand is truly dedicated to increasing sustainability, and not just producing an eco product range because it's trendy.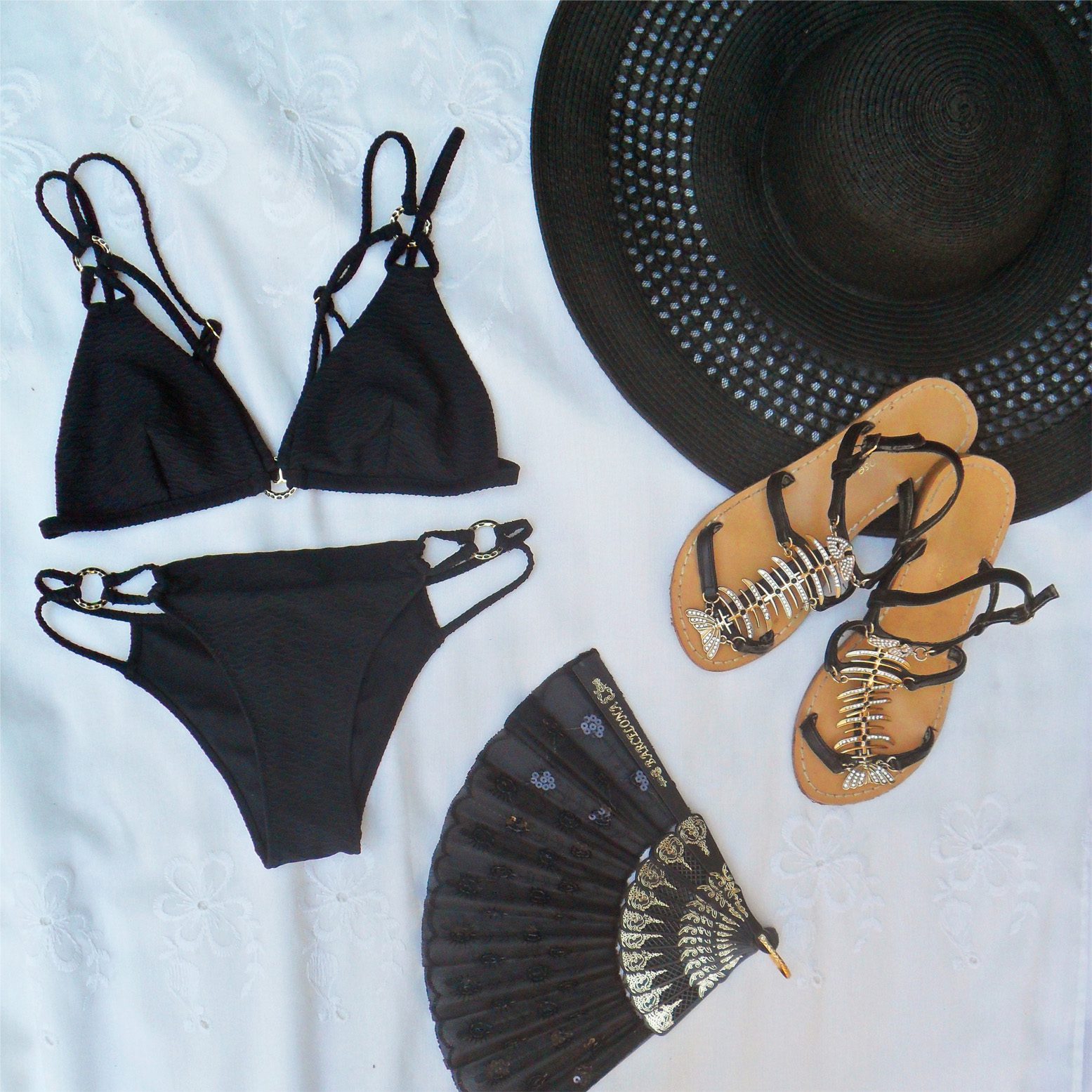 Appearance & Construction
Besides the colour difference, both the Jaguar bikini and Savanna bikini are made from the same fabric, which has a raised, rippled texture reminiscent of waves. It's lined inside on the bikini tops and the front panels of the bikini bottoms. These are the first recycled-fabric garments I've owned, and I'm glad to say they don't feel at all plastic-y. If I didn't know these were 'eco' bikinis, I'd have no idea this is any different to normal swim fabric.
When I first saw the designs, I thought the Jaguar was going to be my favourite – the black and gold colour palette, chunky hardware and 'strappy' design are all things I enjoy in lingerie, and I like the way they look here too. However, I surprised myself by preferring the Savanna bikini once I'd tried it on. The wide, scoop neckline and cut-out centre are minimal but still visually interesting.
At the back, it has cross-over straps which run through channels at the egdes of the band and then tie to fasten. The Jaguar bikini meanwhile has adjustable double straps at the back and fastens with a swan hook. I'm fairly sure that all of the hardware is metal-look plastic, but I could be wrong about that.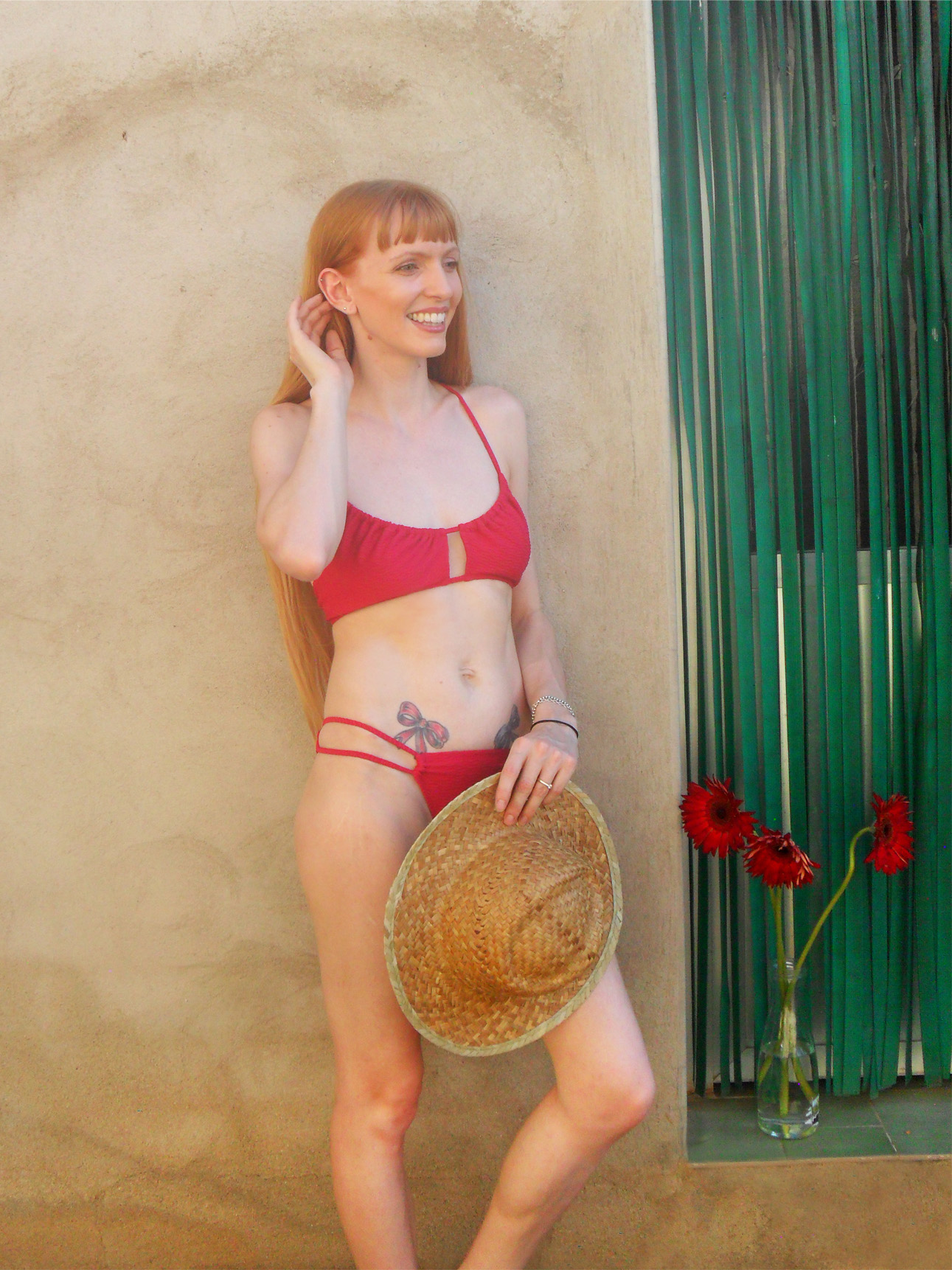 Fit
I received both bikinis in a size M / UK 12 top, and size XS / UK 8 bottoms. Although I usually take a UK 6 for clothing, I tend to find bikini tops in that size far too small, and I also sometimes size up for bikini bottoms too for a little more coverage. So this size combination is pretty standard for what I'd buy a bikini in.
For reference, I wear a 30DD bra size, and the Jaguar bikini top fits me close to perfectly. I'm filling out the cups fully, so if you are above a 30DD / 32D / 34C, I think the UK 12 top would be too small for you. The band is not adjustable, and surprisingly only rides up on me the tiniest bit. I think the fit would be optimal on someone who wears a 32 band size, but would also just about stretch to a 34.
The Savanna bikini top fits me very well too, but the sizing on this one is a lot more flexible. There's room for a significantly larger bust size, and due to the tie back it could also still be pulled flush on a smaller one – as well, of course, as fitting a wide range of band sizes. Chances are I could go down two sizes in this and still get a good fit, albeit one with a slightly more open back.
Speaking of which, the backs of both bikini bottoms are very skimpily-cut. They're not thongs, but they're not far from it either. While this seems to be just how the design was intended, I also feel like they're ever so slightly tight at the sides – and this is me wearing a size up from my usual. If you're between sizes, definitely size up for bottoms.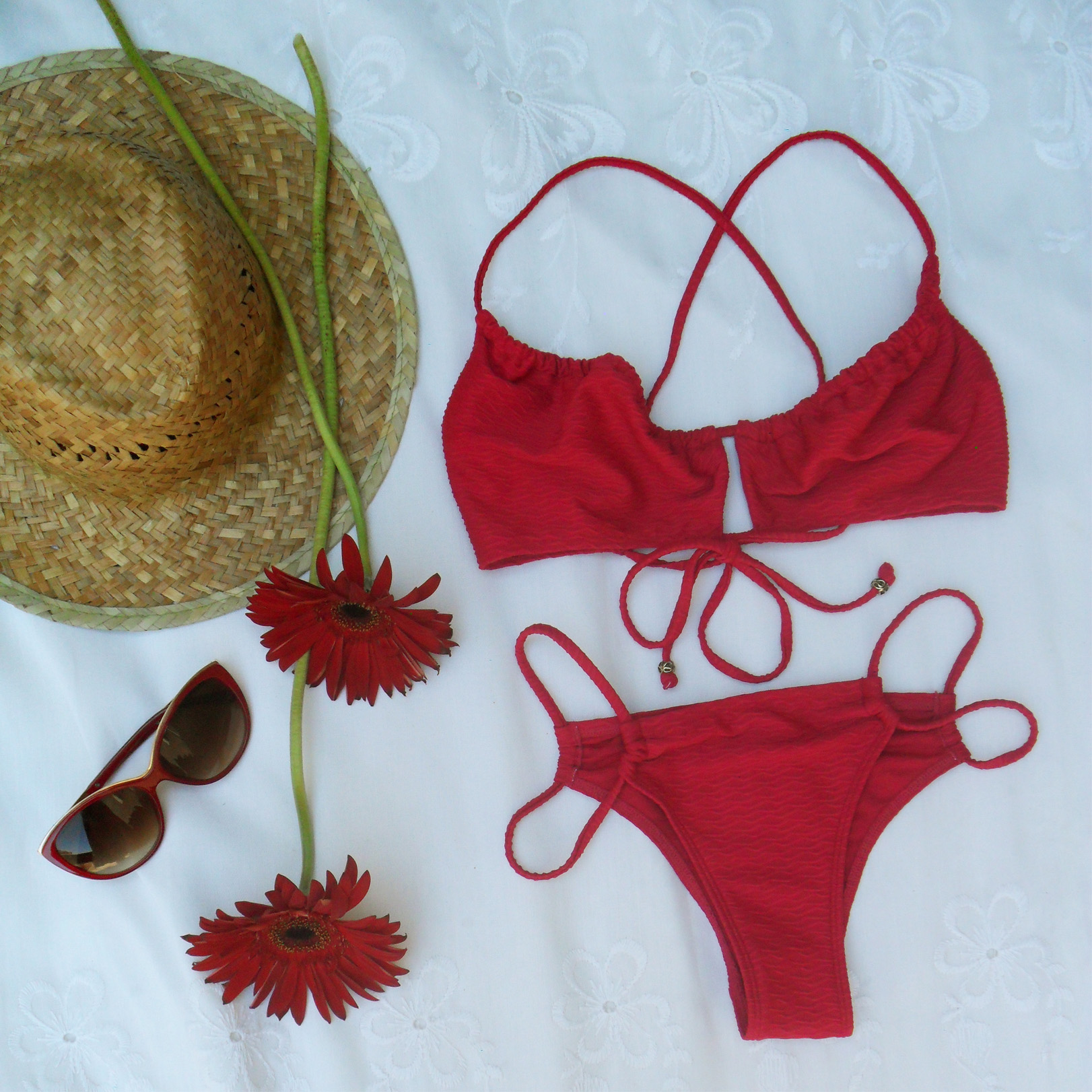 I may only have worn these bikinis to splash about in a paddling pool, but I've done it a lot over this past month and they've held up wonderfully. I have been hand-washing them; the care instructions on the label don't actually make it clear if they're machine-washable, but they seem like they would be. The recycled fabric dries fairly quickly.
Overall, I'm impressed with Dorina's swimwear for what it costs – £40 (~$52 / ~45€) for the Jaguar bikini* and £38 (~$50 / ~42€) for the Savanna bikini* at ASOS. Those are prices I would happily pay for decent-quality, sustainable swimwear such as this.
Have you tried Dorina? Are you tempted to?