Quarter cup bras get their name because they generally have about a quarter of the coverage of a full cup bra (one that covers the entire breast). On most people, that means that they stop below the nipple. This is different from half cup bras (also called demi, balcony, or balconette bras) which usually cover it, although some bras do seem to toe the line between these two categories.
Still, quarter cup bras come in a range of styles with varying amounts of coverage. Some bras for example have a quarter cup 'base' that delivers all or almost all of the support, but also a decorative overlay of fabric, often lace, that may go as high at the neck to provide a bit more modesty. Rarer styles, such as Elissa Poppy's Maia, do cover the nipple but only because of the unusual shape, and still have about quarter the coverage of a full cup bra overall. And then of course there are bras that lean into a more classic 'ouvert' quarter cup design.
There are endless ways to style quarter cup bras, though perhaps the most popular is to pair them with nipple pasties. You'll often see this style bra crop up at burlesque shows, thanks to their sensuality and coy (one could say cheeky!) appearance.
You can find quarter cup bras at any budget, but today we're looking at the best of the best: the elegant styles and decadent materials of luxury brands! These bras celebrate the body by framing it with satin, lace, and opulent embellishments.
Below are some of the most luxe and lavish quarter cup bras on the market right now, in a range of styles and sizes.
Mesh straps, decorative bows, and the signature Escora key logo on the gore are just a few of the details that add elegance and coquettishness to this bra. While quarter cup styles for plus sizes can sometimes be difficult to find, this style comes in sizes up to a UK 40E / 42DD.
The incredible detail on this bra comes from Lacetex® embellishments, Elissa Poppy's signature material that combines latex with high-quality laces. It looks stunning with the matching Maia Thong.
The mesh inlays, silk charmeuse ties, and a deep V at the centre gore are a few details that add sensuality to this bra. It features a tie back for adjustable sizing, to make the fit more precise. Here it is paired with the Illusion Brief.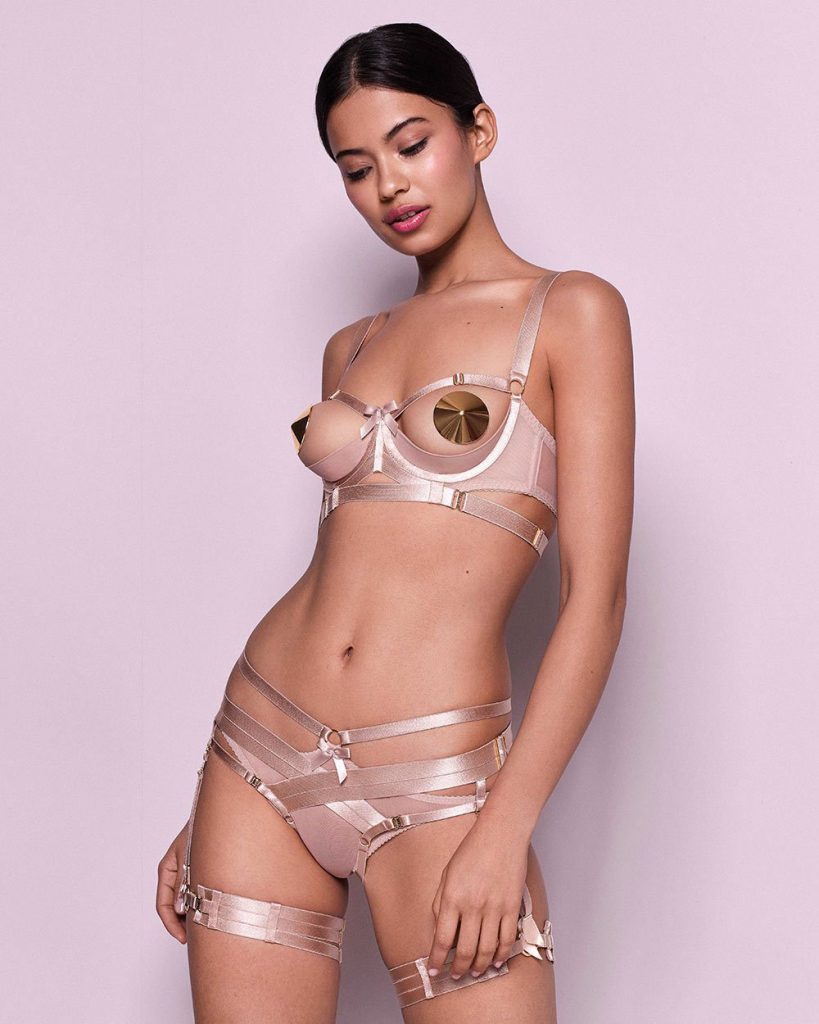 This much-loved, bondage-inspired bra from Bordelle's Signature collection includes satin bow embellishment and 24k gold-plated components. Mix and match it with their other Signature products.
I love the juxtaposition here between the revealing quarter cup design and the coy lace veil that hints at what is underneath. Dark and vampy with French eyelash lace and black silk, this bra would look excellent peeking out from a shirt or cardigan. The Olinda Open Back Knicker completes the look.
Once again, Harlow & Fox closes the gap, so to speak, for lingerie that is both beautiful and made with fuller busts in mind. This bra, produced in collaboration with legendary designer Karolina Laskowska, features a decadent sparkle and deep red satin. The wide shoulder straps and adjustable sizing on this bra make it ideal for fuller busts. It can also be styled with the Veronika Harness and Veronika Thong.
This cheeky bra features strappy black silk, delicate bows, and a silk-satin band. Shown with the Crotchless Panties [affiliate link], but a range of mix-n-match coordinates are available.
Red silk satin and gold embroidered French lace form this elegant bra, while the pearl in the center adds an extra flair of luxury. Also available in a black leather version.
You might have already seen Estelle gushing over Studio Pia's Sofia range last month (if not, check out that article here). This bra, made from recycled tulle and 24k gold-plated hardware, is so glamorous that you just might mistake the jewels for real ones. Studio Pia's ethical manufacturing policy and commitment to planting a tree for every product sold is all the more reason to keep them in your wardrobe.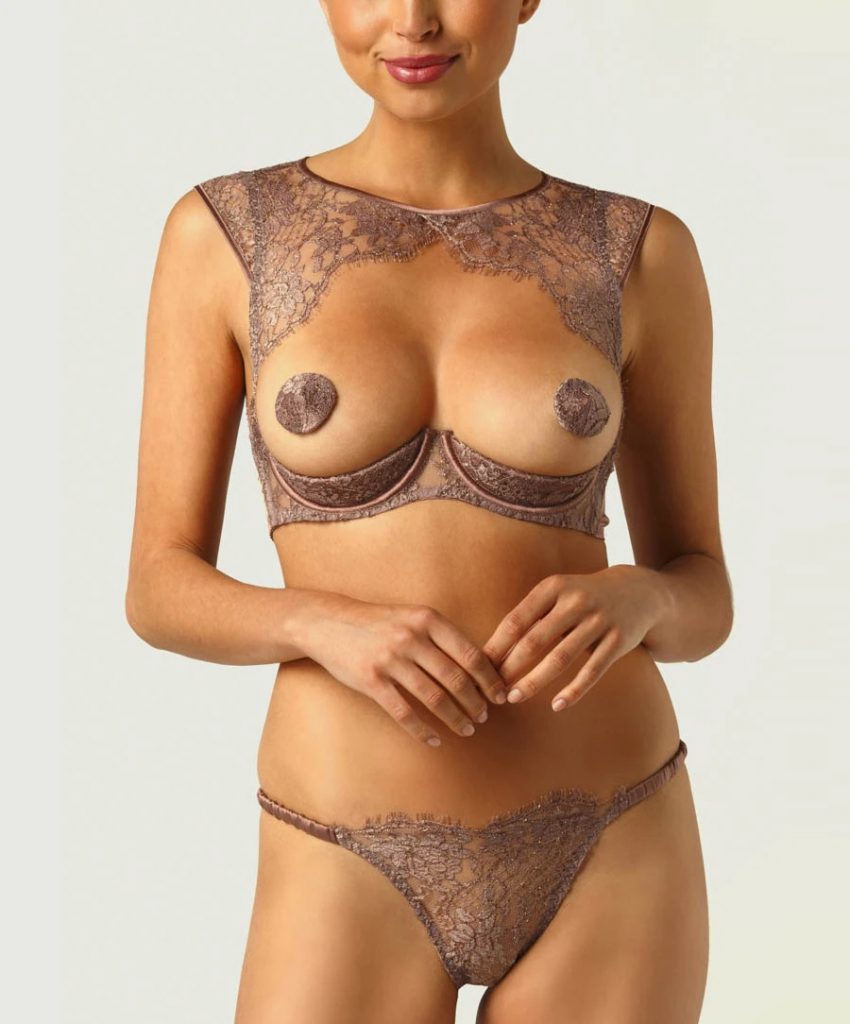 Shimmering eyelash lace sleeves, silk cups, and a satin-covered button come together to make this bra utterly breathtaking. Pair it with the matching Gaia Open Knicker or Gaia Thong.
The high-cut, two-tone French lace here is stunning; adjustable satin straps and tulle wings add to the decadence. It looks great paired with the matching Eva Thong.
This couture latex bra comes in a variety of colours and sizing from XXS – XXXL. I love the white latex frills! While this design is called a half cup, I'm including it on this list because it definitely looks like a quarter cup amount of coverage.
This gorgeous quarter cup bra comes in three colourways, but I particularly love the ivory strapping and golden embroidery of the blush pink version. Edge O' Beyond is one of my favourite luxury brands for quarter-cup bras as they often create matching accessories for their lingerie sets. Pair this bra with the matching blush pink satin Olivia Pasties to complete the look.
Which is your favourite luxury quarter cup bra on this list? Can you think of any that I've forgotten to add here?