Disclosure: I purchased this lingerie myself.
I heard about the Dirty Pretty Things sale from blogger The Lamb so thought I'd check it out since I've never bought anything from them before. I loved this body as soon as I saw it, I loved it a little more when I noticed it was called Estelle (like me) and when I saw it was reduced from £125 to a tiny £25 it went straight in my basket!
Although the Estelle body is now sold out, there are a couple of really similar styles in store such as the Vivian body which is half price. Here's what I thought about my purchase…
Appearance
I've always (really, really) hated snake-print so I surprised myself by liking this one! I love lingerie that has an unexpected dash of colour which is why the purple straps caught my eye and I think they're definitely what 'makes' this piece.
Verdict: 7 / 10
Construction
This body is really well made. The website description didn't mention anything about the poppers at the bottom which was a nice surprise when it turned up – they're hardly the sexiest of things but they are super pratical. I was a little worried they'd be uncomfortable but you can't even tell they're there.
Edit 19/07/13: Sadly, the very next time I wore this body it tore along the front seam at the crotch and the seam at the back started to pull away too. All from doing nothing more energetic than walking around! It looks like the problem is a combination of extra sheer, delicate fabric and, unfortunately, poor construction – there wasn't a wide enough border of fabric used in the seam.
Verdict: 9 / 10 Verdict: 5 / 10
Fit
The body came in sizes S/M, M and L and I couldn't find any sizing information on the site, so I dropped Dirty Pretty Things a message on Facebook at 10:20pm on a Sunday and heard back 15 minutes later – bonus points for oustanding customer service! I'm a UK size 8 and 32E bra size so they recommended I buy the M in case the cup-size on the S/M was too small, which I did.
The fit is 'okay'. The main body fits pretty well and the cups are roughly my size but they're too close together, so the centre gore stays about an inch off my chest rather than lying flat. It's not the best-fitting lingerie I've ever bought, but it's still super comfy and fits well enough that I can wear itas an everday piece. I just wish it was available in dress and cup sizes!
Verdict: 6 / 10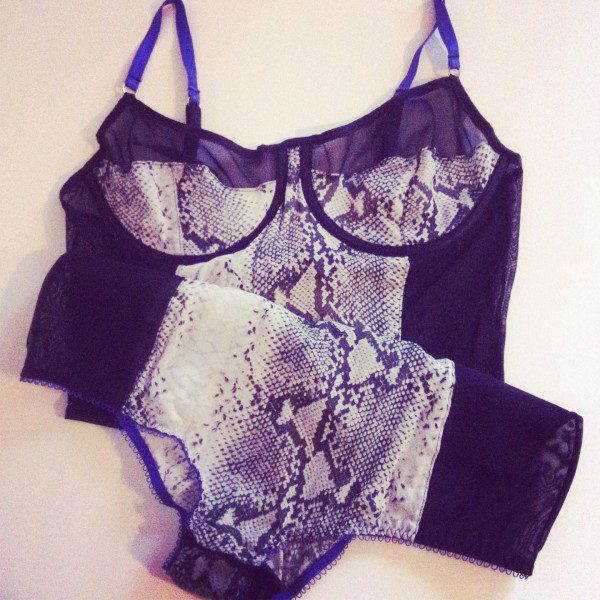 Washability
I've hand-washed this body three or four times and it still looks as good as new! I haven't tried it, but if you're in the habit of machine-washing your lingerie then this might be okay, in a lingerie bag and on a delicate cycle of course, since there aren't any lacey bits or decorations that could comeoff.
Verdict: 10 / 10
Value For Money
Again, I'm basing this on the price I actually paid, which makes it a really good deal. However I wouldn't have paid the full price for this based on the fit.
Verdict: 9 / 10
Would I recommend it?
Yes, but probably not for DD+ bust sizes.
So overall, my first foray into the world of Dirty Pretty Things was a good one, in particular due to the amazing customer service. For anyone who's a DD+ bra size however, I'd say stick to the cup-sized bras or the loose, floaty pieces like this gorgeous blossom print babydoll.