Disclaimer: I purchased this lingerie with my own money and Lepel did not request a review.
Lepel isn't my usual sort of lingerie. I'm more a fan of directional lingerie brands and normally something has to be really unique to catch my eye, but there was something about the Justine bra and knickers set that caught my eye despite it being what I'd class as 'standard' lingerie (you know, the kind of stuff you can pick up in Marks & Spencer or Boux Avenue).
I bought mine recently on ASOS where it's now sold out, but you can still pick this set up here for £36.98 in a handful of sizes.
Appearance
Funnily enough, I remember saying to someone on Twitter that I didn't own any floral lingerie because "it's not really my thing", and then I promptly forgot all about it and ordered this set. I think I like it because the print is slightly abstract and there's a nice contrast with the black – it's pink and floral, but it's definitely not girly.
Up close, the set looks high quality and I love the small details like the arced stitching across the knickers, and the diamante bows on both pieces.
Verdict: 9 / 10
Construction
Great! Other than a couple of tiny niggles (a couple of loose threads that weren't cut off, and the small bow on the back not being quite symmetrical) it looks and feels like a really well-made set.
Verdict: 8 / 10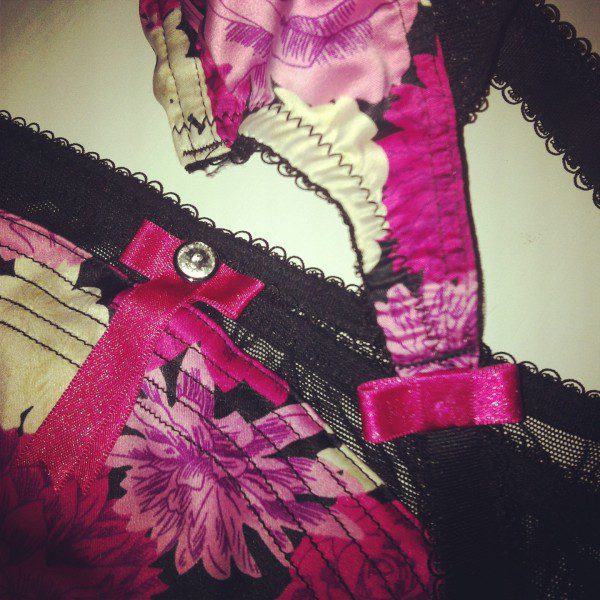 Fit
Since I've never tried Lepel before I played it safe and bought the size I wear most often, and it's a perfect fit! The molded cups have a really nice shape and it's so comfortable I forget I'm wearing it – this has quickly become my everyday staple lingerie set!
Verdict: 10 / 10
Washability
I've hand-washed this set a good four or five times now and it still looks perfectly new. The cups haven't lost their shape as happens with so many of my bras, and the elastic is just as stretchy. If you used a lingerie bag, this set would likely also survive a spin in the washing machine.
Verdict: 10 / 10
Value For Money
Excellent! I paid £37 for the set full price and considering how much I've worn it in the first month alone, it's an absolute bargain! It costs around the same as I've paid for most of my 'everyday' lingerie from places like La Senza and Ann Summers, but the quality is definitely better.
Verdict: 9 / 10
Would I recommend it?
Yes, absolutely. It's already sold out in many places so you'll have to be quick if you want to get your hands on it though!
So overall, a very good first experience with Lepel. Whilst I don't really like anything else in their current range, this is definitely one brand I'll be watching come next season in case they make something else as pretty as the Justine set.