Disclaimer: I won this lingerie in a competition. Fred and Ginger did not request a review.
What's better than beautiful lingerie? Free beautiful lingerie! I've followed the Fred & Ginger collections for a few years but I've only ever bought from them as a gift for my sister, so I was obviously thrilled when they selected me as the winner of their recent Facebook competition. The prize was a pair of knickers but they didn't say which ones so when the (really lovely) box arrived it was just like Christmas!
I received the Union Jack Peephole knickers in size small, normally £110 and a limited edition item. It's a shame there's not a matching bra because I always wear matching lingerie, so I bought myself a What Katie Did bra in navy blue (appropriately named 'Jubilee' to keep the patriotic theme going) to wear with it, but that review is coming later.
Appearance
I've never been one for patriotic underwear (I normally find it quite tacky) but although I likely wouldn't have picked this design out for myself, they are gorgeous and definiely not tacky. They're made from a really delicate, sheer French silk chiffon that has a kind of crinkled texture, trimmed all the way around in lipstick red. The union jack on the front is made from red and white organza ribbons, and there are satin ribbons at the back that tie into a bow. Overall impression? They definitely look expensive and very pretty!
Fred & Ginger also get bonus points for the packaging – my knickers arrived beautifully wrapped in a large, sturdy box lined with tissue paper, dried rose petals and a Fred & Ginger postcard!
Verdict: 9 / 10
Construction
The sewing is impeccable, with a double layer of silk chiffon at the gusset. The only problem I had with these was with the bow – the silky satin ribbons might look lovely but they just wouldn't stay done up. After half an hour of putting them on the bow had completely undone itself, so I tied it in a double knot and it was fine after that.
Verdict: 7 / 10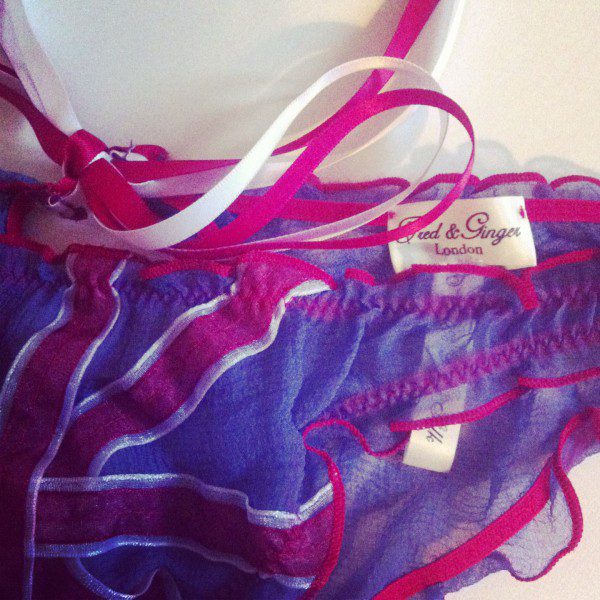 Fit
These are a size small which is the smallest size available. I couldn't find a size guide for knickers on the Fred & Ginger website but I'm guessing their small equates to a UK size 8-10 because I'm a small size 8 and they were just a tad too big for me with the bow done up completely, which unfortunately meant they kept riding up. However if you're a little big bigger than me they should fit just fine.
Verdict: 6 / 10
Washability
Although a lot of 'handwash only' lingerie can really be put in the washing machine if you're careful and use a delicate setting, these ones really do need to washed by hand. The pure silk chiffon might be beautiful and luxurious, but it's also incredibly delicate – the smallest catch could tear a hole in the fabric. I've hand-washed them and they're still in pristine condition.
Verdict: 8 / 10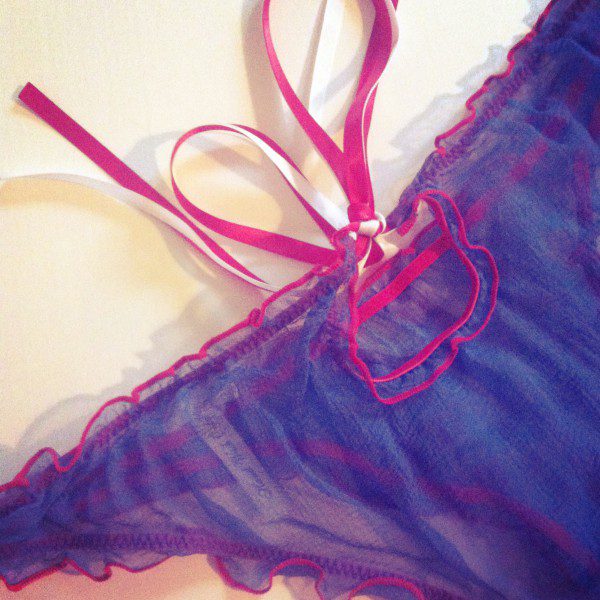 Value for Money
I've always based this section on what I actually paid rather than the RRP (since I often find good deals in the sales), but as I didn't actually pay anything for these knickers I'm basing my verdict on the full price of £110. It's not a price I would personally consider paying for a pair of knickers, unless they were super special such as my bridal lingerie or a design I simply had to have.
However, the do look really expensive so if you're used to paying this kind of price, you won't be disappointed by the quality.
Verdict: 6 / 10
Would I recommend it?
If you're on a tight budget and looking to splash out, there are probably better things you can buy for £110 that you can wear on a much more regular basis, but if money is not an object then these are definitely very beautiful knickers and perfect for special occasions. If you're thinking of treating someone to a deluxe gift they're especially great because of the lovely packaging that comes as standard with all Fred & Ginger orders. You can buy the knickers in sizes small, medium and large here.
All in all, I'm ecstatic to have won the competition and I will definitely be wearing these knickers again. Unfortunately, due to the fit, I'll have to save them for special occasions rather than wearing them as everyday lingerie, but if you can get a size that fits you perfectly I don't see why you couldn't wear these for any occasion – except maybe sport of course!