Disclaimer: I purchased this lingerie with my own money and What Katie Did did not request a review.
Last month I reviewed the Fred & Ginger Union Jack knickers that I won in their Facebook competition. There wasn't a matching bra so as someone who always wears matching sets I obviously had to find one!
Aptly named to wear with Union Jack knickers, the What Katie Did Jubilee bra in navy blue was the closest colour match I could find. My usual size, 32E, was sold out so I went for a 32DD and hoped for the best…
Appearance
Unfortunately I was disappointed with the colour when it turned up, as the bra is a good shade or two darker than in the product image. That wouldn't have mattered if I'd bought the whole Jubilee set, but since I picked this bra out especially for the colour match with another item it wasn't the best start!
However, colour aside this is a lovely bra for everyday wear. The stitching detail across the bottom third of the cup, which is hardly visible in the product image, is gorgeous up-close, and the top thirds of the cups are also sheerer than they appear in the product image which I like. I love the small details too, like the gorgeous picot trim around the back of the bra and the bead that tops the bow between the cups – again details that you can't see in the product image.
Verdict: 7 / 10
Construction
This is the first What Katie Did item I've bought so I didn't know what to expect, but I was really happy with the quality – the bra feels very sturdy and supportive with not a single fault visible.
Verdict: 10 / 10
Fit
As I mentioned, I bought a cup size smaller than usual because that's all that was available. For this reason the gore doesn't sit flat, but that's not What Katie Did's fault. Otherwise the Jubilee bra fit comfortably and if I'd bought a 32E I'm pretty sure the fit would have been perfect.
Verdict: 9 / 10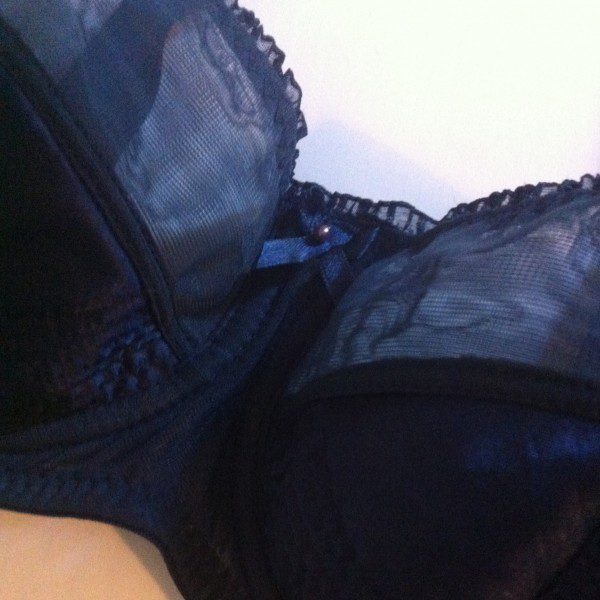 Washability
I've hand-washed the bra 3 times since I got it and it's still in perfect condition. The label says hand-wash only but I'm pretty sure this would be fine in the washing machine (on a delicate setting and in a lingerie bag) if you just don't have the time.
Edit 19/07/13: Sadly, on the 4th time I washed this bra it leaked dye and stained another lingerie set pretty badly! I hadn't noticed on the first 3 washes because I'd been washing it with black lingerie (most of my lingerie is black), but it just doesn't hold its dye so not as easily washable as I originally thought!
Verdict: 10 / 10 Verdict: 3 / 10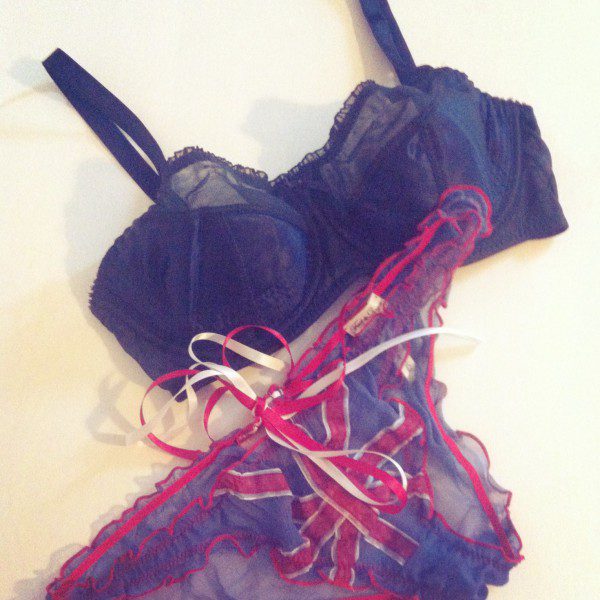 Value for Money
I bought this bra from the What Katie Did eBay clearance store for £17.50. The full price was £41.50 and the red version is still available at that price here. Since I always base the value for money on what I actually paid, this was a really good purchase for the quality!
Verdict: 9 / 10
Would I recommend it?
Yes, I would. It's a really nice, plain-but-pretty bra for everyday wear in high quality fabric, and one that looks like it's been made to last.
Overall, I'm happy with my first ever What Katie Did piece. It's a pretty simple bra that I chose more for its colour than its design (I really want to try one of their faux-vintage bullet bras) so it was a shame the colour was the one thing I didn't like about the bra. What Katie Did seems to be very high quality lingerie with a lot of attention to detail, but as far as this particular item goes they could definitely do with better product imagery!