Disclaimer: I purchased this lingerie with my own money and Corsets UK did not request a review.
I've been thinking about getting a new corset for a while. I used to have the Vollers Eye Candy in blue, and then decided it didn't match anything so replaced it with the very cheap but pretty Corset Junction 033 black satin corset. I'm happy with that one, but it's always nice to have a bit of variety so I recently decided to try the MY-001 black brocade corset from Corsets UK.
At £72, it's half-way between the price points of the Vollers and Corset Junction corsets, which were £135 and £29.99. Every article I can find online tells you you get what you pay for with corsets, but since I was really happy with the Corset Junction one which is half the price (admittedly on a 'limited-time' sale down from £165.99, but I bought it a good year ago and the price hasn't gone back up), I decided to blindly ignore all that advice and see for myself if the Corsets UK MY-001 black brocade corset was worth it…
Appearance
When the corset first arrived I had mixed feelings. On the one hand, the fabric is absolutely lovely and the whole thing seems really well put-together. However, as soon as I saw it I thought the shape looked a bit odd – it's very straight-up-and-down, which is not what you want from a garment intended to accentuate your curves! I've pictured it above with my Corset Junction corset so you can see the difference – the Corset Junction one isn't even that shapely unworn, but definitely more so than the Corsets UK one.
Verdict: 5 / 10
Construction
Again, it's got it positives and its negatives; it's a surprisingly heavy corset which is typically a sign of quality (stronger steel, thicker fabric and so on) and I love that the modesty panel is super wide which often isn't the case. The lacing is a really tough 'shoelace' type cord and the metal rivets and busk are both sturdy and firmly in place. So far, so good.
However, they've made a fatal flaw with this corset and that's in the cut, which gives it the odd tubular shape. But more on that in the fit review, since that's the only real way to judge if a corset is good or not…
Verdict: 5 / 10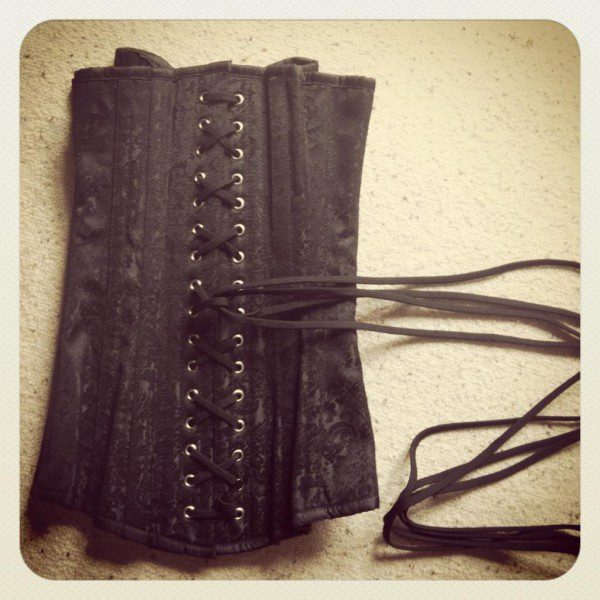 Fit
Sadly, this corset just doesn't fit me – and I doubt it would fit most people either! You usually buy a corset measuring 2-4 inches smaller at the waist than you do naturally (otherwise it won't do any cinching!), so being a 24″ waist I assumed I'd have no problem with a 22″ corset. However, it was a nightmare to get on! Once I finally did get it on, the waist actually fits great, but it took so much effort to get it on because the laces are actually too short, so I couldn't loosen it enough to do the busk up comfortably before I tightened it.
Once on, the waist was fine like I mentioned, but that was about it. The corset gaped by a good few inches at the bust, and I wear a 30F/32E so it can hardly be put down to the corset being intended for a 'full bust'! There was a massive gape at the hips too so overall, just totally not a good fit.
Verdict: 1 / 10
Washability
Since I'm not keeping this corset, I haven't washed it – but no corset is easy to clean anyway.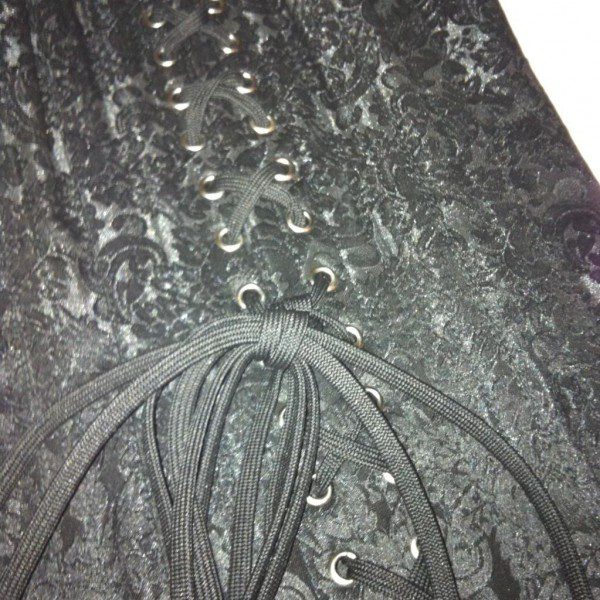 Value for Money
Sadly, I don't think this is great value for money at all. At £72, it's cheaper than many corsets but it's not cheap, and the fit was so off that there's no way I could have worn this.
Verdict: 2 / 10
Would I Recommend It?
Unfortunately, no. If you're new to corsetry and want to try a steel-boned corset without spending a small fortune, I would definitely recommend you try the Corset Junction 033 instead – it costs a lot less, and fits a lot better.
Of course, this is only one of the Corsets UK designs and they have literally hundreds to choose from, so if you've ever bought a Corsets UK corset I'd love to know if you experienced similar issues or if it was better!