So as you might know if you've been on the Esty Lingerie Twitter page recently, I'm currently in the States until the end of the month. I used to come here every summer but I haven't been since I was 18, when I was still buying 99% of my lingerie in La Senza, so I've never really paid much attention to the lingerie stores out here. This year however I had plans to work as much lingerie 'sightseeing' into the trip as possible, starting with hitting the local shops to take a look inside the infamous Victoria's Secret and at American high-street lingerie in general.
Victoria's Secret
The local shopping centre here in Los Gatos, Calfornia is huge, but there's only one shop dedicated to lingerie and that's this one. From what I've read on other blogs, Victoria's Secret pretty much dominates the American high-street lingerie market and that's not a good thing – I've read a lot of scathing reviews.
I didn't actually think the lingerie was that bad, although I didn't see anything I wanted to try on or buy either. It really reminded me of La Senza in terms of style, price point and size range, which goes up to a DDD cup (that's a UK E) and down to a 32 band. This is the kind of lingerie I would have loved a few years ago, but I can see why a lot of US lingerie bloggers wish there was more to choose from within this price range; almost every bra in Victoria's Secret was heavily moulded or padded, so if you're not into the boobs-up-to-your-chin look, or you don't fit their relatively limited size range, you're going to have to spend a lot more money somewhere else.
Macy's
Next stop, Macy's. It's like an American version of Debenhams or House of Fraser – mid-range clothing and homeware – except that instead of Gossard, Ultimo and Triumph in the lingerie section you've got Maidenform, Wacoal and Jockey.
To be honest, I found everything pretty uninspiring. Only a couple of colourful Calvin Klein bras and a lovely Wacoal Retro Chic one (above) caught my eye and I'd definitely recommend the Wacoal bra for fit, but I didn't quite like it enough to buy.
Nordstrom
Then onto Nordstrom, which is a more upper-market department store – somewhere between John Lewis and Selfridges. The lingerie here was nicer, but I would have expected that since it was also more expensive. In Bloom By Jonquil had some nice chemises and gowns that were tempting (I loved this Pearls & Lace robe), but my favourite spot was a bright pink lace set from the new L'Agent by Agent Provocateur collection, designed by the Cruz sisters.
The Lingerie Addict featured the range recently and I remember thinking that some of it was okay, but mostly it was nowhere near as beautiful and unique as 'real' Agent Provocateur designs, so I was surprised at how much I loved the Monica set. On the Nordstrom website it looks like a really pale pink but it's not at all – it's almost neon – and the fit was typical Agent Provocateur, i.e. absolutely perfect.
So why didn't I buy? The quality. The L'Agent Monica bra I tried on was made from a beautiful lace, but the craftsmanship wasn't quite the same as you'd find on an Agent Provocateur, and the prices aren't so much cheaper that I'd be willing to compromise on quality. I'd rather pay a little extra, but get lingerie that is much more unique and that I know will last.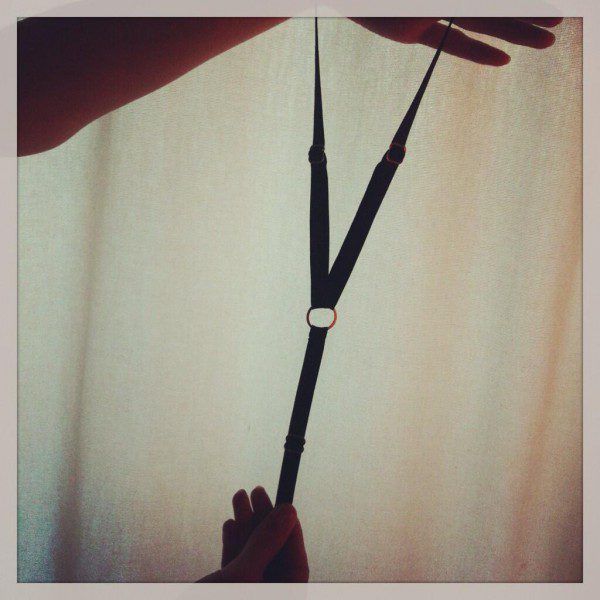 Next stop, LA where I'm hoping to make a trip to the What Katie Did boutique and see the Morticia corset close up (since I've been lusting after one since, well, forever). Then onto Las Vegas where I'm really, really hoping to make it in time to get to CURVE to preview all of the next-season collections by a huge range of American brands. And all the while I'll be sewing lots of new accessories for the 100 Days Project – you can see a new central bra strap design above which is also available in blue and white, but I don't have my mannequin with me to photograph them properly so you'll have to wait until September for them to be added to the store.
Here's hoping to discovering some more lingerie gems and boutiques along the way!
Featured image: Wacoal Retro Chic bra (and two Calvin Klein lace bras behind it) at Macy's