Disclosure: This set was a personal purchase, not a brand sample. This blog post contains affiliate links.
Ah, embroidery. Is there a trend I love more? It can completely transform a piece of clothing, and create gentle complexity on an otherwise simple fabric. Such is the case with L'Agent's Kaity, where black tulle is a canvas for intricate embroidery. If you're looking for delicate details on a saucy set, you've met your match.
I was initially drawn to Kaity for the bright pops of pink against the dark tulle, but the longer I examined it, the more I found to love. The embroidered flowers create femininity and youthfulness on the otherwise straightforward tulle, and the black embroidered leaves add further beautiful detail. Kaity is both simple and elaborate, sexy and coy; the best of both worlds, all rolled into one gorgeous set of lingerie! I knew I had to have it as my first set by L'Agent.
Image via L'Agent by Agent Provocateur
Appearance: 9/10
What I love about this set is that, after you've taken in the initial appeal of the bright embroidery, there are many other details to notice which may not have initially caught the eye. One of my favourite parts of bra is where the strap meets the cup: a triangle of mesh is topped with a black bow, adding intricacy to the otherwise simple black strap.
I also particularly like the black embroidered leaves. I hardly noticed them when I first saw this bra on the rack, but when worn they stand out beautifully against my skin. Together, these details create quite the flirtatious set.
The only unfortunate thing about the bra is that the flowers stick out slightly, which creates a bumpy look under a tightly-fitted shirt.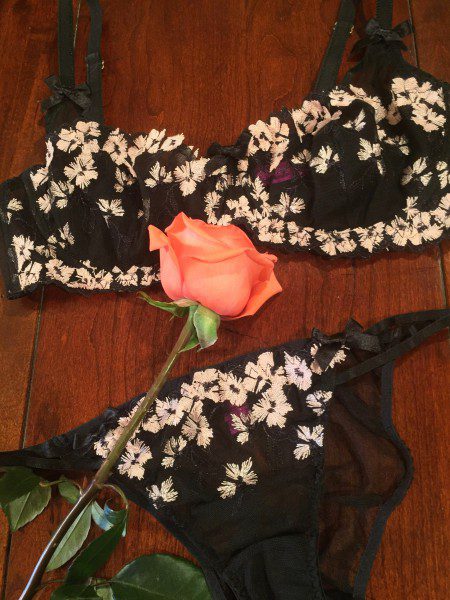 Fit: Bra: 8/10, Briefs: 6/10
Many a lingerie blogger has noted that Agent Provocateur's sizing can be impossible to predict. For this set, I had no issues with the bra, but the briefs were a different story.
I purchased the bra in my normal size, 32E, and overall it fits well. There is some gapping in the top of the cup, which leads me to believe it may fit better on someone with more rounded breasts.
The issue I had with the briefs was more pronounced. I tried these on in the store before purchasing them, which is fortunate because they run quite small. According to the size chart on the L'Agent website, as a UK size 8 I should fit a size Small, but I had to size up to a Medium and the briefs are still tighter than I'd like. Not tight enough that I would size up again, but they do look unflattering from certain angles. I'm not sure if there can be any steadfast rule for sizing here, other than a recommendation that you try it on first. However, if you absolutely can't do that, I would size up.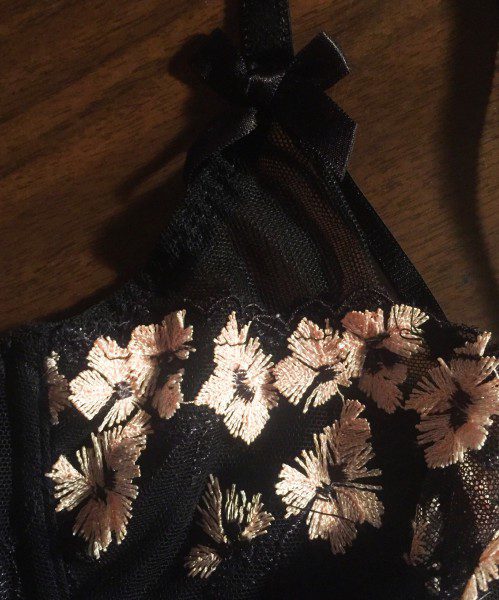 Construction: 7/10
It's also been said before that the quality of Agent Provocateur products does not reflect the cost. I find that this holds true for L'Agent as well. The third time I wore this set, I noticed a thread had already come loose, and some of the fabric near the clasp was frayed. Parts of it seem well-made, but overall I don't think it's amazing quality, particularly for the price.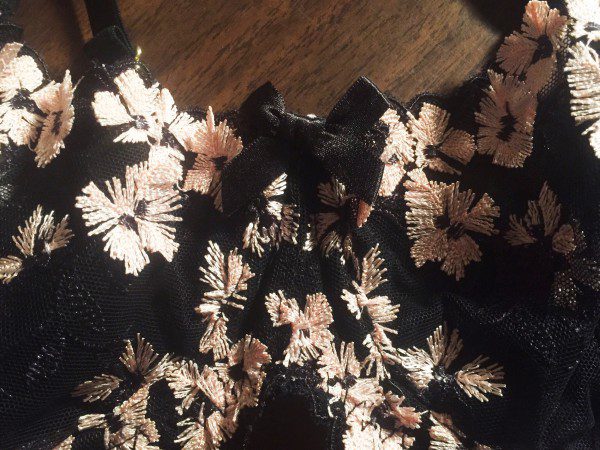 Value for Money: 8/10
Which brings us to the value for cost. I'll compare this set to the price I paid, which was about half off. For that price, it's not a bad deal. As I said, the quality was unimpressive. For that reason, I'm glad I waited until the set went on sale to purchase it. I love this set, but to me it isn't worth the original price.
Luckily for you, L'Agent just extended their summer sale. You can now get the bra for £20 and the briefs for £10, even less than I paid! See all pieces from the Kaity range (including another, even cheaper, colourway) by clicking here.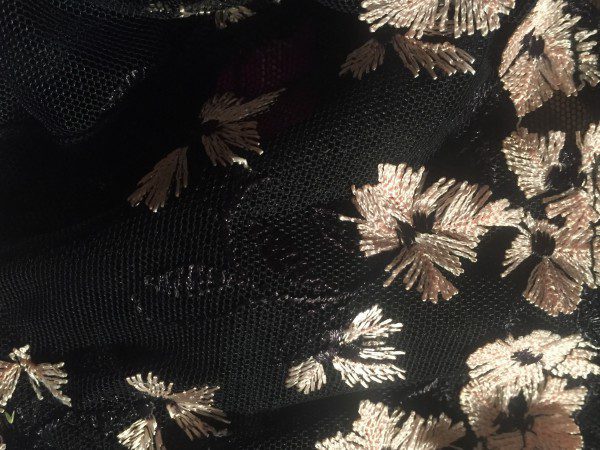 Would I Recommend it?
Yes, if for no other reason than the gorgeous details. However, it's worth making the extra effort to try it on in a store, even if you're like me and you do most of your shopping online. Agent Provocateur sizing is just too unpredictable.
What have been your experiences with Agent Provocateur sizing? Have you purchased anything from the L'Agent or Agent Provocateur summer sales?
Eliza.