Disclosure: I received this slip free of charge to review.
Long-time readers of Esty Lingerie will know that when handmade brand Impish Lee launched its customisation tool in 2015, I thought it was the best thing ever. It was a totally new concept in the lingerie world – getting to pick your own fabrics and colours for every part of the garment, plus make design changes such as adding or removing bows, all without having to spend time communicating back and forth with the designer. It was a shopping experience that was simple, easy, and brilliantly fun.
Since reviewing a robe and skirt by the brand a few years back, they have begun launching seasonal collections alongside their design-your-own service. However, you can still make changes to any piece from these collections, so they mainly serve the purposes of design inspiration and promotional lookbooks.
I was offered the chance to review a pre-designed look from the Summer 2019 collection, Lace Edges, and this Holly slip stood out to me as the perfect, lightweight and floaty piece for summer. That said, you could have it made up in anything from foiled fabric to velvet!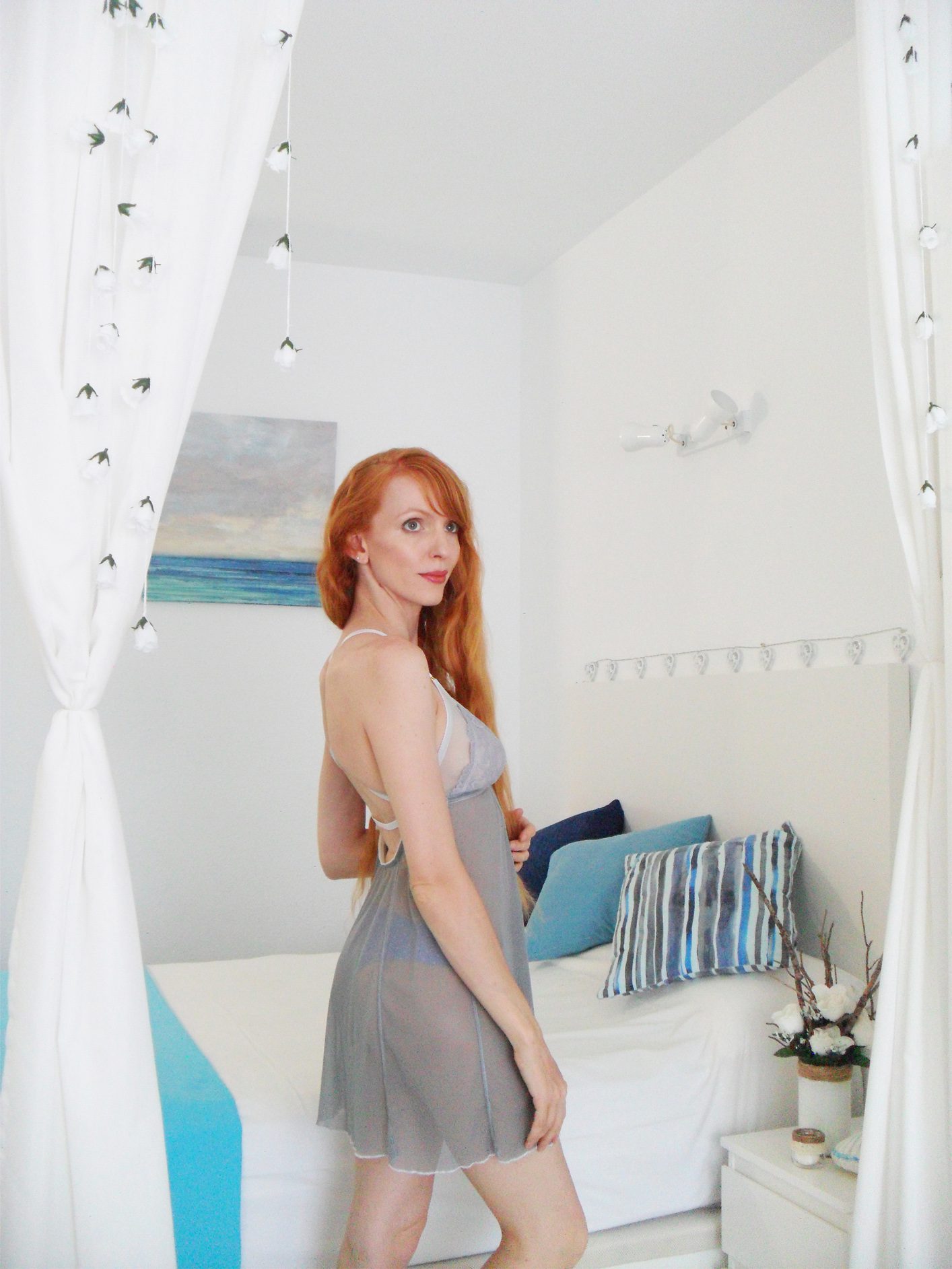 I was told the colours were charcoal and silver, but it's really just three shades of grey – there's no metallic shimmer. The six main panels are all medium grey mesh, and the cups are a lighter grey mesh overlaid with lace. In the customiser tool, you can opt to go without the overlay, if lace isn't really your thing.
The straps on my slip are white satin, and all Impish Lee pieces use gold-tone metal hardware. The back of the slip has a low scoop shape, with the straps crossing over above it. There's also a horizontal strap that's detachable, as well as being adjustable for a better fit.
Speaking of fit, Impish Lee has an impressive size range that covers 28-44 bands, UK A-GG cups, and UK clothing sizes 4-34. They also offer custom sizing if you fall outside that range.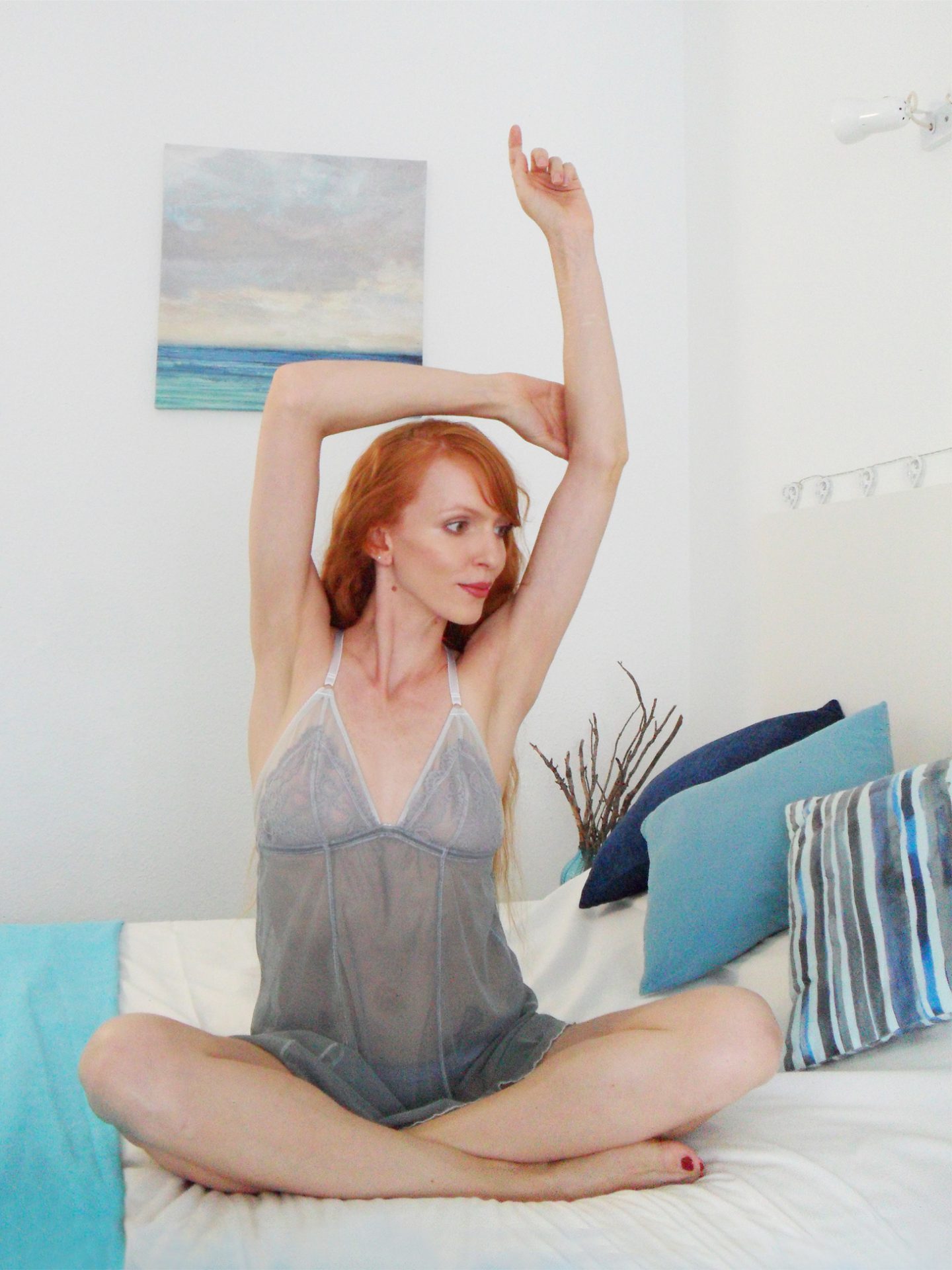 Impish Lee asked for my clothing and bra sizes as measured by their guides. I was between clothing sizes and opted for the larger one (the one I usually wear), which was the right call as this slip fits perfectly. Snug, but not too tight.
Their bra size calculator put me at a 28F which is two sister sizes down from my usual, but the fit is so flawless that I would definitely advise following their size recommendations, at least for soft-fit pieces like this one. Wired bras may be a different story.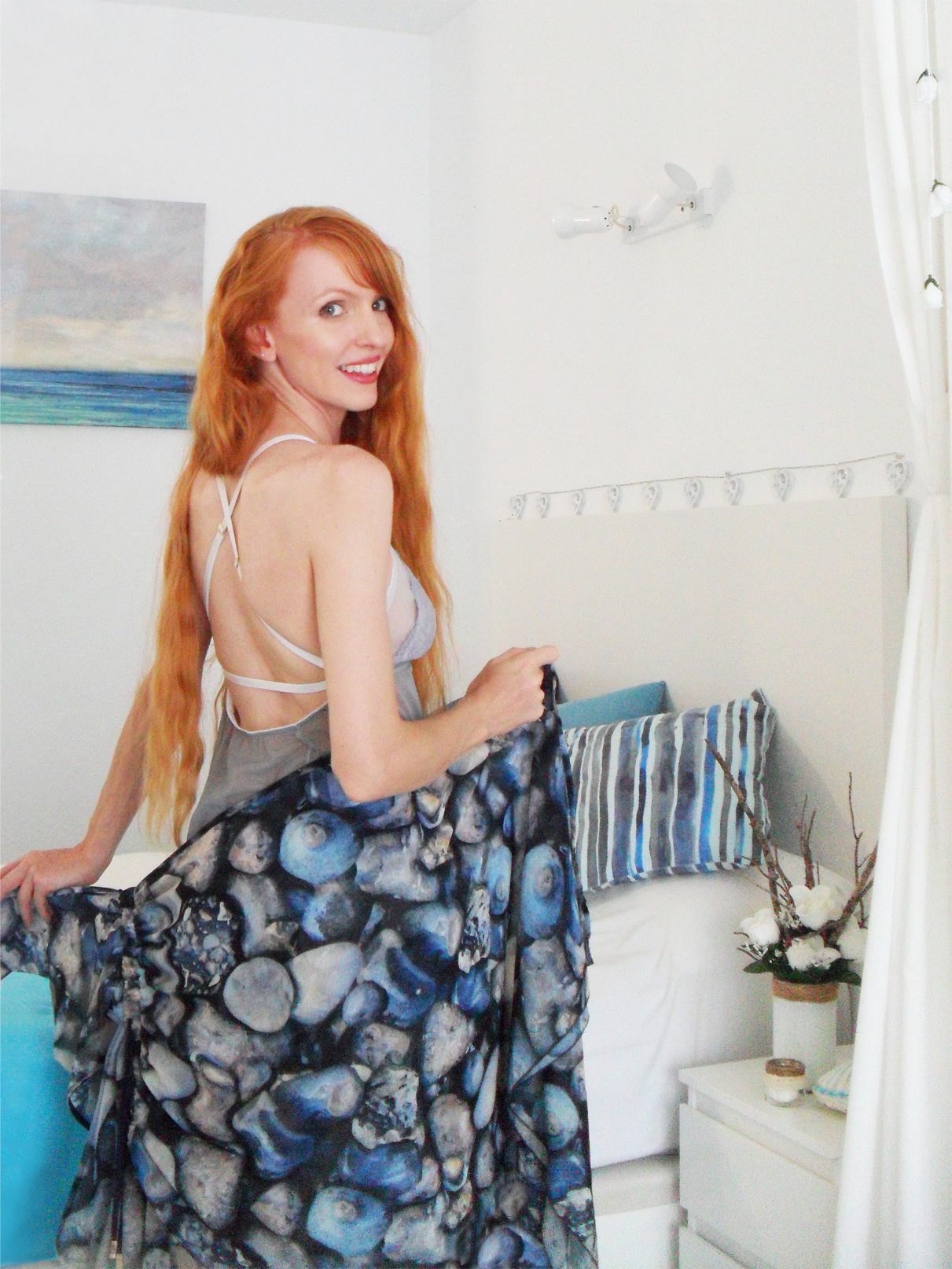 I don't review a huge amount of nightwear on this blog, because it's just not something I wear very frequently. I will sometimes put a slip on in winter, but it inevitably ends up getting twisted around my body so I wake up uncomfortable. However, until now, I had never tried cup-sized sleepwear. And… I am utterly converted!
I've worn this Impish Lee slip to sleep in multiple times, and it just does not budge an inch. I wake up in the morning with my boobs still in the cups, and the straps still on my shoulders. Maybe it would slip around more without the horizontal strap in place, but then the easy solution would just be to wear it with that attached. It's not uncomfortable, despite the snug fit. The mesh fabric (of which I don't know the fabric content) is also very soft and breathable.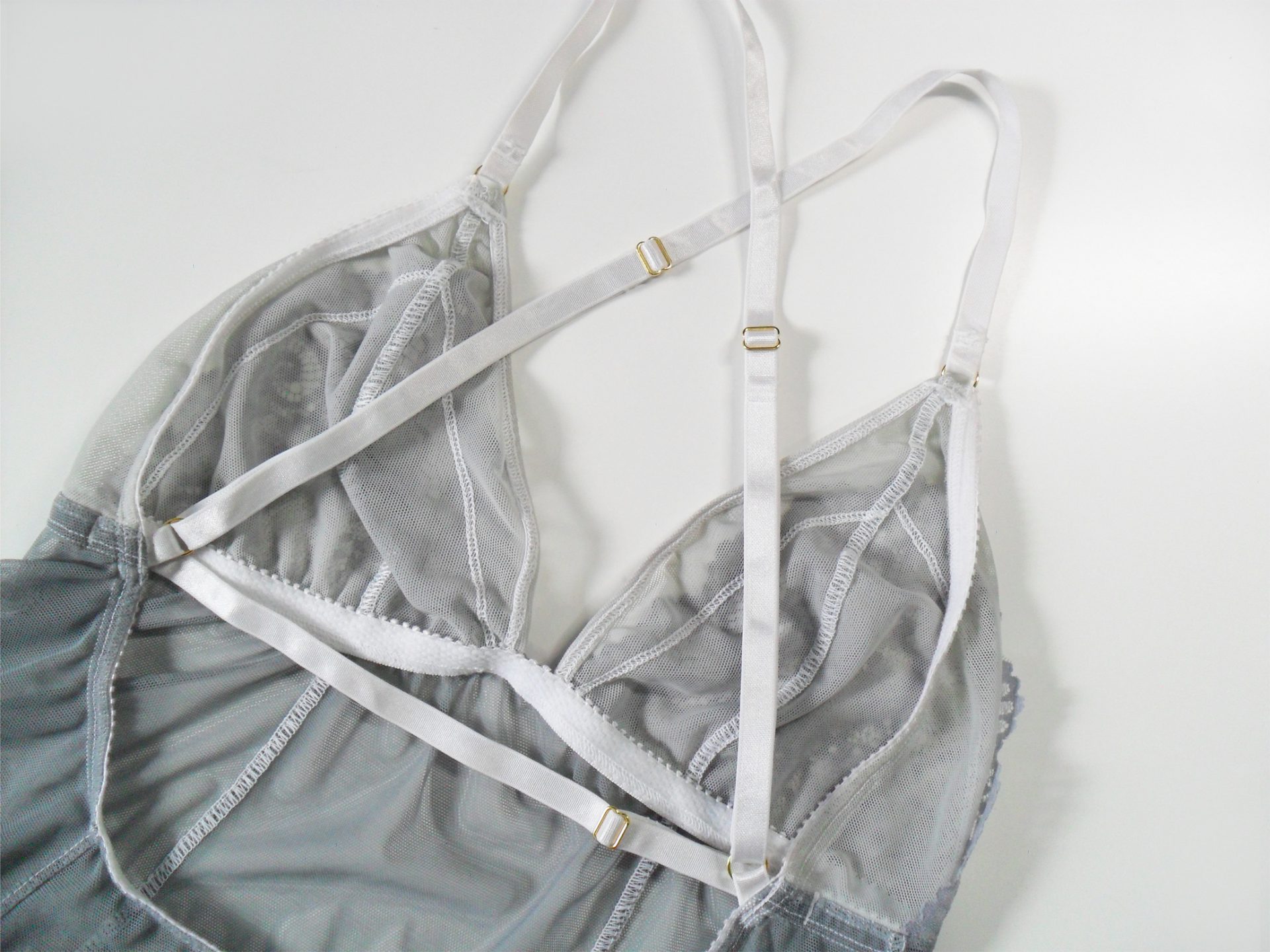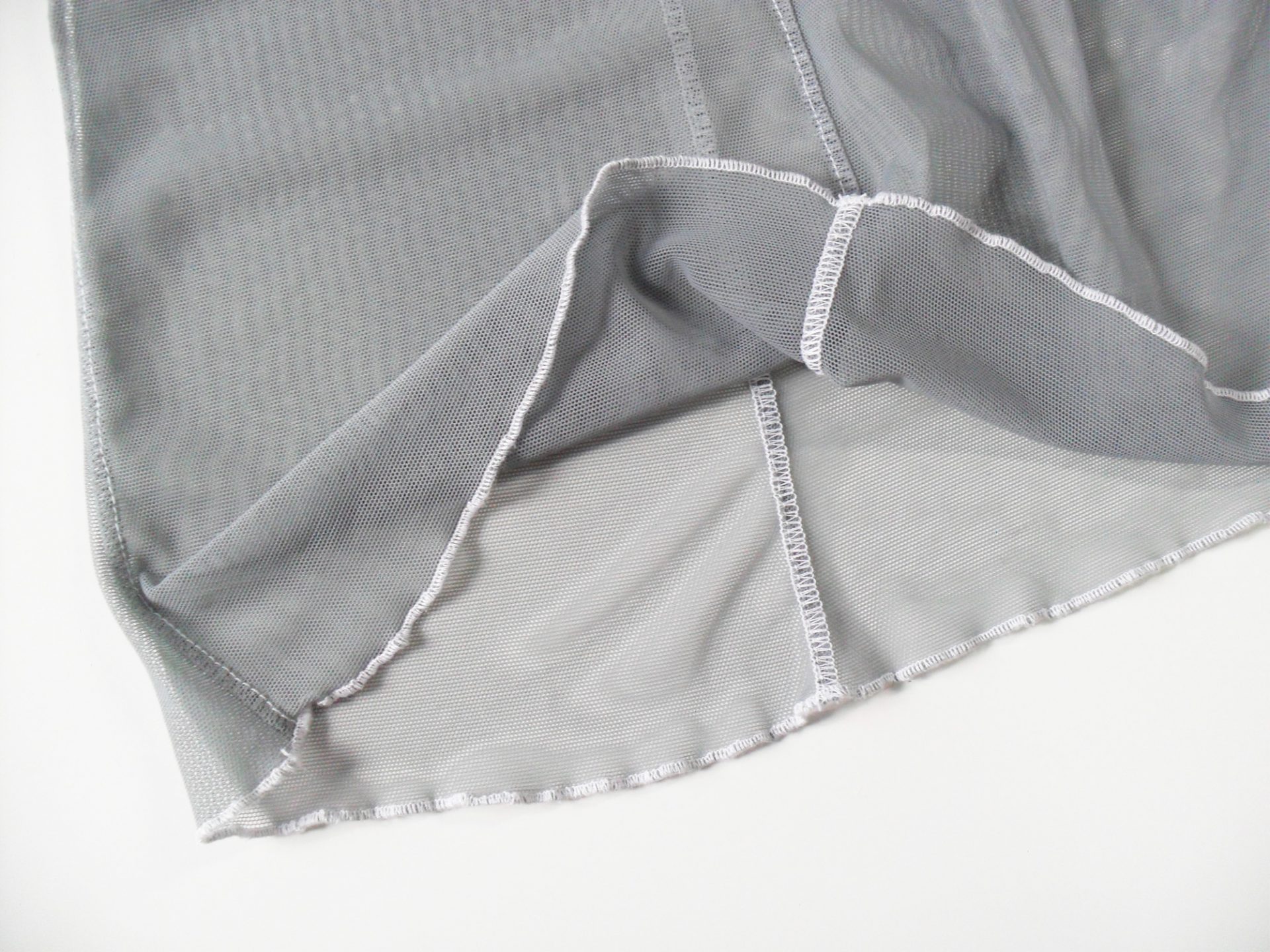 The only thing that lets this slip down slightly is the construction. The mesh is hemmed with an overlock stitch which looks a little messy, and also like it may start unravelling after a while. The stitching is also done in a contrasting white colour, which serves to highlight where it has gone or a little wonky or a stitch has been skipped.
The sewing inside the cups looks neat and secure, but the garment as a whole would look neater if the stitching were a less visible, matching grey colour. I wouldn't say it is poorly constructed, far from it, but I would expect it to be tad better for something that costs $158 (~£126 / ~143€).
All in all though, I love this slip. I love the fit, I love the comfort, and I love love love the fact that you can customise it. That last point alone makes it worth paying more for. Here are a few of my own 'designs' from the Impish Lee customiser tool, all of which would cost the same since the brand charges a flat rate regardless of your fabric choices:

If, on the other hand, you want to buy this slip exactly as it's pictured in my photos, you can do that here. Oh, and my order arrived with a discount code to pass along – use FRIENDS25 at checkout for $25 off!
What do you think of Impish Lee? And what fabrics and colours would you pick if you were buying this slip?