Disclosure: I received this lingerie free of charge to review.
LoveSuze is a recently-launched brand founded by Suzanne Macbale, who was previously Associate Vice President of Design at Victoria's Secret. In case you're wondering how similar this fledgling label is to the lingerie giant: it's not. There's not a push-up bra in sight at LoveSuze, although I am getting a similar 'simple, casual' sort of vibe which I associate with American lingerie brands. That's not necessarily a bad thing, if simple and casual is what's popular over there.
I picked out the NoHo Cotton Triangle Bralette to try because it seemed like the fanciest of the everyday bra styles, thanks to an oversized, gold metal swan hook at the back. It's also available in black, plus since I received this set an all-over lace version has been released in purple. I was also sent all three matching bottoms styles to try out – the Nolita Cotton Thong, the Uptown Cotton Cheeky Bikini, and the Downtown Cotton Cheeky Bikini.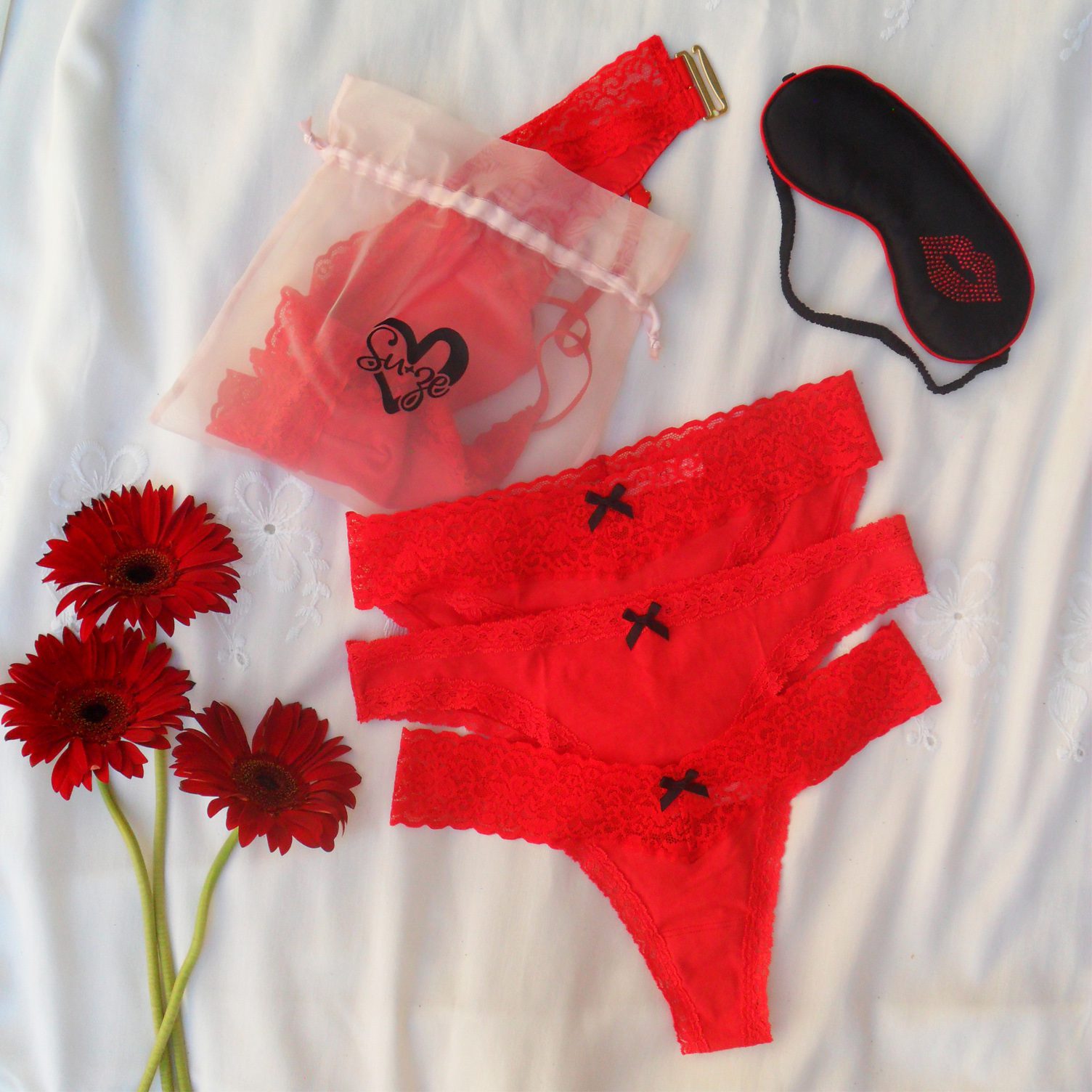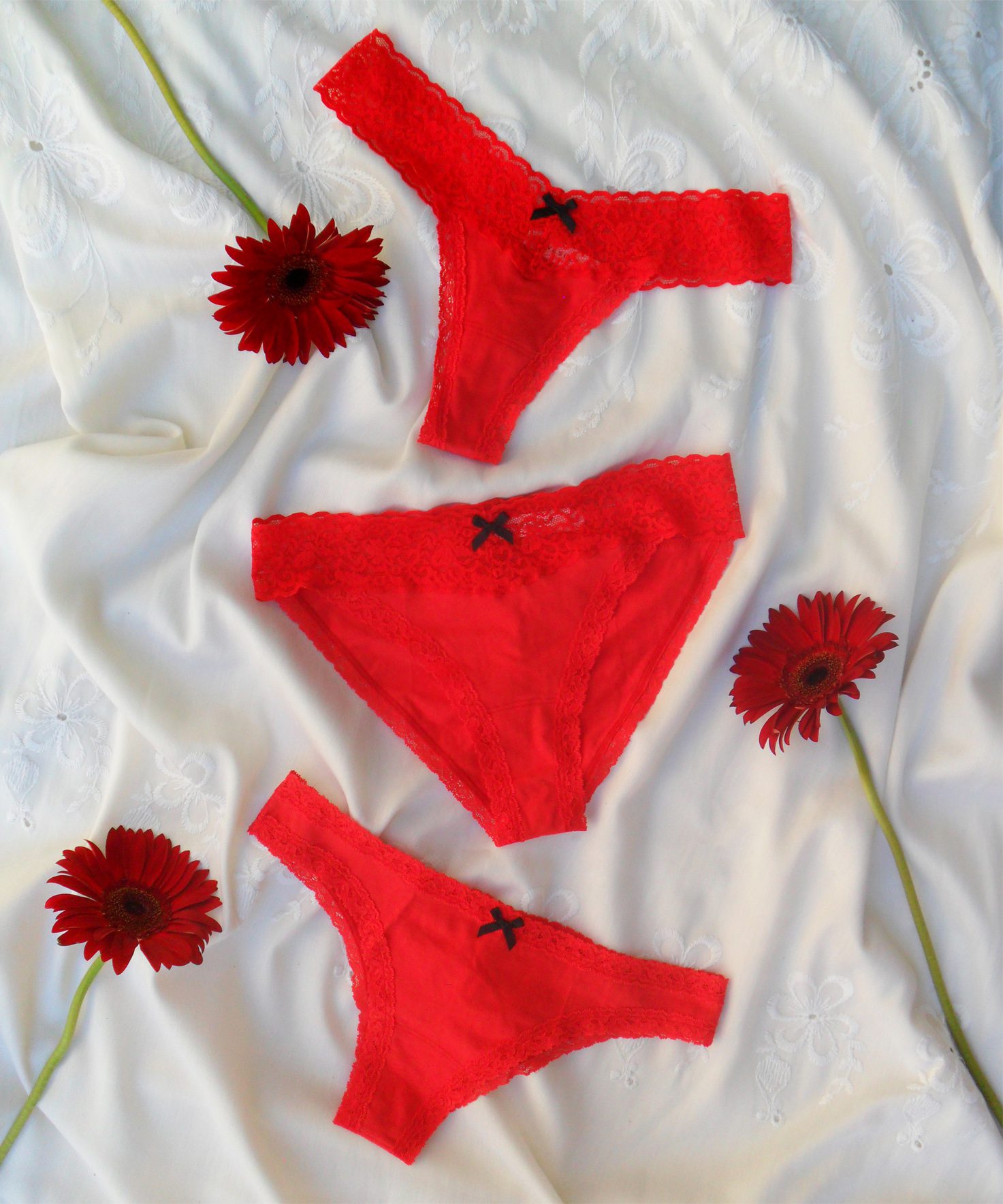 LoveSuze's brand messaging revolves around what they call Flex-Sizing™. Initially, I was expecting something similar to the extreme-stretch, one-size-actually-fits-many type garments that La Perla and Chantelle have put out recently, and various garments such as the Lace Teddy do indeed cover S-L or M-XL in a single size. But generally, the LoveSuze concept is simply this: to design items that fit flawlessly at all times, even if your size or shape fluctuates through the day or over time. Essentially, it's lingerie made entirely from materials with high stretch plus good recovery.
I received the bralette and bottoms all in an XS/S. For reference, I usually wear an XS and a 30DD or 32D bra size. According to the LoveSuze size chart, on a 32 band size the bralette should fit a C cup at most, and yet the cups really do fit me perfectly. Even the band is a close-to-ideal fit despite me preferring a 30 to a 32, and the size chart says it will stretch up to a 36 band; I can indeed pull it quite far from my body, and yet it doesn't feel loose or ride up more than a minute amount. My size never really fluctuates in the short-term, so I can't comment on that, but I do think that the cups fitting so well when I am technically outside of the size range is testament to the flex-sizing working.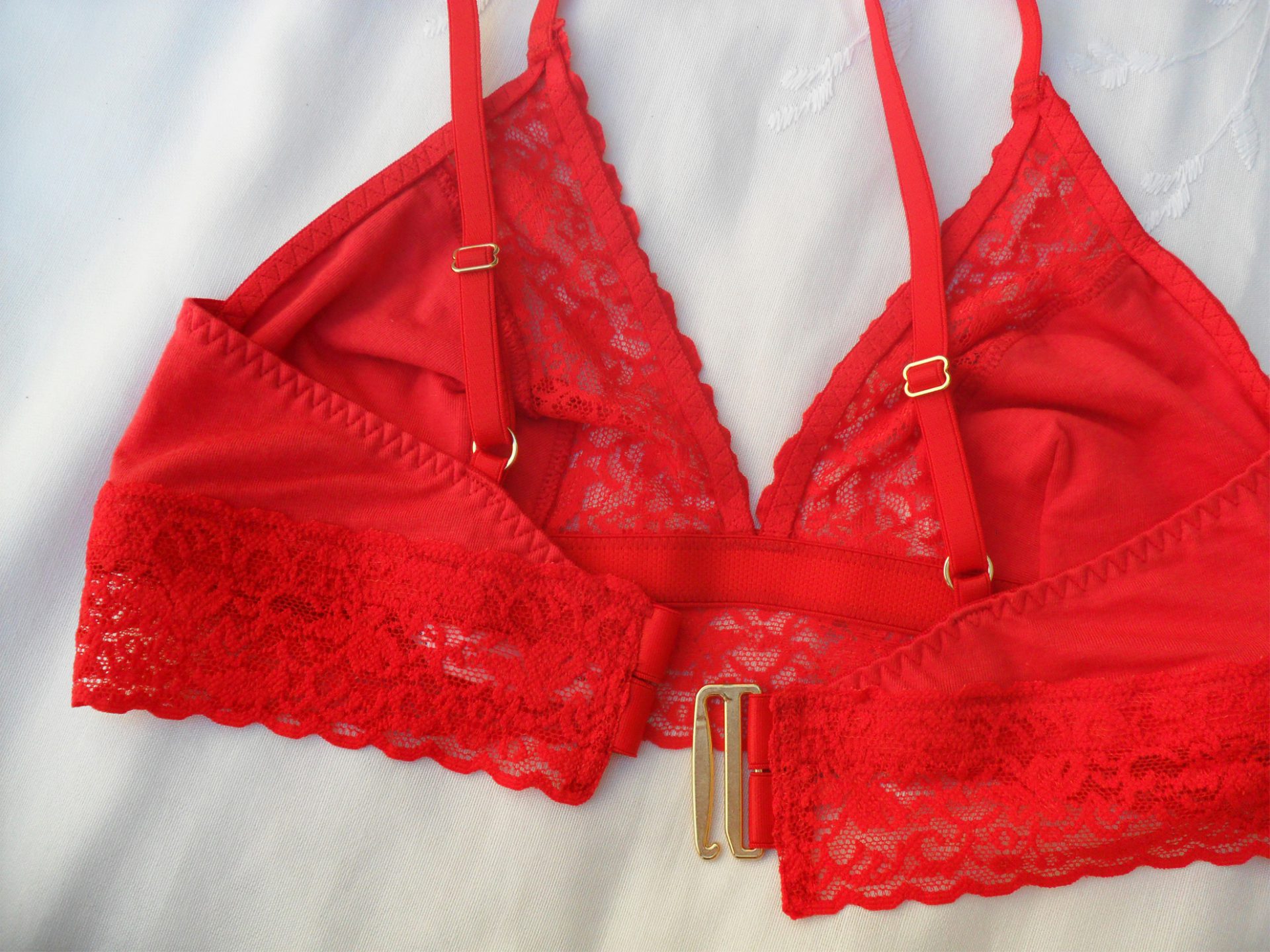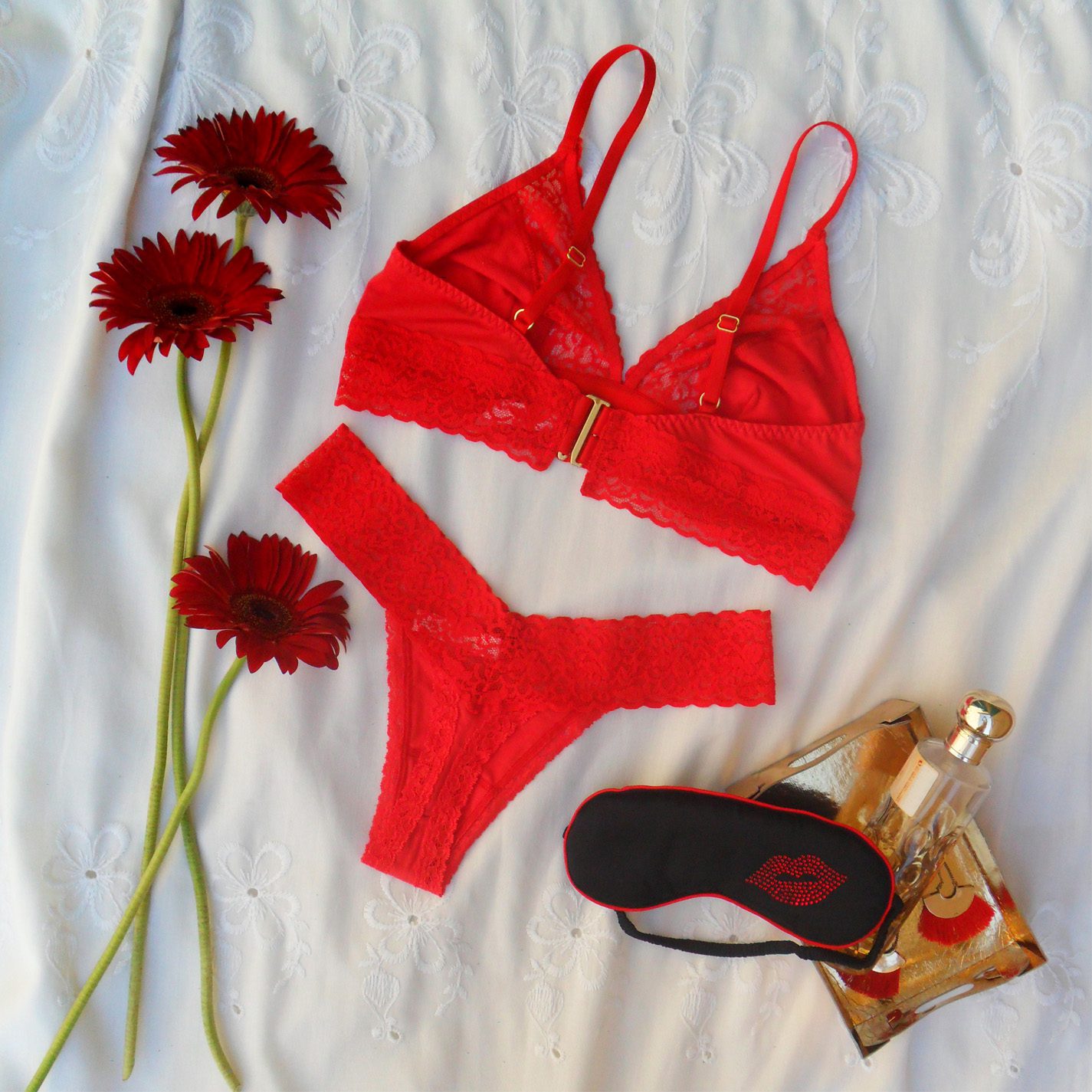 This is an unwired piece and there's no lift to speak of, but I don't feel completely unsupported either. The cotton fabric is super soft, and the lace is not at all scratchy. The only slight negative to the design I've found is that the large hook closure is a bit tricky to undo behind my body, so that's something to bear in mind if you have mobility issues in your hands. For me, however, the slight impracticality of the fastening is more than made up for by how chic it looks.
Of the coordinates, the thong and cheekier-cut Downtown brief are the ones that fit me best. The Uptown brief is the fullest-coverage of the bunch (but still far from being a full-coverage style) and I've found this one has a tendency to bunch up uncomfortably, plus the fabric wrinkles at the back. It's definitely not a flawless fit on me. The waistbands and leg openings on the three bottoms however are all very stretchy – they sit flush against my skin, but could also easily accommodate someone two sizes larger.
The stitching throughout the garments is all very neat, no issues there. I'm not really a fan of the black bows decorating the bottoms – they look out of place and, I feel, cheapen the appearance of the set. But with some very tiny scissors the bows are removable, so it's not a deal-breaker.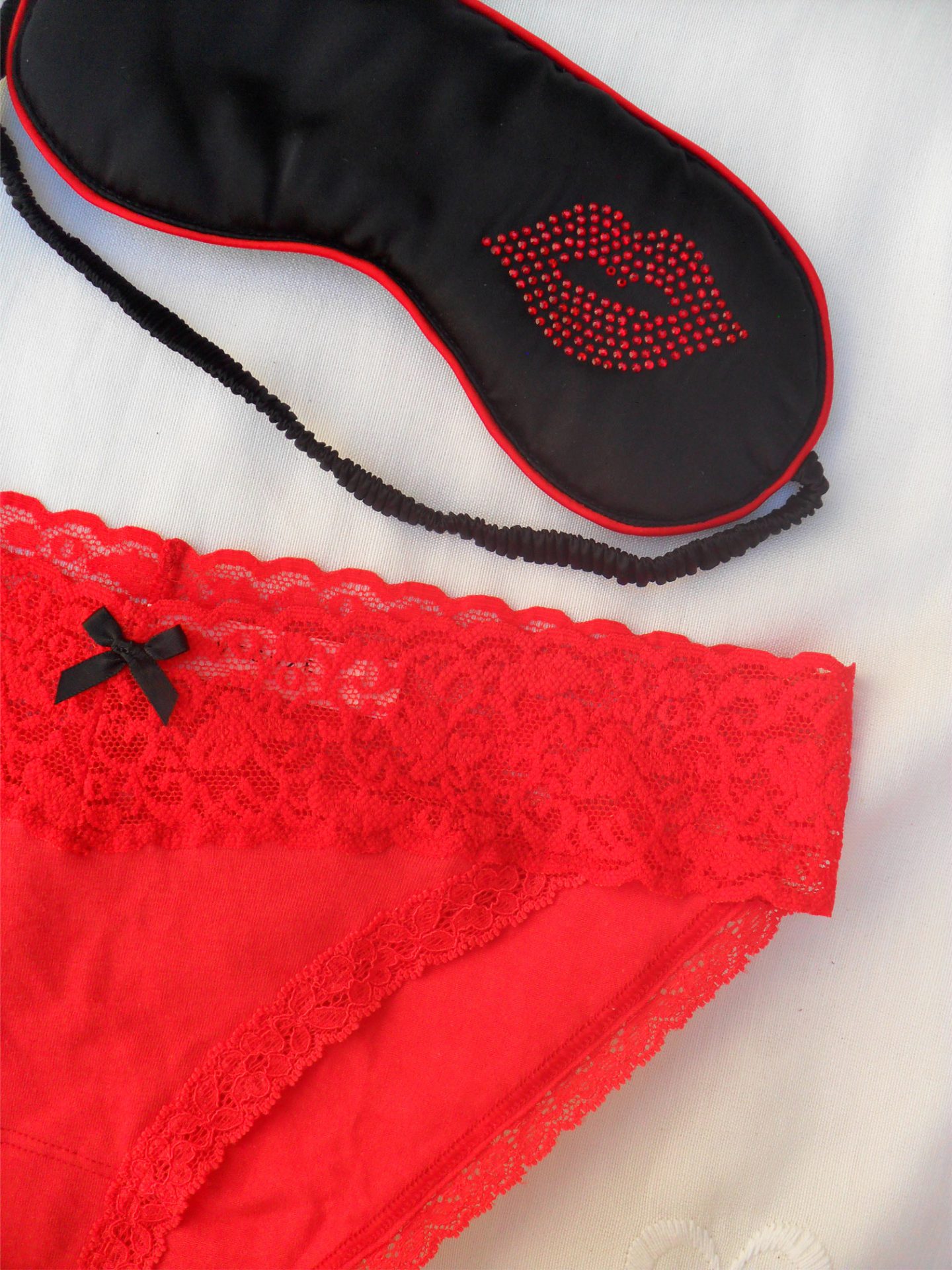 Overall, I'd be happy to recommend this set. Is the design especially innovative? No. Does it fit much better than other stretch lingerie I've tried? Honestly, no. But, it is ultra comfortable and I've been wearing it non-stop since it arrived. It's perfect for those chill days at home when you just want something relaxed and unfussy, but not totally plain. Plus, it's simple to care for, with machine-washing an option.
At $70-75 (~£53-57 / ~59-63€) for two pieces depending on the bottoms style you go for, the NoHo set seems acceptably priced for the quality. If Spain's extortionate customs fees hadn't put me off shopping internationally, I'd definitely consider picking up the new purple lace version too.
What do you think of LoveSuze's Flex-Sizing™ promise? Is a fit that adapts to your changing figure something that would improve your lingerie wardrobe significantly?