Disclaimer: I purchased this lingerie with my own money and Nearer the Moon did not request a review. This is a brand (but not an item) we sell at Esty Lingerie – my opinions of it are 100% honest.
I realised recently that I own a website filled with close to 1,400 gorgeous lingerie products from a huge range of designers, and yet I haven't bought much of it myself. There's just so much I'd love to try that I don't really know where to start, but when one of the Esty Lingerie designers, Tilly from Nearer the Moon, had a sample sale I just couldn't resist!
My personal lingerie rule is always, always, always wear a matching set, but when it comes to black you can usually mix and match and the pieces still look like they were meant to go together. So I picked out these high-waisted black knickers with peepholes with gold hardware which I can wear with my Agent Provocateur Roxie bra, also black with gold hardware.
Here's what I thought…
Appearance
I like high-waisted knickers but if they're just a block of solid fabric or if they don't sit at the narrowest part of the waist, they can just look shapeless and huge (I like these and these, but not these for example). So I really liked that these knickers have cut-outs on all four sides, which means they still look quite small despite being high-waisted.
All of the edges are trimmed with a gorgeous three-pronged picot elastic, and there is a single gold hook at the front centre which I think makes all the difference – they wouldn't be quite the same with a black hook, or no hook at all. Above all, I like them because they're unusual – you definitely don't see designs like this elsewhere!
Verdict: 7 / 10
Construction
These are sample sale knickers, so the construction won't be up to quite the same standard as a garment meant for normal retail. There are a few uneven stitches here and there which are noticeable if you look for them, but they don't detract from how the knickers look on.
The fabric is really unusual – a sort of crepe-like jersey – which I've never seen used for lingerie before, but it turns out to be super soft and comfortable! It does crease easily, but those creases are smoothed away as soon as you put the knickers on and the fabric stretches out.
Verdict: 6 / 10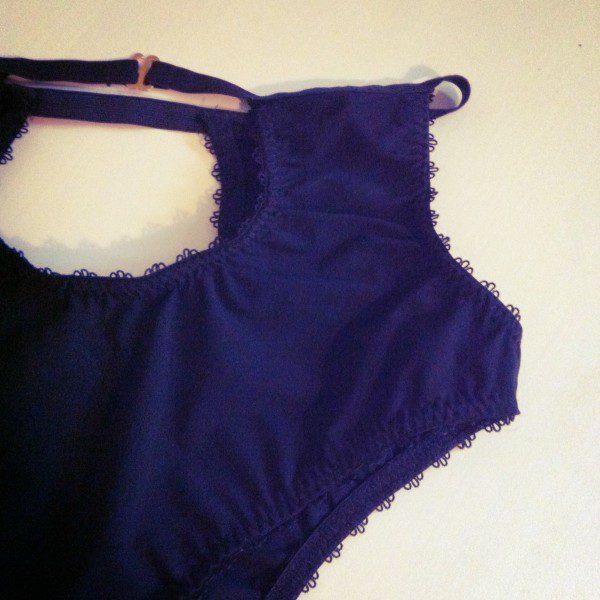 Fit
These were sold as a size small but I think they're really more of an extra-small. According to the Nearer the Moon size chart, a size small should fit a UK 10-12 and I'm a UK 6-8 with a 24″ waist, and these fit me perfectly with no room to spare. I think if I were any bigger the elastic strap would be digging in (and actually, they did do that a bit after a big meal), so I'd definitely recommend sizing up with Nearer the Moon briefs.
I was going to write that it would have been better had there been a slider to adjust the waistband slightly, but that's exactly what samples are for – to find the faults so that you can fix them in the 'proper' garments, which is exactly what Tilly has done with the tattoo mesh version of these knickers that she's just launched.
Verdict: 8 / 10
Washability
I've hand-washed these knickers four or five times now and I love that they're super easy to wash and the fabric dries very quickly! They'd probably also be fine on a gentle, cool cycle in a washing machine although I haven't tried.
Verdict: 9 / 10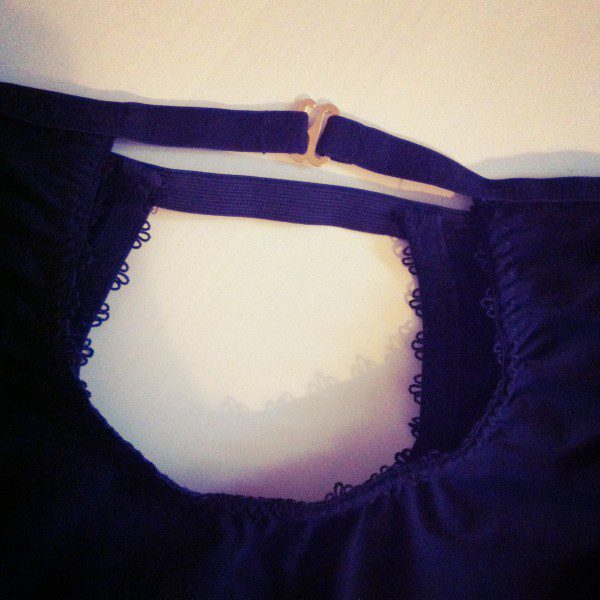 Value for Money
I paid £15 for these which was the sample sale price and very reasonable for the quality. I've already worn them a bunch of times and they found their way into my suitcase when I packed up all my favourite lingerie for my current holiday, so definitely a great purchase!
Verdict: 10 / 10
Would I recommend them?
I'd love to recommend these, but as a one-off sample item they're no longer available to buy. However as I mentioned, the Nearer the Moon tattoo mesh knickers are basically the same, but in a nicer fabric and with an adjustable waistband which I am sure will make the fit much better (it also looks cuter at the back!). If you're looking for pretty, comfortable, high-waisted knickers then definitely give these a go – but do buy a size larger than you typically would, or double check with the designer that they are going to comfortably fit your waist size first.
Don't forget you can shop Nearer the Moon right here at Esty Lingerie!