Disclaimer: I purchased this lingerie with my own money and Gossard did not request a review. This blog post contains affiliate links.
I've tried a handful of Gossard bras in the past and never liked the fit, but I loved the pink and red colour scheme of this bra set so when it went on sale at just £24 for the three-piece set, I thought I'd give the brand another go. I bought the set direct from Gossard but also bought the bra from the Figleaves eBay outlet
in a different size that was sold out on the site, since I had no idea what bra size fits me in this brand.
Here's what I thought of the Gossard Colour Clash bra, knickers and suspender set…
Appearance
I'm trying (and failing) not to buy so much black lingerie this year, and I love how colourful this set is in red stretch satin and sheer, hot pink, polkadot mesh. My favourite bit though is the satin elastic detail at the back of the bra and suspender. I also love the gold metal hardware at the top of the cups that's engraved with 'Gossard' – it's the small details like these that make it look more expensive than it actually is.
Verdict: 7 / 10
Construction
Aside from a few rough edges here and there where the elastic has been overlocked rather than folded, all three pieces are really well-made. I bought a 30E and 30F and as you can see below the band on the 30F is another hook wider to provide extra support. The fabrics are really great too.
Verdict: 8 / 10
Fit
Since I wasn't sure what bra size to buy I bought a 30F from Gossard and 30E from Figleaves' eBay outlet. I could have kept either to be honest (the 30E was a tiny bit too small and the 30F a tiny bit too big) but I preferred the wide band on the 30F which provides a lot of support so I went with that one.
I bought the extra-small knickers and suspender belt. The suspender fits great on the tightest hook, but the knickers are a bit too big. Gossard's extra-small is actually a UK 8-10 which strikes me as vanity sizing (an 8 to 10 is small but not extra small, and most other brands I checked at random used 'small' for 8-10), and the knickers are more towards a 10 than an 8 anyway.
Verdict: 6 / 10
Washability
According to the care labels, the knickers and suspender are machine washable and the bra is hand-wash only, although if you really don't have the time for hand-washing I don't see why the bra can't be machine washed in a lingerie wash bag on a delicate setting too. I've washed the set by hand three or four times and it still looks as good as new!
Verdict: 9 / 10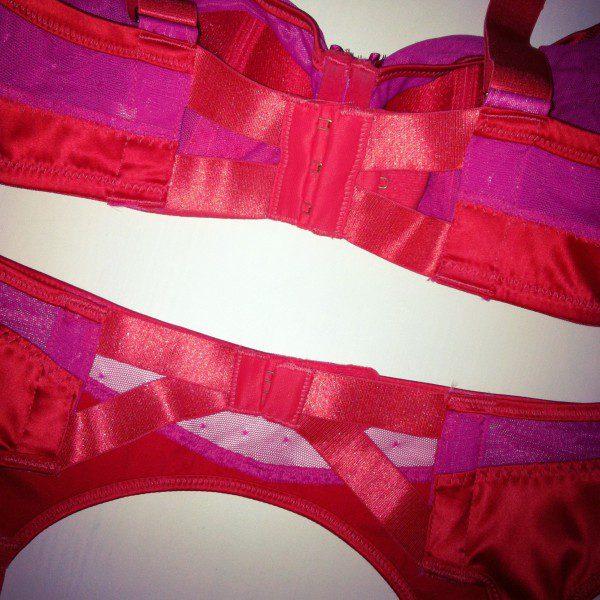 Value for Money
The full price for this set was £65 which is probably a little more than I'd pay for an 'everyday' lingerie set, but as I mentioned at the start I got it on sale for £24 and I always base this part on the price I actually paid. Which in this case is an absolute bargain – £24 is less than the price I'd usually pay just for a bra!
Verdict: 10 / 10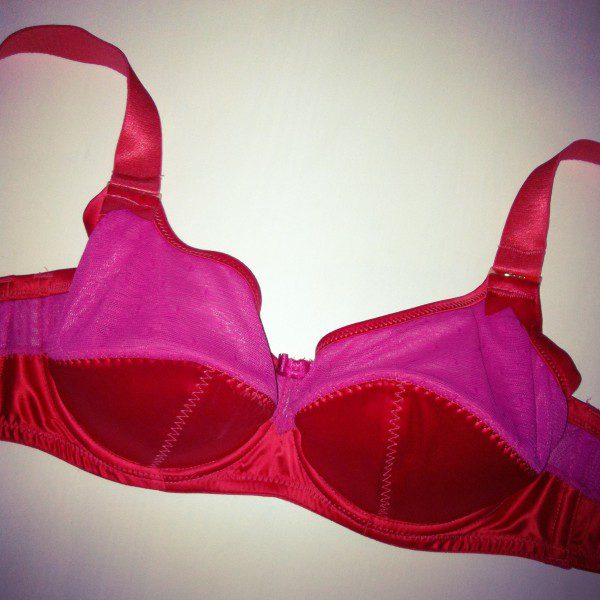 Would I recommend it?
Absolutely! It's a good-looking, well-made set currently available at a teeny, tiny price – £5 for the knickers (extra small only left), £8 for the suspender (extra small only left) and £11 for the bra (lots of sizes still left). If you need a size other than what's left on the website, there are lots of pieces for sale here on eBay
at roughly the same prices.
Have you tried Gossard's Colour Clash set or any other Gossard pieces? What did you think of the fit?