Disclaimer: I purchased this lingerie with my own money and Inés Perpiñá did not request a review.
I found lingerie designer Inés Perpiñá on Etsy.com earlier this year who has a small but lovely selection of handmade lingerie in pretty lace, velvet and satin fabrics. My favourite piece is this velvet bra but unfortunately it's not available in my size. I loved the vanilla lace bodysuit in this review too but couldn't make up my mind about buying it because I already have an ivory lace bodysuit by Emma Highfield. When it went on sale though… well, I couldn't resist! You can never have too many lace bodysuits right?
Here's what I thought of Inés Perpiñá's Vanilla bodysuit…
Appearance
Right down to the smallest detail, this bodysuit is beautiful! The floral pattern on the lace itself is lovely, and it's trimmed all round with a delicate picot edging. My favourite part though is the scalloped, velvet elastic that's used for the straps and under the bust. The bodysuit is finished with a subtle organza ribbon bow and fabric-covered button.
Verdict: 10 / 10
Construction
The bodysuit is really well-made throughout. Sometimes you can tell that handmade lingerie is handmade, but not with this piece. The elastic edging is on the outside of the garment which is unusual, but looks really nice. I love that it has a hook-and-eye fastening at the crotch too (which wasn't mentioned in the product description) – my Dirty Pretty Things Estelle bodysuit is the same and it's super-convenient not having to get totally undressed just to go to the toilet, but the poppers on that one made me feel a little like I was wearing a baby-gro; these hook-and-eyes are much more 'lingerie'.
My only little niggle is the organza bow – I've carefully hand-washed the bodysuit only three times but the edges are already starting to fray. Non-fray or heat-sealed ribbon would have been better – I might end up replacing this bit soon.
Verdict: 9 / 10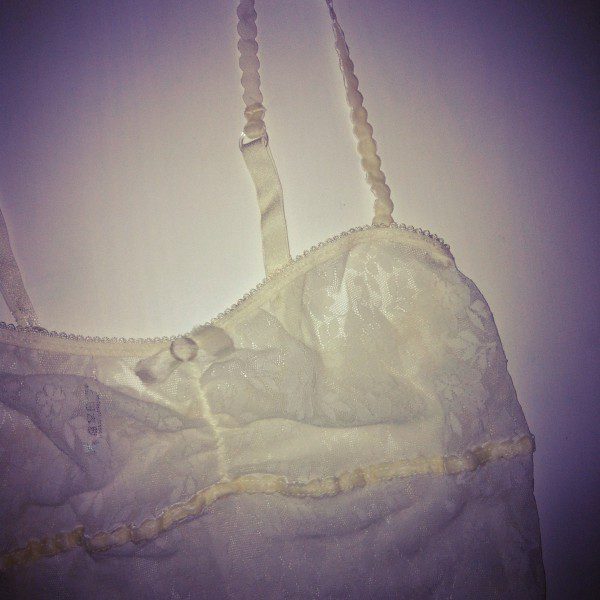 Fit
I bought a size small and it fits me perfectly. The cups don't offer any support so I wouldn't wear this to go to work (I have a 2.5 mile trek there and back!) but it's fine for wearing when I'm lounging around the house on a weekend.
Verdict: 8 / 10
Washability
According to the care label you can machine wash this on a cold setting. I've hand-washed it, but it's great that you can machine wash it too as I know not everyone has the time to hand-wash every piece of lingerie. I would however recommend using a lingerie wash bag in the machine – the lace is delicate and could snag easily.
Verdict: 8 / 10
Value for Money
I bought the set on sale for €25 (down from €45), which is around £20. £20 is on the cheaper side for any handmade lingerie, but especially so for something as well-made as this and in beautiful fabrics too!
Verdict: 10 / 10
Would I recommend it?
Yes! Provided you don't mind the lack of support, you really won't find a more beautiful (or practical) bodysuit for this price. Only one of you is going to be able to get hold of this though – there's just one size small left over at Inés Perpiñá's Etsy store!
If you want to see some more photos of this item (and considerably better than my iPhone ones!) check out Lost In Lingerie's blog post about this bodysuit, which also includes an interview with the designer herself.