Disclaimer: This blog post contains affiliate links.
The blog has been a little quiet lately – partly due to an unexpected hospital stay but mainly due to the very exciting fact that a brand new Esty Lingerie website is being built which is taking up almost all of my free time (and that's with help from a small army of assistants!), since I really can't wait for the launch and am trying to get it all finished as soon as possible.
However with this month's very top eBay pick ending in less than 9 hours I thought I should take a quick break to put this article together. There's pretty pink stuff, sexy stuff and one very special designer bargain right at the end…
Which is your favourite pick?
Catherine D'Lish pink robe
 (pictured above)
Auction (approx. £180 highest bid at time of publishing) – ends 05/05/14 at 04:43am
Size: One Size
So first up, and only available for around 8 and a half more hours from when I hit publish, is this stunning, handmade robe by burlesque performer and costume designer Catherine D'Lish. I've blogged about her stunning robes before and they really are some of the most beautiful creations I've ever seen, lingerie or otherwise. Each piece is one-of-a-kind and breathtakingly glamorous, and this pretty pink robe is no exception. It's pricey, but compared to many other robes at a similar price point I think this is far more unique and beautiful – definitely an investment piece you'll keep forever and maybe one day hand down to a very lucky daughter!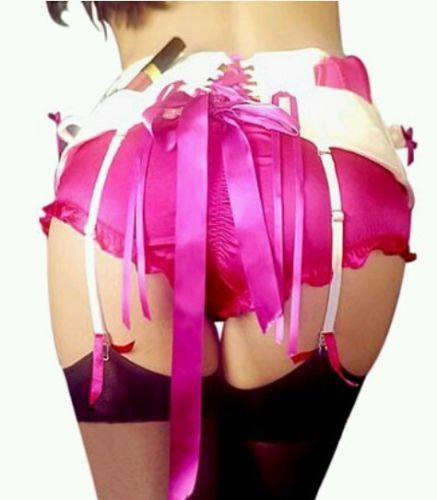 Spoylt 'toolbelt' suspender belt
Auction (£9.99 starting bid, no bids yet) – ends 07/05/14 at 9:08pm
Size: S/M (M/L also available
)
Spoylt is a now-defunct lingerie brand that I also featured on March's eBay top picks list, and lots of pieces are still available on eBay at teeny tiny prices. This fun 'toolbelt' style suspender belt originally would have cost you £170, so at £9.99 this is an amazing bargain – particularly as it also includes an eye mask, wrist ties and nipple tassels. The pocket-laden belt is perfect for filling up with toys for the bedroom, or as a great way to keep some emergency cash and your house keys hidden away on a night out in case your bag ever gets stolen.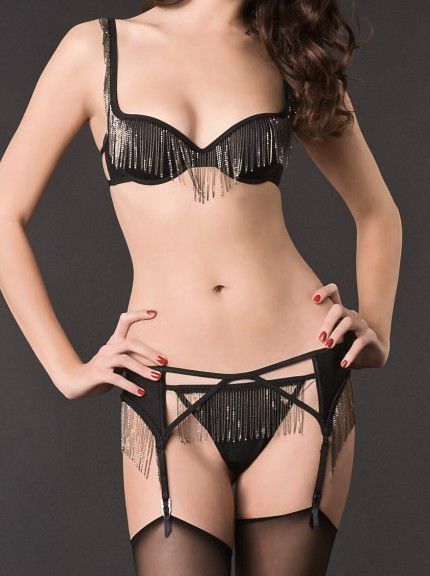 Maison Close Belle de Nuit bra
Buy-It-Now for approx £26.66
Size: 32C, 32D, 34C or 36D
I adore Maison Close and particularly this Belle de Nuit collection with its simple-yet-striking design of silver chains. The same bra is currently on sale for £69 at both Fox and Rose and Meme Shop, and $61.10 (that's about £36.20) at Dollhouse Bettie. Another eBay seller also has the matching thong for £18 in a size medium
 (and which, due to the design, could easily be sewn smaller into a size small) so you can have the set!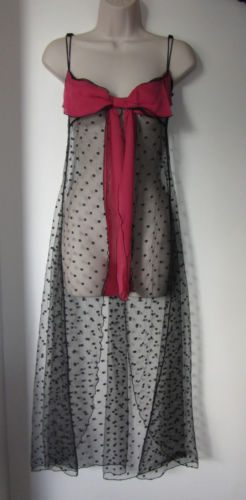 Janet Reger sheer polkadot gown
Buy-It-Now for £14.99
Size: 34 (UK size 6-8)
This pretty, long-length babydoll is made from a gorgeous sheer polkadot mesh, and there are few fabrics I like more than sheer polkadot mesh. Janet Reger lingerie is of fairly average quality – not premium, but not poorly-sewn cheap stuff either – so at this price I think it is definitely worth it if you like the design. I'm a little tempted to buy one of these for myself! The same seller also has a couple of matching short babydolls for sale too, in the same size and priced at 
£9.99.
Kiki de Montparnasse silk bra
Buy-It-Now for approx. £38.52 or submit an offer
Size: XS
Kiki de Montparnasse is a very expensive brand and justifiably so, if you can afford it; the designs are simply beautiful, the fabrics are premium quality and the workmanship that goes into each piece is incredible. So it's not every day that you find a brand new Kiki de Montparnasse piece on eBay for this kind of price! Originally $295 (around £175), this pure silk bralet has a really unusual design and gorgeous fade-through monochrome colour palette. I'd be buying it myself if only it were my size!
Have you snapped up an amazing eBay lingerie bargain recently? Let me know!