Disclosure: I purchased these items with a gifted voucher from RewardStyle. Links with a * are affiliate links.
As the global lingerie market continues to increase in value, new and potentially-major players are entering the industry, from SavageX to Zara to Amazon. I hadn't previously paid Amazon's lingerie brand, Iris & Lilly*, that much attention as theirs just isn't a website I think to look at when clothes shopping. However, the fact it has been around for a few years now suggests people are buying it. So I got curious – could Amazon truly become a leading lingerie destination?
The shopping experience
Prior to this, I'd only shopped for lingerie on Amazon once in 2017, when searching for a particular babydoll that I happened to find far cheaper there than anywhere else. It was actually the first time I ever ordered through Amazon, and I distinctly remember not being able to work out who the actual seller was or even which country it was coming from.
Since then, I've placed more non-clothing orders and become more accustomed to shopping on Amazon, but I still wouldn't describe my Iris & Lilly ordering experience as particularly smooth. The issue I found this time was that Amazon really hasn't set things up for people who like to wear a matching lingerie set:
There are no product names, i.e. things are simply titled "lace bralette", "push up bra", and so on. This is very normal for a fast-fashion brand that releases and removes products regularly, however it did mean I couldn't use the search bar to find matching pieces.
Those matching pieces aren't linked either. While there are Amazon's usual 'customers also bought' and 'customers also viewed' rows of product recommendations, on the items I viewed these rarely included the matching garments.
The bralette that I bought came in three colours, each sold separately. The matching knickers however were only sold as a pack of three with one in each colour. This made me feel like I was wasting money on two extra knickers I neither want nor need.
This isn't so much related to the shopping experience as a comment on the designs, but I saw multiple bras photographed with 'matching' bottoms that were dyed the same colour, but on closer inspection were made from an entirely different lace – I got the impression they had been created as an afterthought.
On a more positive note, my order shipped free and arrived within days, which I know for a lot of people is a big part of the draw of Amazon. The 3-pack of knickers arrived separately, in a plastic package sealed with an Iris & Lilly topper. The other items all arrived in unbranded plastic packaging, except for the strapless bra which had neither outer packaging nor swing tags (which frankly made me wonder if it was even new).
Note: I have included UK and US links where items are sold in those countries, however Iris & Lilly's US selection appears to be smaller and most of what I bought isn't currently available from the Amazon US site.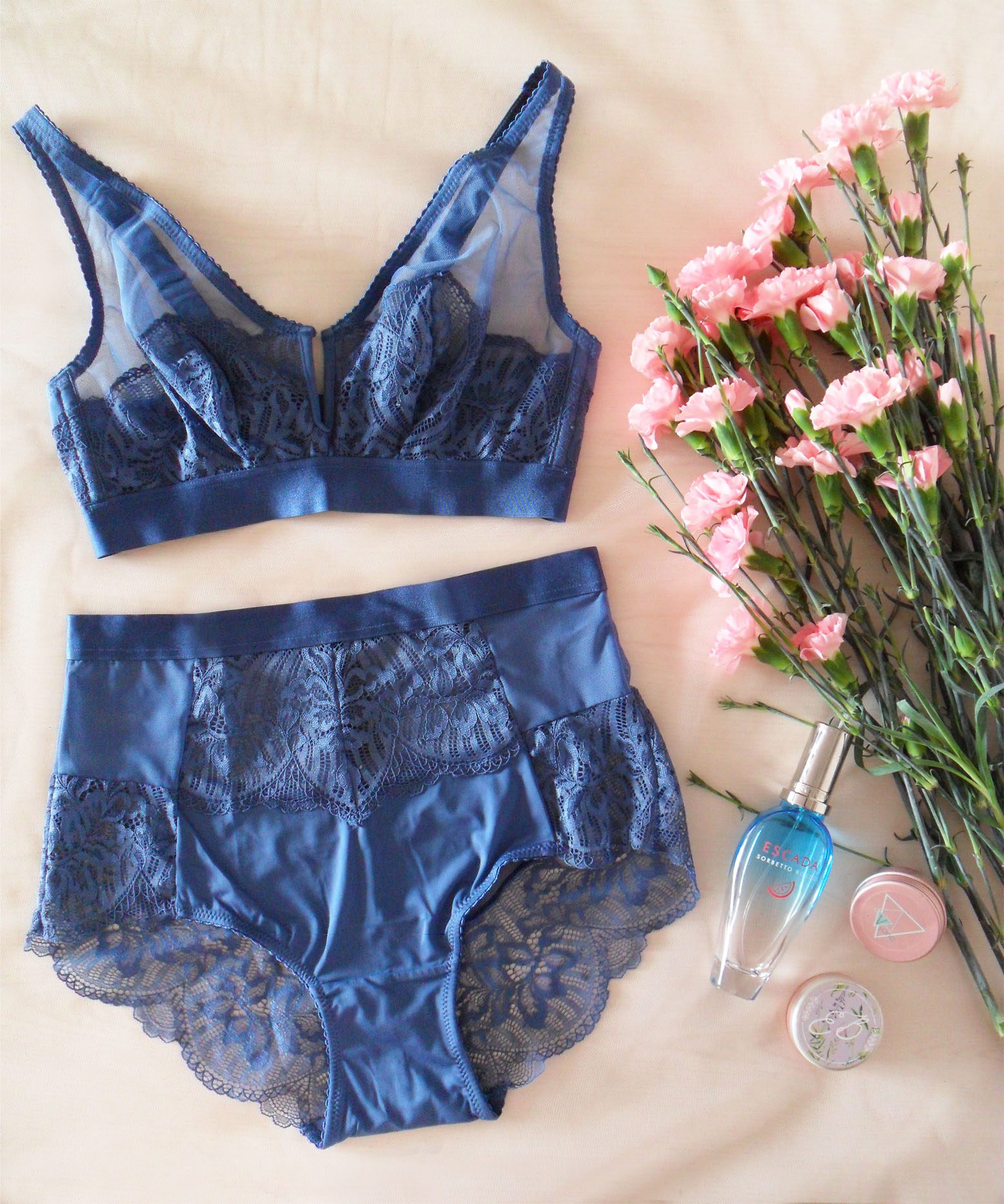 The bralette set
First up, the DD+ Mesh Non-Wired Bralette* (UK link*) and matching Mesh High Waist Brief* (UK link*) multi-pack. The bralette starts from a 32DD which is both a band and cup size up from my usual 30DD, but a couple of the reviews I read said it ran small so I thought I'd take my chances. It does run small, but only in the band which I found comfortably snug (it's actually a whole 5cm shorter than the supposedly smaller 30 band of the bra below, albeit slightly stretchier). The mesh cup section wrinkles a bit on me because I'm not filling it out completely, but of course that's not an issue with the design and simply because I bought a larger cup size.
Regardless, I really like this bralette, and the matching knickers too! This is a full-bust set, available up to a UK 40FF, and it incorporates various support features: a wide ballet back, wide-ish straps, and flexible side boning to keep the band flat. The lace is sewn on top of the mesh base, meaning the lower half of the cups are double-layered, and the V-wire adds a modicum of structure as well as being an aesthetic design choice.
The cups are darted for added depth, but are otherwise seamless. I can't speak for those with busts larger and heavier than mine, but on me it offers moderate lift and support. The cups create a gently-pointed shape which feels very retro, something to bear in mind if you prefer a rounded silhouette.
The high-waist knickers meanwhile hit right at my natural waistline in a way that I find very flattering, and they are super comfortable! The satin elastic waistband has a soft, plush reverse, and the lace-trimmed legline doesn't ride up. I also like that the mesh, lace and opaque panelling breaks up the design so that it feels chic rather than 'full coverage'.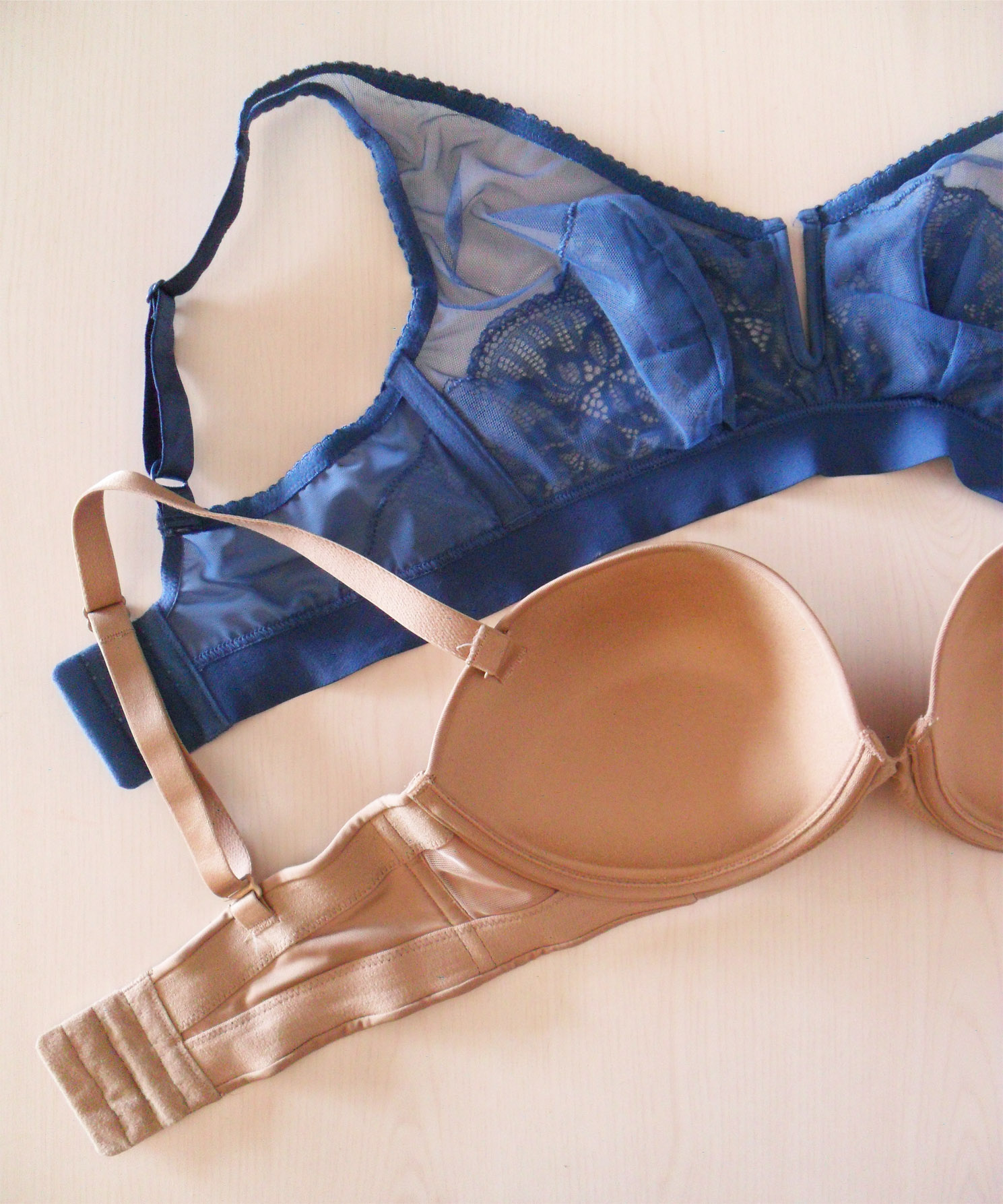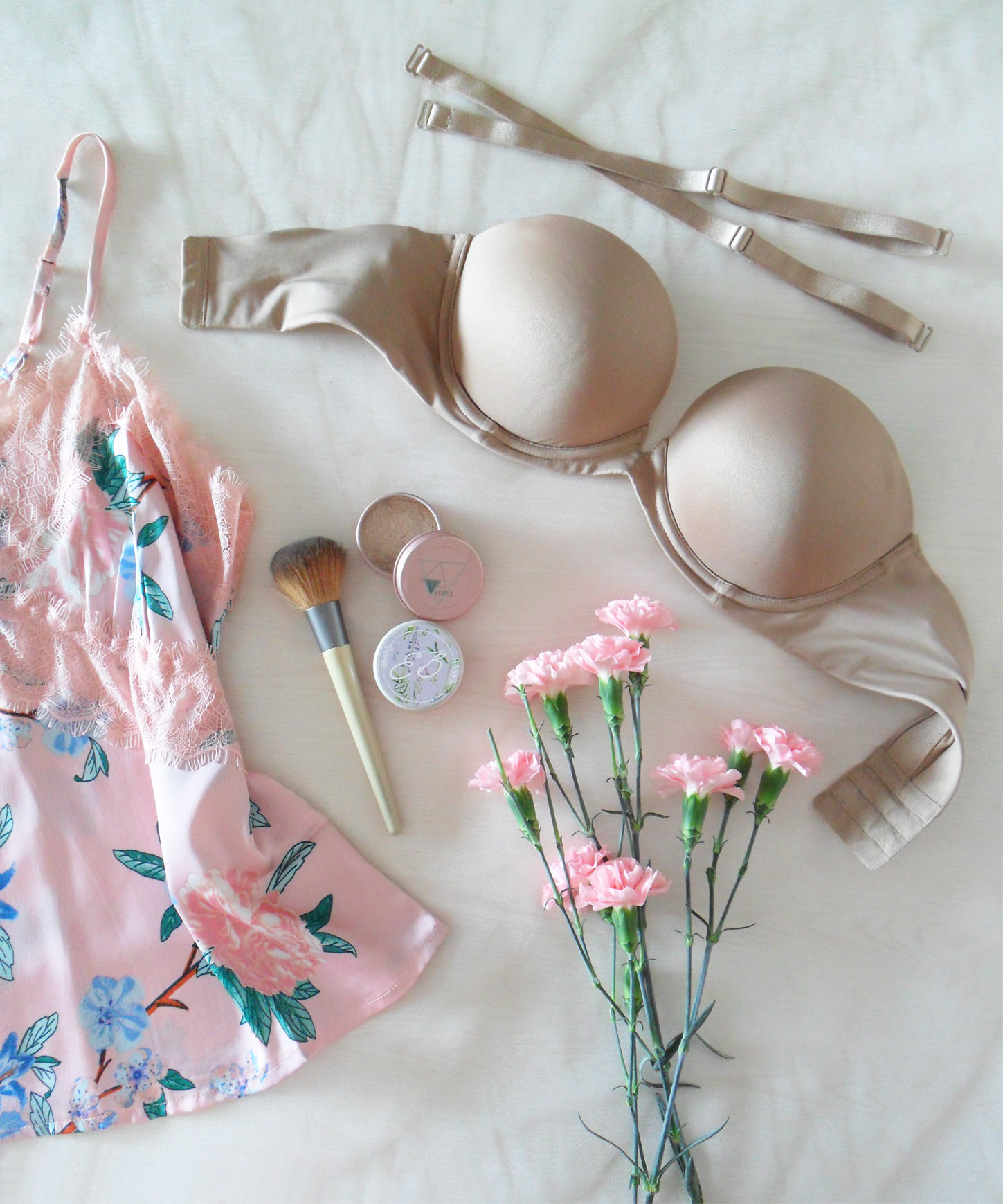 The strapless bra
Can you believe this is the only strapless bra I currently own?! I've never had good experiences with them in the past – I never felt like they stayed in place – so I'd mostly given up on trying to find a good one, but recently decided my summer camisoles really would look better if I could wear them as intended, with only the delicate spaghetti straps on show. So I chose Iris & Lilly's Strapless Push-Up Microfibre Bra* (UK link* / US link), which comes with optional straps.
I was really happy to see that this one comes in 30 band sizes, something I wasn't expecting from a budget lingerie brand. A firm-fitting band is key to getting a strapless style that won't slip down, so I'd never consider sister sizing up in this type of bra. I chose my usual size of 30DD and… it stays in place all day! Hooray!
There's no silicone, something strapless bras sometimes have to help them stick, so its staying power is simply reliant on creating a snug fit. It does that well thanks to wide, firm elastic running along both the top and bottom edges inside the band. There's side boning on this bra too, to prevent the band from buckling.
Unfortunately though, I really don't find this bra comfortable. It's not the band that's the issue, it's the underwires. Underwires are supposed to flex a little to follow the curve of your torso once the bra is fastened, but these ones are oh so rigid. All day, I can feel them both poking my sternum and pushing against my ribs at the bottom of each cup, and I just can't wait to take it off.
Fit-wise, I have no complaints. And it does it's job of providing a lifted, rounded shape well. But alas, my hunt for a great strapless bra will have to continue.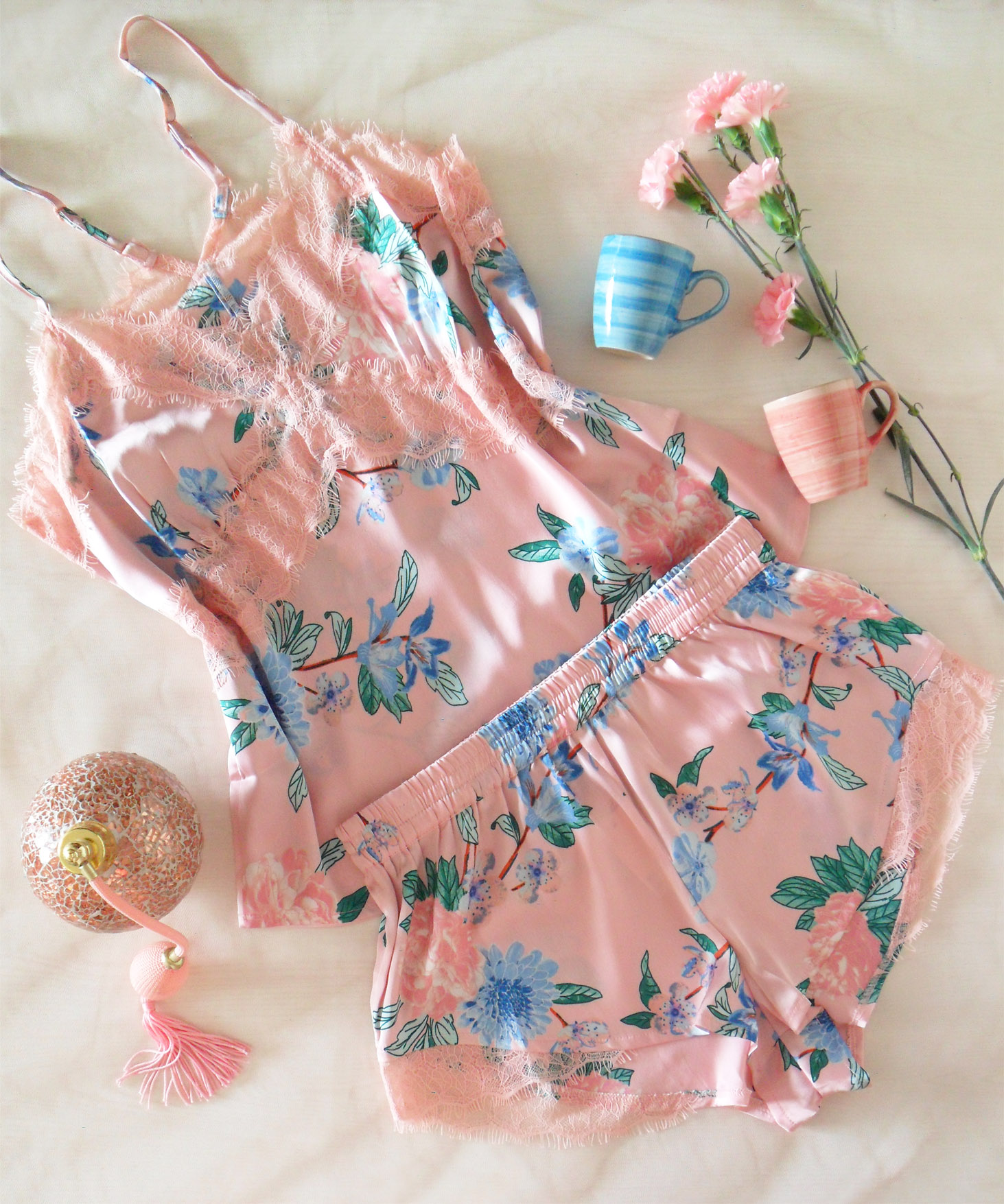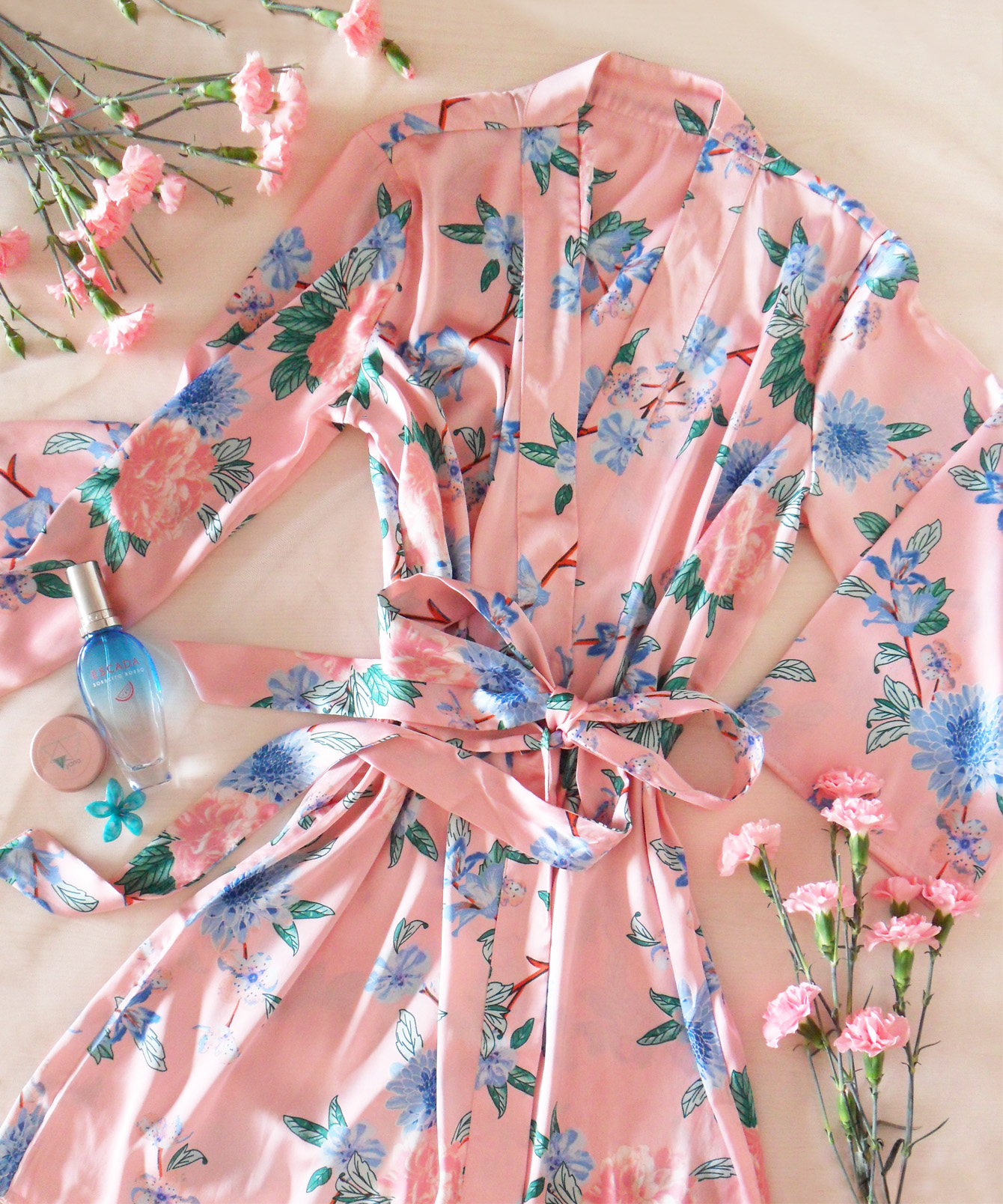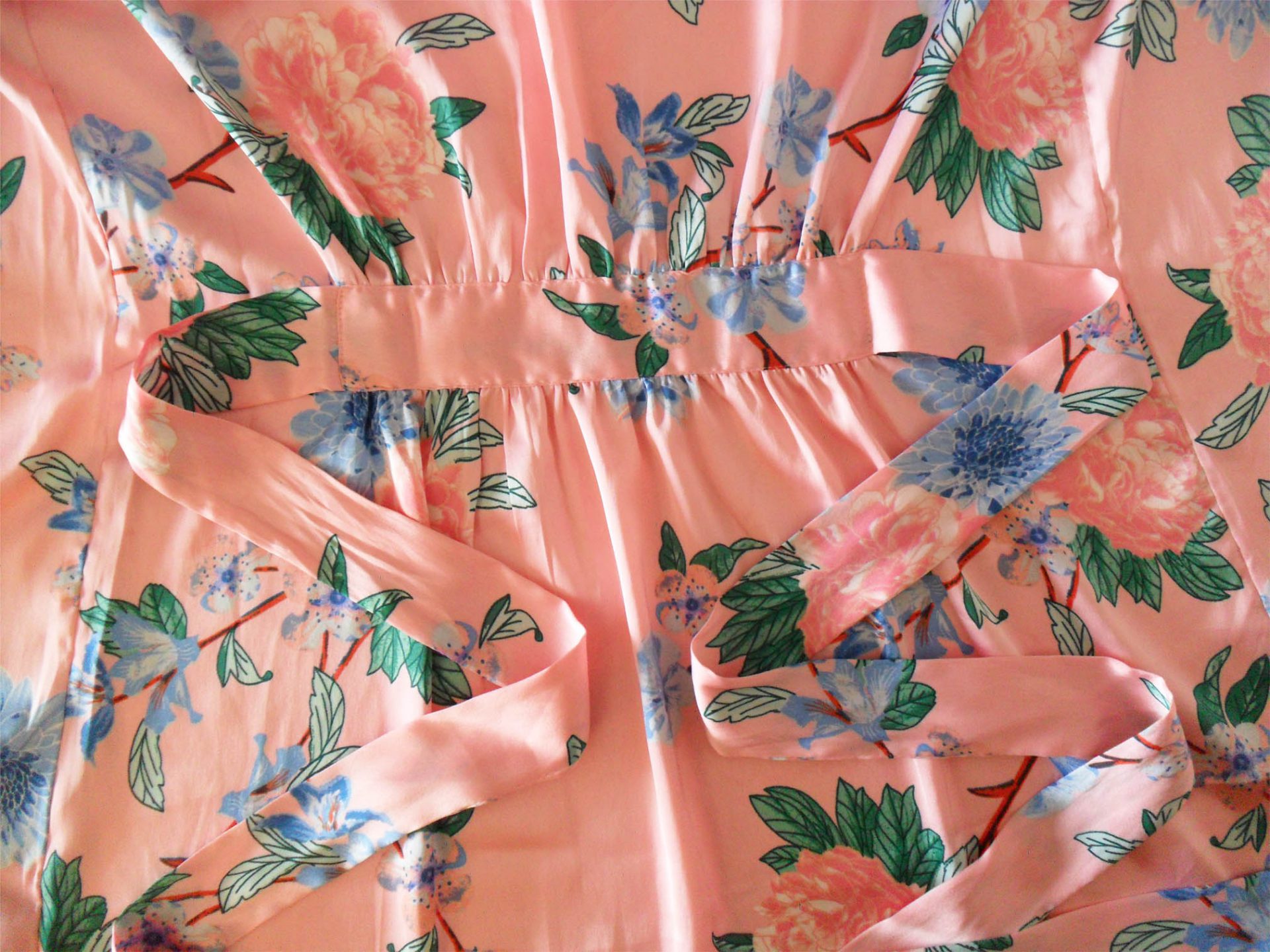 The loungewear
The rest of my Iris & Lilly order was nightwear / loungewear – the Satin Pyjama Set* (UK link*) and matching Satin Dressing Gown* (UK link*) both in 'Tropical Print', plus the Satin Slip* (UK link*) in 'Rose Smoke'. These pieces are all 100% polyester; poly-satin can either feel very cheap or be pretty nice, and luckily this is the nice type. It's soft, silky, lightweight and surprisingly breathable (I've slept comfortably in the camisole set).
The robe is my favorite item of all from my Iris & Lilly order. The print is pretty and I like the gathering detail at the back where the sash is attached (I also like the fact that it's attached full stop, since I have a habit of misplacing my robe belts!). The seams inside are finished with a straight stitch plus overlock to seal the edges, and the hem is neatly folded with no raw edges visible. The front placket has been slightly stiffened with a hidden lining so that it lies flat, and a small ribbon tie on the interior holds one side of the robe in place – though due to the slipperiness of the satin, the other side does unfortunately work itself open after a while. But for a robe that's barely over £20, I really couldn't ask for more!
The pyjama set consists of a camisole and shorts in the same print, but with the addition of pink eyelash lace which is inserted under the bust and also trims the neckline and outer leg opening. It has a wide, elasticated waistband, and the cami features racerback straps (which prevents them from slipping off my shoulders) with plastic hardware to adjust the length. Both this and the robe are my usual size of XS and fit me fine.
Finally, I chose the satin slip, with the intention of wearing it as both loungewear and outerwear. It's a simple slip without much shape to it, just two darts at the bust and a very slight curve to the side seam over the hips, and is a little too big for me at the underarm despite being my usual size of XS. This satin feels a little thicker and is more opaque than on the other loungewear pieces, while still feeling soft and silky. However, I've had this less than a month and noticed the fabric begin to deteriorate already – it's wearing thin in a few places, so that if I hold it up to the light I can see tiny patches of gaps in the weave.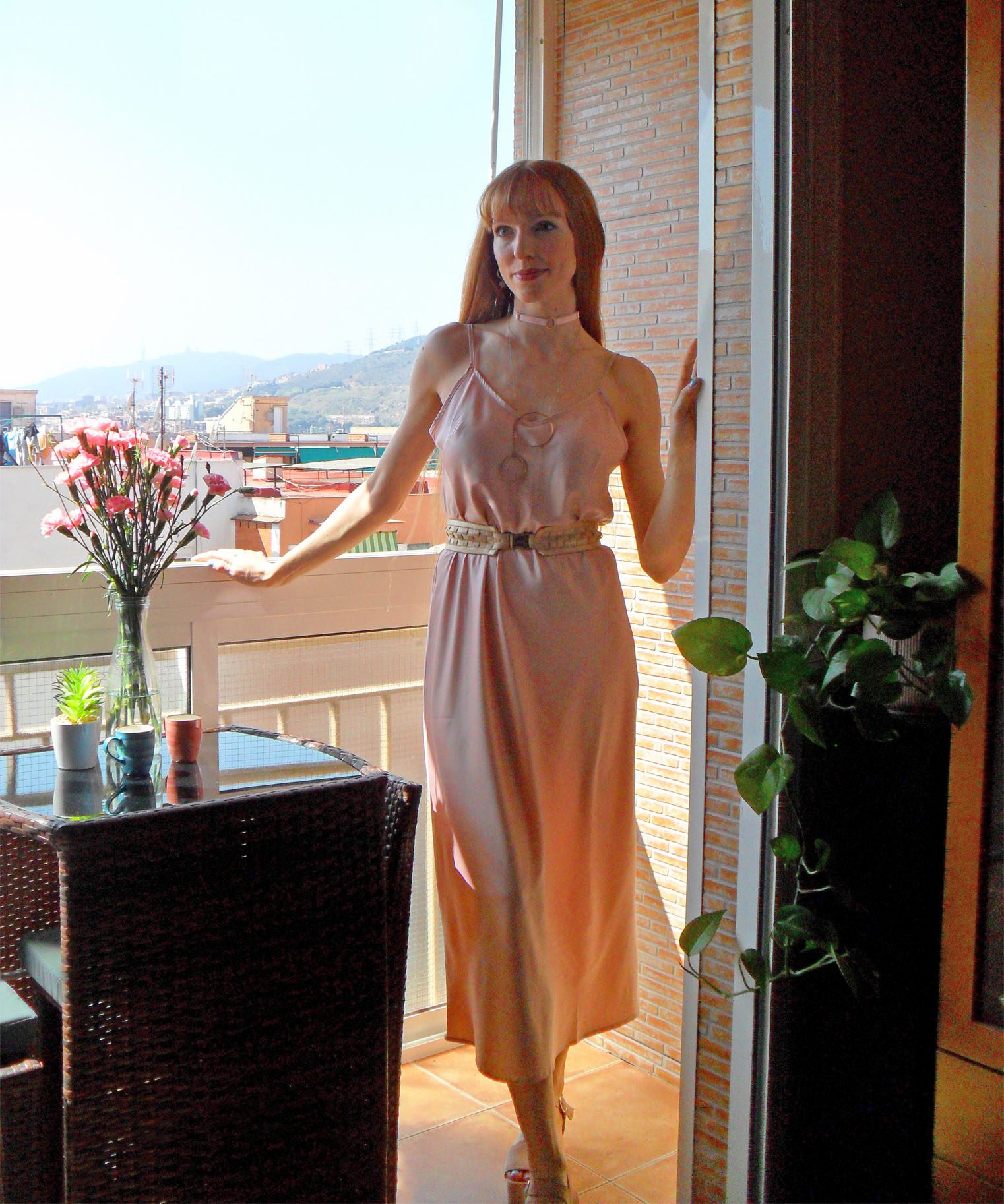 Final thoughts on Iris & Lilly
My experience with Iris & Lilly* has been hit and miss. You get what you pay for with the £17.80 satin slip, and I'm disappointed in the strapless bra because it had the potential to be really good, but seems they prioritised a low price over quality, comfortable underwires. However, the pyjama set and in particular the robe are really quite nice for what they cost, and I can definitely see myself continuing to wear the bralette set (£34.98 including three knickers) on a regular basis.
So, do I think this lingerie line is worth paying attention to? Well, Amazon is Amazon, and that alone makes them 'one to watch' if you're interested in following the overall lingerie industry. I don't see Iris & Lilly as competition for mid-to-high quality lingerie retailers however – from the no-frills packaging to having to dig through the many product listings to find what I was looking for, this was more akin to buying lingerie from a disorganised sale rail in TK Maxx than shopping for it in a nice boutique.
However, they're offering cute designs at a very attractive price point, and with a decent overall size range to boot which goes up to a 4XL and UK 40FF / US 40H (UK bras are labelled up to a G cup, but for some reason they have skipped FF sizes). Especially since I expect many people have become more comfortable buying lingerie online during this pandemic, I can see how Amazon's brand would appeal to the type of customer who values a mix of low prices and convenience, and isn't so bothered about the 'boutique experience' – someone who usually gets their underwear at the supermarket for example, or high-street stores such as H&M.
Iris & Lilly has also launched a collaborative range* with luxury hosiery retailer Wolford, so they're open to working with well-known brands on diffusion lines to expand their appeal. I'm curious to see if they push more in that direction, although mostly I'd just like them to make their band sizing consistant and streamline the shopping experience so that it's much easier to find matching items. Basics first, fancy designs later!
What do you think of Iris & Lilly? How likely are you to buy lingerie from Amazon, and especially by Amazon? Let me know in the comments section below.