Disclaimer: I purchased this lingerie with my own money and Mimi Holliday did not request a review. This blog post contains affiliate links.
I bought this set in Mimi Holliday's sale at the end of February. I'd bought two Mimi Holliday bras three or four years earlier that didn't fit me very well, but I've always liked the Mimi aesthetic so when I spotted a few pieces in the sale that I liked and that weren't too expensive I thought it was about time I give the brand another go.
This was my favourite range in the sale but the bra was sold out in my size, 30FF, so I bought a 30G instead. Unfortunately, I bought the set at 10am on Friday and wasn't told until Monday afternoon that 30G was actually out of stock "due to high demand" which was disappointing because if I'd been told on Friday, I could have swapped for one of the other sets that I liked and which were available in my size – by Monday they'd all sold out too. I could have got a refund but instead I swapped for a 30GG since I was 5 months pregnant and figured I might go up a cup size or two anyway.
Then when I'd worn the set once I ended up in hospital for a while and the cleaners there somehow managed to throw the boyshorts away (!). The only place I could find selling any of the Poppet bottoms in my size was Lady Kate Lingerie on eBay
 who only had the thong in my size, so I got that.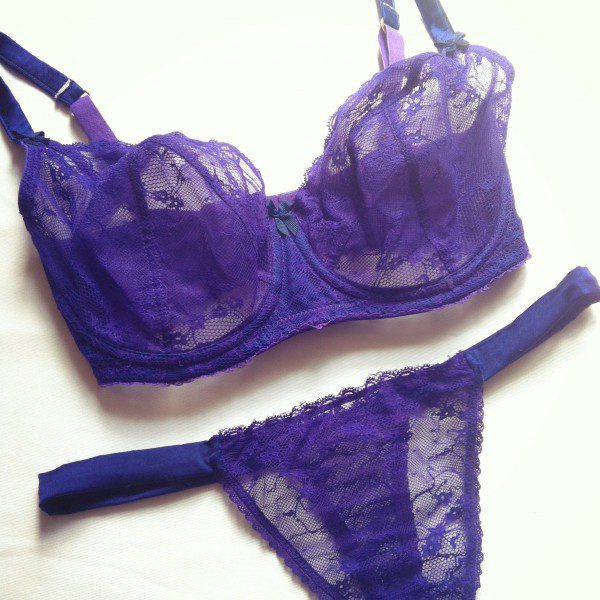 Appearance
The pieces are made from a pretty, floral lace with a few silk-satin details on the bra and thong, and more silk on the boyshorts. I chose the boyshorts originally because I loved the unusual shape (actually somewhere between a boyshort and a thong rather than full boyshorts), the 'keyhole' detail at the back and the lashings of scalloped trim which is one of my favourite edgings on any lingerie.
The thong is pretty too but much more simple. However I discovered quite by accident (in a moment of newborn-induced sleep deprivation) that the thong actually works backwards too! (It turns into a very low-rise pair of Brazilian-cut knickers). So added points for the two looks in one.
Verdict: 8 / 10
Construction
Mimi Holliday's maxi bras are designed for larger cup sizes (28FF+ to 40D+) and the three-section cups offer a fair bit of support and lift as you'd expect to find on a bra intended for this size range. The bra also has a layer of fine net below the lace for added strength. Everything is stitched together nicely with just a few loose ends (only noticeable if you look close up but they're a pet peeve of mine!)
Verdict: 9 / 10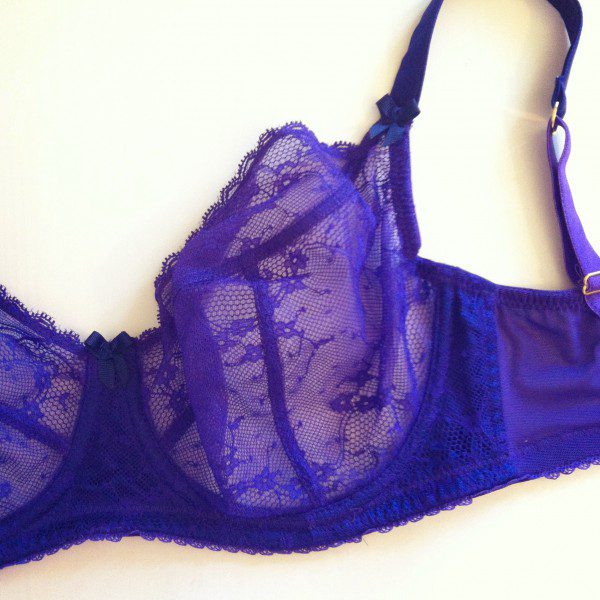 Fit
As mentioned I ended up with a bra two cup sizes too big for me, so I wasn't expecting a perfect fit. My bra size fluctuated through and just after my pregnancy (at one point this bra was actually a perfect fit) but right now I'm mostly wearing 30FFs. The cups on this bra gape and I'd say they gape by more than just one cup size, so the bra probably fits true to size. Luckily due to the unpadded style I'll be able to adjust the cup size down with a few quick stitches – I'm just waiting for my bra size to settle before I make any adjustments.
As for the band, I'm wearing it on the tightest hook and it's comfortable, supportive and doesn't ride up at the back, but I can still pull it out far enough to fit my fist through very easily. Really, since it's a new bra I should be wearing it on the loosest hook or at least not the tightest (it has four columns) so I'd say this bra is more suitable for a 32G than a 30GG. I don't own any 28-band bras because they're usually too tight but I'd love to have tried this in a 28G. The centre gore also doesn't quite sit flat on me.
Both the boyshorts and the thong are a size small which is a UK 10 according to the Mimi Holliday size chart. I'm a UK 8 (extra small wasn't available in either item) and they both fit me comfortably but would also fit a size larger.
Verdict: 8 / 10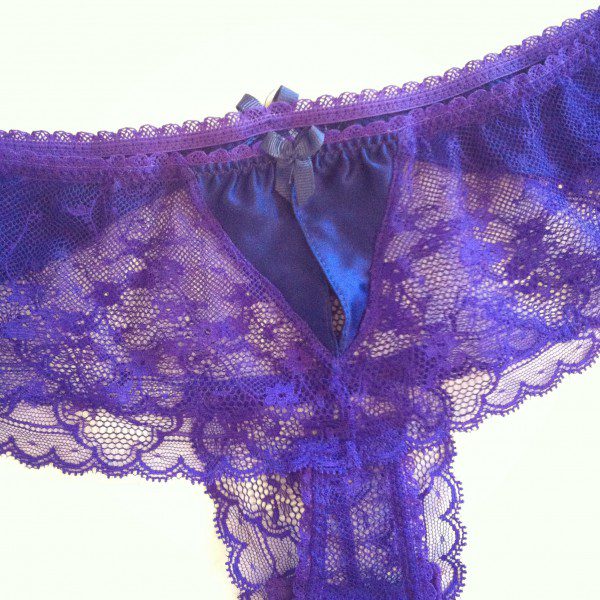 Washability
Both pieces are hand wash only, probably due to the delicacy of the lace – after a few wears and washes there are a few minor pulls in the fabric already. The bold colour (I think it's blue but I've seen it described as purple) also means it leaks some dye when washing – probably not enough to stain anything equally boldly-coloured, but I'd definitely keep it away from your whites if you don't fancy them turning grey.
Verdict: 4 / 10
Value for Money
I paid £21.60 for the bra and £15.60 for the boyshort from Mimi Holliday, and $29.99 (that's about £17.60) for the thong on eBay. That's an incredible price for a lingerie set of this quality and in these fabrics. At full price the set (with the thong or boyshorts, not both) would have cost £95 to £100 depending on where you bought it from and for me it's just not quite special enough to justify that price tag, but as always the verdict below is based on what I actually spent.
Verdict: 10 / 10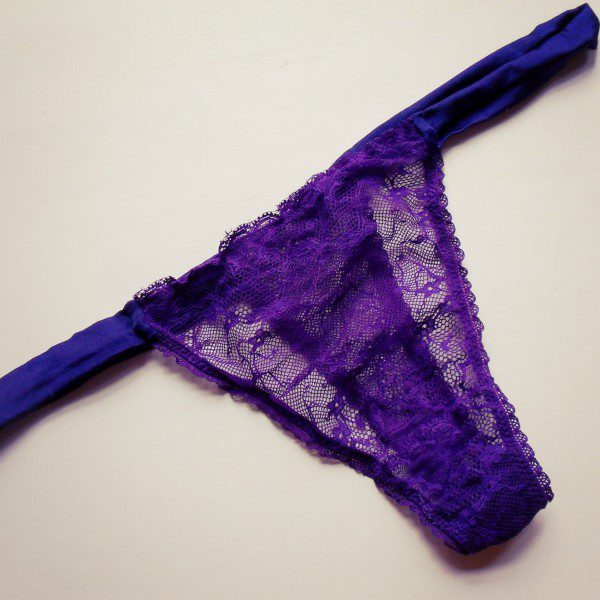 Would I recommend it?
If you can find this set at a good price then yes, definitely. It's simple but pretty – a nice classic you'll probably find yourself wearing again and again. I'd just be sure to go down a band size (i.e. buy a 32G if you usually wear a 34FF) if you like your bra bands to be quite tight for support.
You can buy the maxi bra at Dolci Follie in a 32FF, 32G or 34F for £59, the thong is on sale at Red Box Lingerie for £29 in sizes S to L and the boyshort is also available there in sizes S to XL for the sale price of £19.
Have you tried anything from the Mimi Holliday Poppet collection, or one of their other maxi bras such as the Bisou Bisou? What did you think of it?