Disclaimer: I purchased this lingerie with my own money and Agent Provocateur did not request a review. This blog post contains affiliate links.
Another Agent Provocateur review here! I featured this corset in my summer 2013 Agent Provocateur sale picks post when it was reduced from £545 to £110, but it sold out in my size before I had the money to buy it. The great thing about Agent Provocateur's short-term sales though is that pieces that didn't sell out crop up again in the next big sale, and at an even more reduced price.
It appeared again in the Christmas 2013 sale at £90 but I had to put all my money towards a new sewing machine, but then it appeared in the brand's March sale this year for £80 and I finally, finally got hold of it!
And then it sat there in its pretty box torturing me for the next three months since I was way too pregnant to be wearing a corset at the time.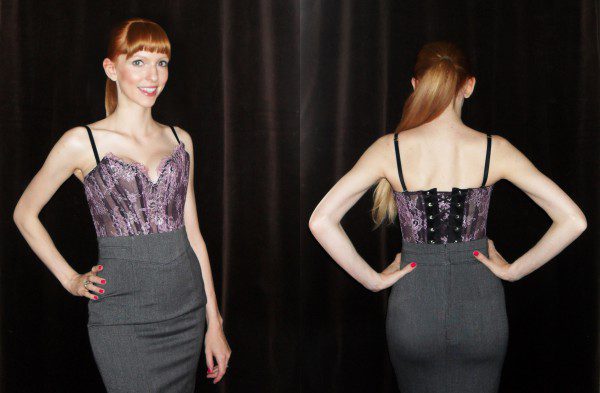 It works as outer wear, as most corsets do I guess 
Appearance
Aesthetically speaking, this is honestly my favourite piece in my lingerie wardrobe – it's just incredible. Exquisite is a better word actually. The corset is made from sheer black tulle overlaid with a breathtaking French leavers lace with an eyelash trim at the bust. The hemline has a scalloped ruffle of the same eyelash edging, atop finely pleated tulle. It's all finished off with thick shoelace cord at the back over a wide, attached, lace-covered modesty panel, plus detachable shoulder straps and suspenders.
I'm half tempted to give this 15 out of 10 since it's much more beautiful than a lot of other items I've rated 10 out of 10 for looks…
Verdict: 10 / 10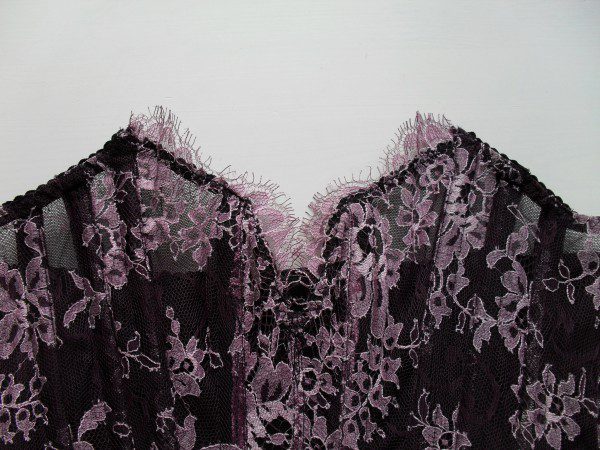 Construction
In terms of full retail value, I've never bought a lingerie item worth as much as this corset before, so I was expecting quality. The lace is clearly premium quality and everything else looks expensive too, including the detachable suspenders made from a beautiful ruched satin elastic. The product description didn't state what type of boning this corset has but based on the weight I'd guess it's a lightweight steel, not plastic.
The corset has an un-boned section over the hip (I'm not a corset expert so not sure of the terminology – I think it might be called a hip gore?) for a more comfortable fit. There isn't a waist tape, but there is a very wide modesty panel which is something I always look for in a corset.
One downside I noticed is that one of the detachable shoulder straps kept pinging off at the front, and I wasn't wearing them particularly tight.
However, the main issue that I have with this corset is that there's no busk and no hook-and-eye or zip fastening at the side, so there's almost no way in! I'll talk about the fit next, but suffice to say that I only managed to get this corset on and off without completely removing the laces because I bought a size up which I could just slip over my not-broad shoulders. That's a pretty major flaw in my opinion.
Verdict: 7 / 10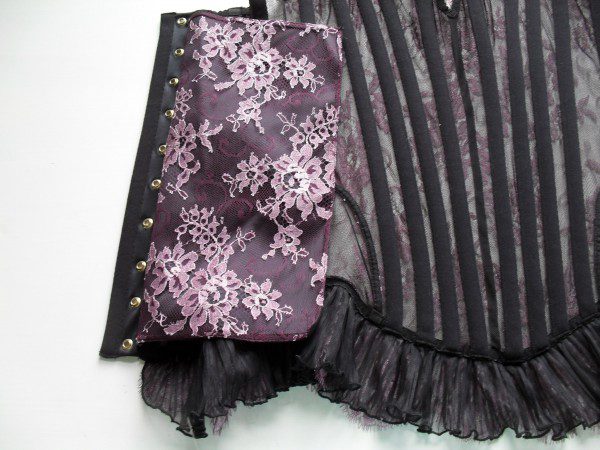 Fit
I usually wear an Agent Provocateur size 2 (UK 8 to 10) – I'm a small UK size 8 but I aside from their cup sizes (which come up big in my experience) I've found their stuff comes up a little small. This corset was only left in a size 1 when I got round to buying it however, so I took a risk and it didn't pay off – the corset was tiny. More of a UK 4 to 6 I'd say, not a 6 to 8. I couldn't even pull it over my head and shoulders to get it on.
Luckily there are a few of these knocking around on eBay so I listed mine and bought a size 3 (as there weren't any size 2s for sale). It's intended for a UK 10 to 12 but fits me perfectly at the waist – I can just close the lacing all the way, which is how I like to wear my corsets. It also fits me at the bust which corsets usually don't, probably because I bought a size up.
In terms of waist-reducing capabilities, it's somewhere between a cheap fashion corset and a tight-lacing one. It'll take an inch off your waist at most, but any more would strain the corset too much.
One problem I've had with corsets in the past, including relatively expensive ones, is rubbing at the hips. I love the boning-free sections over the hips which mean this isn't a problem at all. In fact, the entire corset is super comfortable all day long, it doesn't feel constricting at all.
Verdict: 7 / 10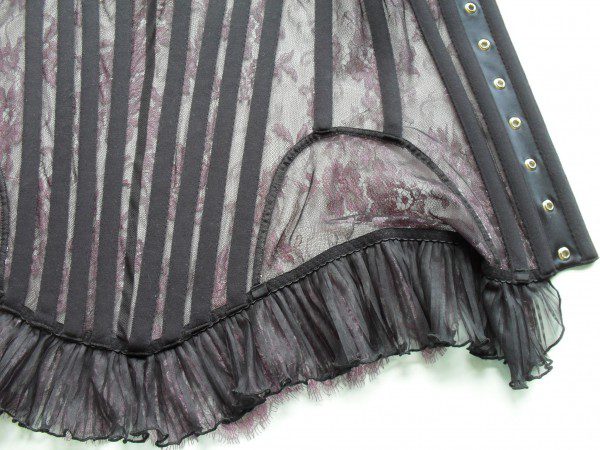 Washability
The label states dry clean only which is a good idea if you can afford it. I plan to hand-wash mine, but this is definitely a piece to wash alone – you don't want to risk a bra hook catching on that delicate lace and tearing it! (There are some tips on washing corsets here, here and here).
Verdict: 4 / 10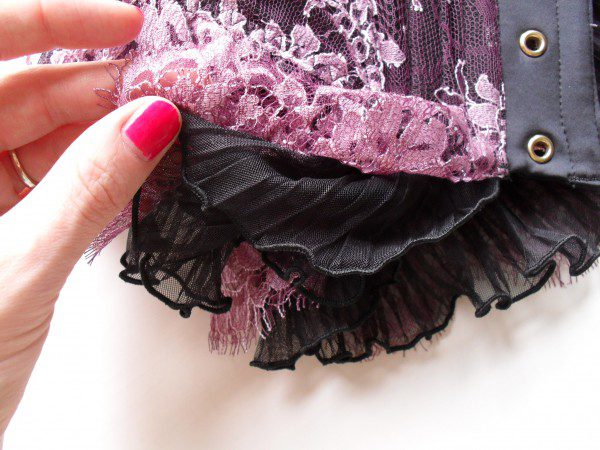 Value for Money
I always base this on what I actually paid, and I can't think of a better £80 I've ever spent on my wardrobe, lingerie or otherwise! It's more than great value for money. I would never have been able to afford the full £545 price tag, but if I could I'd say this is worth the money. I have a lot of lingerie and this is by far the most exquisite and beautiful piece!
Verdict: 10 / 10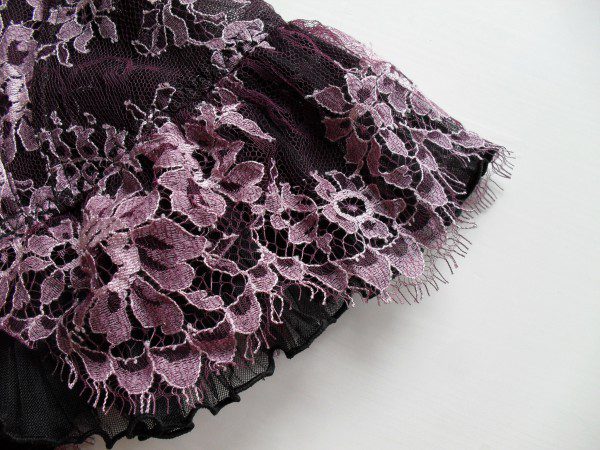 Look at that eyelash leavers lace!
Would I recommend it?
That depends on what you want it for. If you're after a corset that's going to take inches off your waist, this isn't the corset for you. If you're just after a beautiful statement piece then oh yes! I would recommend going up one size from what the Agent Provocateur size guide says your dress size equates to however.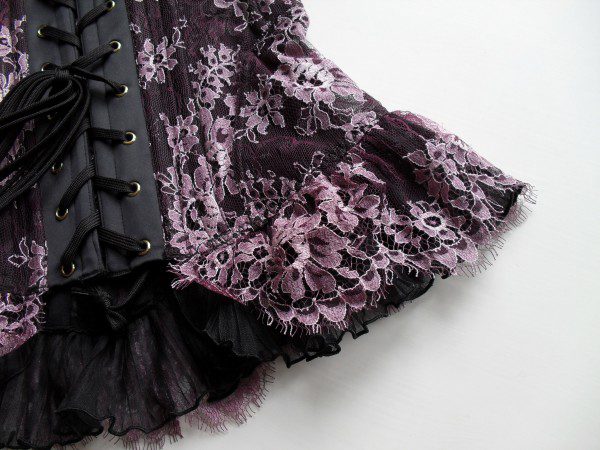 Although this is now sold out at Agent Provocateur, there are a few of these brand new on eBay here
. I bought my size 3 version from this seller
 for £129.99 with free delivery, who has 1 left in size 4. If you can't afford the corset but still want to get your hands on some of this lacey gorgeousness, the Verronika suspender belt is currently on sale for £20 (down from £145) with only size 2 left.
What do you think of the Verronika corset by Agent Provocateur? Would you wear it as lingerie or outerwear?