Disclosure: I purchased this corset myself.
The Jet range is part of Agent Provocateur's Autumn/Winter 2013 collection, and although I dismissed the corset when I first saw it because it's not sold by cup/bra size (in my experience lingerie with cups that's sold by dress size is generally designed to fit a 'standard' A-D cup only), I do love anything black and strappy so when it went on sale for £85 I just couldn't resist. Plus the previous Agent Provocateur corset I bought (the Verronika – read my review here) fit me in a size 3 (UK 10-12) which I figured would likely have roomier cups than the size 2 I usually buy from this brand.
The Jet collection is made from sheer tulle with PVC binding going every which way, which on the bra looks quite art-deco. The Jet corset on the other hand looks much more gothic, like something the character Maleficent might wear under her gown with its spiky black cups, and I absolutely love it!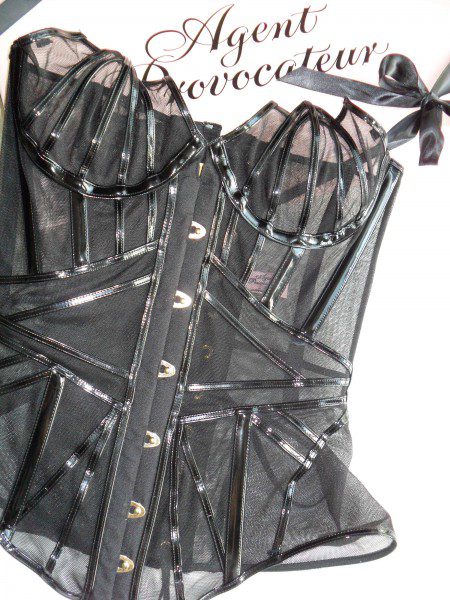 Appearance
I think this is a 'love it or hate piece', but did I mention I love it? I've always considered PVC to look quite cheap and tacky but if you see this corset for yourself it only looks expensive. The fact the PVC is cut into narrow strips means it's not overwhelming, especially when you pair it with the more delicate sheer tulle. I love the placement of the binding too which is angled to enhance curves and make your waist look smaller.
The corset comes with detachable suspenders and shoulder straps and these are all made with gold-tone hardware stamped with the Agent Provocateur logo (pictured below). It's small details like this that really make a piece look and feel luxurious!
Verdict: 10 / 10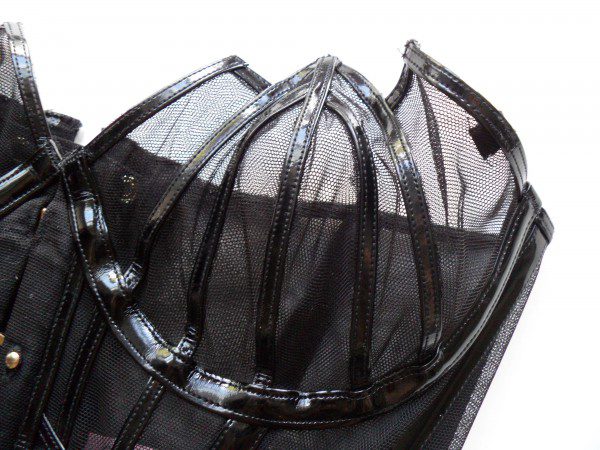 Construction
Although this is described as (and looks like) a corset, it doesn't have a whole lot of boning. There are bones behind the thicker strips of PVC but these are mainly at the top of the corset and the whole front of the corset is un-boned at the waist, aside from the busk, so it's clearly not designed to do a whole lot of waist-cinching.
I love that the top and bottom of the busk have hidden metal hooks to keep them together, as you normally end up with an annoying gap at the ends on cheaper corsets. The back features thick, shoelace cord and has a tulle modesty panel.
The cups are underwired and although they're not boned, the PVC strips are relatively stiff so they help to hold and shape the cups which makes it very supportive even when worn strapless. Plus the spiky bits stay spiky which is essential for this design.
Speaking of strapless, the one problem I had with this corset was the straps. Beautiful as they are, they're completely useless. Neither the shoulder straps nor the suspenders would stay put – they were pinging off literally every 5 minutes and I won't be wearing the corset with them again.
Verdict: 8 / 10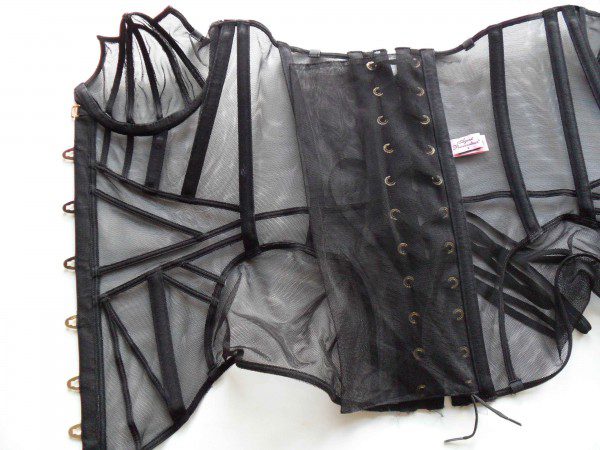 Fit
I bought a size 3 because my size 3 Verronika corset from Agent Provocateur fit me quite well. As mentioned, this won't do much waist-reduction at all so I wouldn't recommend buying one smaller than your natural waistline as you normally would with a corset. If anything, buy it larger if you want to lace it fully closed; a size 3 is intended for a UK 10-12 or 27-29″ waist according to the brand's size chart and I can just lace it fully shut around my 25.5″ waist. That was actually straining the seams a little so I loosened it an inch when I wore it.
Luckily, the cups fit me great. The only part that doesn't is the hips – I wish they had a vertical PVC strip or two because they sort of rolled up at the sides despite seeming to be the right size for me. (Update: I realised just after posting this review that the photos of the corset on Agent Provocateur's website all show it with PVC strips on the hips! A change of design after photographing samples perhaps? If so, I wish they hadn't done away with that detail.)
Verdict: 7 / 10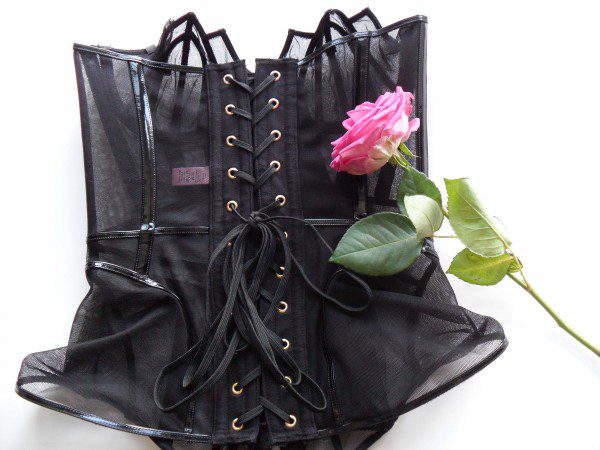 Washability
This corset is hand-washable. As with any corset, definitely don't put it in your washing machine. Although the tulle is a thick and sturdy one, it's still tulle so I'd wash this separately to avoid bra hooks or anything else catching and snagging a hole in it.
Verdict: 5 / 10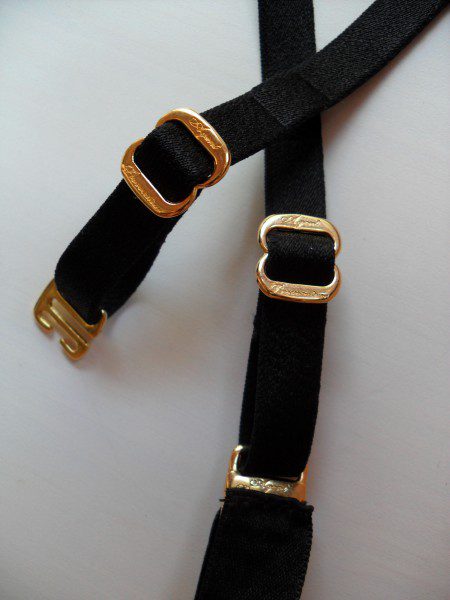 Value for Money
I paid £85 for this corset, reduced from £395, which is phenomenal value for money. I can get over the runaway suspenders, annoying as that is because I really would have liked to have worn this with them, because the corset is excellent quality, a very unique design and a good fit (when buying a size or two up anyway).
Verdict: 10 / 10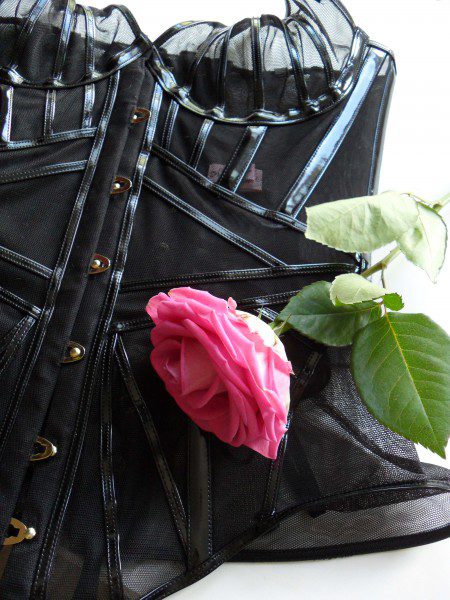 Would I recommend it?
Provided you're not desperate to wear it with the straps and suspenders, in which case it's more trouble than it's worth, I would absolutely recommend it! However as mentioned I would also recommend going up 1-2 sizes above what Agent Provocateur's size chart tells you to buy if you want to wear it with the lacing fully or almost closed.
The Jet corset is still available here in sizes 1 and 3 for the moment, although the Agent Provocateur sale is on final reductions (supposedly up to 75% off – this is even more than that) and will be ending soon.
What do you think of this design? Are sheer mesh corsets your thing?