Disclosure: I purchased this lingerie myself.
I'm really excited about this review because Bordelle is a brand I've been wanting to try for years – aesthetically speaking, they've been my favourite brand for a long time even though I'd never seen a piece up close or tried one on. Bordelle perfected that strappy, elastic look that I love so much long before it became as popular as it is today, and everything they make is just so luxurious.
However, it's also very expensive and even on sale I've never been in a position to buy from them before. This Thorn bra and thong (now sold out – but the Adana, also on sale, is almost identical) however were less than a third of the original cost and definitely my style so I snapped them up in a heartbeat.
They arrived in a gorgeous satin dust bag that's ideal for long-term storage, and inside a pretty gift bag that makes the set perfect for gift-giving too.
Appearance
Bordelle's aesthetic is the perfect mix of strong, daring design and pretty, feminine details, and nowhere is that more evident than in this unique fabric – from a distance, it looks like your typical, delicate lace but take a closer look and you'll see it's not a floral lace but a sharp, thorny motif instead. It's like tough-girl lace!
The elastic is a beautiful, satin-sheen one that's woven through a string of gold rings at the back, and the back of the bra also features a piece of hardware stamped with the Bordelle logo. The design of the straps at the back of the bra is not only flattering but practical too – you can hide them completely away when wearing a racer-back top or dress.
Verdict: 10 / 10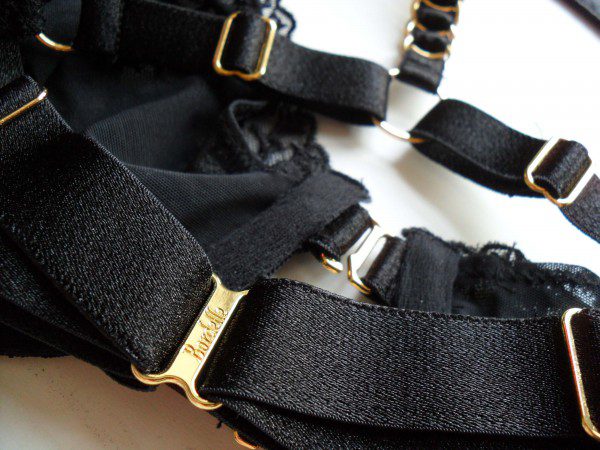 Construction
Being a luxury brand at a premium price point, I was expecting Bordelle to be very well constructed and I wasn't disappointed. The embroidery has a sheer mesh lining on the bra cups for extra support, the metal hardware is all plated with 18 carat gold and the elastic is thick and sturdy.
The thong has hooks at either side and the bra is a front-fastening one with two gold hooks. However, they're very difficult and fiddly to open. That's not so much a problem on the thong because they're mainly decorative, but you do need to unhook the bra front to get it on and off.
Verdict: 9 / 10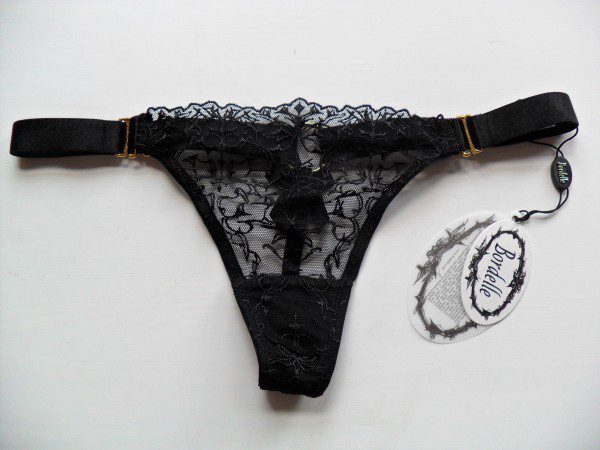 Fit
I bought a size S/M in the thong and it fits me perfectly. Due to the adjustable elastic waistband it would easily fit a size larger, a UK 10, although a size 12 would probably be more comfortable in the M/L. So it fits according to the size chart.
I originally bought a size M bra which according to Bordelle's size chart fits a 34D-36C. I wear a 30F right now but assumed the cups on the size S would be too small and the elastic band on the size M would be easy to sew smaller if it were much too big. However the band was actually a perfect fit. It's adjustable but even a few inches above the smallest size it was a nice, tight fit around my 26″ underbust. The cups however were a little bit too small so I went back and bought a size L.
The band on the L also fits me pretty well despite being intended for a 36C-38C. Tightened all the way can pull it out quite far (it's elastic after all) but it feels supportive and doesn't ride up at all. The cups are an okay fit – when I first put the bra on it looks like it fits but I end up falling out the cups if I jump or take the stairs too quickly, so I won't be doing any kartwheels in this! I'll probably only wear it on days I don't have to do anything more strenuous than potter around the house. The cups also give quite a flat profile, more so than any other underwired bra I've worn.
Update 06/08/2014 – Since the cups appeared to fit when first put on, I bought double-sided lingerie tape to wear with this bra and that's enough to keep in place all day long, staircases included. Very happy!
Verdict: 6 / 10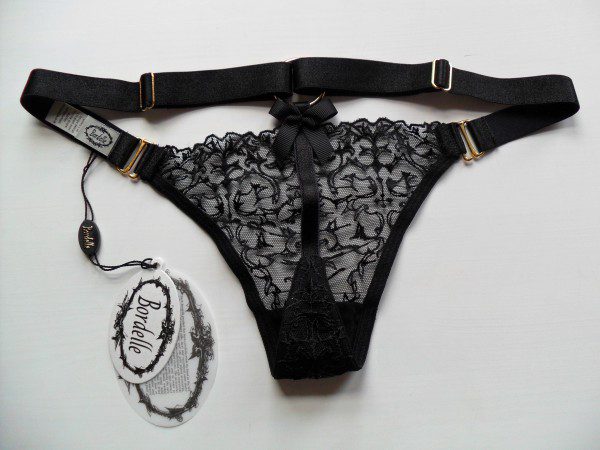 Washability
Both pieces are hand-wash only and still look great after washing. I wouldn't recommend machine washing this piece, even in a lingerie bag, because of all the hardware and the lace fabric.
Verdict: 7 / 10
Value for Money
Bordelle shows their prices without VAT, which is 20% in the UK. So including VAT, originally this bra was £126 and the thong was £66. In the sale I paid £37.80 for the bra and £19.80 for the thong, which is not a huge amount more than you'd pay at a high-street store such as Boux Avenue or Ann Summers. Plus, what other lingerie can you get with real gold for this amount of money?!
Verdict: 10 / 10
Would I recommend it?
Absolutely! However, the bra is best suited for 30E or equivalent (e.g. 32DD, 34D…) cup sizes or below. As mentioned the band is very adjustable and I'd take the band sizes given in Bordelle's size chart as maximums – the M will fit a 30-band snugly and the L will also fit a 30-band wearer if you don't like your bands super tight. I haven't bought the size S but wouldn't be surprised if, on the smallest setting, it's a snug fit on someone who typically wears a 28 band!
If you're considering buying this set, Bordelle's sale ends tomorrow so you don't have long left! Although the thong is sold out, you can mix and match the Thorn bra with any of the other lingerie in the sale as it is made from the same lace.
Have you ever bought anything from Bordelle?