Disclaimer: This blog post contains affiliate links.
I don't think I can say so much about hosiery as I can a bra set or robe, so I thought I'd save the reviews up and post them in one big list instead.  These are all items I've bought in the last few months, after I decided it was time to branch out from Veneziana (which is still one of my favourite hosiery brands and excellent value for money) to try some different brands and see what I might be missing.
A quick note on pricing – the prices below are (to the best of my knowledge) the full, original retail price. I bought a few of the items on this list on sale, but I wanted to compare the quality against what each piece is supposed to cost. Because getting a pair of £20 stockings half price is not such a great deal if the quality is only comparable to other £10 pairs.
For sizing and fit reference, I'm 5'3 and around 7.5 stone / 105lbs.
Kiss Me Deadly Opaque Stockings (Black, size S/M) –  £6
Bought from: Hepburn and Leigh
When I initially took these out of the packet I was worried they were going to end up being knee-highs because they looked tiny, but they do stretch quite a lot. Size S/M is intended for someone up to 5'5 but even on me they were mid-thigh length (not quite as high as pictured on the model) and I prefer to wear my stockings quite high on the leg. If you do too, I'd advise buying a size up from what's recommended.
In terms of quality though they were comfortable all day long and being so thick they're pretty resistant to snagging too. These are a nicer, softer fabric than Leg Avenue's opaque black stockings which is what I was wearing last winter.
Verdict: 7/10 – excellent value for money but a little on the short side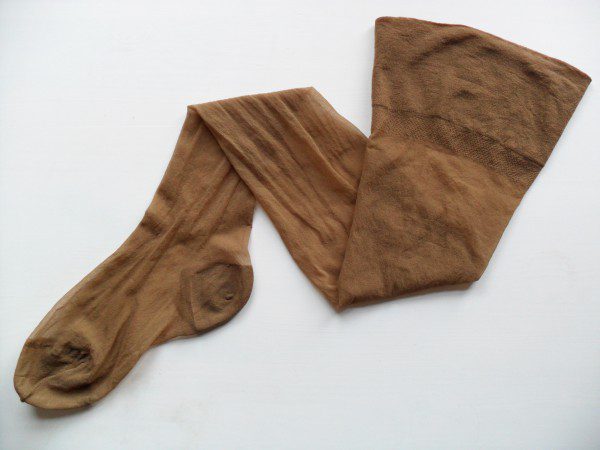 Cervin Nymphe 20-Denier Stockings (Gazelle, size 2) – £4.25
Bought from: Stockings HQ eBay outlet
I'd intended for these to be nude stockings but they're too dark for my skin – the similar 15-denier Capri stockings by this brand are available in a shade lighter, Blush Pink, which is likely better suited to very pale people looking for skin-tone hosiery.
Colour aside though, I love these! They're comfortable and feel nice and smooth on, and they come with a reinforced heel and toe for extra durability. The shaped foot fits nicely too. After a few wears and washes, one stocking has the tiniest snag and that's it so I'm expecting these to last me a while.
These are sold out on eBay but still available from the main Stockings HQ website.
Verdict: 9/10 – excellent quality and value for money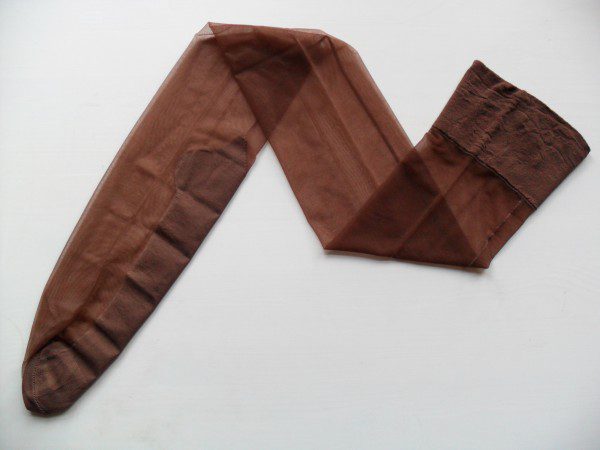 Ann Summers Seamed Stockings (Brown, size Small) – £8
Bought from: Ann Summers eBay outlet
These have quite an unusual detail at the heel for being budget stockings, and the fit is great. The fabric however doesn't feel as soft and smooth as the Cervin stockings above, and both of the Ann Summers stockings had a random 5-inch line of blue stitching on the inside of the welt at the top that shows through when worn. I'm not sure if it's some sort of manufacturing signal (as in, "stop sewing here"), but having it be so visible is just not great.
These are sold out in brown but still available in black.
Verdict: 4/10 – okay, but the quality difference was clear compared to similar-priced and even cheaper stockings
Wolford Eyla Stay Ups (Black and Rose Red, size 2) – £24.99
Bought from: Wolford
These hold-ups are 10-denier, and like most very-sheer hosiery they're very easy to snag. That said, I tore a tiny hole in one with my ring on the first wear, and after a few more wears and washes it's still just a tiny hole – it hasn't grown larger, or laddered, which to me is a sign of good quality.
The welt is narrow but has two strips of silicone inside it which ensure these stay up comfortably all day long. However, there is a bit of wonky stitching around the welt – nothing you'd notice without a close inspection but I was still expecting something more from Wolford, which I've heard great things about and which certainly isn't cheap.
These are now sold out at Wolford but still available at UK Tights.
Verdict: 5/10 – hard to ladder but maybe a tad overpriced for the quality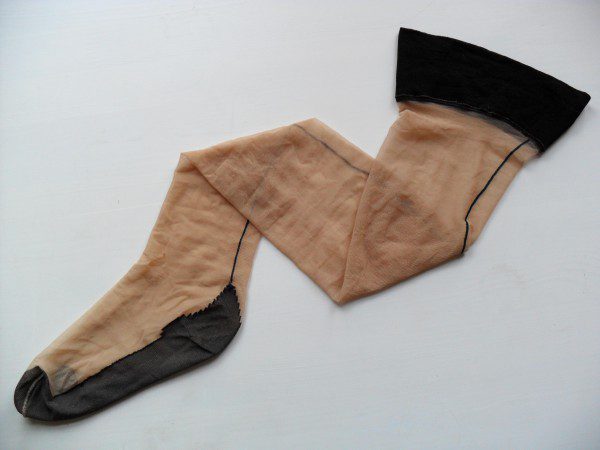 What Katie Did Retro Contrast Seamed Stockings (Nude and Black, size S/M) – £8.50
Bought from: What Katie Did

Well, what can I say about these stockings? They're amazing! They feel so smooth – no, positively glossy – and comfortable when worn, and they've held up really well to multiple wears and washes. They have a shaped foot and fit great, being able to stretch up high on the leg easily.
This colour just so happens to be an exact match for my skin-tone (so much so that you can't really tell I'm wearing hosiery from the front), but they're available in black with a red seam too. When my pair eventually wears out I am definitely going back for more!
Verdict: 10/10 – incredible quality at an affordable price
What are your favourite hosiery brands? How much do you typically spend on a pair of stockings or hold-ups?