Disclaimer: I bought this lingerie with my own money and Ayten Gasson did not request a review. This blog post contains affiliate links.
Ayten Gasson is one of the first indie brands I discovered and I was instantly enamored of their luxurious and classic look, with simple shapes cut from beautiful silk satins and lace. I'm particularly fond of their printed silk bed jackets, but since they don't make my bra size and I don't really wear nightwear I've always just admired them from afar and never got round to buying anything.
Then earlier this month I stumbled across an eBay seller with lots of new-with-tags Ayten Gasson stock. This teddy was my favourite item (featured in September's eBay lingerie round-up) and at just £24.99 I figured it didn't really matter if I only wore it very occasionally. It's still available here
 in size medium.
This looks very similar to Ayten Gasson's Elisabeth teddy in plum from some years back, but with different coloured ribbons and I think different lace also (the Elisabeth photo is too small to tell). I'm not sure how all these Ayten Gasson items ended up on eBay, so it's possible this was a sample of a design that never went into production.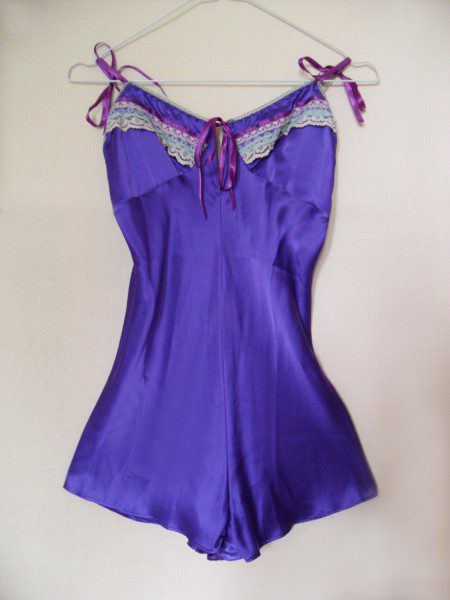 Appearance
The teddy is a lovely, rich purple colour (which didn't photograph well – it's way less blue than it looks) with plum ribbons, grey edging and three layers of lace in ivory, baby blue and pale pink. Somehow, all those colours manage to complement each other and the result is a teddy that looks both fun and elegant at the same time.
Verdict: 7 / 10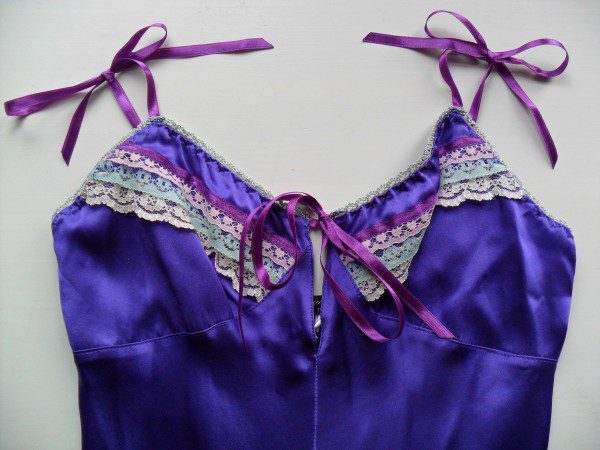 Construction
Ayten Gasson lingerie is all made in either small production units in England or handmade by the designer herself in her Brighton studio. The teddy has been made from two bias-cut panels at the front and back, joined by a seam down the centre. The stitching is small and neat everywhere, with rolled edges around the leg openings.
The silk feels really soft and slippery, and the gusset is lined with the same fabric for comfort. The gusset is sewn a little wonky, but this part of the teddy isn't really seen when worn and it doesn't affect the fit in any way.
The only issue I had with the teddy was the strap length, which is a good 6 inches too short. This made the bows on the shoulders really fiddly as I had to tie them in tiny little bows once I'd put it on, and to get more length in the ribbon I had to pull the teddy right up so that the base of the cups was sitting across the centre of my bust rather than below it. I'm only 5'3, so the problem would be exacerbated on someone taller.
Verdict: 8 / 10
Fit
This teddy is a size small – a UK 8 according to the brand's size chart, which is my usual size – and fits me perfectly. It has a relatively loose cut and the bias-cut silk satin skims the body without being clingy, so I think it would work for and be flattering on any body shape.
Verdict: 9 / 10
Washability
The teddy is hand-wash only in cool or warm water. It doesn't leak any colour. If you wash it alone in a lingerie wash bag, on a silk/delicates setting, it would probably hold up just fine in a washing machine.
Verdict: 8 / 10
Value for Money
As mentioned, I bought this for £24.99 on eBay (it arrived with an £82 price sticker on the tag) which is excellent value for a really high-quality silk fabric and near-perfect construction. If I wore nightwear at all often, I'd definitely consider picking another of Ayten Gasson's teddies up at full price.
Verdict: 9 / 10
Would I recommend it?
Yep! The last thing you want when trying to sleep is scratchy fabric or an uncomfortable fit, but this was so incredibly comfortable I forgot I was wearing it.
There is just one more of these on eBay here
, in a size medium (UK 10-12). There is also a very similar ivory version in size small available here
from the same seller.
Ayten Gasson also have two similar teddies currently on their website, the £118 Orla in a gorgeous Liberty print and the £97 Emma with sheer lace trims at the bust and legs.
Are you a fan of Ayten Gasson's silk nightwear and lingerie? What's your favourite piece?