Disclaimer: This blog post contains affiliate links. I bought this set with my own money and Agent Provocateur did not request a review.
I'm posting this review a little sooner than I normally would because sadly this bra just doesn't work for me and I'm going to return it, but I wanted to review it anyway for those who might be considering buying it. I've only tried the set on for a few minutes so my thoughts on it are all first impressions rather than based on extensive wear.
The Ambrose range was introduced for Autumn/Winter 2013 in this classic Agent Provocateur colour palette of baby pink and black, and was also released in ivory and oyster pink (still available to buy) the following season.
Appearance
Ambrose is made from a very sheer tulle that lets the contrasting black embroidery really stand out. The cups and thong are trimmed with a scalloped, guipure edging with swirls that's just lovely. It's all finished off with ruched silk on the bra straps, band and front of the thong, and topped with bows in a pretty ribbon. The bra features the brand's usual stamped gold sliders, emblazoned with the Agent Provocateur logo.
Verdict: 9/10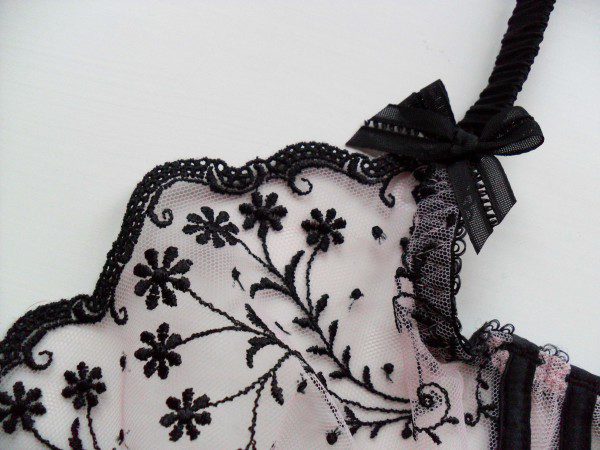 Construction
The fabrics are lovely and overall it's a well-made set as I've come to expect from Agent Provocateur, but I was surprised to find that the picot edging on the bra is quite frayed in a number of places. The same picot edging on the thong is in perfect condition (which makes me wonder if the bra is a previous customer return) but based on what I'm seeing on the bra, I would expect the picot trim to deteriorate quite quickly with wear which is disappointing.
The bra is a plunge style, with a very low centre-gore and a one-part cup design with a dart at the bottom for shape. The dart gives the cup a bit of a pointy shape where it ends and on me that's an inch below the nipple, which from the side makes it look like my breasts are sagging when they're not!
Verdict: 5/10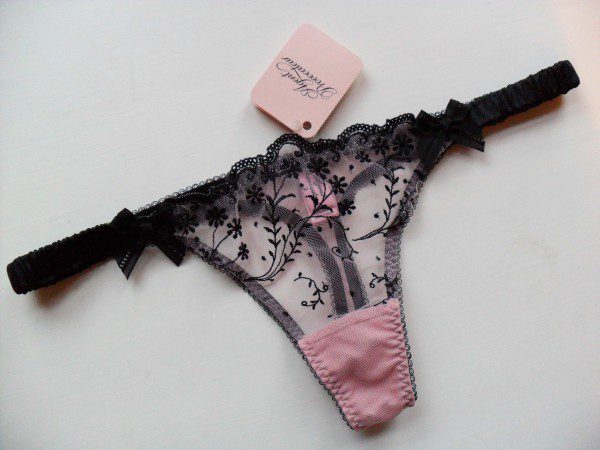 Fit
I bought a 32E bra and size 2 (UK 8-10) thong which are my usual sizes from this brand. If you've never bought from Agent Provocateur before it's worth noting that their stuff tends to run a tad small, as I'm more of UK 6-8 but this thong was a perfect fit on me.
Sadly, the fit of the bra was pretty awful. Aside from the faux-sagging I mentioned above, the cups edges are also digging in a little at the bottom (the dreaded 'quad boob' effect) but gaping a little at the top. This bra is definitely not for 'full on the bottom' types! The wires come up about an inch higher at the underarm than on most of my other 32E bras which I didn't really find comfortable.
Verdict: 3/10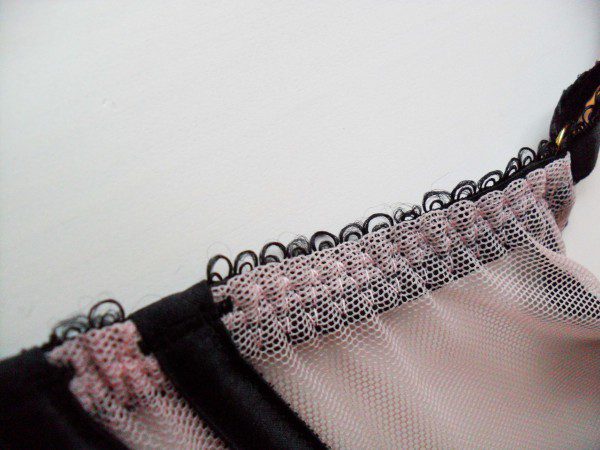 Washability
Since I'm not keeping this set I haven't washed it. 
Value for Money
The bra cost me £25 (originally £95) and the thong cost me £15 (originally £65). I feel like I got such an awesome bargain (the set is beautiful after all) that I want to keep it, but I know I won't wear it – the fit of the bra was bad enough that I'd rather just have my money back.
Verdict: 5/10
Would I recommend it?
For once I can't actually make my mind up! The quality is very good (excellent, aside from that picot trim) but the bra strikes me as something that's going to cause fit issues on a lot of people. I'd recommend you buy it in store where you can try it on first, or purchase online during one of Agent Provocateur's free postage offers so that you've not lost anything if you decide to return it.
Although no longer available in pink and black, I don't think the set sold out in the flash sale which means there's a good chance it'll appear again (possibly even cheaper!) in Agent Provocateur's big Christmas sale. If you can't wait for that, there are also quite a few Ambrose pieces on eBay right now including from this seller
, who has a wide range of sizes costing £89.99 for the 2-piece set. It's also still available on Agent Provocateur's website in oyster pink.