Disclaimer: This set was bought with my own money and neither La Perla nor Yoox requested a review. This post contains affiliate links.
Although La Perla doesn't have a huge presence in the UK (two stores and two department store sections, all in London), it's probably the first luxury brand whose name I ever heard mentioned. The average British woman might not know La Perla lingerie to look at it, but she certainly knows the name. 'La Perla' for me has always been synonymous with la crème de la crème of luxury intimates.
I got my first chance to see the lingerie up close when I went to America last summer and popped into their Las Vegas boutique. I blogged a little bit about it here, and my opinion was that the lingerie was stunning and well-made but well out of my budget, even on sale.
So when I spotted this divine babydoll set on sale at Yoox for £25 (yes, really, I didn't just miss a zero out) I bought it in seconds. In fact, I bought it knowing it was two sizes too big and potentially acid green which was the website colour description despite the product image looking gold (it is indeed gold, not acid green. Phew).
Appearance
The Lulu babydoll is made from a lightweight crêpe fabric that's a blend of silk, polyester and elastane. It has very fine, sheer silk chiffon inlays at the front and back of the neck. On the Yoox website the brightly back-lit product images actually made these look like cut-out sections which I would have preferred, but I love the babydoll nonetheless. It's finished off with silk satin trims and a thick band of shimmering gold fringe around the neck.
The matching thong is made from the same crêpe with fringe all the way around, and with the most gorgeous edging I think I've ever seen which is a sort of large, netted picot trim.
There is no denying that this is a very luxurious nightwear set. I believe this retailed for £327 originally and it certainly looks the part for that price tag.
Verdict: 10 / 10
Construction
The stitching everywhere is impeccable and although from the looks of it I'd say it was probably intended more as 'boudoir wear' than as your regular nightwear, I've slept in this multiple times and it's held up just fine. I didn't even find the fringe uncomfortable since it's backed with that wonderfully soft silk-blend fabric. The knickers have a cotton gusset too, which is always a plus.
I did find the slightly asymmetrical hemline a little odd at first – it's not dramatic enough to really be noticeable, so it just looks a little wonky – but having now seen this photo of it on a model I think that was done intentionally to show just a hint of the befringed thong below, though on short little me the babydoll covers that up completely!
Verdict: 9 / 10
Fit
As mentioned, I bought this two sizes too big at a UK 12 / La Perla size 2, since I figured a slightly looser fit on something I was only going to sleep in was no big deal. However it comes up very small – in my opinion the babydoll is a UK 8 to 10 and the thong is a perfect UK 8. The thong would not fit a UK 12.
Of course, this worked out in my favour which if why I'm giving it a good rating for fit, but bear in mind if you are buying online that other styles may also run this small.
Verdict: 9 / 10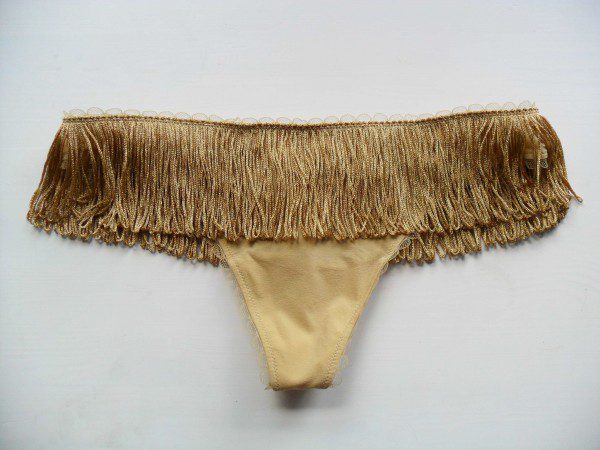 Washability
The Lulu set can be dry-cleaned but it's also hand-washable which is how I've washed mine. Although easy to clean, after the first wash those gorgeous fringes will never be so perfectly straight again (these photos were taken before wearing it) and they're so thick they take ages to dry too.
Verdict: 7 / 10
Value for Money
As always, I'm basing this on the price I actually paid and at £25 I can't give it anything other than a great big 10 out of 10! Although at full price I wouldn't have been able to afford this, this purchase has given me the impression that La Perla nightwear is worth the price tag for those who can afford it.
Verdict: 10 / 10
Would I recommend it?
Yes! I have searched high and low and this appears to be out of stock everywhere (no wonder – I must have got it at final clearance price) but there is one, brand new set in a UK 14 on eBay here
. I would recommend this for someone who is a UK size 10, or UK 12 on top and UK 10 on the bottom.
Have you ever purchased from La Perla? Did you think it was good value for money?