Disclosure: I bought this corset myself and V Couture is unaffiliated with this review. This blog post contains affiliate links.
I love a corset – I think that they look amazing, whether worn as outerwear or underwear. Regardless of size, or shape, a corset will give your waist definition, and your body more length.
There are some absolutely stunning corsets available, whether you are after a plain one or something really elaborate, and it's really difficult not to fall in love with them all.
Up until very recently, I have only owned off-the-rack corsets – the ones where you can go into a shop, pick up the size most suited to you, and purchase it. These are the types I sell, and for most people this works fine for the first corset or two, or for someone beginning waist training. It is the cheapest way to own a corset and therefore, like all off-the-rack clothes, may not fit you perfectly – but for the money you are paying, they are good enough.
If corsetry becomes a passion, or you are a dedicated waist trainer or tight lacer, then to have a corset custom made is a good investment. There are two ways you can do this:
to buy a fully bespoke corset, where the corsetier takes all of your measurements and designs the corset with you, based around your requirements and design ideas. You will/should be given a fitting part the way through to check fit before the corset is finished.
to have a corset made to measure, where you have chosen a style of corset already available and provide your measurements to get the closest fit.
Recently I was lucky enough to be able to afford a corset I have been drooling over for a couple of years: V Couture's Skylla. I adore the fan lacing on the back even though it is only there for show, unlike the original fan corsets.
When contacting V Couture, despite being in Germany, I was very pleasantly surprised at her excellent command of the English language. There was no confusion over what was being asked or in answers given. Emails were answered quite quickly, and I was advised that there was a production time of 6-8 weeks.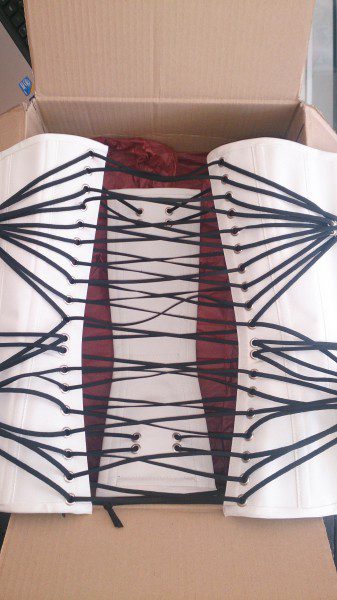 V Couture have standard sized patterns, but to ensure when the corset is made that it fits as well as possible, they requested a whole host of measurements from me.
After spending an easy hour with my mum and a tape measure, we had measured and double measured my size, both with and without a corset on – to ensure that they had all the correct measurements. We also backed this up with some pictures of me in the corset and in normal clothing.
From these measurements we were able to confirm that I have a shorter body than normal, as well as a smaller rib-cage for a standard UK size 10 – none of which surprised me.
With deposit paid, it was a case of sit back and try to wait patiently. I had requested that pictures were sent of my corset as it was being made – having a seamstress for a Mum, the making process is of interest to us as well!
It was lovely to see how the corset was coming along, and made the wait that little bit easier. Especially as, due to illness, the wait was actually 12 weeks, rather than 6-8. But I was kept informed.
But boy, was it worth the wait! Apart from being completely baffled by all the lacing, and the floating modesty panel when I first looked it it, the corset is as beautiful as expected. The cream silk is soft to touch and it weighs a lot less than my off-the-rack corsets. There are extra bones to make the hips more pronounced and it makes my torso look loads longer than it should.
Do I have any concerns about the design or procedure? Only one – as tape measures do not measure volume, it was impossible for the seamstress to factor in that my bosom is quite full and rounded. Therefore, if I lace the corset up as tight as I would like at the top I have boobs under my chin! However I do get around that by not tightening the laces as much.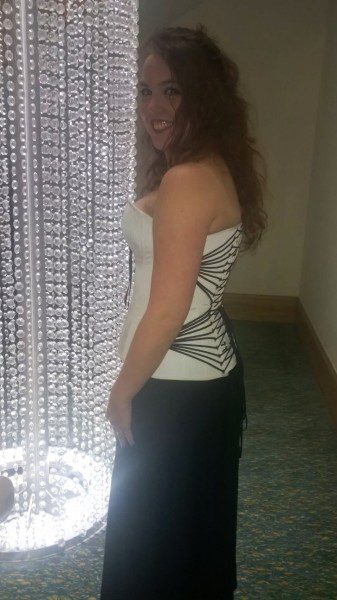 Obviously this is something that would have been picked up had I chosen to have a bespoke corset or a toile made (a mock-up in cheap fabrics to test the fit). Otherwise, no. I love my new corset to bits, and am pleased with the fit, the materials, the correspondence and the price.
Have you ever bought a bespoke or made-to-measure corset, and what did you think of it and the whole process?