Disclaimer: This blog post contains affiliate links. I bought this set with my own money and Agent Provocateur did not request a review.
Agent Provocateur's Jena was introduced at the end of 2012 to celebrate Vogue's Fashion Night Out, and must have been popular as they released it in scarlet red a year later. I love this set and am kicking myself for not buying it in red, my favourite colour, when I had the chance!
I bought the set in a flash sale last year and it's now mostly sold out, but if you're quick you can still pick up the suspender belt in black and the knickers in red, both now more than 80% off in the last few days of Agent Provocateur's Christmas sale. The suspender is also on sale in red at The Outnet.
Appearance
Agent Provocateur never fails to come up with something new and a little bit out there each season, and I love how they've taken what's commonly a purely functional part of lingerie – the hook-and-eye fastening – and turned it into something decorative. The bra and suspender belt both feature the same hook-and-eye closure at the front as they do at the back, and the knickers… well, they take the idea to a whole other level.
As per usual for this brand, the set is finished off with stamped hardware for a luxury appeal. It's a simple but very well thought-out design, and I love it.
Verdict: 9/10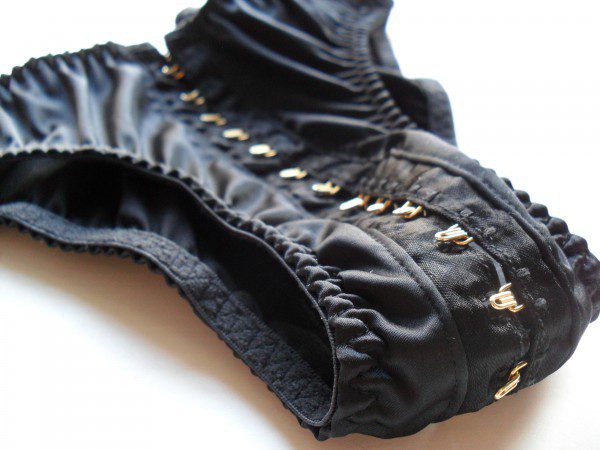 Construction
The set is made from a sleek, polyester satin (a little bit disappointing considering the original £290 price tag – at this price point, I kind of expect silk) with durable metal hooks and other hardware.
Agent Provocateur say this bra "gives an incredible cleavage" and it really, really does. The cups are made from a lightly padded inner layer with an outer sling to provide support and lift, and a separate strip of double satin that runs along the underside of both cups to pull them together.
I had a couple of problems with the construction of the suspender belt and knickers though. I have to shorten the suspender's straps all the way, but then over the course of the day they lengthen themselves again. I wish the sliders were a tiny bit tighter to better grip in place.
And the knickers… oh those glorious hooks-and-eyes! Now if only they would stay closed I would like them a whole lot more – it seemed like every few hours half of them would have unfastened themselves.
Verdict: 6/10
Fit
I bought a 32E and size 2s (UK 8-10), my usual Agent Provocateur sizes. The bra and suspender belt fit true to size, that is to say a tad loose on me as I'm a UK 6-8 and usually wear a 30 band. The knickers fit me perfectly and are very skimpy at the back – I wish I'd bought a size 3, so do buy a size up in these if you want a bit more coverage.
Verdict: 7/10
Washability
All 3 pieces are hand-wash only. Although I'd be careful about washing them along with anything delicate that all those hooks could catch on, they're all pretty easy to clean due to the smooth fabric.
Verdict: 7 / 10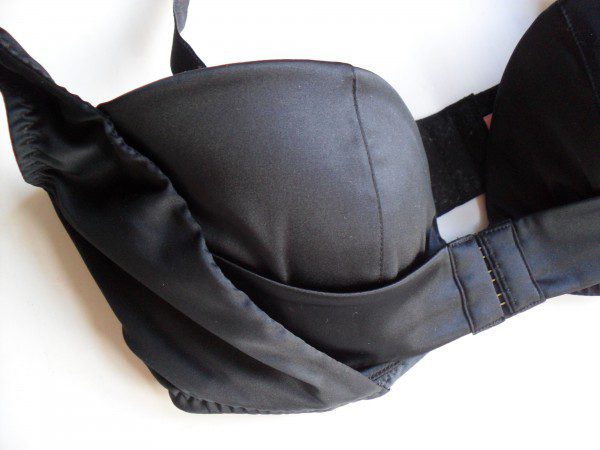 Value for Money
The set cost me £55 on sale which is a little less than I would expect to pay for a 3-piece set on the high-street, so fantastic value for money when you consider the unique design and, on the bra at least, excellent construction!
Verdict: 9 / 10
Would I recommend it?
Although I do love this set, it seems like it has been designed purely with aesthetics in mind. More of a 'put it on, take it off' style set than something to wear all day long. So if you're okay with that, or you don't mind a suspender belt that doesn't really hold your stockings up securely and knickers that need re-fastening ten times a day, yes I would recommend it. It's impractical, but it's gorgeous.
Other than the links at the top of this post, you can also pick up everything from the Jena collection in black or red here on eBay
.
What do you think of Agent Provocateur's Jena set?