Disclaimer: This lingerie was sent to me free of charge by Miss Naughty for review purposes. All opinions are, as always, 100% honest.
Miss Naughty is a newly-launched hosiery brand based in the UK. Their debut range is pretty tiny (comprising a lace suspender belt, a satin suspender belt, sheer black stockings and a satin thong only available as part of a set), but their size range is not – size options run from Small through to XXXL on all items.
It's great to see a start-up brand dive straight into offering such a wide size range, which is probably part of the reason there aren't many products to choose from – offering lots of products and lots of sizes are both expensive, and a new brand doesn't always have the funds to do both.
Miss Naughty sent me their Deep Lace Suspender Belt & Stockings Set to try out, which they call their 'Instant Glamour Set'. It arrived nicely packaged in a card box that I've been using to store the set in to protect it in my lingerie drawer.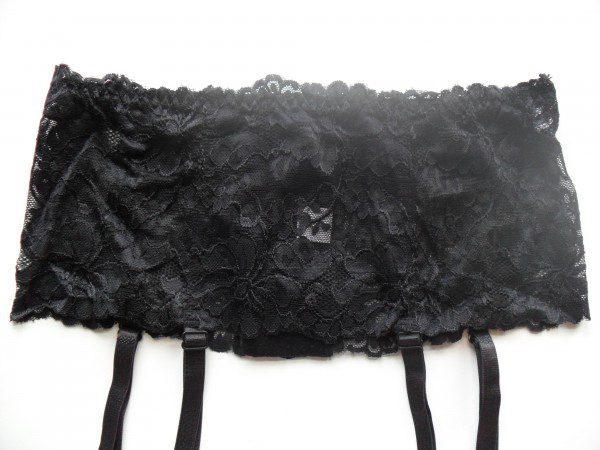 Appearance
The suspender belt is made from sheer floral lace with slightly raised embroidery, with the edges cut to the pattern of the lace rather than just being a straight line. The 4 suspender straps are made from glossy elastic and line up with the 4 seams, for a slimming and lengthening effect.
The stockings are a fairly standard design – 15-denier plain black ones with a double welt at the top. Nothing special, but nice enough and I would wear them regularly (I like quite plain hosiery).
Verdict: 5/10
Construction
There are no flaws in the construction of the stockings. The quality of the suspender belt is about what I would expect from a budget-friendly brand such as Miss Naughty – the finish looks a little rough around the edges if you look close-up, but it's perfectly wearable and not about to fall apart.
I did however love the fabric the suspender belt is made from. Normally at this price point you're going to get lace that's a little stiff or scratchy, but this one is wonderfully soft and comfortable to wear. There are 3 rows of silver hooks-and-eyes at the back to adjust the size and these have a soft, plush velvet backing. I can easily wear this suspender all day long with no discomfort!
I guess my biggest niggle is that the suspender grips are plastic which isn't as durable as, and looks cheaper than, metal. The suspender sliders are metal, so I'm not sure why they went for plastic here. That said, they've gripped the stockings perfectly fine so far.
Verdict: 6/10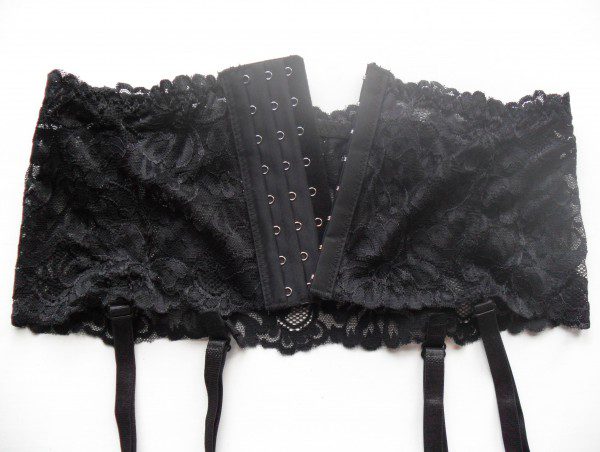 Fit
Miss Naughty sent me a size Medium which is intended for 32-36″ hips. At 34″, I'm bang in the middle so this should be a great fit on me, however I would much rather have had the Small. On most size charts 34″ hips equate to a UK 6 or XS, so I think maybe the hip measurement guide is a bit off. The suspender belt did slip down from my waist to my hips through the day (meaning it didn't really hold the stockings up) but I think that was due to it being too big more than anything else.
One good thing about this suspender belt for taller people is the length of the straps – fully extended, they're 12.5″! So even if you're six-foot-something, this is going to fit you. The stockings are very flexible on length too – I can comfortably pull them right to the top of my legs.
Verdict: 6/10
Washability
The set is hand-wash only and easy to clean, and the suspender belt is in the same condition now as when it was new.
Verdict: 8 / 10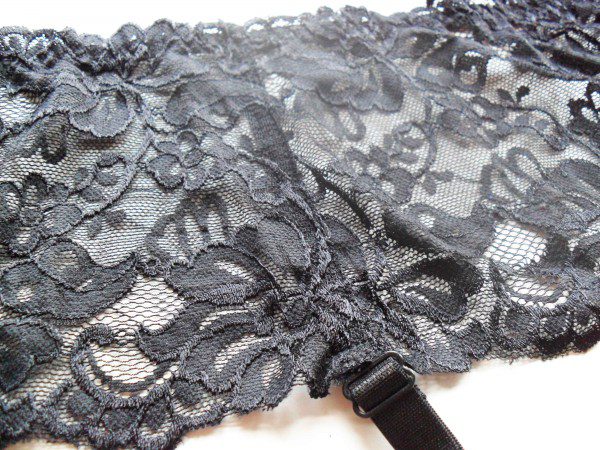 Value for Money
This set retails between £11.95 and £19.95 depending on where you buy it and in what size (the plus sizes cost more). The stockings snag fairly easily so I don't envision these lasting anything more than 10 wears. The suspender belt will last longer.
I'm afraid nothing about this set says 'luxury' to me (which is how Miss Naughty describes it), however what it is is very comfortable to wear, which I can't say for most cheap lingerie that I've tried, and also a much prettier lace than is usual at this price point. Especially if you can pick this up at the lower end of what it retails for, you'll get your money's worth.
Verdict: 7 / 10
Would I recommend it?
I would recommend this if you are looking for something to wear once for a special occasion such as a romantic weekend away or a boudoir photo shoot, or if you are after a cheap-but-comfortable suspender belt and don't mind replacing the stockings quite soon down the line. However in that second case you may be better off buying the suspender belt alone and picking up some more expensive, more durable stockings.
The Deep Lace Suspender Belt & Stockings Set is available in S-XL sizes at LoveHoney and The Bra Closet, and in S-L and XL-XXXL sizes at The Tight Spot.
 What do you think of Miss Naughty's debut range? What would you like to see from them in the future?