Disclosure: This blog post contains an affiliate link.
As someone who doesn't have a background in fashion, I tend to focus on products (or brands) individually rather than looking at overall trends happening in the lingerie industry. Trends are something I find interesting though, so this year I'm planning on padding out our 'Trends' blog category with rather more frequent updates!
I've been noticing more and more lingerie brands including skirts in their offerings recently. Not the outerwear kind of skirts, but sheer, lacey, intricate skirts designed to coordinate with bras and other lingerie.
Perhaps it's due to the continued trend for retro-inspired lingerie, with these mesh and lace slips replacing the cotton and nylon petticoats of yesteryear. Perhaps it stems from the recent popularity of high-waisted knickers, with customers right now preferring lingerie that offers a bit more coverage. Or perhaps it's just because they look so wonderfully elegant and luxurious!
Kirsty blogged about slips and petticoats for us recently, and lingerie skirts are the perfect lingerie for spring when jeans slowly start to be replaced with skirts and dresses. The looser ones don't sit close to your skin in the same way a pair of knickers does, providing greater comfort as the weather gets warmer.
They're also that perfect '3rd piece' when you want to dress up your bra and brief set a bit more but aren't keen on wearing a suspender belt and the stockings that go with them.
Here are 6 irresistible lingerie skirts and their matching bras to lust over this spring…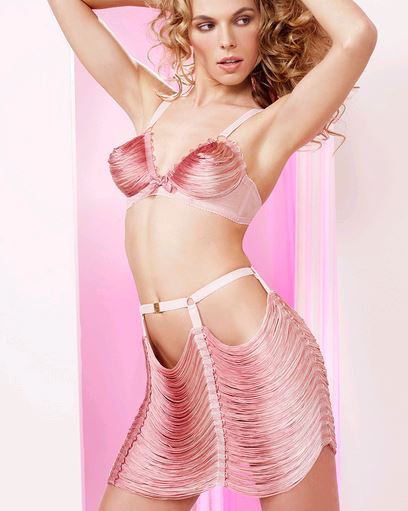 Made by Niki Candy String Mini Skirt, £179
I adore Made by Niki's entire String collection, and I was thrilled when Niki introduced this shorter-length version of her String skirt that can be worn under skirts and dresses that fall above the knee. This rose pink version is perfect for spring, and you can read my review of the same set in black here.
Miss Crofton Velveteen Skirt, £45
This gorgeous slip skirt is made from floral cotton lace, hand-cut along the lace's leafy pattern at the hemline. Matching knickers are also available that you can wear under the skirt if you prefer.
Dollhouse Bettie Josephine Eyelash Lace Mini Slip, $48 (~£31)
Retro-inspired brand Dollhouse Bettie have a few skirts available but this one is my top pick due to it being wearable under the shortest of mini skirts and dresses. Plus, I love anything with a scalloped hemline.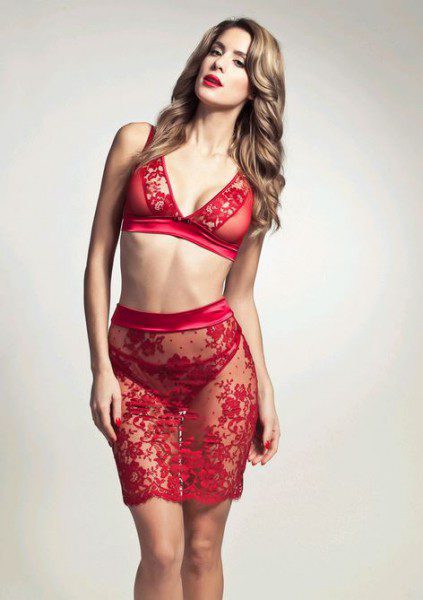 Les Jupons De Tess Deseo Skirt, €199 (~£147)
What better way to welcome spring than with bold colour and beautiful floral lace? This divine lacey concoction comes with a matching non-wired bra and thong as pictured.
Impish Lee Animal Print Skirt & Bandeau Set, $158 (~£105)
There's just something so tropical about this set, which is handmade to order and can be custom-made to measure for the perfect fit. If you're not big on the 'shades of safari' print, there are plenty of other choices including polkadot mesh, floral lace and even a rather gorgeous looking textured fabric.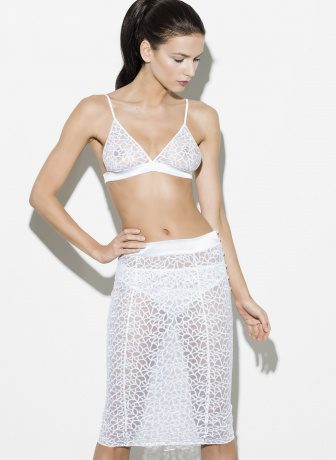 Fleur of England Forever Skirt, £210
Finally, this gorgeous white skirt is another great colour for spring, and with its bespoke embroidery, silk waistband and button-up side it's wonderfully luxurious too. There are plenty of matching items to choose from, including balconette and plunge bras if you prefer more support than a bralette can offer.
Have you seen any lingerie skirts you love recently? How do you feel about the trend?