Disclosure: Impish Lee gifted me a voucher in exchange for this review, and I also spent about £21 of my own money on top of the voucher value. My opinions are, as always, 100% honest. This blog post contains affiliate links.
This is the second part of my Impish Lee review – I've previously written about the velvet robe that I bought, and which I cannot stop wearing! (Seriously, I have it on right now. Perfect lingerie-blogging attire).
Impish Lee, for those who don't know, offers an awesome design-your-own service for lingerie and loungewear. Their website has a cool customiser tool that lets you play around with colours/fabrics/embellishments to get your design just so, before you commit to ordering.
You can pick from selection of 30 shapes – including bras, knickers, slips, robes and more – and a choice of 59 fabrics, making this about as close as you'll get to bespoke lingerie without paying bespoke pricing. Unlike bespoke, it's also completely returnable (if bought at full price) as unwanted items are resold on another website to raise money for the Robin Hood Foundation.
Alongside my robe, I decided to opt for a half-slip to wear under skirts and dresses. Here's how it looked on the customiser: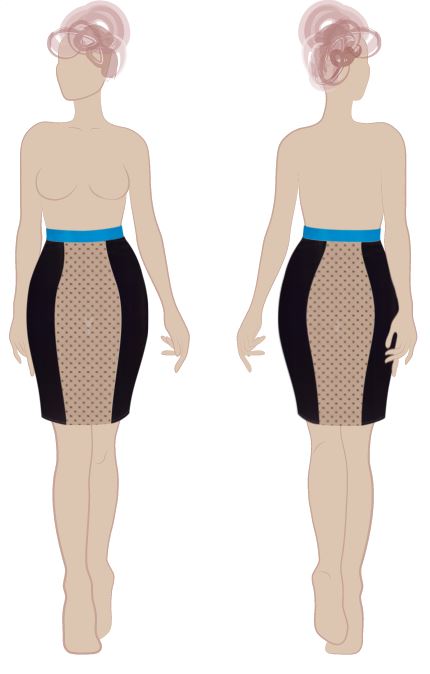 And here's how it looks in real life: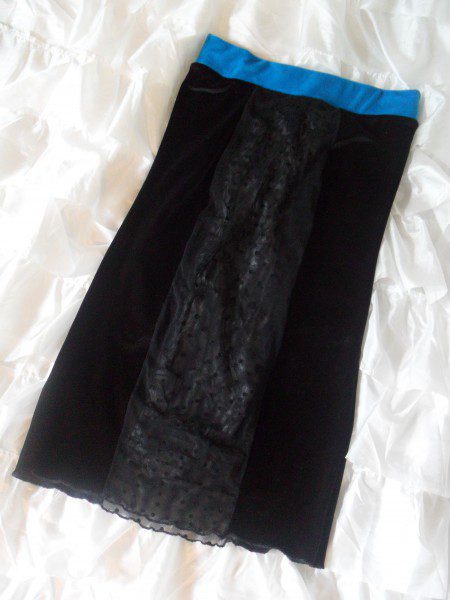 Appearance
The only skirt in Impish Lee's range, it is made from 4 vertical panels plus a waistband. I'd designed this with a flash of blue to match my L'Agent Marisela bra set (though it turned out to not be a great colour match), so I went for sheer polkadot panels at the front and back to show off the knickers below. The waistband and sides are velvet, because you can never have too much velvet underwear!
I like that they went for this paneled design because it gives you a number of options – sheer sides, sheer all over, sheer at just the front or back… Or just opaque all over. That's the beauty of Impish Lee, you're the designer!
Verdict: 6 / 10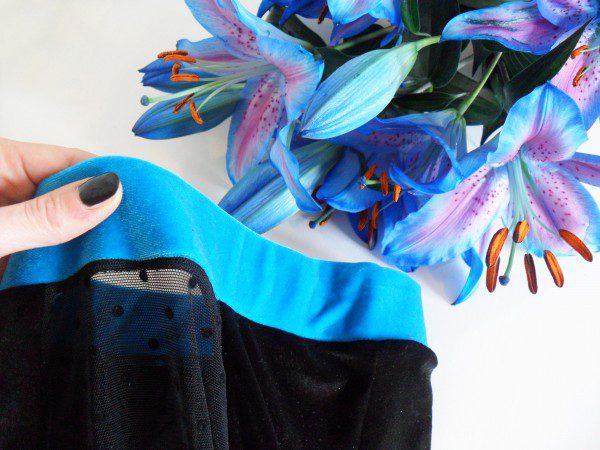 Construction
The skirt's panels are overlocked together, with seaming that's very neat-looking on the outside. The hemline is 'lettuce-edged', so it has a slight ruffle which is a cute little detail. The skirt is straight-cut but stretchy, so molds to your curves.
The waistband is made from wide elastic contained within folded-over fabric of your choice – so if you went for a sheer lace waistband for example, I'm not sure how that would end up looking. For mine, I love the bold blue waistband and the plush velvet is super comfy, but having velvet on the inside of the waistband does get a bit hot and sweaty in warm weather.
Verdict: 8 / 10
Fit
My 26″ waist puts me at a UK 8 / US 4 on Impish Lee's size chart, but my 35″ hips put me at a UK 4 / US 0. So I plumped for the size in between, a UK 6, which is generally what I buy in clothing anyway.
The waistband is perhaps a tad too tight to be truly comfortable. The hips fit comfortably, albeit with slight horizontal wrinkling. Overall, I'd say this skirt comes up a bit small and I would have been better off with a size up, so if in doubt buy the larger size.
Size aside, I do have one unfortunate fit problem with this skirt – it rides up, like, a lot. I keep finding it bunched up around my waist and not covering my bum at all! Perhaps sizing up and getting a skirt that's a little looser would fix this. Fine for a photoshoot, or being at home if you don't mind yanking it down constantly, but I definitely wouldn't recommend it if you plan on wearing the skirt for any length of time.
Verdict: 5 / 10
Durability
I realised I never mentioned anything about washing when I reviewed the robe – neither pieces have labels and I can't remember now if they arrived with any washing instructions, there aren't any on the website. As it happens though I had a pair of velvet curtains to wash recently so I did a bit of Googling and decided to machine-wash my Impish Lee on a cold setting, and air dry it.
The velvet fabric really picks up lint from other stuff it's washed with, so I'd recommend washing it alone or at least with similar colours. However that aside, it's really easy to care for.
Verdict: 8 / 10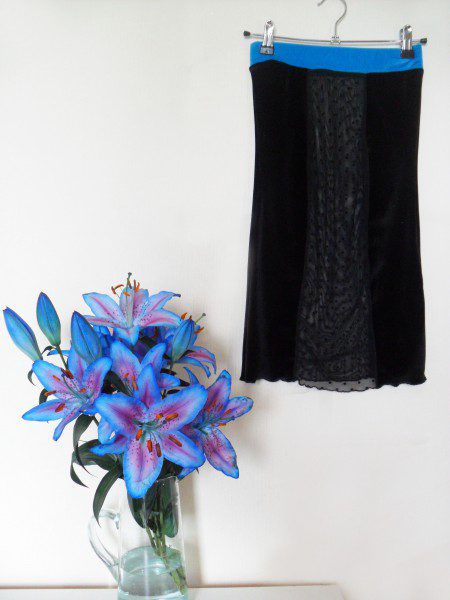 Value for Money
Impish Lee's skirt costs $78 (about £57 or 70€), regardless of the fabrics you choose to have it in. As with the robe, I'd say it's more than I'd have considered paying if this were just an off-the-rack piece, but you have to remember that some of what you're paying for here is the ability to have it look the way you want it to.
Do you want this in burnout velvet, all-over lace, or with a coloured waistband to match a particular set? You can have it, and that's worth paying $78 for I think.
Verdict: 7 / 10
Final Thoughts
I am disappointed with the way this skirt rides up so much, which may be down to the size I chose, and for that reason I don't love or wear it half as much as I love and wear my Impish Lee robe.
However I would buy from Impish Lee again if only based on the robe, as I find the whole design-your-own concept just so fun and unique in the lingerie world. It's a little bit addictive actually, ten minutes with their customiser and you'll be wanting to buy a whole new wardrobe of lingerie!

What do you think of this Impish Lee skirt, and their design-your-own service? Have you bought anything by Impish Lee? Click here for 10% off your first order!