Disclosure: I purchased this bra myself.
This is one of those rare purchases where I didn't buy the full set because I bought the bra to match the Arabel knicker and suspender set in the picture below, which didn't have a matching bra option.
I've actually bought Lepel's Fiore plunge bra once before and based on that experience I almost didn't buy it – the fit was awful the first time round, but fuchsia pink bras are harder to find than you might think and I really, really wanted a good colour match.
Between buying the Fiore for the first and second times, I've had a baby, lost weight, changed bra size and changed shape, and I'm happy to report that I am much happier with the fit now. Which just goes to show that a poorly fitting bra isn't necessarily the fault of the brand – your own shape influences fit as much as anything else!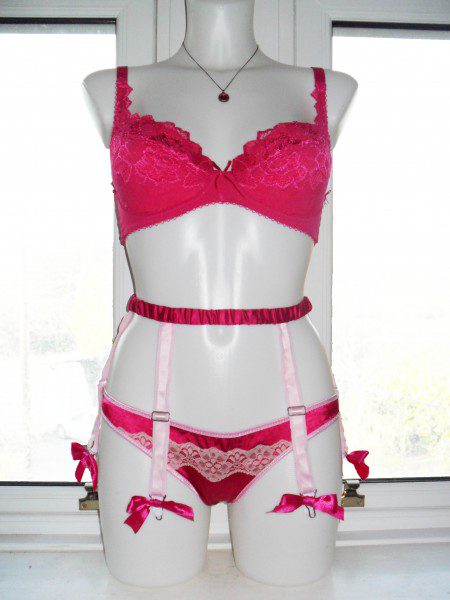 Appearance
Although I thought the bra was pretty, it's not my usual style and I bought it because of the colour more than anything else. So when it arrived I was really happy to discover it has gorgeous criss-cross ribbon detail over a cut-out panel on either side, which I love. Figleaves' description does mention this but it's not visible in the product photos at all, and I'm a person who makes my buying decisions based on images and never really reads the text.
The cups are topped with embroidered lace, which continues part way up the straps and gives the tops of the cups a sort of scalloped shape. It's all finished with a nice picot trim, satin straps and thin ribbon bow. Overall, a simple design but with some very pretty touches – a good 'basic' for those who aren't into smooth, t-shirt style bras!
Verdict: 6/10
Construction
The bra is very well made – the stretch polycotton fabric is super soft, and there are zero faults as far as stitching goes. As this is available up to a 38F it'd be nice to see larger sizes made with a wider band and 3-hook fastening, but I didn't personally have any problems with the narrower band.
Not mentioned in the product description is the fact that the padding partly comes from removable inserts, which is great for unevenly sized breasts because you can wear an insert on just one side.
Verdict: 10/10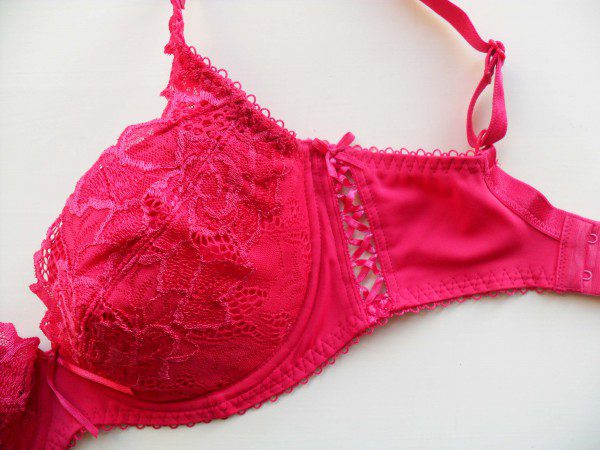 Fit
I went with my usual size, 30E, and it's now a close-to-perfect fit on me. The tiniest bit too big in the cups, but not enough to bother me and I definitely wouldn't size down. The band fits great, the bra is supportive, and it's comfortable all day long.
Verdict: 9/10
Durability
The bra is hand-wash only, and after a few months of wearing and washing it regularly it looks as good as new.
Verdict: 9/10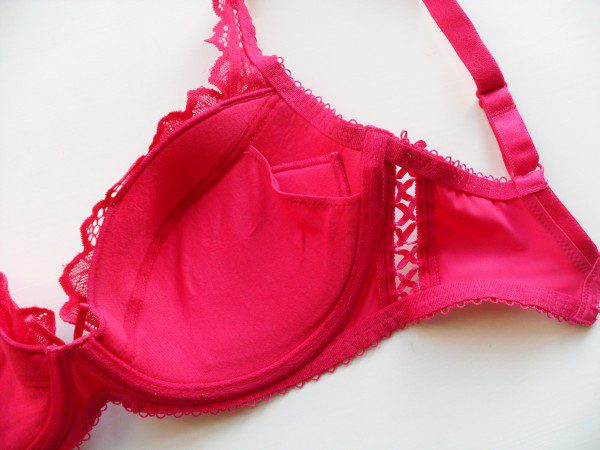 Value for Money
I bought the bra at full price for £22 from Figleaves. I usually do my lingerie shopping in the sales because I don't have a huge budget (and because who doesn't love a bargain?), but I'd be more than happy to buy this at full price again. I'm really pleased with it – it fits, it's comfortable, it looks good and the quality is great.
Verdict: 10/10
Would I recommend it?
Yes, however do bear in mind that I used to have a 'full on top' shape and the issue I had with the fit then was major overspill, so I think this bra is better suited to 'full on bottom' shapes as I am now.
Clearly, this is a popular bra because it's currently available in a whopping 7 colours (I quite like the electric blue), and as well as this plunge bra there is a full-cup balconette version that goes up to a 38G and a choice of a thong or lace shortie to match. Plus, this fuchsia pink version is now on sale here for £13.20!
What do you think of Lepel's Fiore bras? If you've owned one, how was the fit for you?