Disclosure: I purchased this lingerie myself.
Nichole de Carle is one of those brands I've been wanting to try for years and finally got round to buying from recently. Launched in 2009, it's a British brand with a very 'strappy' aesthetic, but done in a very luxurious and unique way.
It's normally well out of my budget but thanks to some awesome sale discounts, I was able to treat myself to both a bra set and a nightwear set for Christmas. I've decided not to review the nightwear, but here's what I thought of the lingerie…
Appearance
The Opal bra is a soft-cupped bralet made with panelled silk and mesh, divided up by graphic black lines. I'm sure you know by now how much I love black strapping details and that's why I picked this bra, though they're made from flimsy fold-over elastic rather than the thick, single-sided satin elastic most brands use, which doesn't look quite so luxurious close-up.
The thong is made from the same lilac silk with mesh panels that wrap around the side, and both pieces are decorated with a single gold-tone metal ring.
Also, the set came in a branded mesh storage bag, which was a lovely and unexpected luxury touch!
Verdict: 7/10
Construction
The sewing quality on both pieces is very neat, and the silk portion of the bra has a black silk backing which makes it nice and comfortable. The thong has a soft nylon lining at the gusset and the silk panels here are stitched onto the mesh, so it has a mesh backing all the way around.
However, although the back of the black trim dividing the silk and mesh parts is encased in the mesh, it's still forms a pretty hard ridge as I've pictured below. In fact, with this trim criss-crossing on the front and running all the way to the back of the thong, the whole thing feels a bit stiff – you can see in the photo below that I couldn't get it to lie flat.
The bra is better – the strapping across the the cups is different to the strapping on the thong, and it's backed with the much softer silk. Plus, as I only noticed after careful scrutinisation, the mesh on the bra is actually a different, much softer one to that used on the thong.
Verdict: 6/10 
Fit
I bought a size M (UK 12) bra and size XS (UK 8) thong. The bra cups fit me perfectly as a 30E; the band does ride up a little bit but I haven't bothered to shorten it because it's such a narrow band I think it will still ride up anyway. It's not a bra built for support, but it is very comfortable.
The thong, sadly, was much too big for me. Admittedly I am a UK 6 now, but a large one – I still wear size 8 knickers by many brands just fine – and the thong is much too big for me. That combined with the stiffness makes it bunch up rather a lot, and I think only a UK size 10 would have hips wide enough to pull the fabric taut and flat.
Verdict: 5/10
Durability
This is one area where I have to give the set full marks, because I've been wearing it regularly since December and it looks as good as new! In fact, both pieces state that they can be machine washed up to 40 degrees, though I've only been hand-washing them.
Verdict: 10/10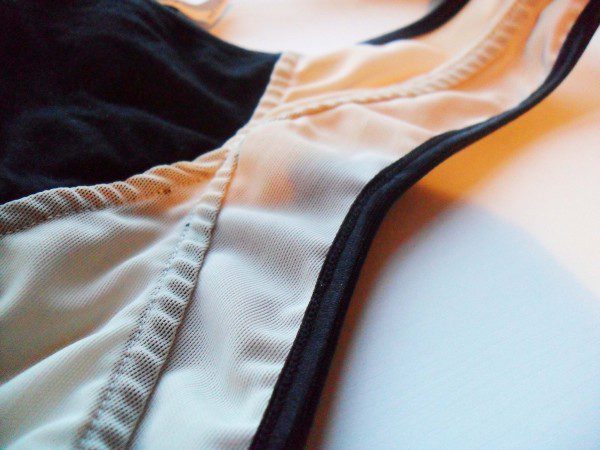 Value for Money
I paid £25 for the bra and £20 for the thong. At the time, I thought I was getting a fantastic bargain (I don't recall the retail price but it was somewhere in the region of £150-200 for the set), but if I had tried this set on beforehand I might not have bought it even at that price.
Don't get me wrong, the bra is lovely and for £25 is excellent, but the thong lets the set down. The word I keep wanting to use to describe it is 'hard', and I think lingerie – especially luxury lingerie – should always feel as soft as possible.
Verdict: 6/10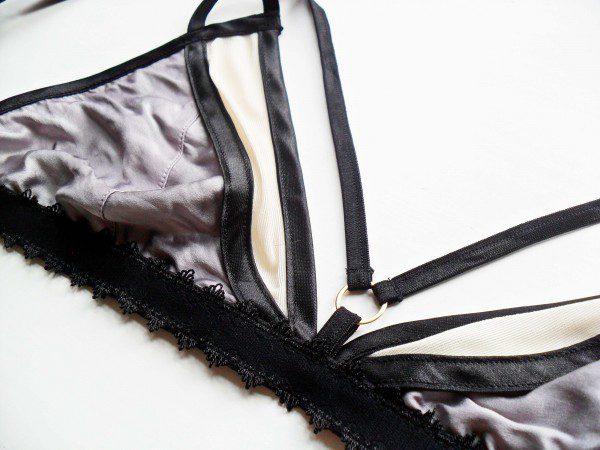 Would I recommend it?
I would have recommended the bra were it still for sale, but since I took so long to write this review it's not. As for recommending Nichole de Carle in general… I haven't made my mind up yet. I really, really wanted to love this set. Perhaps it's just because I've been lusting after Nichole de Carle for so long that I built it up as something totally amazing in my mind, but it didn't quite live up to expectations.
I do plan to buy more Nichole de Carle in the future, but I'll be sticking to clearance deals in her Outlet section until I've had a chance to asses the quality of a few more designs.
Do you own the Opal set, or anything else by Nichole de Carle? If so, what do you think of it?