Disclaimer: These stockings were sent to me free of charge by Foot Fetish Socks for review purposes. All opinions are, as always, 100% honest. This blog post contains affiliate links.
Welcome to the first in a 10 part series of hosiery reviews especially for sensitive skin! Did you see my blog post on 5 alternatives to nylon fabric for hosiery? Aside from silk, I only recently learnt that these were available options and now that I know, I plan to try them all out.
I should point out upfront that I don't suffer from hypersensitivity, only mildly sensitive skin. I can't vouch for the comfort of this hosiery if you have more serious skin issues, but if I find them more comfortable than nylon then, to a certain extent, you probably will too.
Anyway, onto the review! Last week I interviewed Charmaine, the founder of handmade hosiery brand Foot Fetish Socks, which you can read here. She hand-cranks her socks and stockings on an antique sock machine which I thought was pretty cool, so I was thrilled when she offered to send me a pair of my choice to review.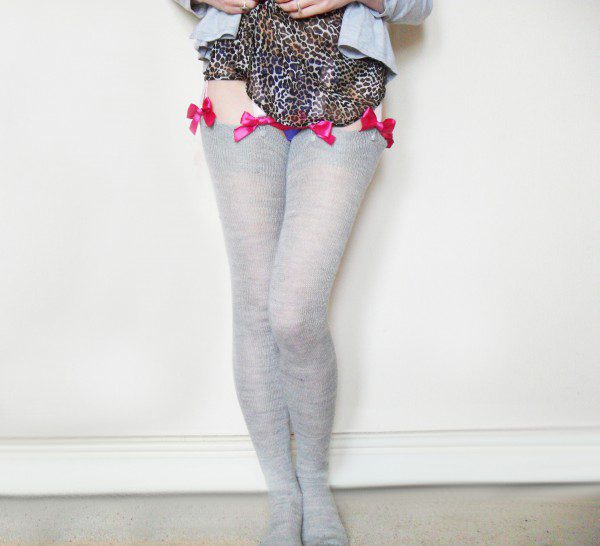 Appearance
I went for the plain cashmere stockings in silver-grey. I love her ribboned designs but these seemed most practical for wearing under clothing.
I love that, although the stockings are quite plain, when you look at the knit up close there's actually a subtle mix of grey shades in there. There's also contrasting brown detail at the heel and toe, a nod to the RHT look though they're not actually thicker here than elsewhere.
Verdict: 6/10
Construction
As mentioned, Charmaine has hand-cranked these on an antique sock machine, a rather complex little contraption that you can see in action here, and then finished them off by hand. It takes her about 2 hours to make each pair of stockings.
The stockings are flawlessly put-together. The band at the top is made from a doubled-over layer of the knit and after staring at it for ages I still can't work out how it has been folded and secured in place because there's no stitching visible, it just blends seamlessly into the rest of the stocking. I'm impressed!
Verdict: 10/10 
Fit
I asked for these in a size Small, which fits a UK 3-5 shoe size. I wear a UK 4. The first thing I thought when opening the packet was "wow, these are huge!". Unlike most modern hosiery, they don't have elastic fibres in the fabric so are made more or less to the actual length and width of a leg.
When I put them on, they were a pretty good fit. They are however very long – at 5'3, they reach the very tops of my thighs with slack left. If you're under around 5'7, I suggest you ask Charmaine about custom sizing.
They also wrinkled at the ankle as the day wore on, which is unsurprising given that the ankle and mid-calf are roughly the same on the stocking, but 4″ different on me.
Verdict: 6/10
Comfort
(An additional little score I'm adding in for these 10 hosiery-for-sensitive-skin reviews)
Every time I put these on there's a slight prickly sensation, but it disappears after half an hour or so. They certainly don't make me itch, and I think it's just because I'm not used to wearing thick knits against my skin.
Also, they are excellent for temperature regulation! They're cosy and warm, but with the open knit I also never felt like I was overheating or sweating in them, even after a brisk walk on a sunny day.
Verdict: 7/10
Durability
Charmaine's hosiery is, in her words, designed to "last and last and last", and she advocates repairing them if needed. Luckily, I've not needed to darn anything so far as they're super durable. They won't ladder like sheer hosiery, though the knit will pull so I'd still take care with rings and broken nails when putting them on or washing.
Speaking of washing, Foot Fetish Socks' washing advice is to only use cold water. However in an effort to shrink them a bit I've washed them 3 times in hot (not boiling) water, and am yet to notice any difference. So if the thought of plunging your hands into an icy tub of water is unappealing, luke-warm water should be just fine.
Verdict: 9/10
The cute packaging they arrived in – added bonus!
Value for Money
Charmaine's cashmere stockings all cost £35, regardless of design. Considering the time she has put into hand-making these and the excellent durability, I think they're worth it!
Verdict: 9/10
Would I recommend it?
If you have very sensitive skin I'm afraid the thick knit will probably be too irritating. However, if you have mildly sensitive skin like me or have no skin issues whatsoever, yes I recommend them!
These stockings are too bulky to wear with ballerina-style flats – they bunch up and don't fit in the shoe – but I've been wearing them with ankle boots and they're also a great alternative to slippers to pad around the house in. They're like soft, fluffy socks, only way sexier!
What do you think of Foot Fetish Socks' designs? And remember, you can get 10% off with code FFSOCKS10 until the end of September!